Is your bathroom not giving you the necessary storage you need? These tips will help you get creative with where to keep your towels and toiletries.
Call them the twin conundrums of bathroom towel storage. Relatively bulky, utilitarian, yet essential to have at the ready, towels and toilet paper can pose a challenge for style-conscious bathrooms — especially if you don't have a linen closet. The best strategy? Get creative with containers and unexpected uses of space with these seven tips.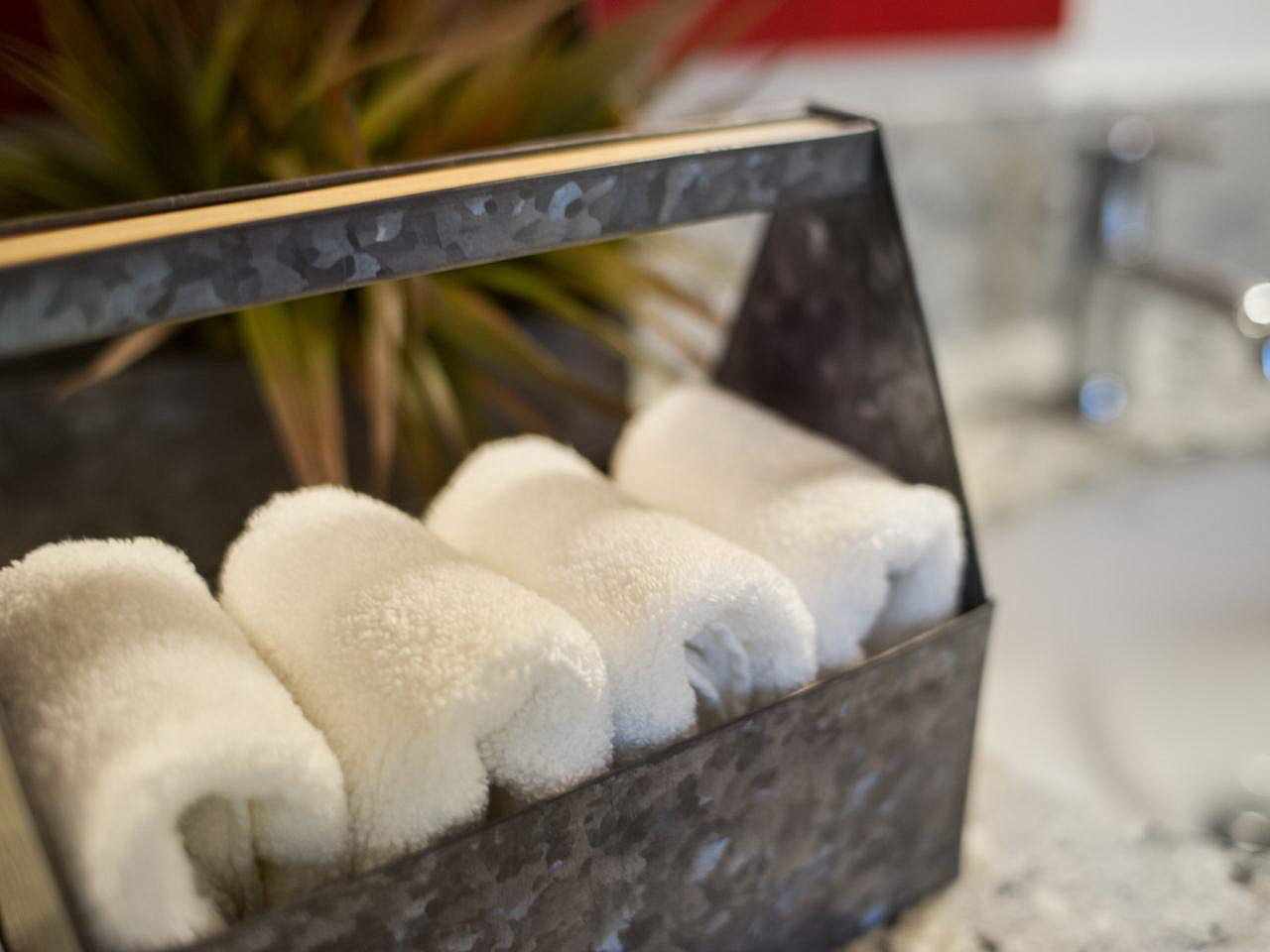 Small furniture piece. Whether it's a simple wall-mounted bookshelf or an antique pie safe, a freestanding piece of furniture makes a charming place to stash towels, TP and other flotsam. To prevent moisture buildup, choose one that allows for adequate ventilation (read: no airtight chests).
Open or skirted sink. The area beneath an open sink is typically wasted space. Put it to work by adding cubbies or containers, built-in or freestanding, to hold neatly stacked supplies. If you'd rather not have them on display, consider attaching a fabric skirt to the sink with hook-and-loop tape.
Portable basket or tub. What could be easier than arranging neatly rolled towels or stacking extra toilet tissue in a pretty container? Get creative — large urns, planters, locker bins, bushels, and other receptacles work just as well as woven baskets. Simply choose one whose size and style are well suited to your space.
High perimeter shelf. The 18 inches or so beneath most bathroom ceilings is prime real estate for storage. Install a simple shelf that runs the perimeter of the room, and use it as a place to keep basic bathroom gear. Roll or stack towels and TP neatly for graphic appeal.
Corner cubbies. Got an odd niche between your sink vanity and the wall? Transform it into a slim cabinet, just wide enough for a row of toilet paper rolls or towels. Add a door to conceal it or leave it open for ease of access.
Wine rack. It may sound odd, but a wine rack is perfect for corralling rolled-up towels. A built-in style with crisscross cubbies (the kind often seen in kitchens) looks especially tailored, though a freestanding or wall-mounted model works too. Just choose a style and finish that complement your bathroom fixtures.
Hanging baskets. If you have an empty corner, a hanging wire vegetable basket is a terrific solution for towel and paper storage. Want a more modern look? Turn wire or wicker baskets on their sides and anchor the bottoms to the wall, creating a grid of de facto shelves.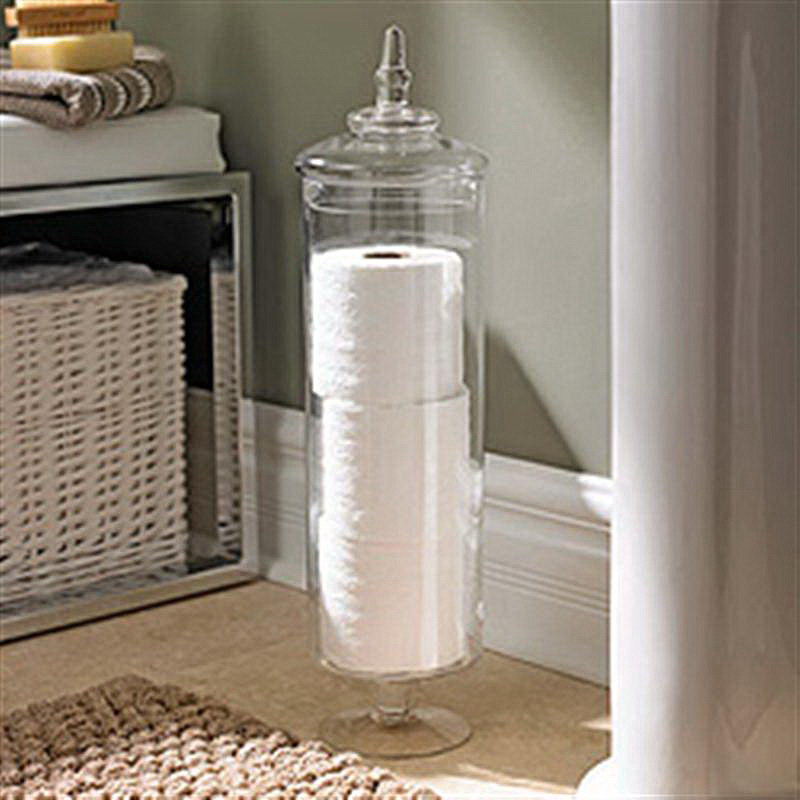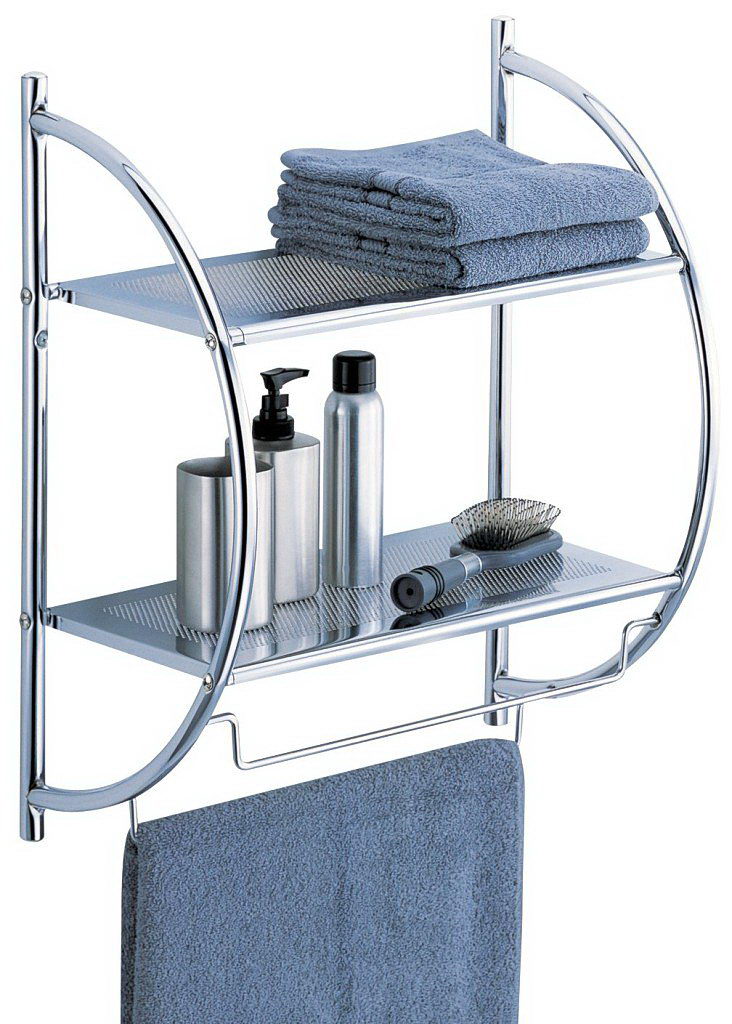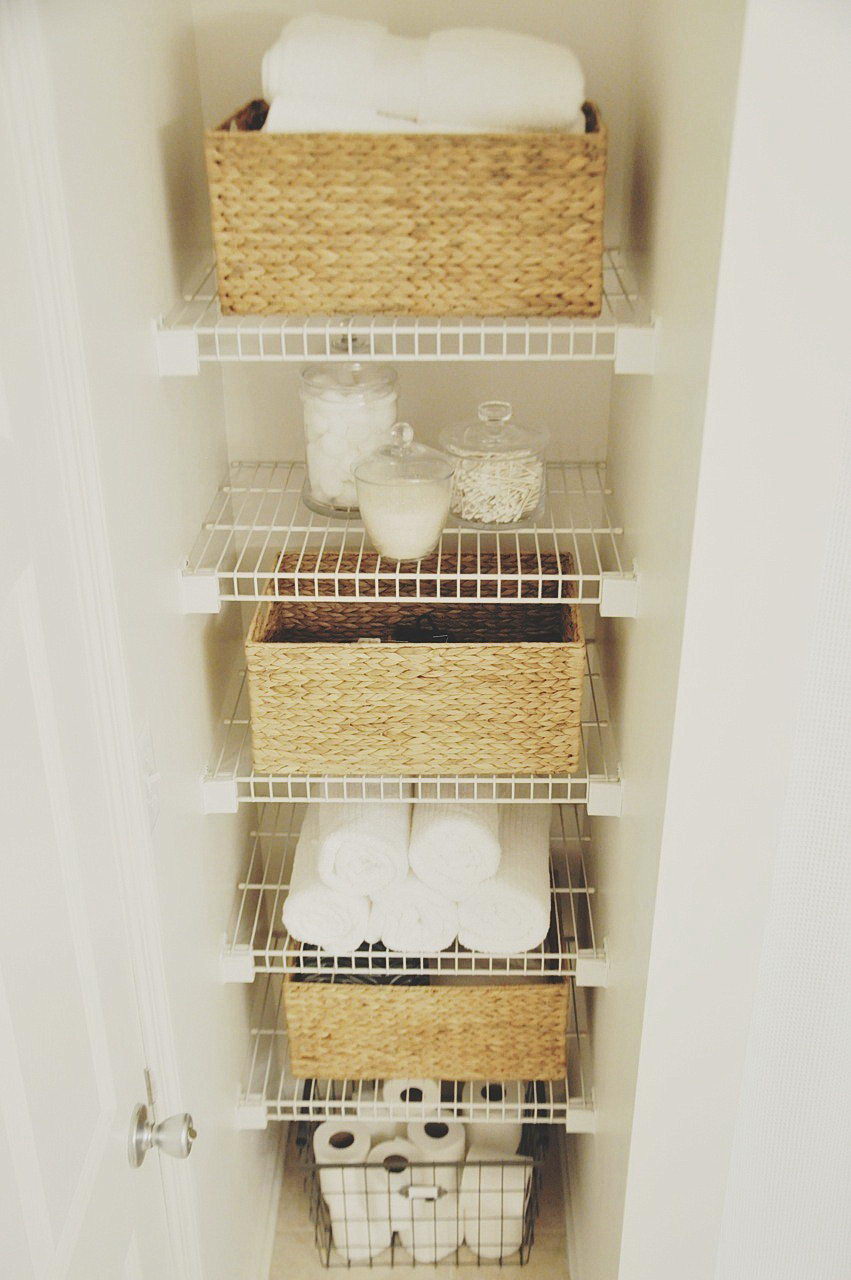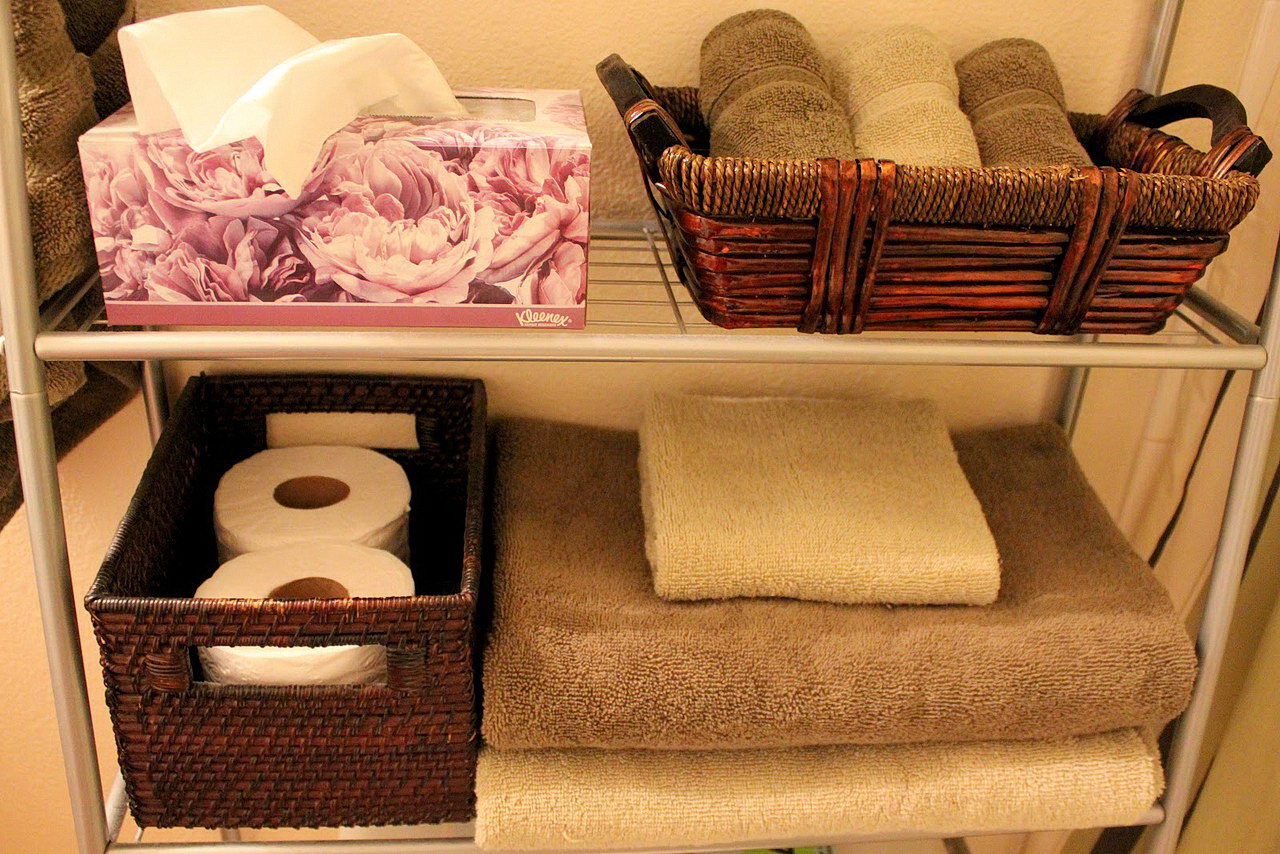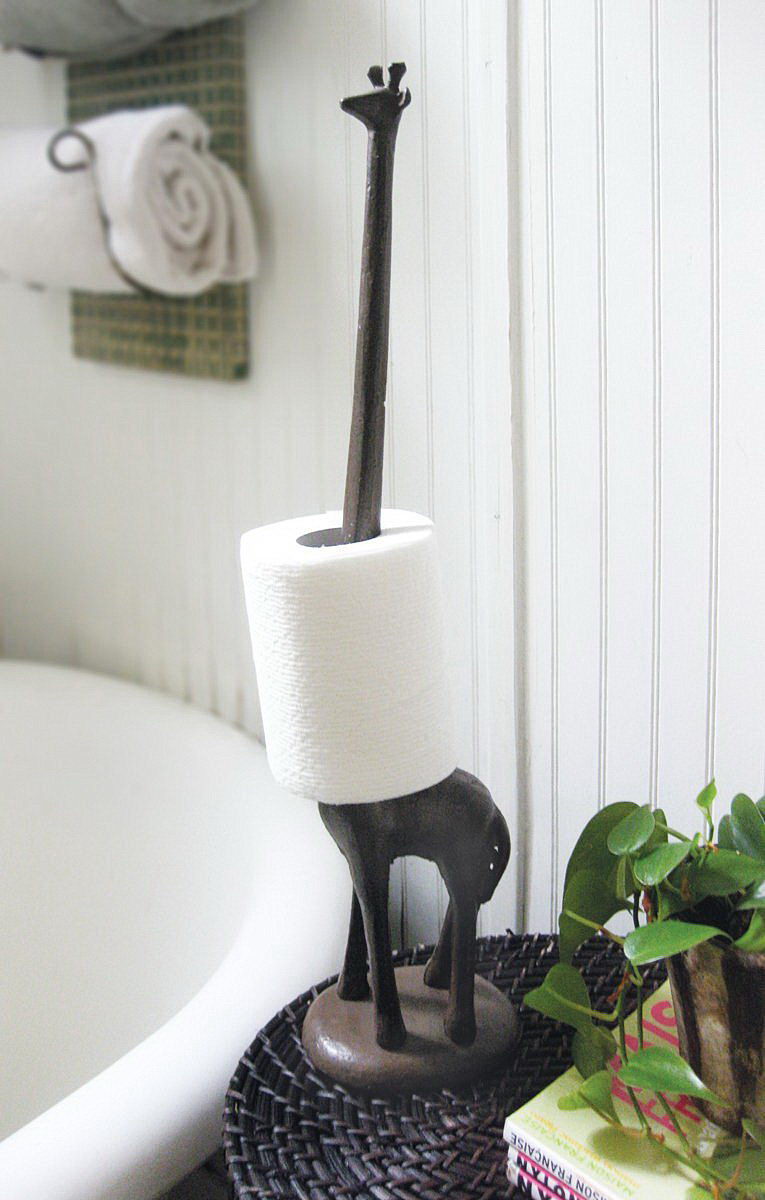 Source: hgtv.com