A drawer is a drawer, right? Well, not if it's a modern kitchen cabinet drawer. These seven kitchen cabinet drawers will make working in your kitchen much easier. Even better, you can install some of them in your existing kitchen and save on the cost of a full kitchen renovation. If you are planning on renovating your kitchen, this is a must-read article. You'll definitely want to incorporate some of these drawers in your new kitchen.
One: kitchen cabinet drawers inserts.
Let's start with the easiest and cheapest way to make your kitchen cabinet drawers easier to use. You can drop kitchen cabinet drawer inserts into your existing drawers. You may already have a plastic insert for your cutlery, but may not be aware of the many other types of inserts available. Seeing is believing, so visit our kitchen cabinet drawer Inserts page and find the inserts you need.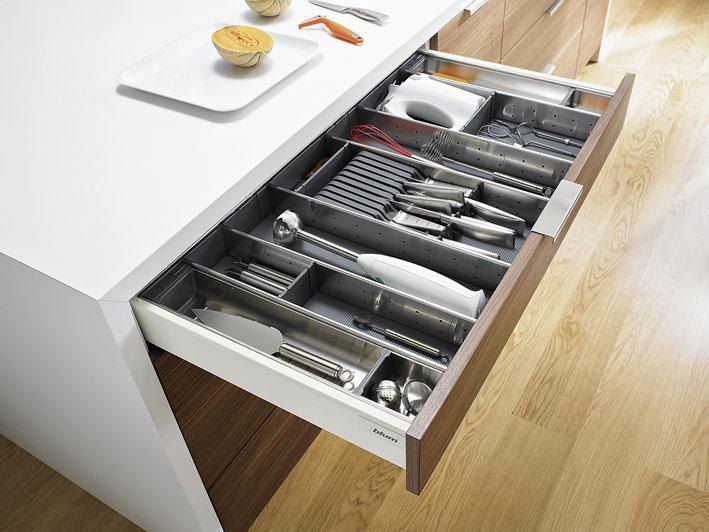 Two: Corner Cabinet Drawers
Corner pantry cabinets tend to be "junk" cabinets because it is hard to get to the items stored in their depths. Clever designers have come up with corner cabinet drawers that turn corner cabinets into useful spaces that make access to stored items easy. You may need to have these fitted by a professional, but if you aren't going to be getting a new kitchen any time soon, they're well worth the expense.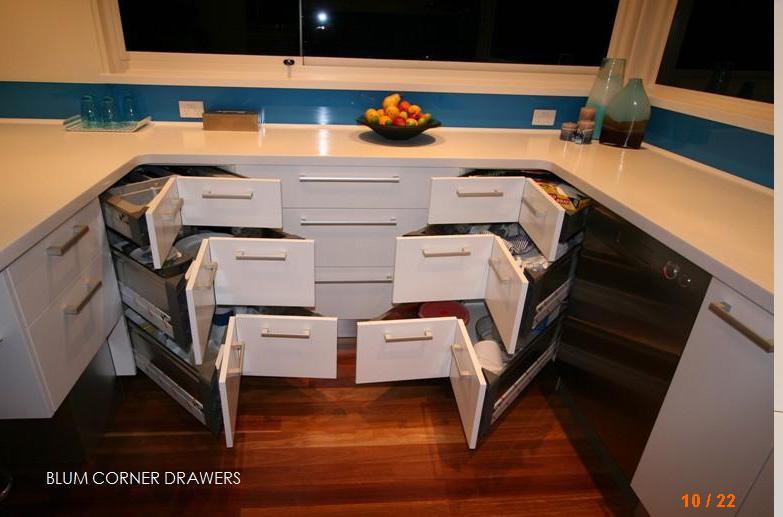 Three: Sink Drawers
We all need easy-to-reach items near our sink. Unfortunately, they usually either go under the sink near the floor or on top of the sink. Sink drawers are the solution. They are fitted around the sink basin, giving you just enough drawer space to store all those little things you need to have at your fingertips.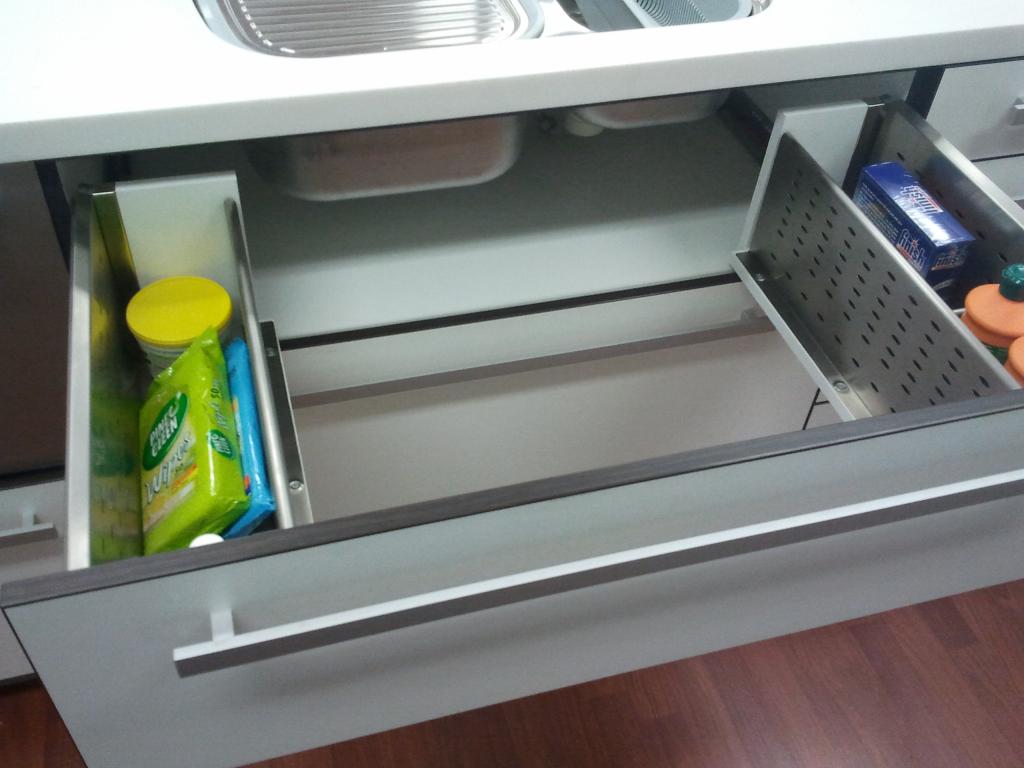 Four: Pot Drawers
Why put up with bending over and rummaging through your floor cabinets for the pot you need? Homeowners who haven't heard of pot drawers do this every day. Those who have heard of pot drawers wish they'd had them installed in their kitchen, but put them on hold until their next major kitchen renovation. Pot drawers can often be retrofitted into an existing kitchen. You may need to hire a good kitchen cabinet maker to install them, but it will be worth it. Once you've tried pot drawers, you'll never go back.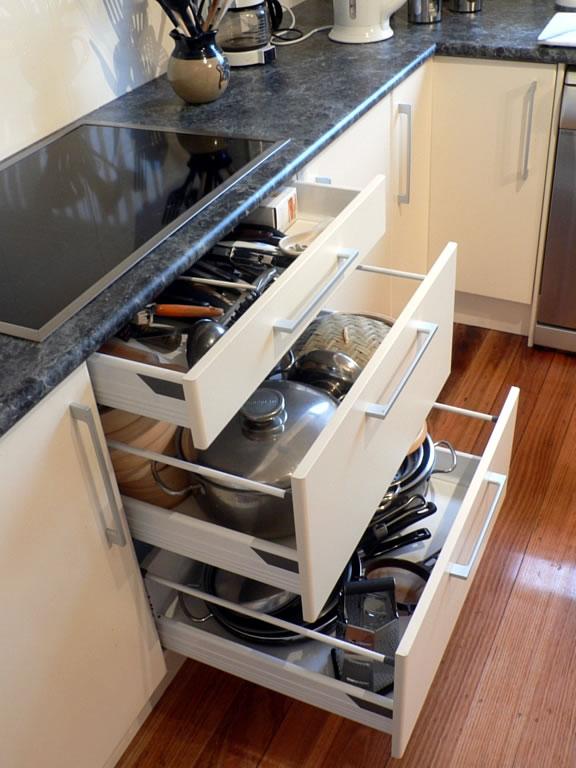 Five: Kick Plate Drawers
Every kitchen has metres of wasted space between the floor cabinet base and the floor. Kick plate drawers give you the opportunity to make use of some of that wasted space. A few kick plate drawers in strategic locations can be perfect for trays and other items that take up too much space in your cabinets.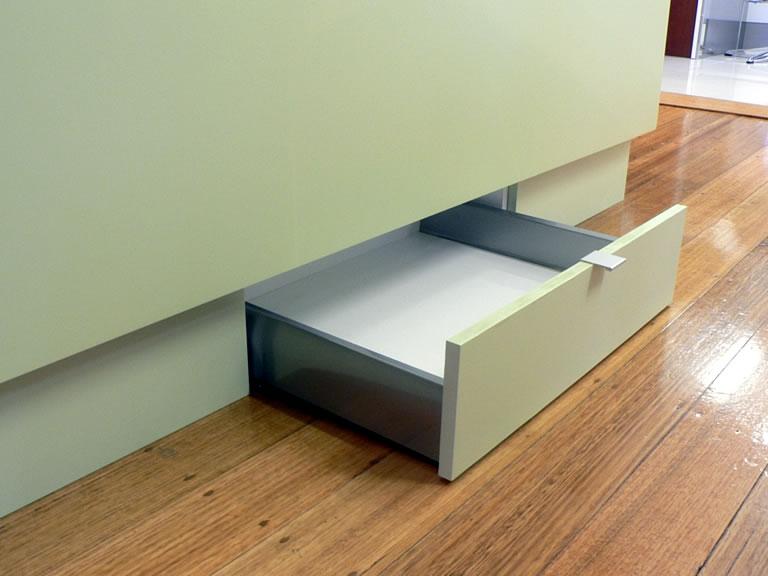 Six: Plate Drawers
You need half a dozen plates. In most cases, that means reaching up and carefully removing them from overhead cabinets. If you install plate drawers, you'll find it much easier to access your plates. Specially designed to cradle different sizes of plates, a plate drawer or two might be perfect for your kitchen. The drawers will also make it easier for the kids to grab a plate when they need one.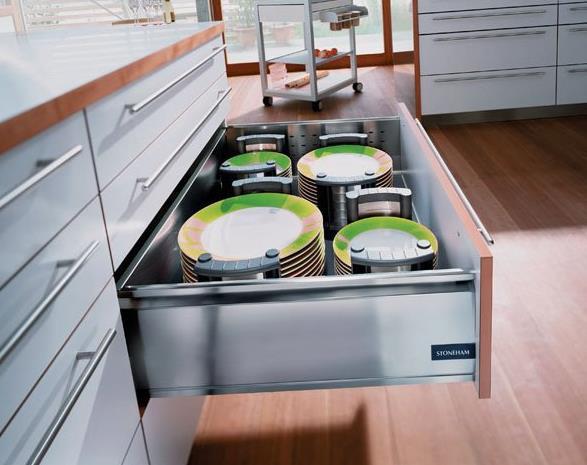 Seven: Pantry Drawers
Don't you just love rummaging in the depths of your pantry for something you need right now, but haven't used for some time? It's not a favourite activity and while you're digging through the pantry, you're likely to see a variety of items you forgot all about. If you install pantry drawers, all you need to do is open the drawer and instantly find what you need.
Believe it or not, that's just a sampling of the many types of kitchen cabinet drawers that are available today. To see more, have a look at our kitchen cabinet drawer Design Ideas pages. We think you'll agree that modern kitchen cabinet drawers make working in your kitchen much more enjoyable.