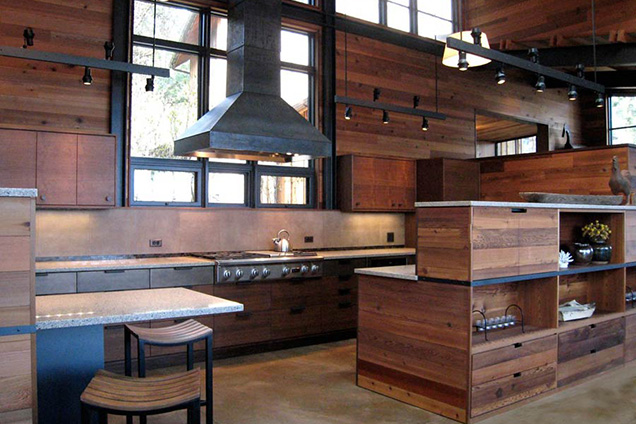 One cannot design around sub-par materials because true luxury does not exist without quality, and that cannot be disguised. Our bodies sense it. The nervous system trips alarms and we feel there's something disingenuous about the materials around us. High-end cabinetry is easy to spot. It's built like premium furniture; It uses the finest furniture-grade wood, a multi-step finishing process, and the highest rated hardware. It also typically comes with a lifetime warranty.
Designed By: Greene Partners, Lopez Island, WA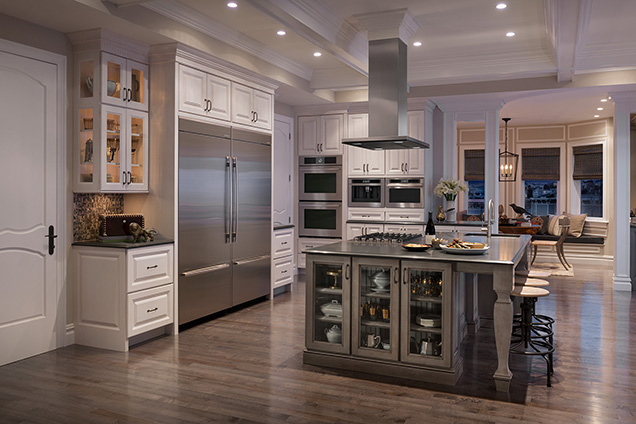 Something visceral happens when you walk into a kitchen with high-end appliances. The weight and craftsmanship of these amazing machines urges you forward. Without even touching them you sense their quality; but, of course you're going to touch them. Don't' feel bad, everyone does. You yearn to feel the weight of the refrigerator door, play with the controls, run your hand over those smooth, shiny surfaces, and ignite burners that could power a small rocket.
Learn More At: Jenn-Air Appliances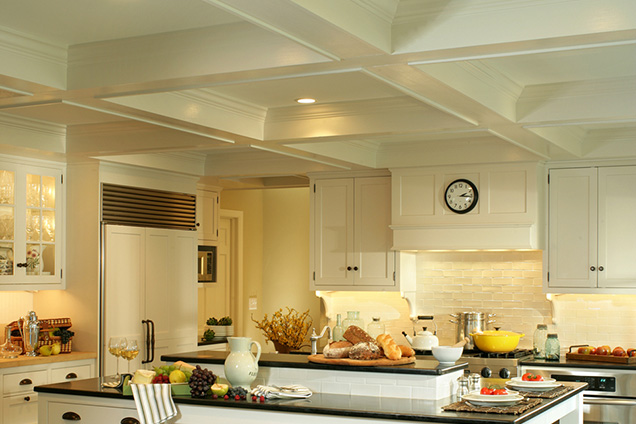 What is it about a room with stacked crown moldings and intricate woodwork that makes us think, "Something important happens here." Perhaps, because it often does. Throughout history, world leaders have been surrounded by architecture adorned with exquisite detail. Today, some of those same details, from stacked crown molding to coffered ceilings, add a unique elegance rarely found in the 21st century home.
Designed By: Canterbury Design, Morristown, NJ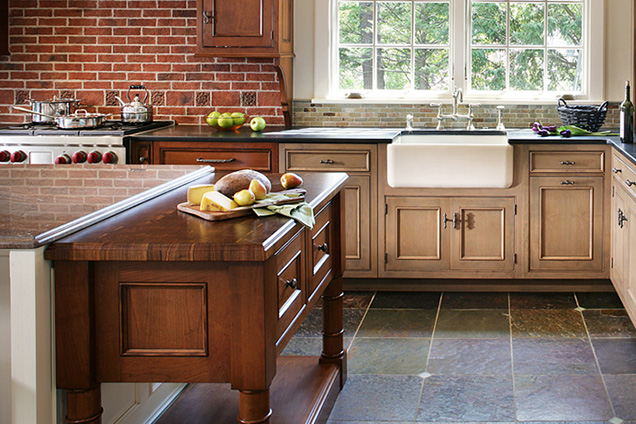 As one of the largest kitchen surfaces, countertops can create a powerful design statement. One of the more interesting ways to accomplish this is with multiple materials. Complementing a granite or quartz countertop with wood has a comfortable feel and one that we're accustomed to from nature. Utilizing wood for an island top often creates a furniture appeal while providing a comfortable surface for your family and friends to belly up to. Complementing a granite or quartz countertop with glass can also be striking. Glass countertops come in multiple textures and colors, and can even be lit with stunning results.
Today there are more countertop options to choose from than ever. Metal, granite, marble, quartz, glass, tile, cement, and solid surface materials can all be combined to provide a plethora of jaw dropping alternatives for your own luxury kitchen.
Designed By: Canterbury Design, Morristown, NJ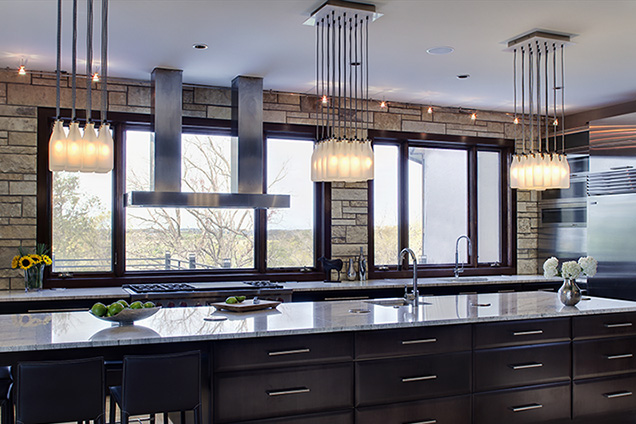 The right lighting in a luxury kitchen is like sparkle on a diamond, it makes everything shine. It brings ambience and depth to the room, and highlights the design details and exquisite finishes. Let's not forget fixtures either. From chandeliers to sconces to pendants, there are so many great options to choose from whether you're looking for simple task lighting or hanging pieces of art.
Designed By: Drury Design, Glen Ellyn, IL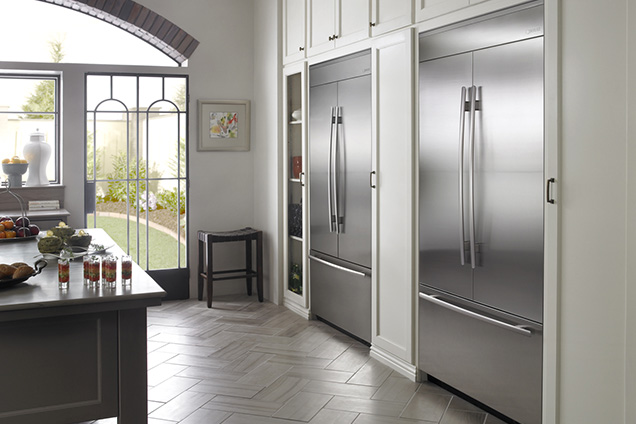 As with double ovens, having multiple refrigerators is great for those who entertain or have large families. Additionally, utilizing smaller under counter or drawer refrigerators is a wonderful way to break your kitchen into functional zones from refreshment centers to prep stations.
Learn More At: Jenn-Air Appliances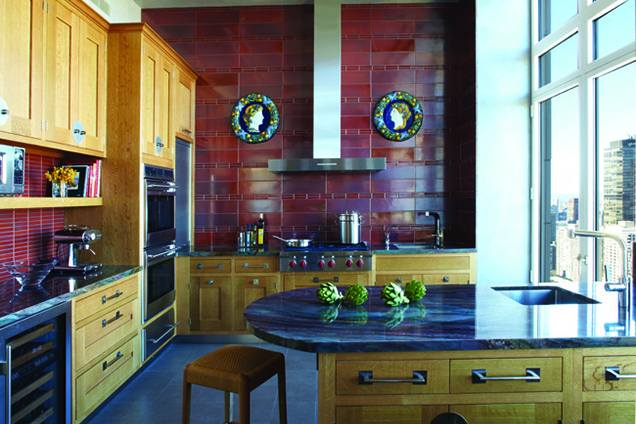 In today's mass produced world, hand crafted elements provide a refreshing human touch. The subtle imperfections of work created by the human hand are quickly recognized, and appreciated, even if only subconsciously. Hand crafted and hand painted tile can be used in backsplashes, flooring, or countertops to add a luxurious feel to any kitchen.
Designed By: Robert Schwartz of St. Charles of New York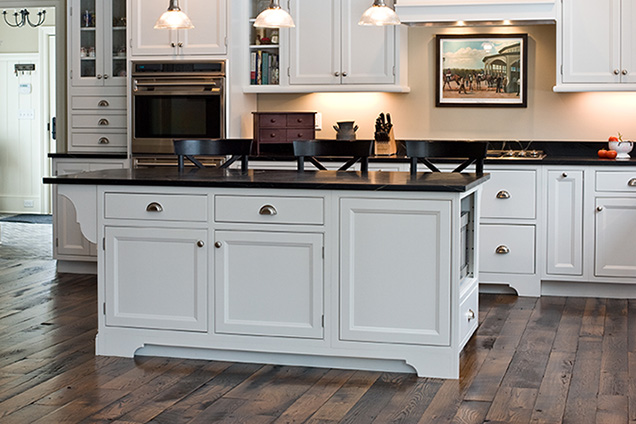 What is it about reclaimed floors that make them so incredibly beautiful? After all, aren't they just tattered and worn? Old, even? Or, could there be magic in their imperfection? The Japanse think so. In fact, they even have a word for it: wabi-sabi. According to author Richard Powell of Wabi-Sabi Simple, "wabi-sabi nurtures all that is authentic by acknowledging three simple realities: nothing lasts, nothing is finished, and nothing is perfect." Essentially, with age comes beauty.
Designed By: Westborough Design Center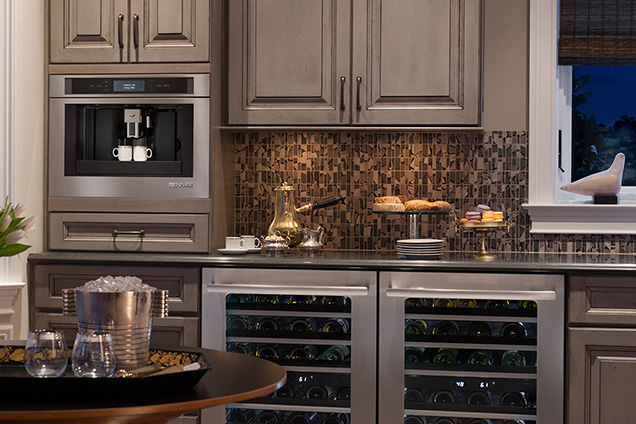 Whether for entertaining or just your morning ritual, coffee centers quickly takeover as the favorite part of the kitchen. Simply combine a built-in coffee system with an under counter refrigerator, or refrigerator drawer, and you'll be whipping up everything from mochas to cappuccinos in luxurious style.
Learn More At: Jenn-Air Appliances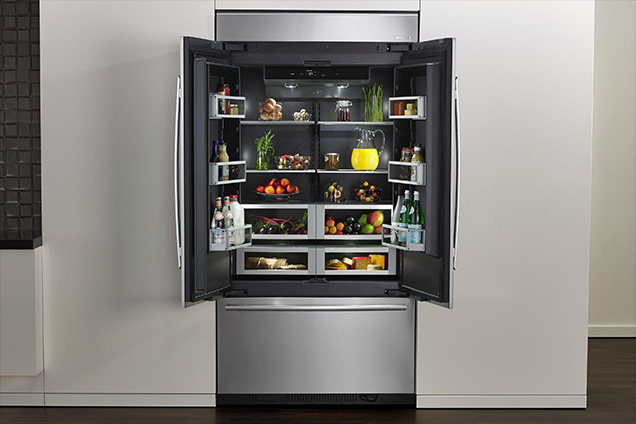 The beauty of great design comes in the unexpected details that unfold with every turn of the head, or as in the case of Jenn-Air's new Obsidian interior… opening of a door. For the first time, design luxury has been brought into the refrigerator's inside with this beautiful finish and dramatic lighting. Of course, being from Jenn-Air, the beauty is accompanied with the incredible technology Jenn-Air is known for. To learn more, visit Jenn-Air.com.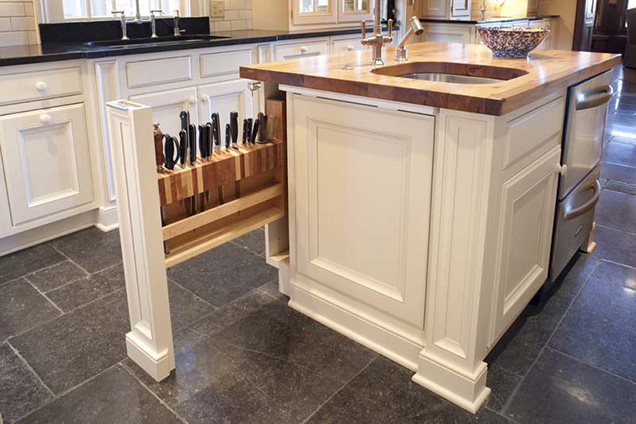 Organizational accessories may not have the flash and sparkle of an intricate crown molding or an imported, hand painted backsplash but, ooh la la, there are few things more luxurious than a kitchen with a place for everything – and easy access to it. If you want to get really excited about cooking, use drawers (or pullout inserts) throughout your base cabinets. While you're elegantly reaching for a pan, the rest of the world will be on their knees, contorting themselves about, just to find the right lid. Since we're on the topic of drawers, there are drawer organizers for just about everything including silverware, cutlery, baking stations, plates, and food storage.
Don't forget about your wall cabinets either. The inside of cabinets are great for storage of thinner items such as plastic wraps or spices. If you're shorter in stature there are several pull-down options that bring your cabinet contents to you. Take your time to explore the world of organizational accessories. It's a fun journey!
Designed By: Keystone Kitchen & Bath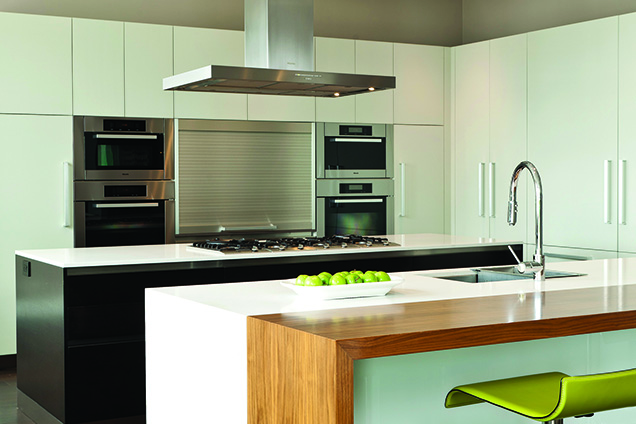 The dance of two cooks working together in the kitchen can be as in sync as a perfectly choreographed waltz. But, more often, it looks like a future bride and groom at their first Arthur Murray lesson. Unless you and your partner have the making of the next Fred and Ginger in the kitchen, we suggest multiple work zones. Working together towards a common goal but, with your own countertop space and prep sink, is a great way to ensure harmony in the kitchen and your relationship.
Multiple work zones however, aren't just for multiple chefs. Even if you're the only one in the kitchen, dividing your kitchen into stations can make preparing just about anything, pure bliss. Today's luxury kitchens have zones for baking, cleanup, coffee centers, and even refreshment stations.
Designed By: Haefele Design, Inc.
The kitchen is becoming smarter and more connected than ever before. As we head into an era of the "Internet of Things" our luxury appliances are adding new and interesting ways to make our lives easier. One way this is being done is through the Jenn-Air Culinary Center. The Culinary Center feature has the ability to customize each cooking cycle for you based on your preferences and pan type. It even integrates a temperature probe to ensure the perfect doneness level, and will soon feature Wi-Fi connectivity with an app for iOS and Android. The Internet of Things is taking off quickly with some predicting every appliance sold by 2020 will have some form of Internet connectivity.
Learn More At: Jenn-Air Appliances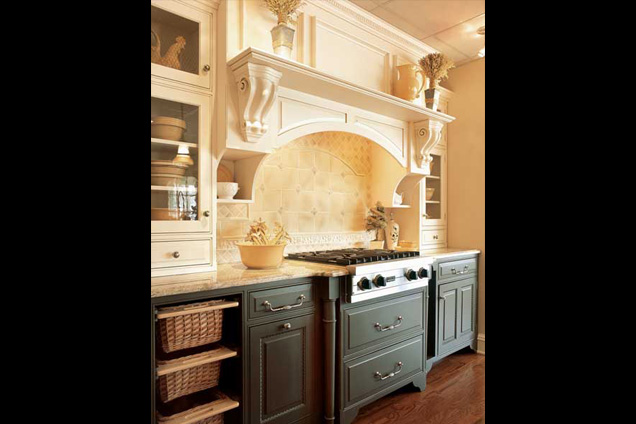 Our eyes naturally follow lines. In a kitchen, those lines come from a variety of sources such as a countertops, walls, rows of cabinetry, and molding details. A focal point is simply where our eyes take us as the lines of a room converge. In luxury kitchens, special attention is paid to focal points to ensure that when the eyes travel and land at their destination, something magnificent is waiting for them. Typically, that "something" will not only be magnificent but, also vertical.
Probably the most recognized and classic focal point is the kitchen hearth with a wonderfully powerful range, an amazing hood, surrounded by beautiful woodwork. Somewhat newer but, equally grand, is a custom armoire with a single (or double) built-in refrigerator. Of course, everyone's sentimental favorite: the fireplace, makes a comforting focal point as well. And, don't forget the outside; a beautiful wall of windows can become the visual resting place your guests won't be able to take their eyes off of.
Designed By: Northeast Cabinet Designs, Inc.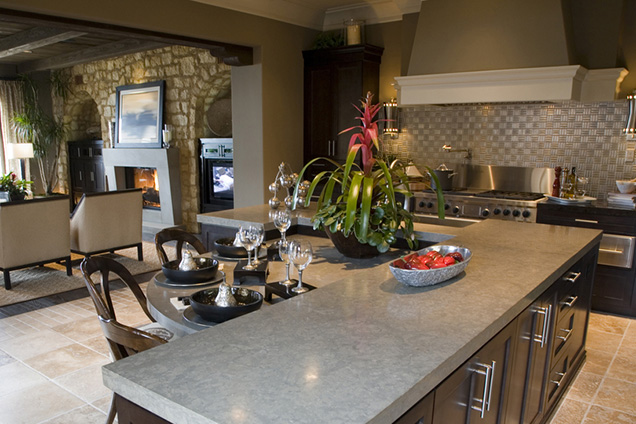 Wall surfaces encompass a wide variety of options including paint, tile, wallpaper, stone, modular panels, wood, and even everyday materials such as metal roofing. Whether for accent walls or the primary wall, encapsulating a kitchen with beautiful and unique materials creates dramatic results.
Source: http://www.kitchens.com/