Scandinavian design is known for its modern feel. Clean-lined furnishings, bright interiors and wooden details combine to create a look that is both contemporary and rustic. Not to mention, features like metal accents, eye-catching patterns and handmade touches can really polish off a room.
Today the living room is the interior of choice, and we've packed this post with examples of Scandinavian design at its finest. Companies like Marimekko and IKEA have grown in popularity over the years, offering a range of high-quality products that celebrate the best in modern Scandinavian design. Not to mention, many Scandinavian companies celebrate the idea that good design should be affordable to everyone. And that's great news for all of us!
Select Clean-Lined Furnishings
One signature trademark of Scandinavian design: clean-lined furnishings. Sleek sofas and artfully designed chairs are frequently featured in Scandinavian-style homes, as shown in the living room below. [from Michael Kelley Photography via Houzz]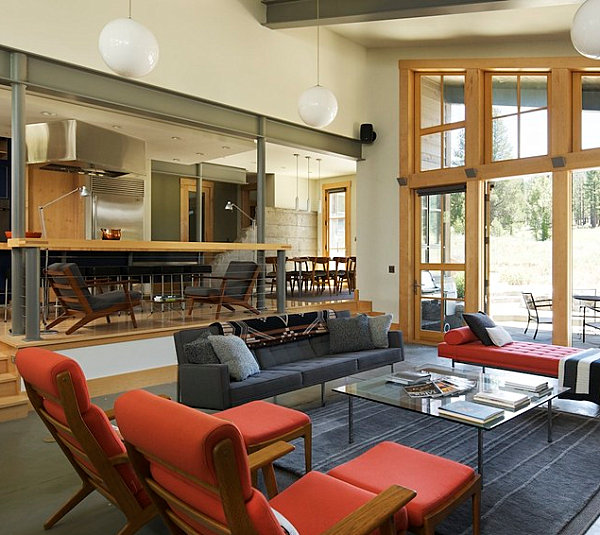 Yet just because furniture is modern and chic doesn't mean it has to be short on comfort. Doesn't the leather sofa below look cushy enough to sleep on?! [from Scandinavian Designs]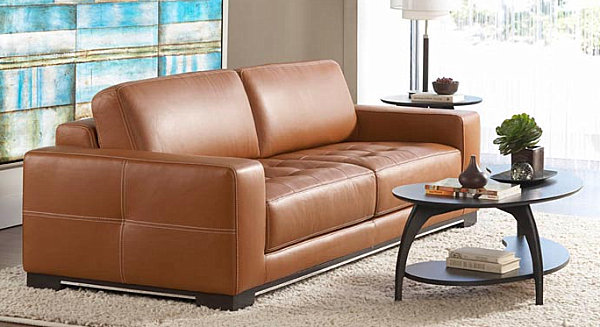 Often accompanying the clean lines of Scandinavian pieces is an undeniable focus on geometry. In the next image, rectangular shelving, triangular metal art, and round motifs on lamp and table reinforce the shape-happy style. View product details at IKEA.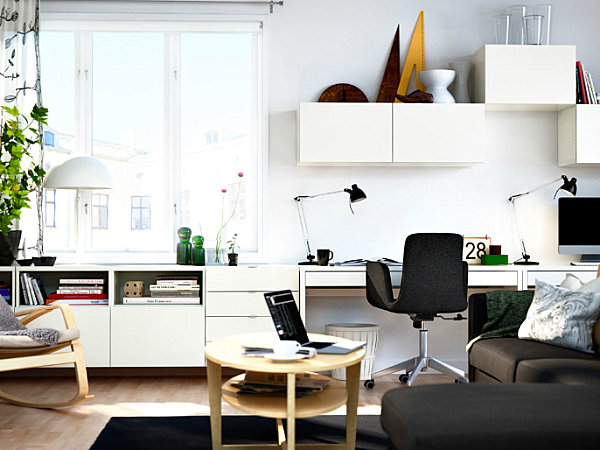 One way to soften up clearly modern seating is to incorporate tufting, as shown with the elegant seating choices below. [from Scandinavian Designs via Houzz]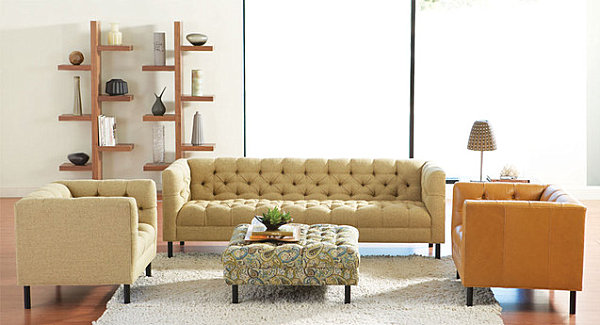 Many Scandinavian furnishings boast a Mid-Century modern feel. Note the prevalence of tapered, flared wooden legs in the next image. As you select clean-lined furniture for your home, choose pieces that speak to you. If you're a fan of '50s/'60s style, go for furnishings that represent those decades! [from Architect Lines]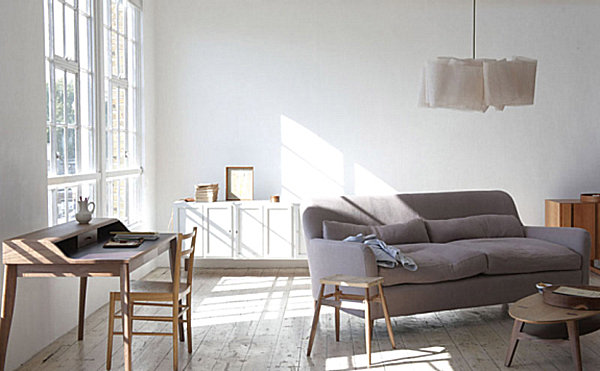 Incorporate Wooden Details
Many Scandinavian homes feature natural wooden elements, from flooring to interior trim to details on furnishings. In the image below, we see how golden wood warms a light and airy living space. [from The Webber Studio via Houzz]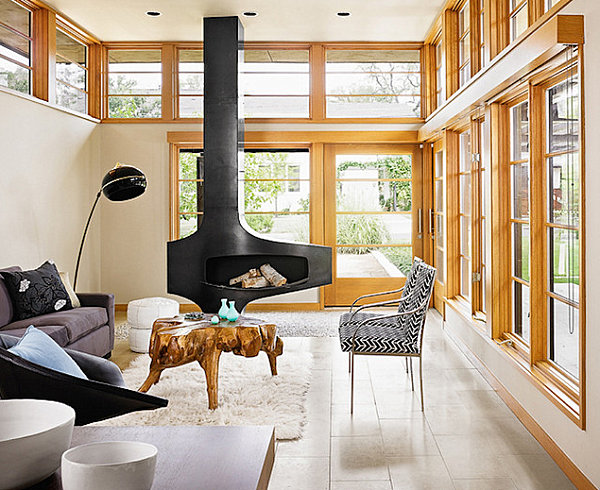 Once again, wooden trim and furnishings create a golden glow in a modern space, as shown in the next featured image. [from Jeffers Design Group via Houzz]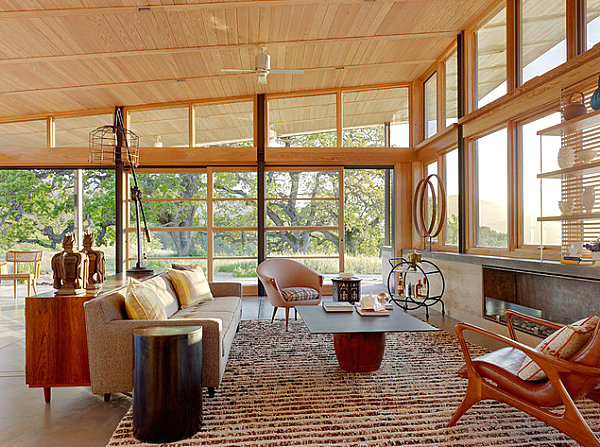 If you're wanting to add instant earthiness without committing to a major furniture purchase, keep in mind that wooden detailing can also be added with accents like surface-top bowls. On the coffee table below, a round piece adds a rustic element to an otherwise modern space. [from Mhouse Inc. via Houzz]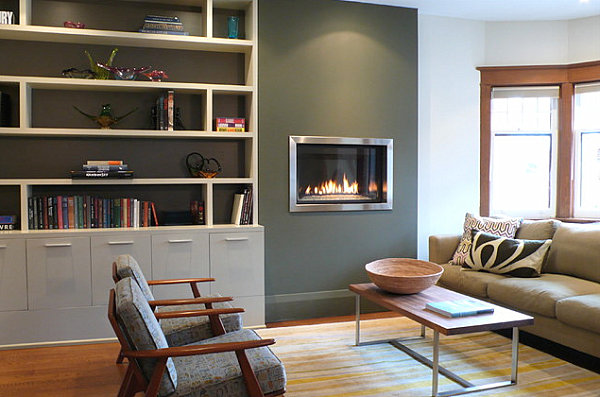 Don't Be Afraid of Color
Light interiors and warm wooden touches are definite components of Scandinavian design, but so is the use of bold color. One sure-fire way to add vivid accents: go for vibrant throw pillows, like the geometric piece below. [from IKEA]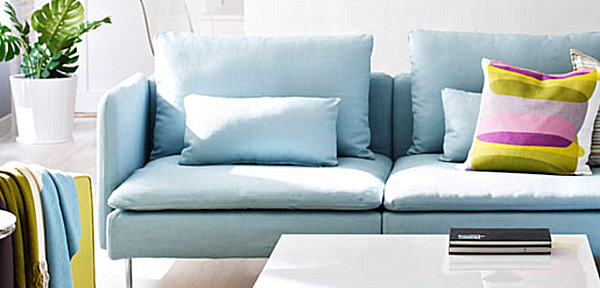 Another tip for brightening your space: purchase a vibrant piece of wall art. In the next featured interior, the fire-red hue of the canvas is echoed in the checkered pattern of the sofa pillow. [from Home Interior Designs]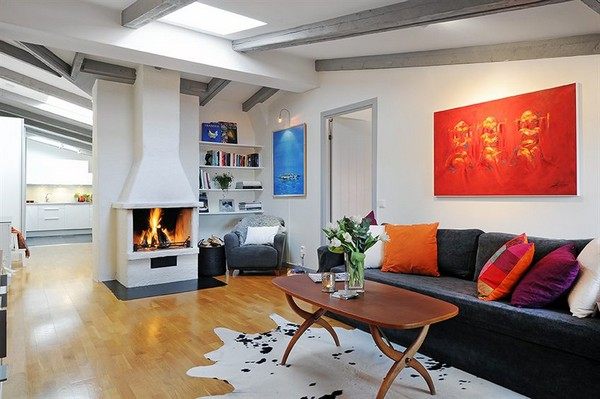 Don't hesitate to incorporate a variety of colors through interesting patterns, as shown by the checkered pillows in the next image. [from Freshome]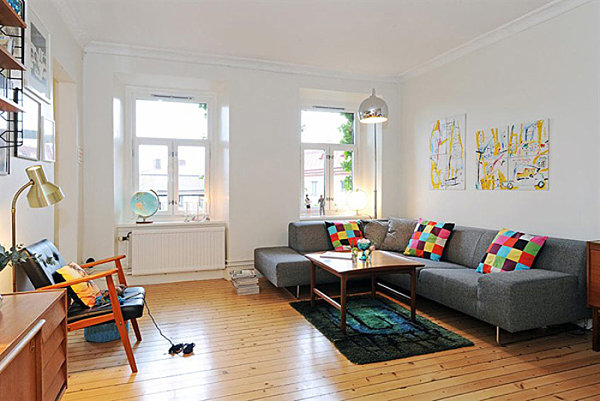 As mentioned above, color can be introduced through eye-catching wall art. Why not choose a piece that showcases a variety of hues, such as the Stockholm, Sweden Art Print from Etsy artist Anna See: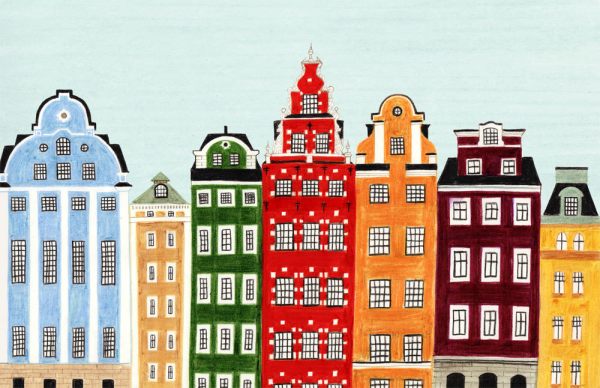 Patterned Textiles Add Style
Just as color adds interest to the Scandinavian living space, so do textiles. Companies like IKEA offer a wide variety of patterns that you won't find anywhere else. Cutting-edge geometry and abstract forms often take take center stage, as shown in the textiles below.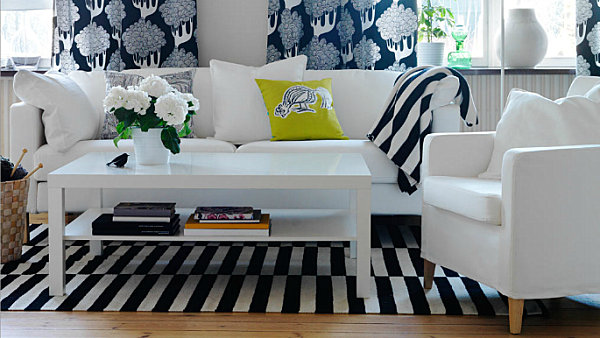 Another Scandinavian design company that consistently features interesting prints is Marimekko. From abstract organic patterns to Asian-style blossoms, offerings are never short on style. To add interest to your living space, choose throw pillows in standout shades, as shown by the selections in the next image.
Don't forget about the seating! For some, a patterned sofa can be overpowering. Go with a patterned chair instead! Companies like  Scandinavian Designs feature interesting geometric prints that are worth a second look…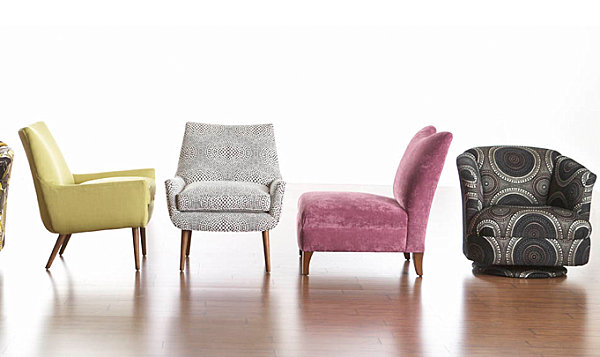 Some of the most beloved Scandinavian patterns feature handwoven-style designs that mirror the comfy look of knitted sweaters. Below we see one such pillow in a lofty Scandinavian house in Sweden. This warm cushion begs to be leaned on! [from Apnetus.com]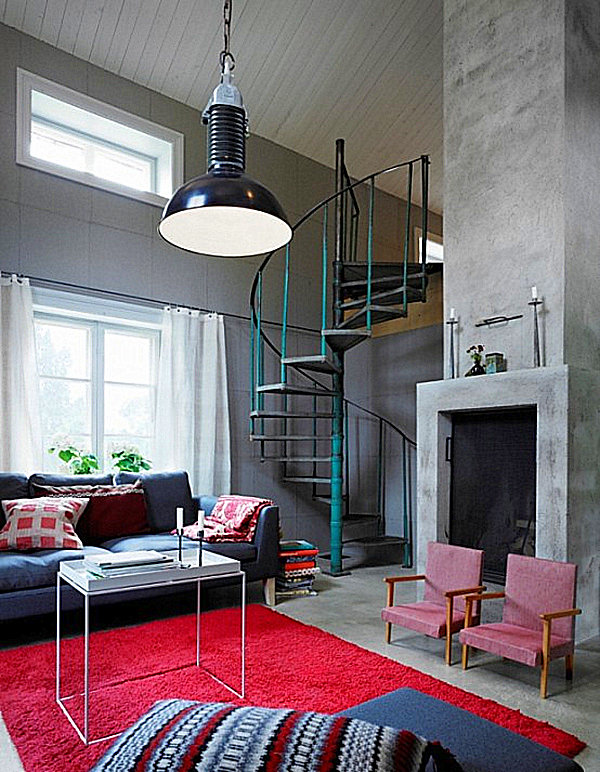 Don't forget the appeal of classically simple Scandinavian patterns, such as classic checks and stripes. Red and blue are oft-used colors in the Scandinavian home, and they shine in the living room below. Also note the charming snowflakes that dangle from the ceiling. This is a space that's truly ready for winter! [from Julie Smith via Houzz]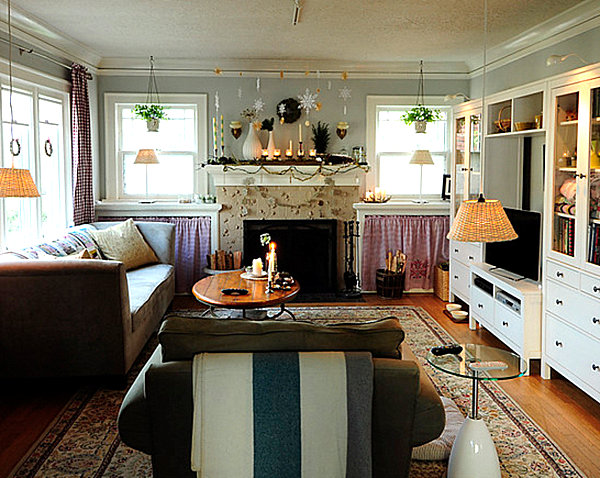 Choose Shiny Metallic Accents
Polish off your Scandinavian space with metal accents. In fact, metallic construction is a frequent feature of Scandinavian furnishings, such as the pieces showcased in the home of architect Douglas Larson and his wife, Torrie. This renovated mid-19th century farmhouse features a variety of gorgeous minimalist furnishings. Though the image first appeared in Metropolitan Home, details can be found at Apartment Therapy.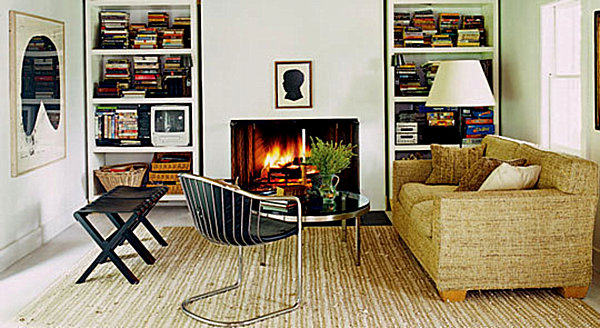 Metal curves reign in the metal accent table featured below. Note how the oval glass top of the table is enhanced by a shiny base with a matte finish. [from Scandinavian Design]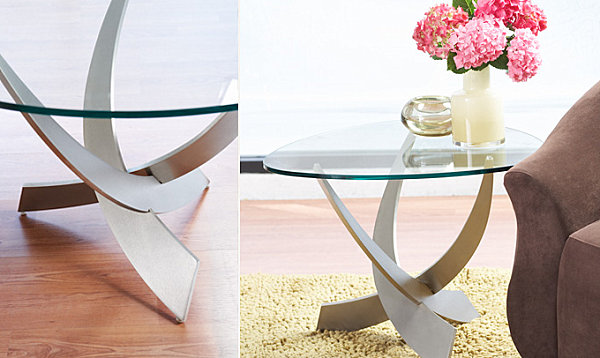 We end with a sculptural piece designed by Helle Damkjær. The BLOOM serving bowl is based on the designer's travels to Asia, and its organic form is enhanced by its matte stainless steel construction. [from Georg Jensen]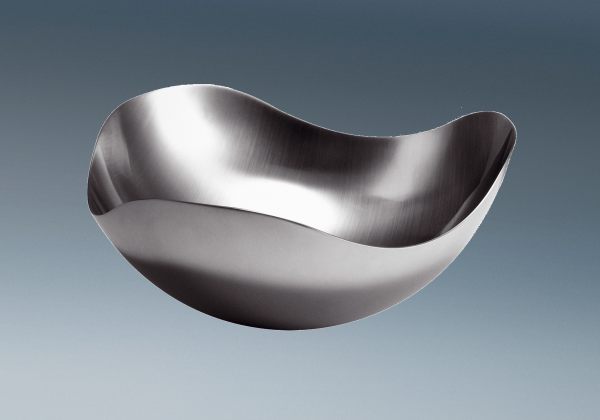 When it comes to Scandinavian design, which features pique your interest? The wooden flourishes? The metal accents? The clean-lined furnishings? Or perhaps you're a fan of textiles and other details with a handwoven look. Share your thoughts in the comments below…
Source: http://www.decoist.com