Why grey bathroom? Even this color can be interesting if you know how to use your fantasy.  You'll be surprised but your bathroom is way dirtier than you think, and grey color is a color that is hard to soil. If you think that it will be dull, don't be so sure. Remember that every color have a lot of shades.
Grey bathroom tiles.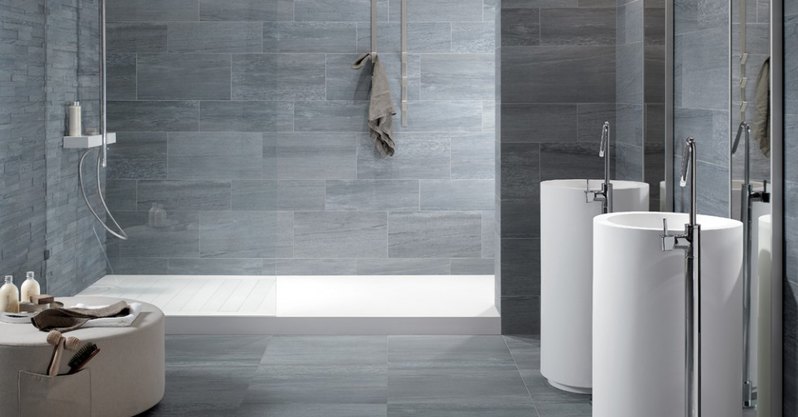 Tiles, painted in every shade of greyish can help you decorate your bath. Here is the first of our grey bathroom ideas – puzzle. Think about the picture that you can make out of little pieces of tile and paint it on the paper in real size. Then crush the tiles of each shade of greyish. Don't forget about safety and wrap the tiles into fabric before crushing it. After that, collect the pieces on the paper in a picture. Then just replicate it on the wall. Besides, if you'll think wider you can even create a volume picture, using light and dark shades of greyish, to create a 3D effect.
The Decorations In Grey Bathroom Ideas.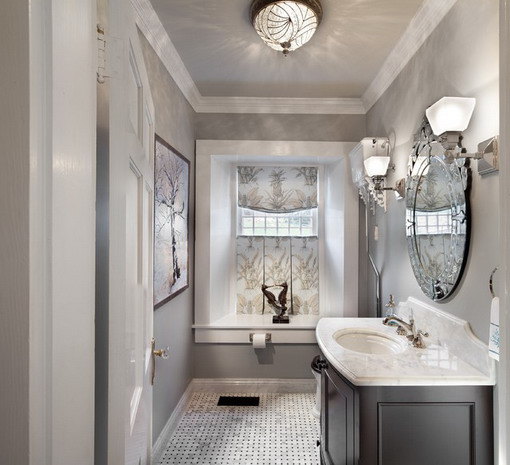 Design can be done by the small things, especially in washroom. The soap, for example, that can also be in pale tones. But the soap can be formed in every shape. So what is preventing you to put some mountains of silver coins in your restroom, or just silver sculptures? A stone maybe? One of the grey bathroom idea is that the carpet can be made in a creative form too. Maybe it'll be a big blot on the floor, or it'll be a portal to another world. The shades of one color can do a lot. The soap dish can be not only shell form. You can even hang some sculptures of clay, painted in grey, on the wall.
The Mirrors.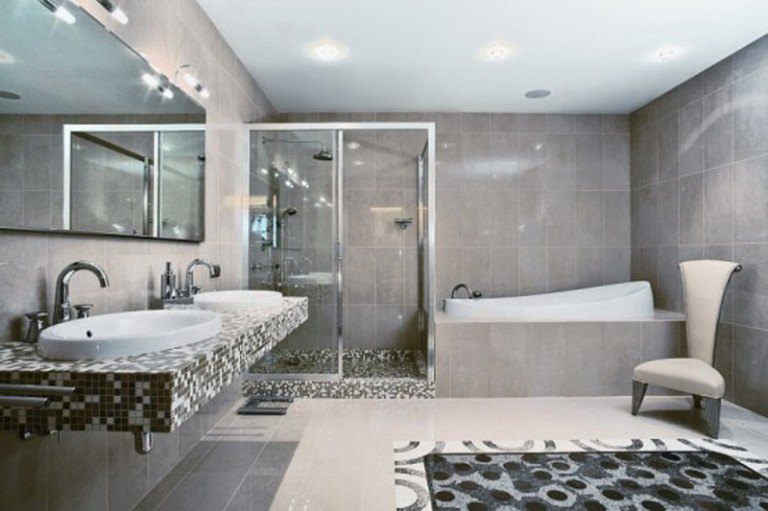 The mirror in restroom can have every shape you want, so don't limit your mind thinking about it. Remember that the mirror is naturally grey. By the way, mirrors can widen the space and if there are two of them hanging opposite each other, you'll receive a long corridor in your room. And try to hang it on the wall opposite to the other one where you already done a 3D picture. You'll see what you'll get. You can even put big mirror on the floor and see another room under your feet. Try not to fall there, although it'll be hard. The same you can do with the ceiling, however your feelings then would be different.
The color wouldn't be an obstacle for you to create original design. Just don't forget to use your fantasy and think wide. If the spirit of creation lives in you, you can make any grey bathroom idea and your own rainbow even using one dim color. Your own imagination will surprise you if you just give it freedom. Gray can be bright and light, and hard, and dark. It can be as different as you want it to be.