Sooo I know that it's been forever since I've posted any updates on our bathroom renovation, even though I claimed I was ready to crack down on it ASAP. I have to admit…I may have been dragging my feet. Renovations are scary if you don't know what you're doing, haha. But in my defense, I could hide behind some excuses…we can't work on the floor until the vanity is finished (so we can install it immediately afterwards), can't paint the vanity until the holes are cut/drilled in it for the plumbing, can't cut the holes until I find a faucet…etc. And I had some problems finding a tall, chrome, vessel faucet that was just right. Everything I came across looked super sleek & modern, but I was hoping for one with an older, more classic style to fit better into our vintage & industrial inspired bathroom plan. And then finally I stumbled upon this beauty on Overstock –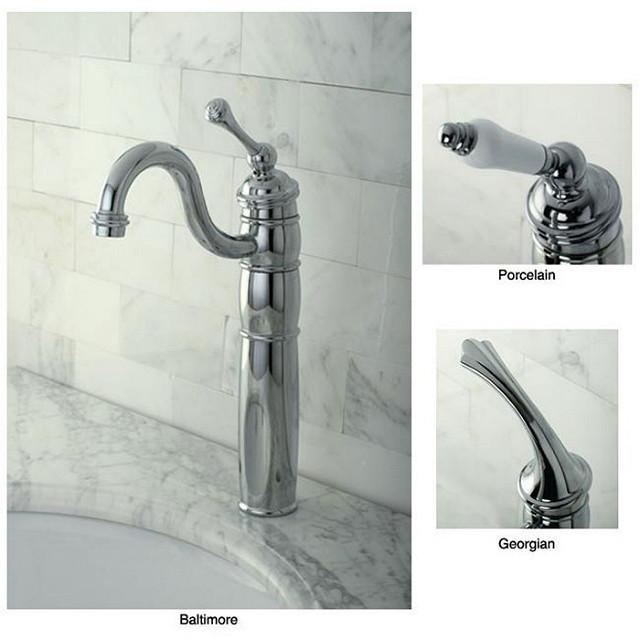 At $121.99 (12% of our 1K budget goal!), it's not exactly a steal like our $7.50 vanity cabinet.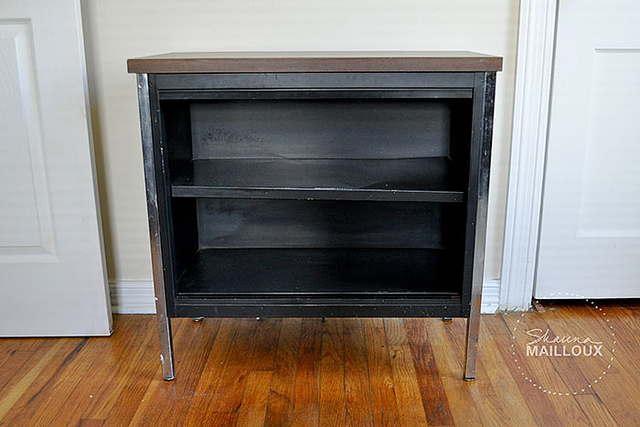 But it is gorgeous (yes, faucets can be gorgeous!) and I think it fits into our theme perfectly. I was able to apply $50 in credit card rewards to the purchase so I can mark it in the books as $71.99. Once it arrived, my faucet-hunting mission was complete and we had no other excuses but to get started!
The first real work to be completed on the bathroom is prepping the vanity for plumbing & paint. I mentioned in this post about possibly adding some casters to the bottom of the cabinet to raise it up a few inches & give it some more industrial flair. After some good feedback, I decided to go for it & picked up 4 of these 3″ locking casters from Lowe's –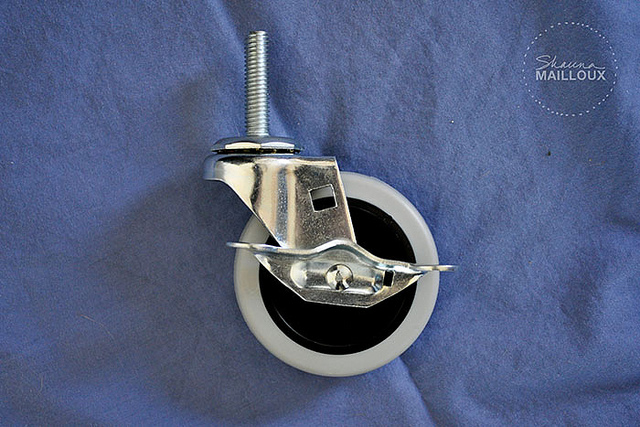 First the metal feet had to come off (and yes, those chrome legs need a serious cleaning & polishing once the prep work & painting is finished!).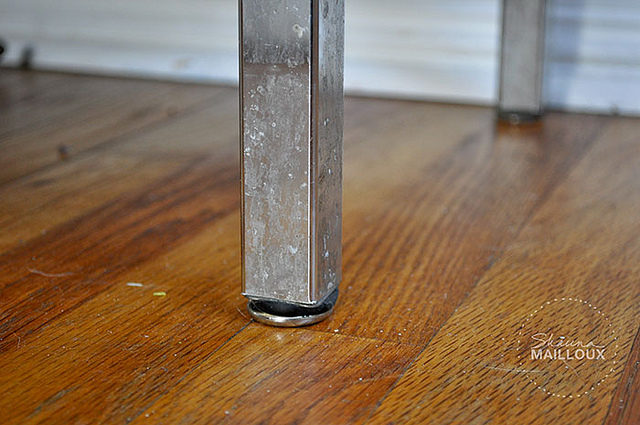 I give Phil all of the destructive tasks so he went after the feet with an xacto knife and some pliers.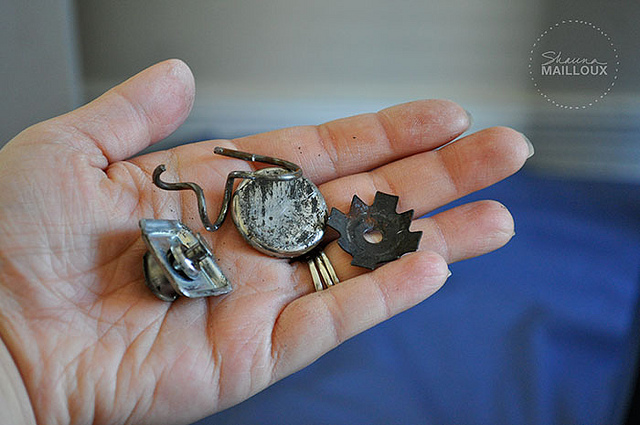 We're waiting until the end to attach the casters just to make the cabinet easier to work with, so that part is on hold. The next task was making room for the plumbing. I measured out the wall placements of the drain & the water supply lines & marked it out on the back of the cabinet (taking into account the additional height of the casters) –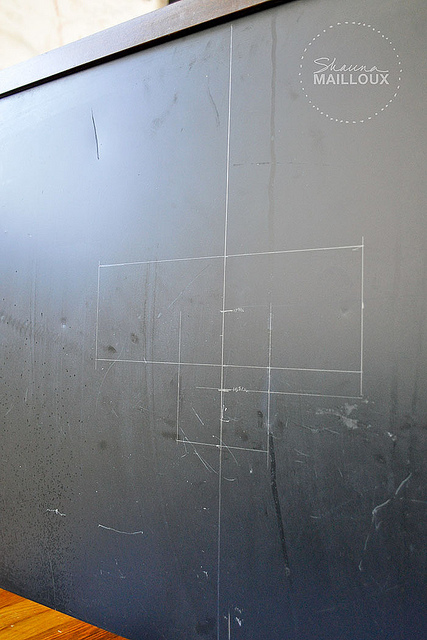 I gave the drain & the supply lines about a half inch of wiggle room on all sides just to be safe. Before I could cut into the back panel, we had to address two other problems –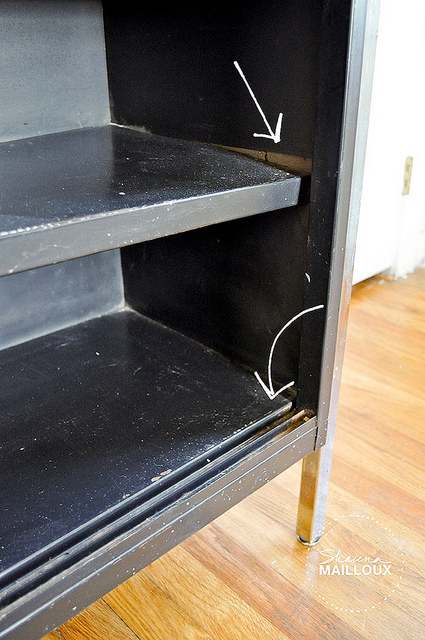 I knew when I bought the cabinet that the top shelf was falling & would need repaired, and that it would also need to be cut out in the center to accommodate the plumbing. But I wasn't thinking that in order to do that, the whole shelf would need to come out & I would have to figure out a way to support it again.
Another thing. I quickly realized that the slots in the bottom shelf (for some sliding doors, I'm assuming) would become a graveyard for dirt & dust & it would be obnoxious to clean. So we decided that the easiest solution to those problems would be to just cut two new shelves out of wood, one to replace the falling top shelf & the other to rest on the bottom.
So I had Phil do the destructive work again & rip out the top shelf.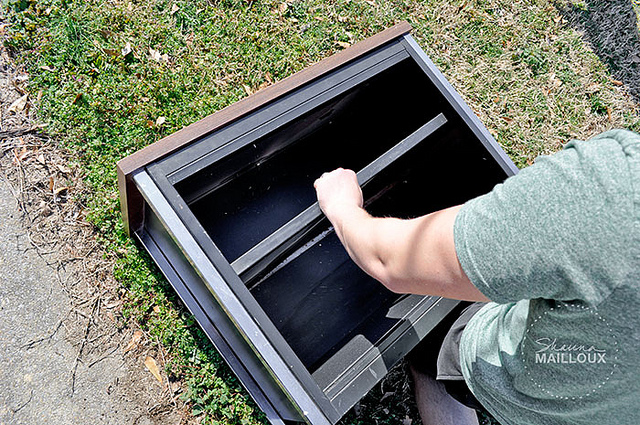 With the shelf out, I could cut out the access area in the back panel. First some starter holes –
Then it was as easy as connecting the dots with our new jigsaw, using a special blade made for metal –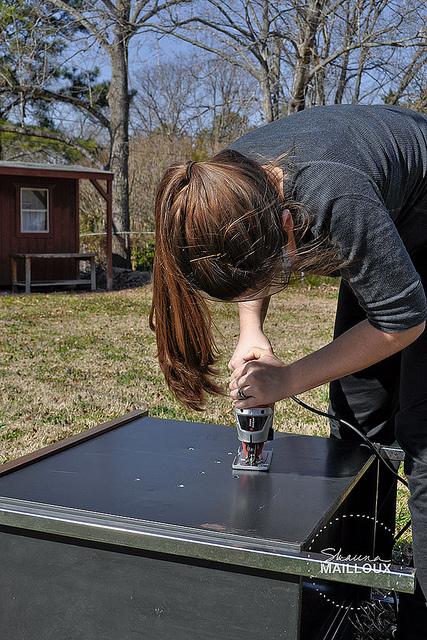 Yes, it's slightly lopsided because the drain isn't centered on the wall between the supply lines…odd, I know.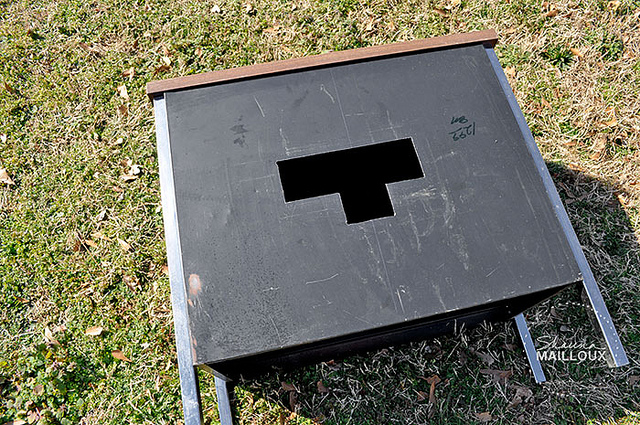 Next, I marked out the spots on the laminate countertop for the drain & the faucet. It's too bad they were slightly different sizes because we had to buy two different hole saws. Oh well, something to add to the tool collection!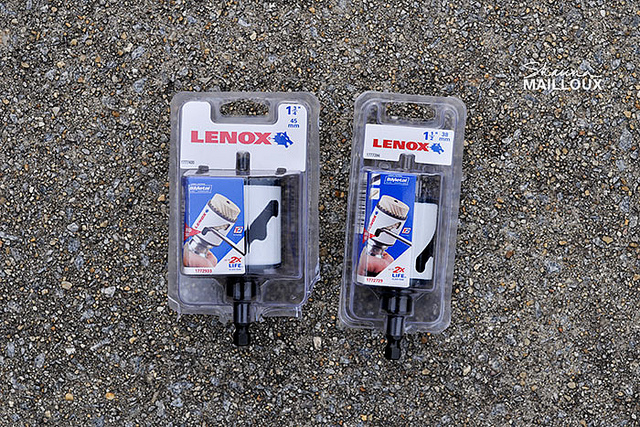 I must admit I enjoy a good hole saw. Clean cuts are so satisfying!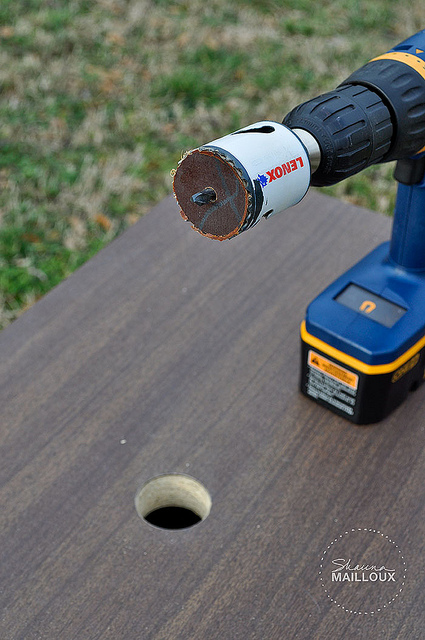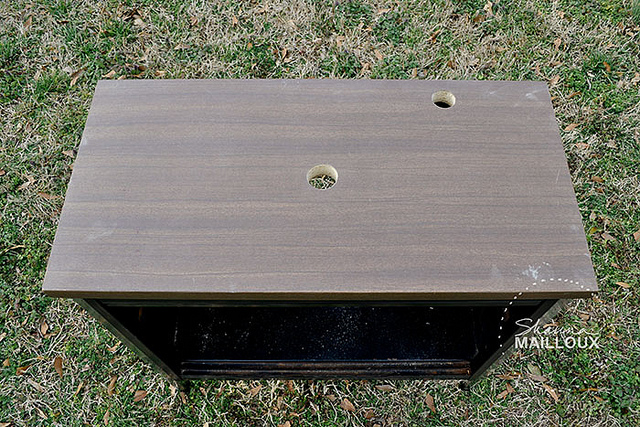 At this point I brought it back inside to check how everything fit. We bought chrome vessel sink grid drain & mounting ring on Overstock too for $34.95. Who knew that vessel drains are so expensive?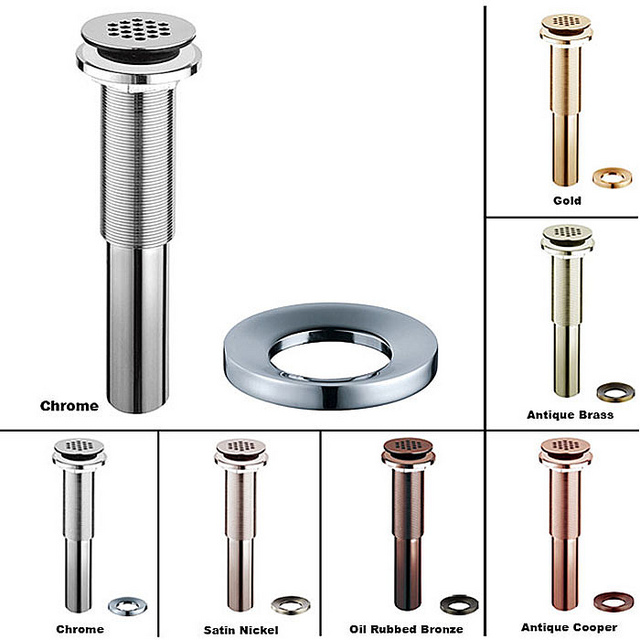 Of course I had to dry-fit the other parts too just to see how they would look all together.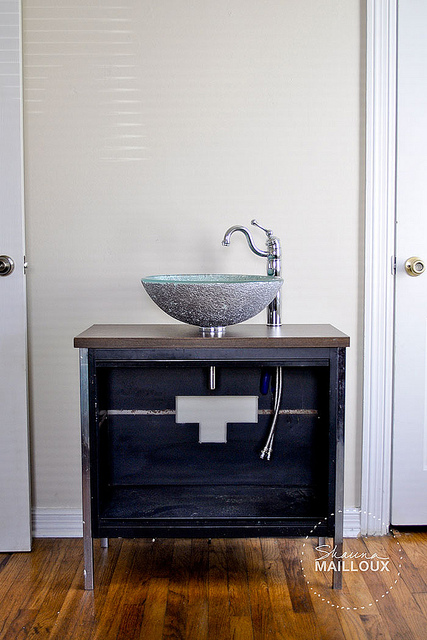 Eeeeee it's so pretty I just love that beautiful, shiny, vintage-inspired beast of a faucet. Anyways, there was a reason for doing this other than squealing. More measuring. I needed to double check how much area to cut out of the top shelf.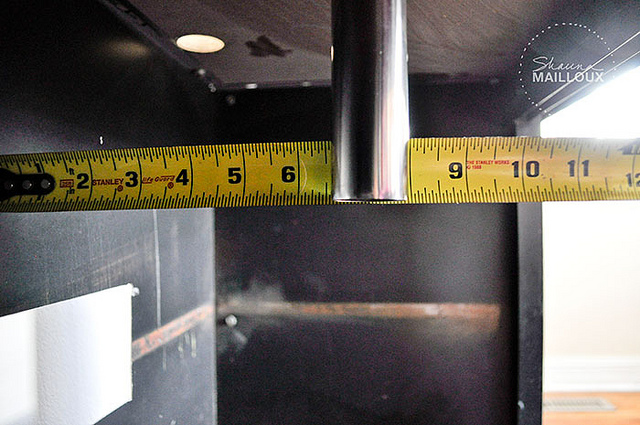 Phil helped me cut down a paint-grade panel to make the two shelves –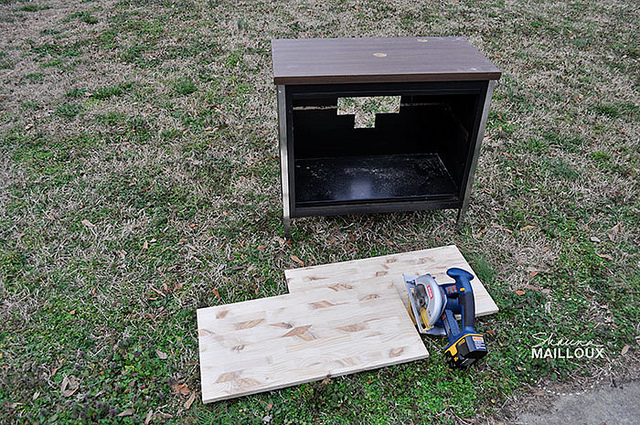 I notched out the corners with the jigsaw for a perfect fit.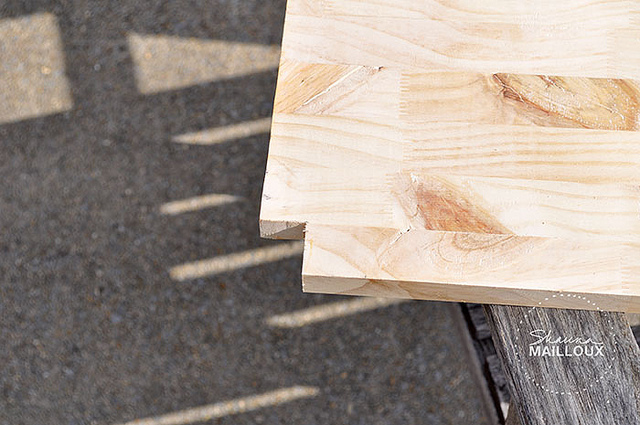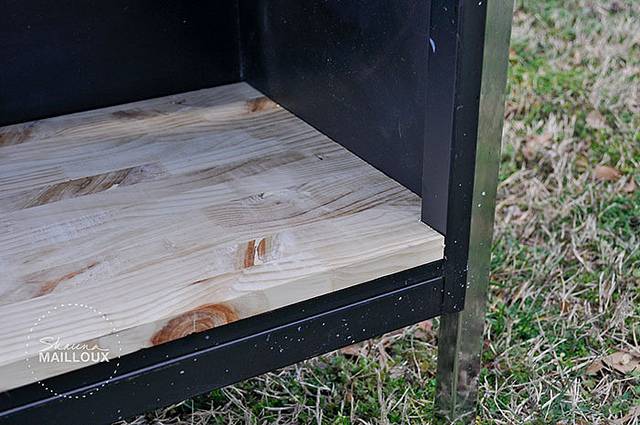 On to the top shelf. I cut down some scrap pieces to make some supports for the top shelf.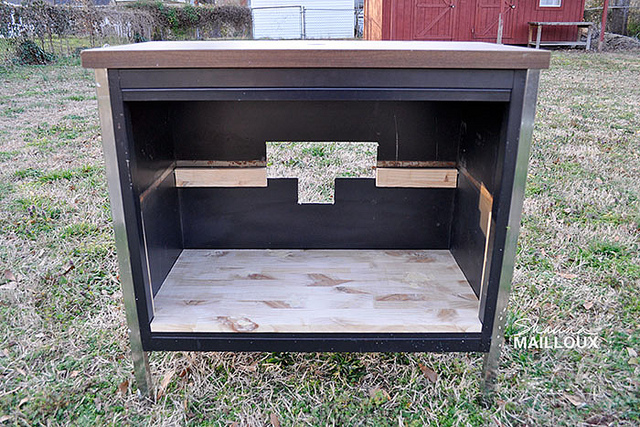 The front supports are just tucked inside that hollow piece & will get glued in later. They stick out about a half inch – just enough for the shelf to rest, but not enough that they're noticeable.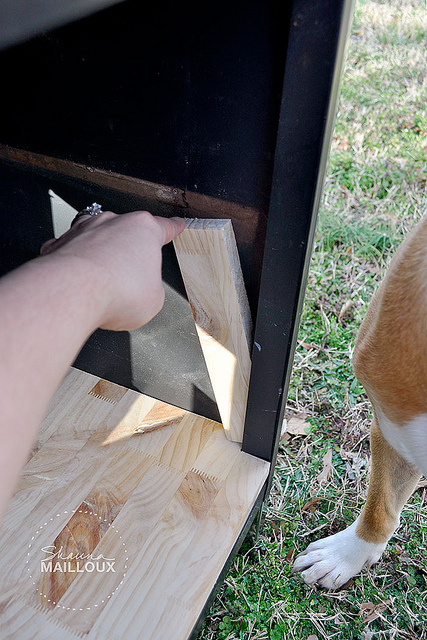 The back supports I was able to attach from the rear panel with some screws.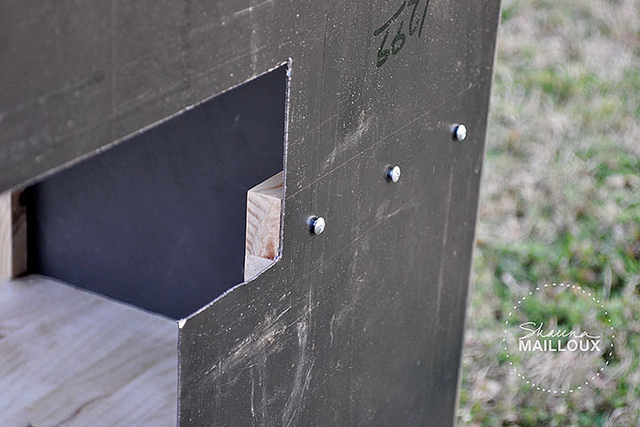 Then I was able to mark the plumbing access area on the top shelf in alignment with the access in the back panel.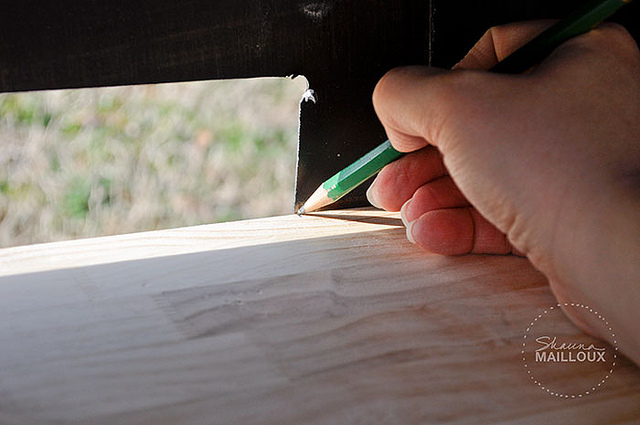 It was sad to take the jigsaw to my brand new shelf, but alas, it had to be done. (Speaking of sad – I cannot wait for some GREEN grass!)
From here, all the surfaces (minus the chrome legs) got a thorough sanding & cleaning before bringing the cabinet inside for the last leg of the prep work. I ended up just gluing the bottom shelf down & clamping it tight. It's a perfect fit & it feels super solid so I don't think it's going anywhere, but I could always drill in some screws from the bottom if it ever becomes a problem.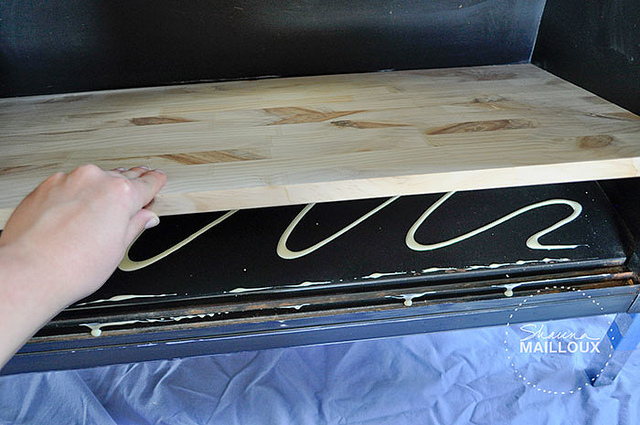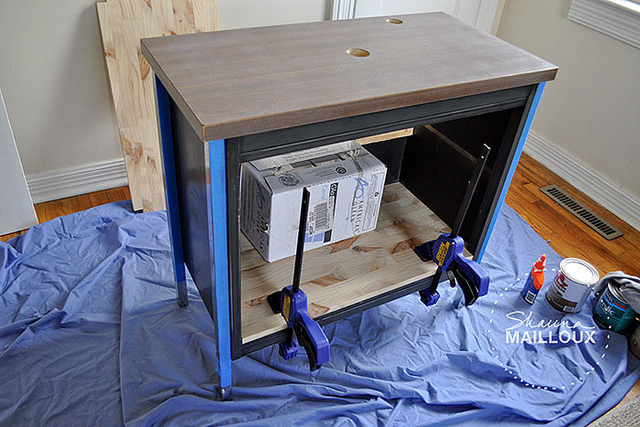 Then the top shelf got glued down to its supports, all the edges were sealed off with some paintable caulk, and it was finally ready for some PAINT!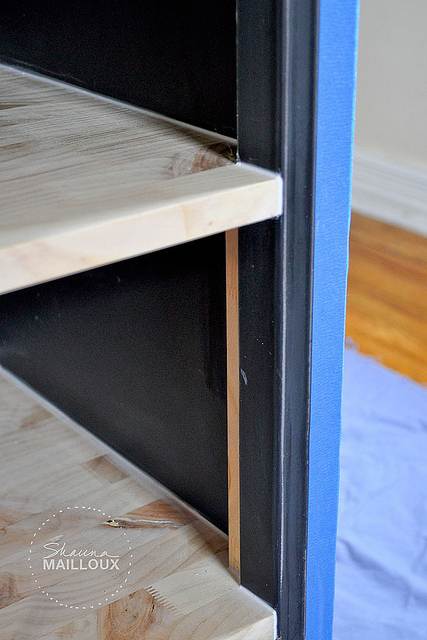 Don't worry, I'm ending this mega-post now. You'll have to stop by later to see what color I choose (surprise!It's not mint green after all!). I know, I'm sure the suspense is just killing you.