Nowadays, the design ideas for living room are the most popular requests about the house designing. Few rooms in the home get as much daily use as the living room, which is often used as a space to entertain guests, watch a movie with the whole family, or relax while reading a book. This room is so central to the daily function of families and their routines, it requires a design that is functional, beautiful, and inviting to all. More than 50 different design concepts can help homeowners plan the colors, materials, and layouts that will make their living room a more inviting place for everyone they invite into their home throughout the year.
1. Unconventional Modern Contrast.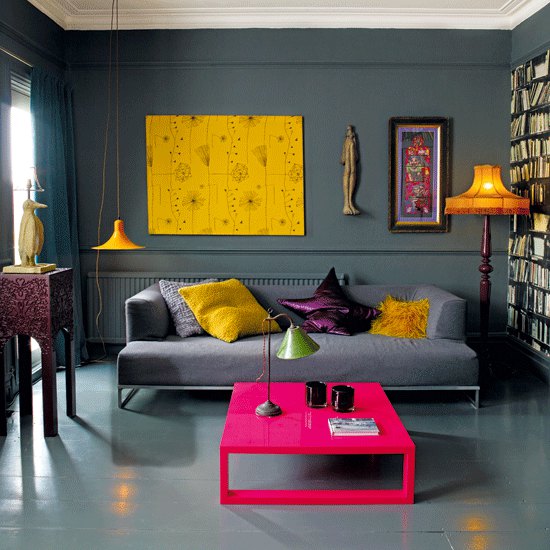 In recent years, bright colors have taken hold in fashion of design ideas for living room. Bright colors offer a refreshing change of pace from the neutrals and earth tones and they give homeowners a creative way to express their personality with each piece of furniture. The key to this unconventional embrace of modern contrasts is to make sure that the pops of color are rare, giving them the ability to stand out immediately upon entering the room. One of the best ways to achieve an ideal contrast is to set the brightly colored furniture pieces against neutral, or darker, walls and floors. This maximizes the exciting effect of this unconventional living room decor choice.
2. Contemporary Design Ideas For Living Room: The Minimalist Penthouse.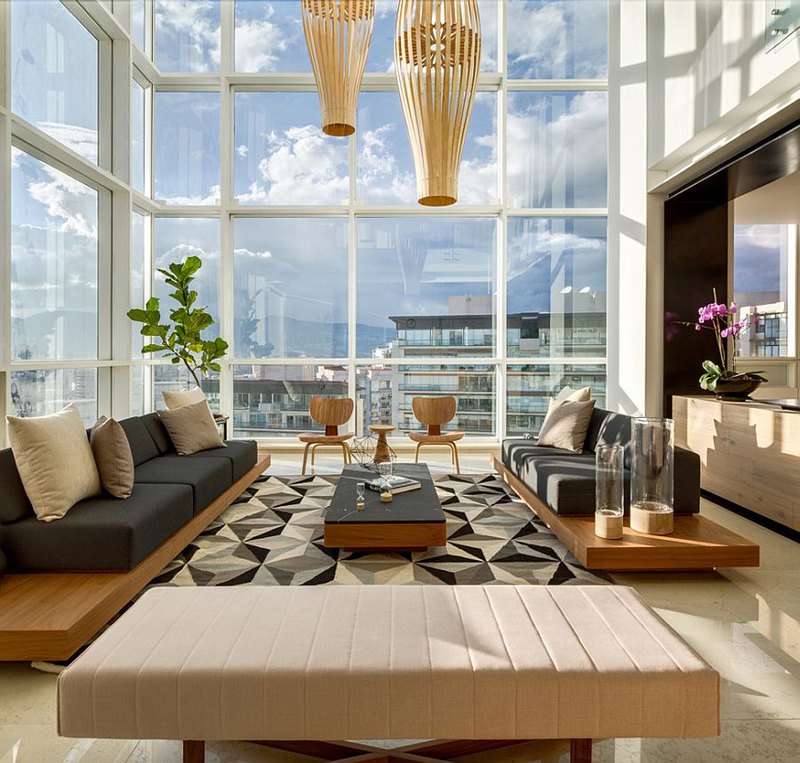 In living rooms with high ceilings and a stunning view, the key to living room decor is all about minimizing obstructions to that view and height. As a result, one of the best designs for this type of setting is a minimalist aesthetic that focuses on framing the windows, emphasizing the height, and using clean lines in furniture throughout the room. To enhance the perception of space and fresh air, light colors should be used on the walls and the floors. Darker colors, natural wood tones, and earthy finishes maximize the effect and bring just the right amount of dramatic contrast to the living room design.
3. Fresh-Picked Purple.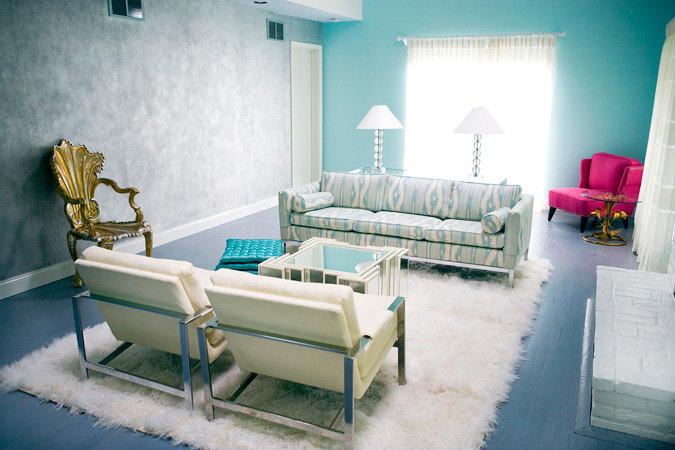 One of the best ways to stamp a unique personality into a living room is to choose a favorite color and use it throughout rugs, couches, and other decor in the room. A distinctively modern living room idea, this all-purple design emphasizes the importance of the hue throughout the carpets, wall colors, patterns, and furniture items. With the right variety of shades and a healthy amount of natural light, homeowners can opt for this type of monochromatic design without having the room feel like it's being decorated with just one color. The key to this design is to optimize light, various shades, and innovative hues, across every part of the decor.
4. Dress Blues.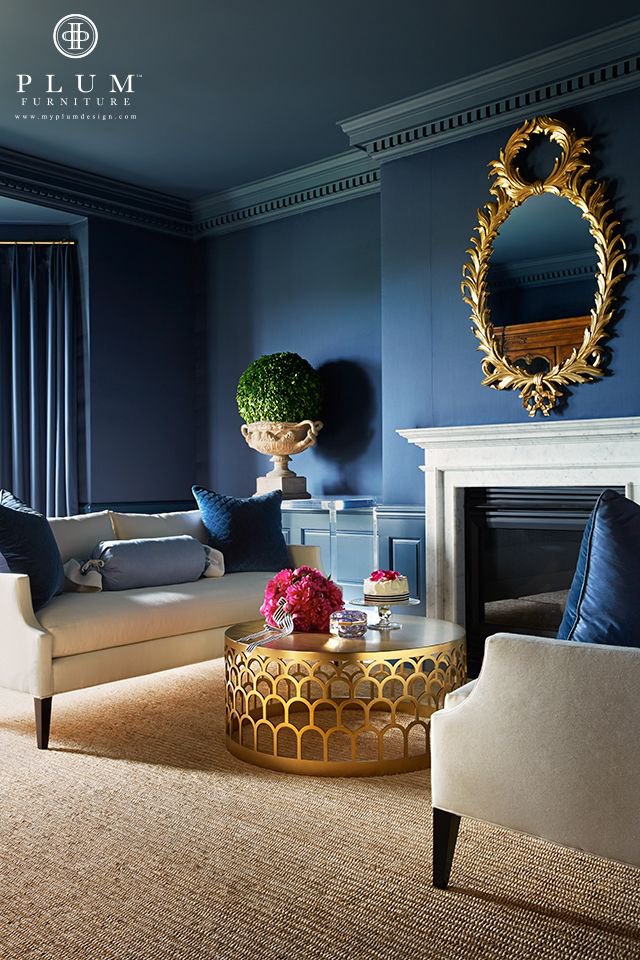 Living room ideas are designed to be an expression of their owner's personality and design sensibilities, and that's certainly the case with this regal design choice. This living room layout relies on the unconventional use of a deep blue color on the walls, highlighted and accented by bold, ornate decorations throughout the room that command attention. For example, pairing the darker wall color with lighter carpets, couches, and accessories, the room is made to feel bold, inviting, and like an extension of who the homeowner is when they're at their best.
5. Modern Miami Style And Design Ideas For Living Room.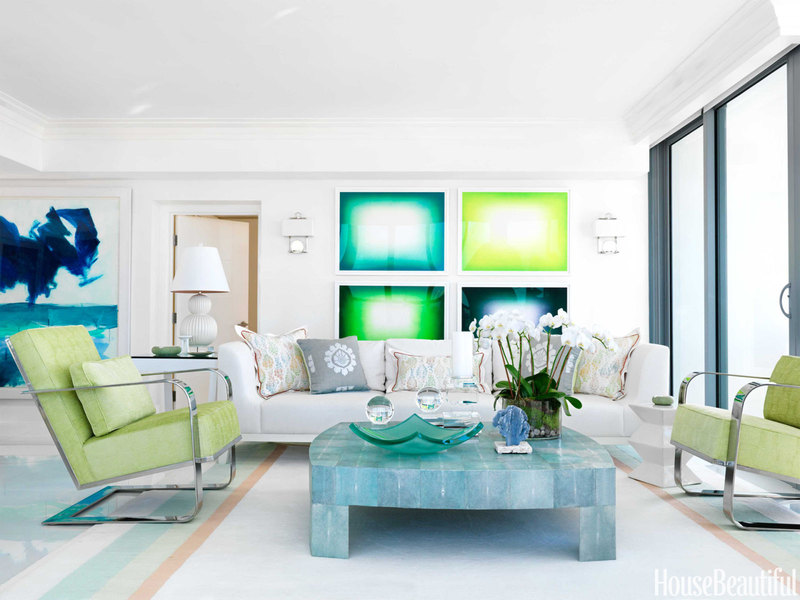 It's time to redefine the Miami design aesthetic. This progressive living room interior design throws out the traditional yellows and oranges of Miami designs in favor of bright blues, greens, and whites, to represent the water, palm trees, and white sands that draw so many tourists to the city each year. The Miami aesthetic allows the room to remain bright throughout the day, giving it an inviting, oceanfront feel that's perfect for midday relaxation or late-night social events, much like Miami itself. To maximize the appeal of this design choice, homeowners should opt for a room with ample natural light and decor with subtle, approachable patterns.
6. The College Apartment Throwback.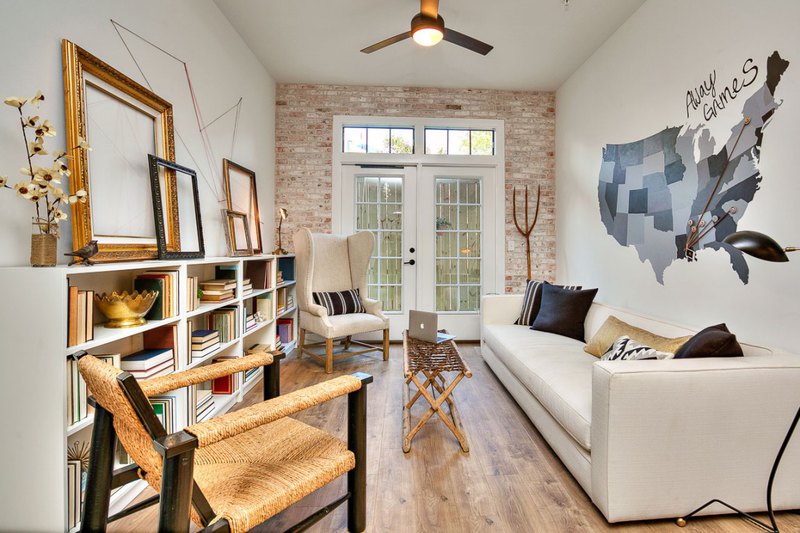 Living room design ideas are all about maximizing comfort and familiarity, and this design takes that goal to its logical end: Recreating the comfort, if not the mess, of a college apartment. Best suited for living rooms squeezed into tight spaces, the collegiate approach to this design emphasizes an eclectic furniture and design choices that don't necessarily look as if they were meticulously picked to match perfectly. The design is also hinges on wall designs and patterns that break the mold, using a handwritten script and personal images that would commonly be found on the walls of a college dorm or off-campus apartment.
7. The Indigo Study Living Room Decor.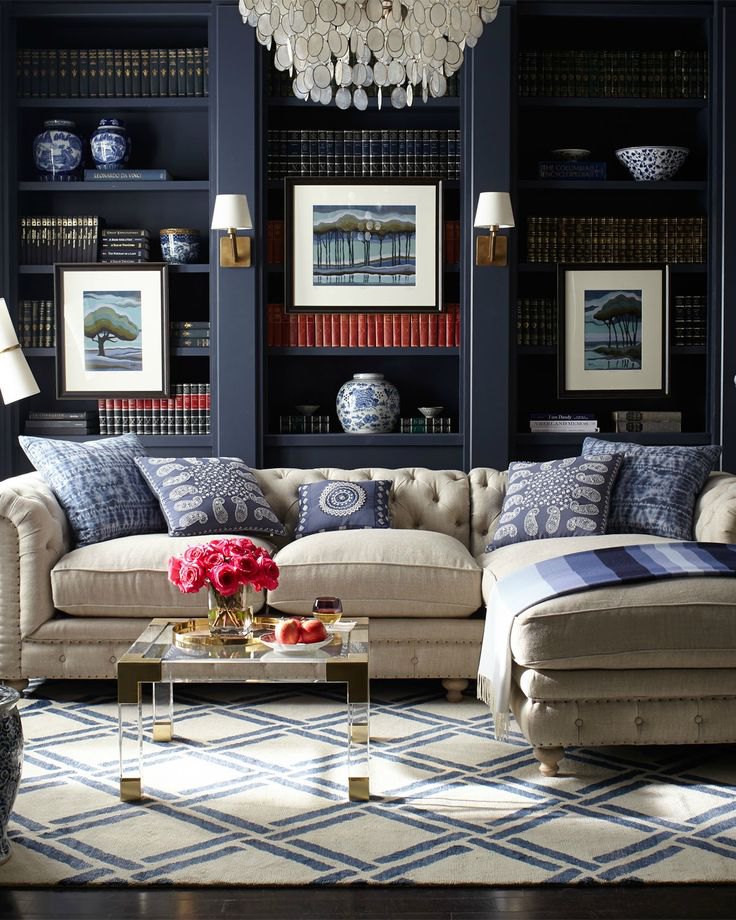 In a bygone era of living room decoration, the room was something more of a "study" and less of an entertainment space. This design calls out that era of the past and remakes it on modern terms. This design relies on a deep indigo wall color that draws special attention to paintings, bookshelves and the books they contain, and lighter furniture that's inviting enough to read a good, long book on for hours at a time. The study's embrace of elegance makes it the perfect living room decoration pattern for chandeliers and wall-mounted lighting as well, for an unconventional approach to modern illumination.
8. An Open 'Great Room' Design.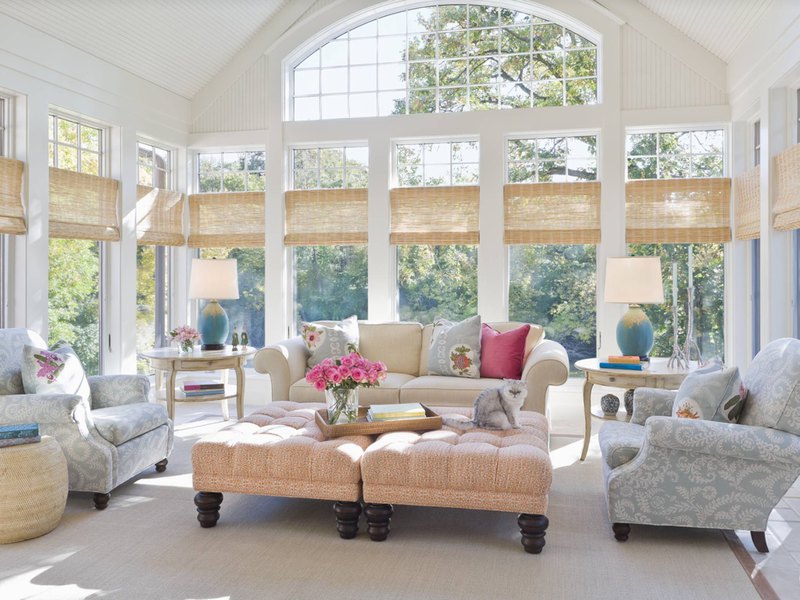 A great living room idea for growing families, the open "great room" concept works best in a home that has high, vaulted ceilings, and lots of windows to let natural light into the space. The concept emphasizes one, large space that can entertain, provide relaxation, serve as a space to play, and hold plenty of guests for weekend social events. Modeled on something of a beachfront feel, this living room layout prefers white walls, a hardwood or tile floor with low-pile carpets, and classic furniture that makes creative use of stately patterns. This blend of modern elegance with classic refinement is the perfect look and feel for today's families.
9. Awesome Design Ideas For Living Room: Bachelor Pad Throwback And Wall-mounted TV.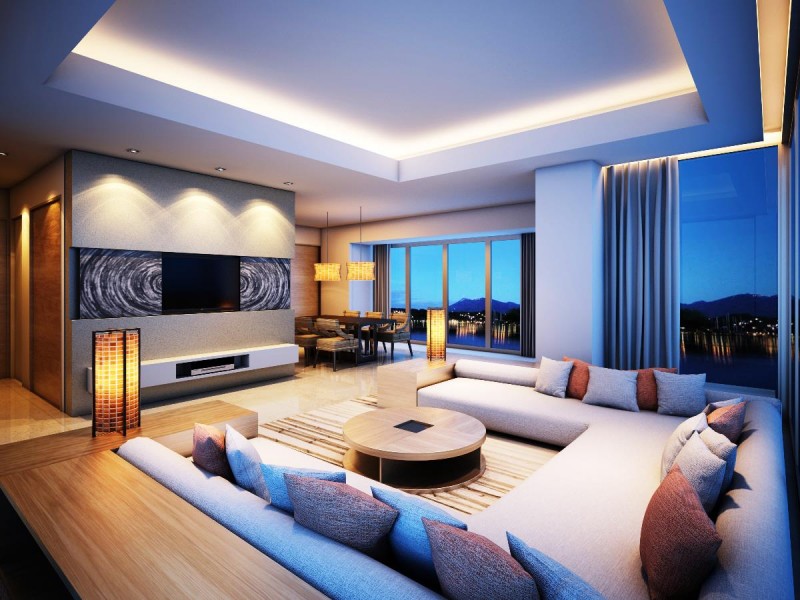 There's nothing wrong with a good, masculine living room decoration philosophy. In fact, it's the perfect approach to a bachelor pad within a new apartment, condo, or first home purchase. This design leverages the power of unique ceiling lighting to provide just a bit of a laid-back ambiance, with recessed lighting and recessed decor designed to maximize the height of the room. With a large, wrap-around sofa and a front-and-center television, the bachelor pad living room layout is the perfect space to entertain on game day, but it doubles as a great place to wrap up a great night out on the town as well.
10. Black-and-White Basics Living Room Internal Design.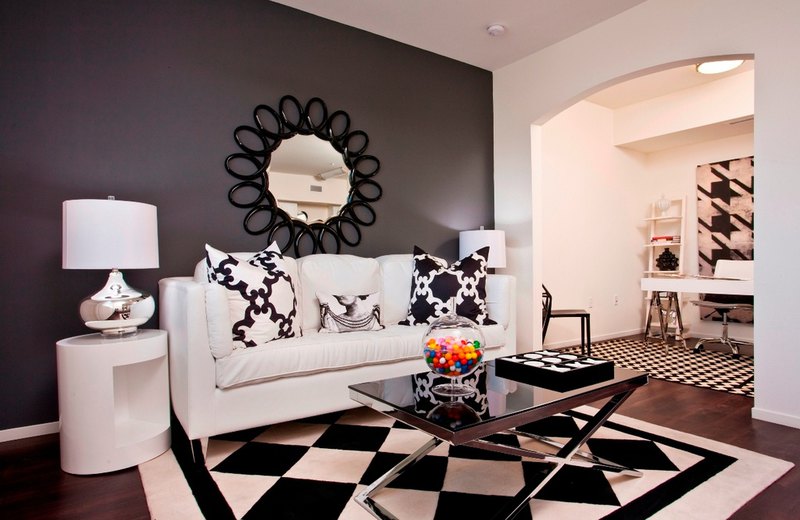 When it comes to classic, understated elegance, few color schemes do the trick like contrasting black, white and gray. The Black-and-White Basics design relies not only on a darker contrast wall, but also on the presence of classic black-and-white patterns on decorative pillows, area rugs, and more. With black and chrome accessories in the room, this design is versatile enough to be the perfect fit for both a bachelor pad and a smaller family living room. This design's use of contrasting wall colors and mirrors also helps to offset the perceived "shrinking" of rooms that use dark paint, offsetting the lack of natural light or a smaller living space altogether.
11. Interesting Design Ideas For Living Room: The Colorful Minimalism.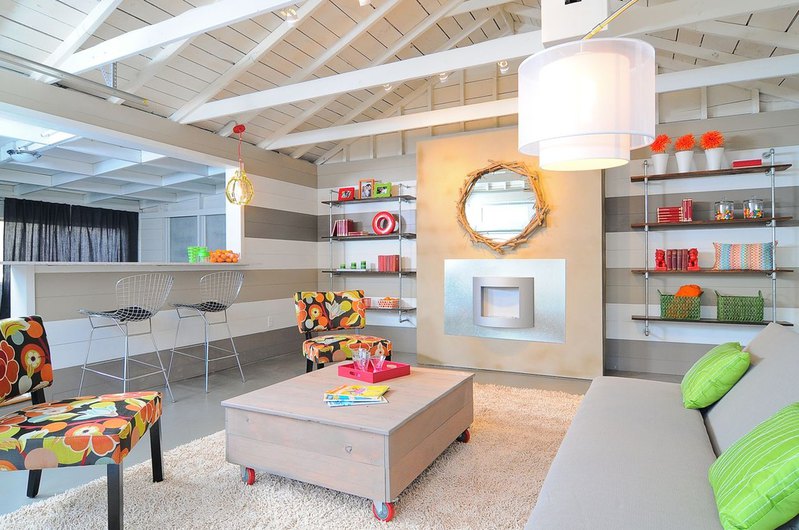 One of the key tenets of minimalist design is that it seeks to create a space characterized by openness. In the context of a living room, this means leaving behind classic bookshelves and doors, opting instead of open storage that actually adds to the decorative appeal of accessories and living room media. This colorful minimalist design embraces simplistic shelves and wire furniture, along with a stark, white color scheme that lends a feeling of openness to the room. To compensate for the lighter tones of the walls and floors, this design embraces the currently trendy, almost neon color palette that has made its way into many designs during the second half of this decade. These colorful elements and basic accessories make the space inviting, especially for families with young children who will embrace the colors and shapes on a daily basis.
12. Stately Elegance Formal Living Room With A Wide View.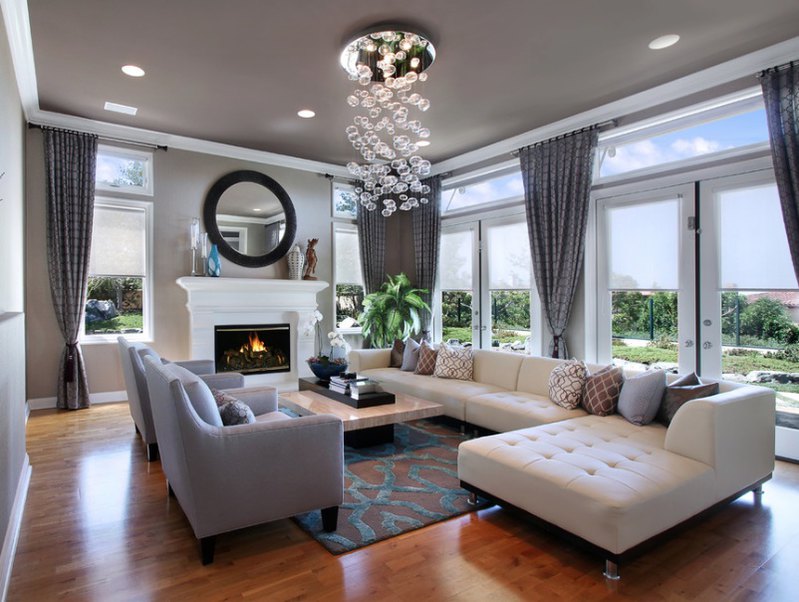 One of the big themes in modern living room layout trends is to optimize the use of large windows or door configurations so that the outdoors can be seamless invited inside. That's the goal of this design, which relies on large windows to offset its darker wall colors. This stately design choice maximizes the appeal of traditional, cozy living room elements: a central fireplace, large couches, and a lighting fixture that can start a conversation all on its own. In addition, modern design touches like a mirror and and pendants within the light fixture bring the concept into the current decade. While the design might appear masculine initially, accessory choices and fabrics can alter the overall aesthetic to fit any family's personal taste.
13. Americana Lodge Living Room Layout.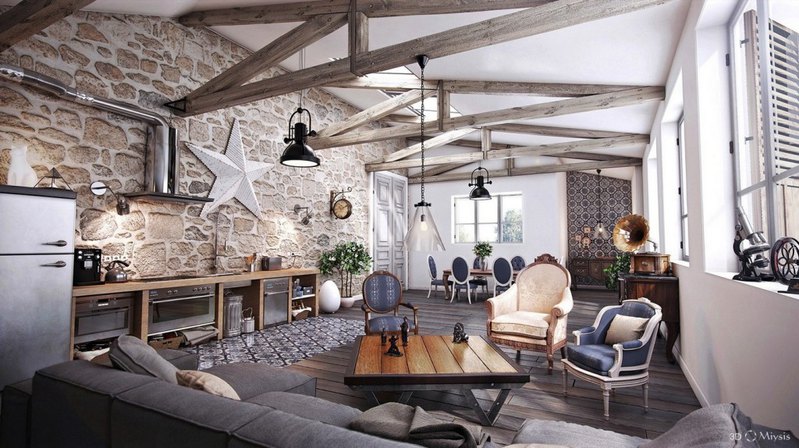 What's more Americana than exposed wooden beams, natural floors, and a stunning stone wall? This design is a Texan throwback that can make a home anywhere in the country feel like it's situated in a bygone era of rustic design and rustic living. The lodge feel of this design is offset by its embrace of classic furniture with a more stately appeal, contrasting two distinct periods in American design and political history. This type of design is an excellent fit in homes throughout the southwestern part of the country, especially with its open approach to lighting and windows, but it also makes for an excellent bachelor pad design in modern homes and apartments nationwide and around the world. This Americana oasis is a great conversation piece for any home.
14. Vintage 3D Design Ideas For Living Room.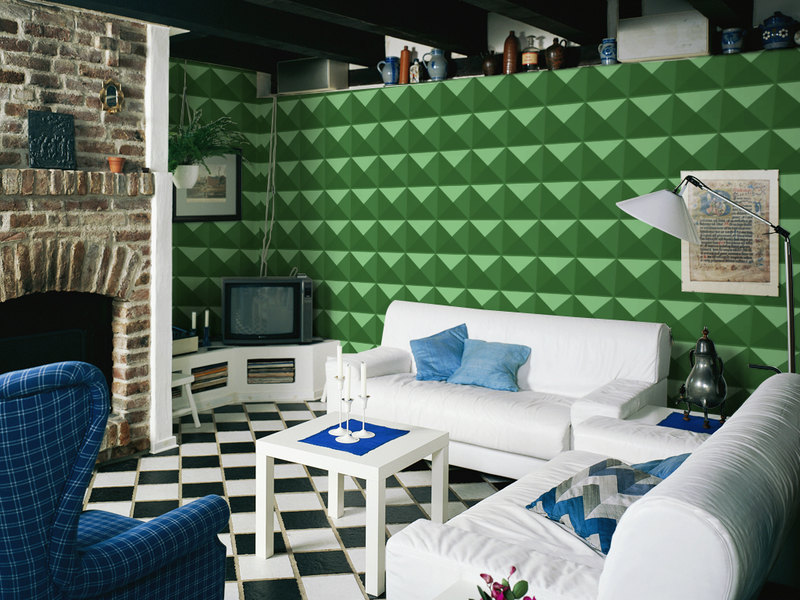 Speaking of bachelor pads, is there any design more appropriate for a bachelor pad than one that seems pulled out of a retro Super Mario Brothers game? This design, with its trendy and unique 3D wall pattern, looks like something straight out of the mid-1980s. To balance its retro appeal, however, this living room decor adds stark white furniture that pulls the eye downward and away from the complex 3D wall pattern. The balance between these two distinctive elements will start a conversation and serve as a natural background to both modern and classic video games, moves, and social gatherings. It's a great fit for bachelor pads and first homes alike.
15. A True Blue Retreat Modern Living Room Design Idea.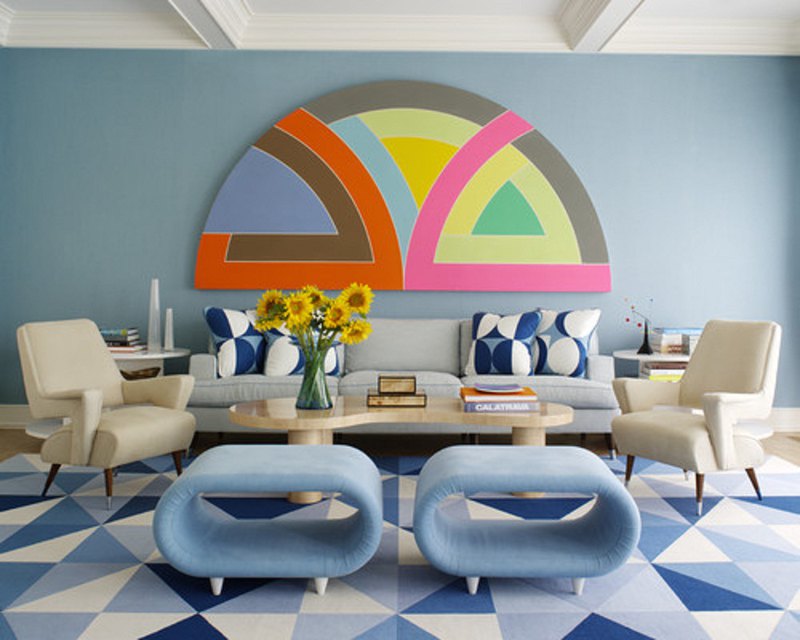 Modern living room ideas are all about maximizing the comfort of the space, and that's definitely the goal of this blue-infused design option. This living room idea revolves around the calming effect of light blue hues, both in terms of its wall color and in terms of its furniture choices. The living room decorating ideas present in this concept also seek to balance out the blue so that homeowners never feel as if the room is repetitive. A large, colorful piece of artwork placed above the sofa, and khaki chairs that add great contrast, give the room a needed sense of balance that keeps the blue walls and accessories feeling welcoming, calming, and airy.