Today we go modular. In fact, these modular homes are so spectacular, we can't decide what we like best about them! Is it the innovative design? Perhaps it's the way they lend themselves to green living. Or maybe it's their ability to maximize space in the most interesting of ways. It's hard to deny the uniqueness of modular homes.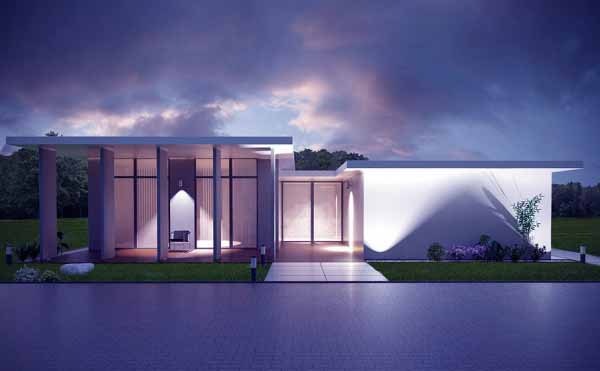 Below we feature a variety of modular housing options, from long rectangular structures to a two-story home that will impress you with its angular design. There's something liberating about simplifying your life down the the necessities, yet doing it with oodles of style. Then again, this lifestyle isn't for everyone. But it's fun to dream, isn't it?
Modular Housing from Coodo.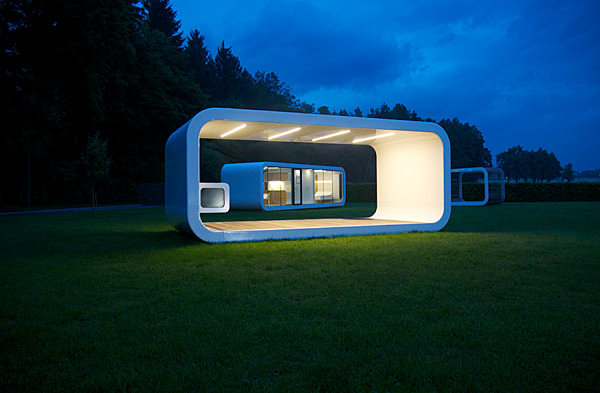 We begin with modular housing from Coodo, which features a range of dwellings, from open-air structures to residential buildings. In the foreground below we see Pavilion, which can be used for public events, as well as for private shelter:
Next we have the Mobile Living Unit 28, which comfortably houses two but features two additional beds in case you want to invite guests over to marvel at the amazing design! A polyester facade and a wooden pergola are highlights of this dwelling, which was constructed to hold up in a variety of climates. Yes, this mobile unit can be used as a summer home and located just about anywhere.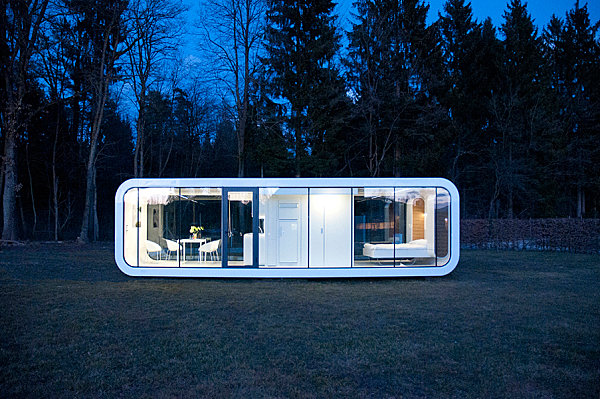 We now zoom in a little closer to see a detailed view of a Coodo modular home. Note the gleaming glass windows and the modern interior that features a mix of bright white materials and wooden finishes for a stunning contrast. Also eye catching is the use of rounded corners on indoor cabinets, which creates forms that perfectly mirror the shape of the home itself!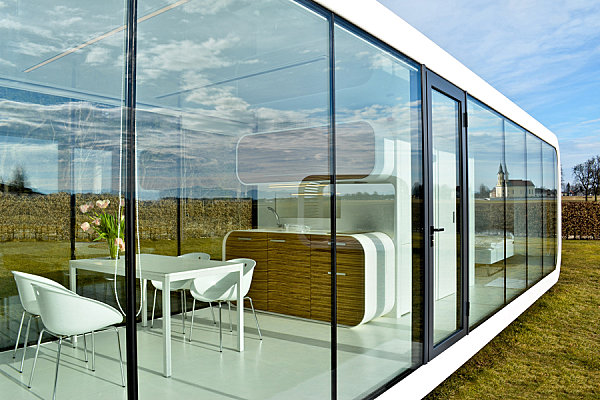 If we were the woman in the next image, we would be gazing at the beautiful green lawn outside, thanking our lucky stars for the expansive windows that allow for such a wonderful view. And planning a little picnic in the slatted structure outside, which is called Pergola. This shade building can rest beside a home, or it can be a welcome addition to the garden. Optional features (such as a glass roof) allow you to customize the item to best suit your needs.
ma Modular Homes.
With a tagline like "affordable by design," it's hard not to be curious about ma Modular homes. The company's mission: to make modern design accessible.  In fact, their modular homes are half the price of other modular homes on the market! These green homes arrive in 180 days. Not a bad turnaround time, right? The price starts at $140 per square foot.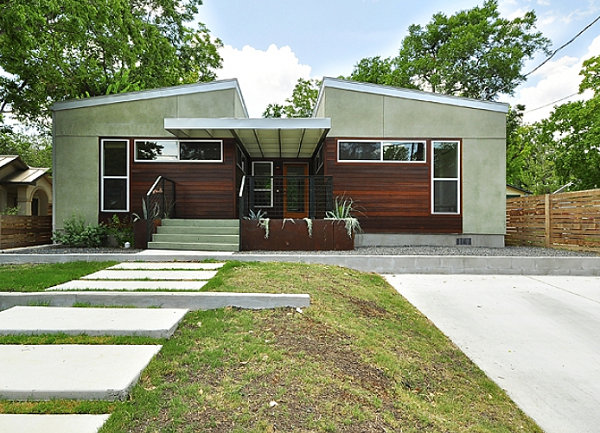 Above we see the Luna/Ford model, which includes three bedrooms, two bathrooms and an exterior deck. And just how do you landscape the yard of a modern home with modular design? Try rectangular stepping stones, metal planters and a slew of gravel! Below we see the interior of the Luna, complete with large windows, wooden flooring, white walls and a spacious, airy feel: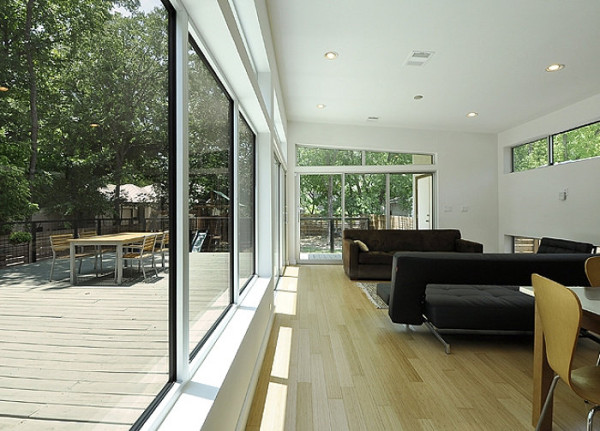 The Blue Crest model (shown below) consists of two modules, resulting in a 4-bedroom, 2 1/2-bath residence that includes a screened porch, a garage and a deck: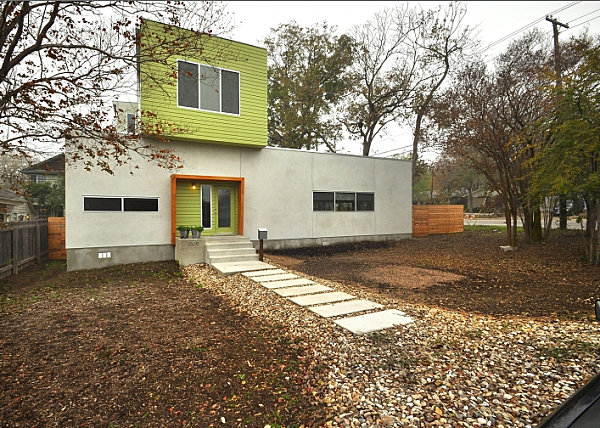 We end with a shot of the interior of the Blue Crest, which once again features wooden flooring and large windows. When it comes to modular housing, the interiors often reflect the modern sensibility of the homes' exteriors. In other words, sometimes less is more. Not to mention, modern decor really pops inside of these dwellings: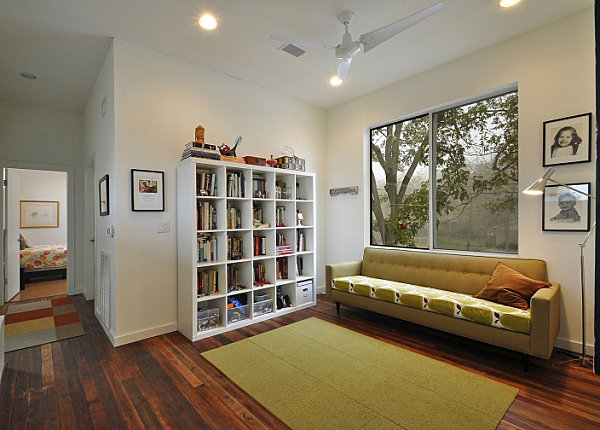 Paradigm by Bogue Trondowski Architects.
Next, we shine the spotlight on Paradigm, a prefab home that made a splash at Greenbuild 2012 in San Francisco, California. This series of homes was developed by Bogue Trondowski Architects in conjunction with Method Homes: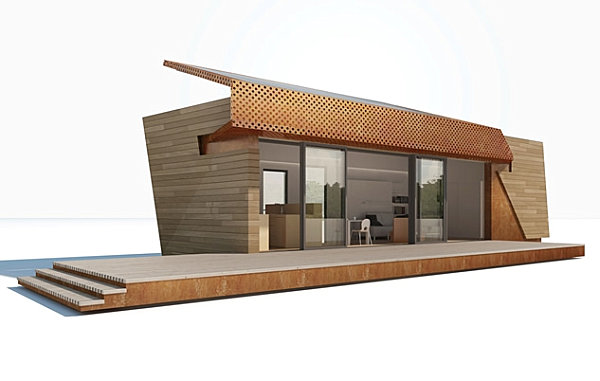 Paradigm is available in a range of sizes, from studio to three-bedroom dwellings. As stated on the Bogue Trondowski site, "The homes are designed to be energy and water Net Zero and are targeting LEED Platinum, the Passivhaus Standard and 6 of the 7 petals of the Living Building Challenge once designs are adjusted for site specific conditions." Yep, they're eco-friendly!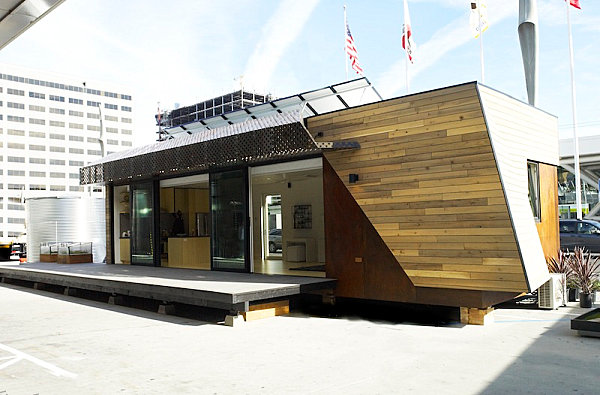 Many of the Paradigm dwelling features celebrate the environment, including a solar panel, rainwater collector, rainwater tank, greenhouse, composting unit with waterless toilet, and Energy Star appliances. Not to mention, each home has a super insulated shell.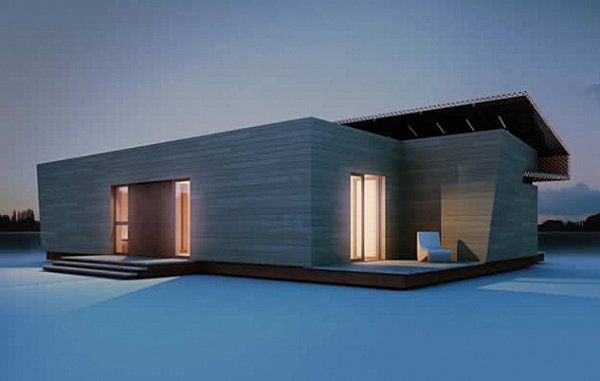 Below we see an architectural detail that is one of many modern flourishes that give Paradigm homes their appeal. Another reason to love Paradigm: each dwelling is designed to maximize spaciousness! [from Jetson Green]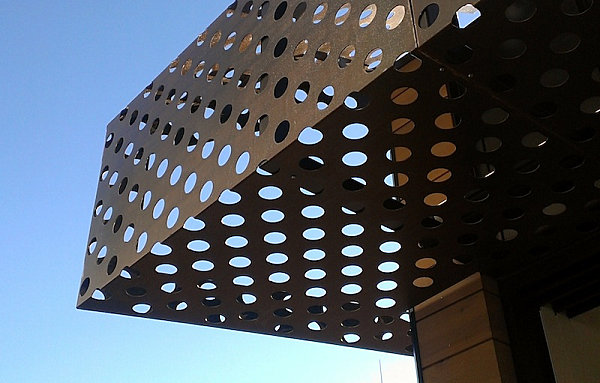 Vail Grant House.
Ready for a showpiece that will knock your socks off?! Introducing the Vail Grant House, a home designed by Brooks Scarpa Architects and built from prefabricated structural concrete insulating panels. As noted on The Daily Green, these panels (SCIPS) are constructed from 60% recycled material, such as wire mesh made from recycled auto parts. [from Archinnovations]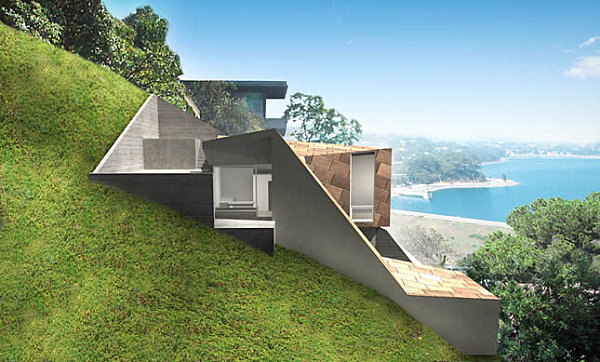 As noted on the Brooks Scarpa website, this home seamlessly blends with the hillside, merging the natural and the artificial in the most intriguing of ways. Luis Vasquez is the project's engineer, and he worked his magic with the architects to create a property that has won the AIA Los Angeles NextLA Award, as well as the honor of being exhibited at the National Building Museum's "Liquid Stone Exhibit" in Washington, D.C.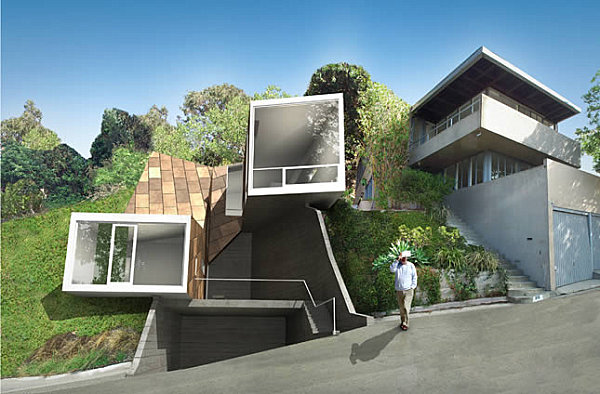 Next we get a glimpse of the home's interior, which features modern accents, impressive windows, and a wooden staircase. Zoning codes required that the building be lower toward the street, yet it could increase in height as the land moved away from the road. The result, a dwelling the grows in height as you move up the hillside. The home is located in the Silverlake neighborhood of Los Angeles.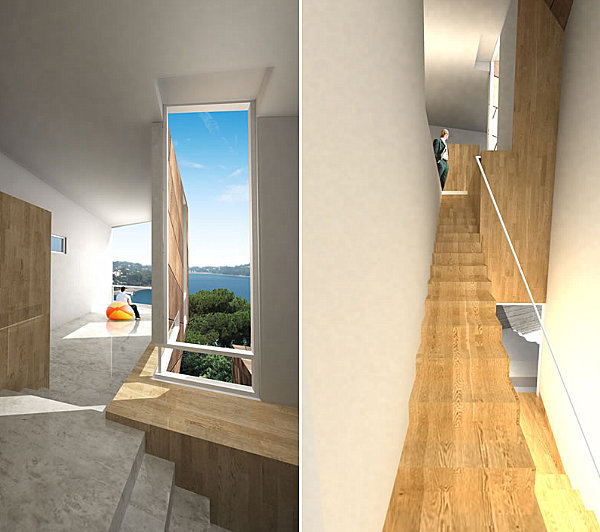 Sankyo Apartment Housing.
The next featured collection of dwellings is a series of modular apartments located in Japan. Built by Sankyo Frontier Co., Ltd., these residences are constructed from units that have been subjected to strength and water tightness tests. Not to mention, wall, ceiling and floor insulation and soundproofing have been enhanced in compliance with the Revised Building Standards Law. [Images below are from Sankyo Frontier Co., Ltd.]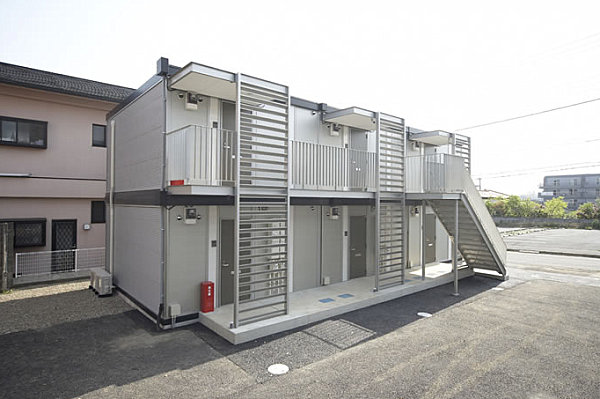 This apartment structure has a high level of factory-based assembly. The result: the handy ability to be relocated easily. Would you expect anything less from today's featured modular housing?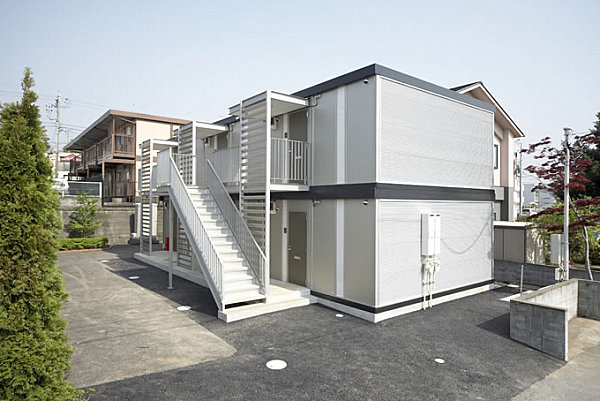 Below we see another view of the apartments, with their metal siding and modern design. An abundance of tall trees gives the area a neighborhood feel, almost making you forget that this collection of units is completely mobile. On the other hand, why would you want to forget such an important component of this amazing design?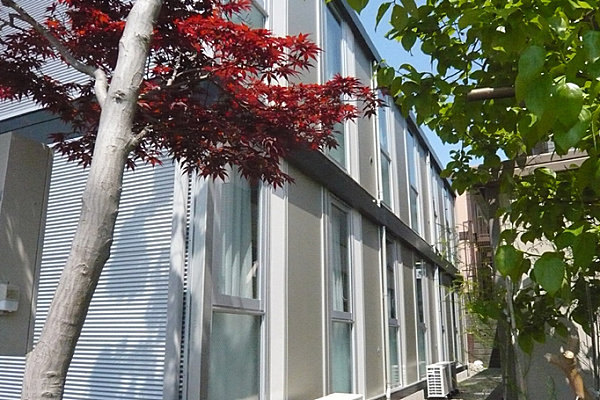 The interiors of the units are bright white, with gleaming wooden flooring, recessed lighting and metal accents. Light and airy, each residence has a spacious feel that celebrates modern living at its finest: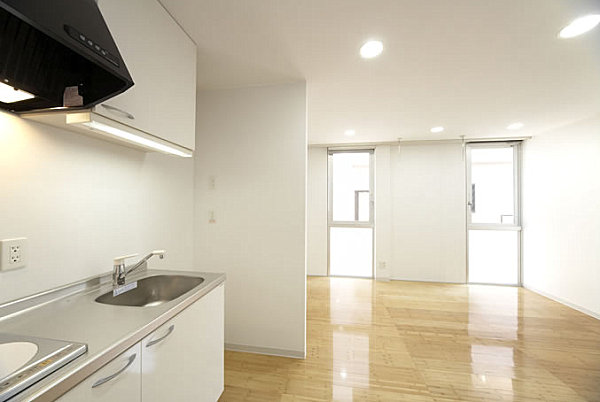 And now the big question: Could you live in a modular home? If so, would it be a summer place, or would it be your permanent dwelling? Or perhaps you'd simply enjoy a modular structure in the garden for a little contemporary shelter on a sunny day. Share your thoughts by leaving a comment below…
Source: http://www.decoist.com