It may seem like a cliche but the kitchen really is the heart of the home. As well as being a food preparation area, it is also a place for entertaining and for the family to congregate so it is essential to get the right kitchen for your needs. A poorly designed kitchen will cause no end of frustration so taking the time to talk to professionals and sort out your requirements will ensure that you get the best kitchen possible. For kitchen design ideas see our kitchen photos.
Designing your Kitchen
This may end up being a long process, but taking the time to get things right here will ensure that there are no problems in the future. The first thing to consider when planning for your new kitchen is what you will use it for, whether it be primarily for cooking for your family or for entertainment (for more information see new kitchen). If you plan to entertain, how often will you do so, how many people will you be cooking for and will it be formal or informal? All of these influence how much space you will need, both to work and for storage.
If you are renovating your kitchen, identify existing trouble spots and see how these can be rectified. Working with a professional kitchen designer or other professional such as an architect, building designer or interior designer will be invaluable here, and throughout all parts of the kitchen design process. If you do not like the placement of existing plumbing and electrics, keep in mind that it may not be as expensive as you think to relocate these.
A plumber or electrician will need to be consulted before making any decisions. However, any kitchen should have the following basics: ample working and storage space, good lighting, good plumbing, reliable appliances, and plenty of power points (for all those small kitchen appliances!)
The most important thing in the kitchen is the "work triangle", which is made up of the sink, the cooktop and the refrigerator. For maximum safety and efficiency the total space between the elements of the triangle should be no more than 7-10 metres with 7 metres being ideal. The kitchen sink should also be placed in an area with plenty of natural light and in an area convenient to you.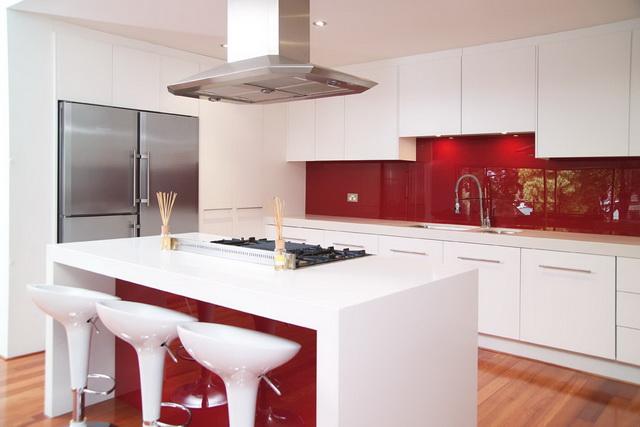 ©Lawrence Leadlights
Flat Pack Kitchens
If you are building a new kitchen or renovating your existing kitchen, a practical alternative is to use a flatpack kitchen. These are economical and much better quality than you might anticipate. There are a huge range of designs available for you to choose from and you can even have your flatpack kitchen custom designed, perfect if you're on a budget but have an awkwardly shaped kitchen. For more information see flat pack kitchens.
IKEA Kitchens
If you are one of the growing number of homeowners who are opting for the value, versatility and quality of an IKEA Kitchen, then you may like to consider using an installer of IKEA Kitchens. Besides being licensed professionals they have dedicated training, are familiar with the IKEA product range and know how to install them efficiently in your home. Let's face it not everyone has the time or DIY skills to install a kitchen – so why not let a skilled tradesperson take care of all the details for you. This will ensure that your kitchen is installed to specification and everything works the way it should. Some elements of a kitchen installation – specifically plumbing, gas fitting and electrical wiring – need to be carried out by a licensed trade, so using a professional kitchen installer ensures this is all taken care of.
Kitchen Storage
Nothing is more frustrating in a kitchen than a lack of storage space. Ensure that your kitchen design maximises storage space, and that cupboards and drawers are well placed. If you plan to have overhead cupboards, they should be easy to reach. Corner cupboards are unavoidable in many types of kitchens, so to maximise the amount of storage space in them, consider installing such things as lazy susans, bi-fold doors or dual-access doors. Drawers should be wide and deep wherever possible so that appliances, cooking utensils, pots and pans or even food items can be stored. Pantries should have narrow shelves at be at least 900mm wide. Pull out shelves are an option for pantries. Also ensure that the bench space is sufficient to serve meals, prepare food, and that there is also a designated space for hot items. For more information see this article on kitchen storage solutions.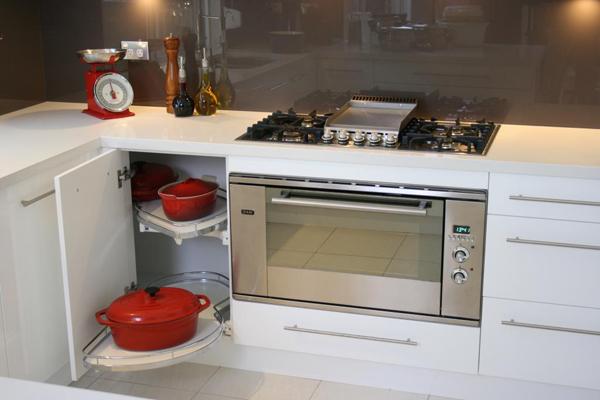 ©Creative Design Kitchens
Kitchen Lighting
Lighting is another important consideration when designing a kitchen. Natural light is a priority and should be maximised wherever possible but if artificial lighting is required, it should be sufficiently bright and able to light up the main working areas. Shadowing should be avoided.
Kitchen Benchtops & Cabinets
Kitchen benchtops are available in a huge range of different materials, colours and textures to suit all styles of kitchens, your personal taste, and your budget. Some examples of materials that you can choose from include Corian, Caesarstone, laminates, timber, stainless steel, granite, marble, tiles, and so on. When choosing your benchtop don't forget to take into account the way that you use the kitchen. That is, will the benchtop need to be able to take heat; how much maintenance will it need; how easy is it to clean; can you use it as a cutting surface; will it stain easily, and so on. For more information see kitchen benchtops.
Cabinet making is an essential skill in enabling your kitchen renovation to be a successful and practical operation. This involves you consulting with a tradesperson who is skilled in the art of joinery and woodworking to construct suitable storage and shelving solutions for your kitchen. This is often a customised task, due to the multitude of dimensions and configurations possible in any kitchen. For more information see kitchen cabinet maker.
Types of Kitchens
There are several different types of kitchens from U-shaped to island kitchens. Following is a brief overview of each type.
U-shaped kitchen – this style of kitchen is suitable for small or large kitchens and is the safest design in that it stops members of the household from walking through the potentially dangerous work triangle. It also offers optimal bench and storage space. If seating is at a premium in your home, you can also use one of the "legs" of the U as a breakfast bar or eating area.
L-shaped kitchen – this kitchen style is great for narrow, long or open-plan rooms and still provides a good amount of storage and workspace. It is also easy to reach all of the main working areas.
Single-line kitchen – use this kitchen in small spaces. This style of kitchen has appliances placed underneath the countertop for maximum workspace and storage cabinets are usually placed overhead.
Two-way Galley – this style of kitchen minimises the amount of movement as cupboards and workspaces are located in front of and behind you. However, for safety reasons, ensure that the space between the two sides is wide enough for people to navigate around you.
Island kitchen – this is any style of kitchen with a separate workbench included. This is useful if more than one person is cooking at a time and works best in larger areas, so that traffic flow is not impeded.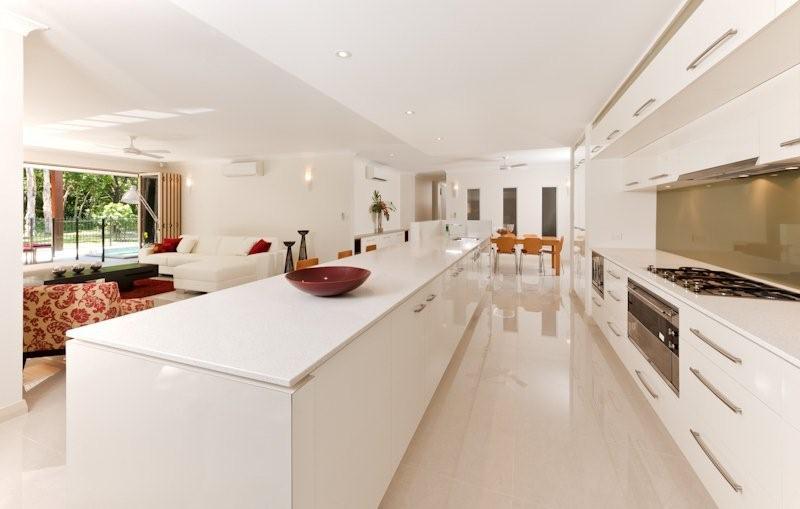 ©Julianne McAlloon Architects
Kitchen Materials
Kitchens can be constructed from a wide variety of materials including timber, stainless steel, stone such as granite or marble, tiles, laminate and glass. Here is a brief run down of each material:
Timber – is stylish and durable but if used as a countertop, it is prone to scratches and burn marks and can be unhygienic if meat or poultry is prepared on it. However, it is a great option for cupboards and drawers.
Stainless Steel – is a very modern look and also hygienic. It can be hard to keep clean.
Stone – granite, marble and other stone is a very classy material that will not scratch, burn or otherwise mark. It is expensive but it will last for a long time.

Tiles

– are great for splashbacks and other accents but if used as a countertop, the grouting may prove to be unhygienic. Tiles come in a great range of colours and finishes and can be very inexpensive. For more see kitchen tilers.

Laminate

– can be used practically anywhere in the kitchen – for countertops, cupboards and doors. The wide range of finishes available means it will suit any kitchen design but it is not as hardwearing as some other materials.

Glass

– in the kitchen, glass is used primarily for shelving and splashbacks. It provides a modern look and is hard wearing if properly reinforced but it can show dirt easily.
Safety Issues
As well as looking good and being practical, it is vital that the kitchen is as safe as possible. Make sure that there is sufficient room for you to maneouvre with hot dishes and that the risk of people colliding with you is minimised. Cupboard and drawer handles should be fitted vertically rather than horizontally, so that small children are not tempted to use handles as a ladder. Ergonomics also play a part in the kitchen. Consider using a refrigerator with the freezer in the bottom so that you are not constantly bending to get food. Different bench heights can also help save unnecessary bending. Hotplates should be lower than the food preparation area and the sink should be higher.
Kitchen Design Professionals
As building a new kitchen is a major project, it is important that you are happy with all the professionals that are working with you on the project, whether they are kitchen designers, builders, electricians or plumbers. If you are hiring a firm to oversee the project for you, check if they coordinate all of the tradespeople required to complete the project.
If you are employing a kitchen building or design firm, you should get an initial consultation, after which you should receive detailed plans of your new kitchens along with an estimate of the cost and the time needed to complete the project. The professional should also be able to help you with choosing materials, colours, appliances, and other aspects of the kitchen.
A good professional will inspect your kitchen before any kitchen renovation to ensure that there are no significant problems (also see kitchen renovation). They should also be fully insured, qualified and able to show you references from previous projects. However, you should still check all paperwork thoroughly before any work commences and ensure that a system is in place so that changes to the original plan cannot be made without your express permission.
A project manager can ensure your new kitchen installation or renovation runs smoothly and adheres to standards. They will also coordinate tradespeople and ensure the materials for the kitchen arrive at the right time. For more info see kitchens – project management.
A professional can also help with kitchen resurfacing. Kitchen resurfacing is simply putting a new surface over your existing tired old surfaces. By doing this, you'll transform a drab kitchen into one that looks a million dollars, for a surprisingly small cost. There are different methods of resurfacing. See kitchen resurfacing for more info.

How Much Does a New Kitchen Cost?
A new kitchen (excluding appliances) can cost as little as a couple of thousand dollars – this is assuming your kitchen is compact. For this expect a DIY flat pack solution and very basic quality cabinetry Kitchens can then escalate anywhere from $10 000 to $100 000 and more! At the lower end of this scale, expect basic quality cabinetry and accessories with little hope of customisation. For full customisation, and the services of an experienced joiner or cabinet maker, your costs can start to multiply in the tens of thousands depending on materials and the size of your job. Kitchen renovation companies will typically manage the whole project for you, including all the various trades involved. If you contract a joiner or cabinet maker you might have to manage other trades yourself, though this does depend on the business you are dealing with.
Source: http://www.homeimprovementpages.com.au/