When you think of kitchens, the least desired layout is often thought to be the galley-style, seen most popularly in apartments, condos, and smaller homes.  Because of the long and sometimes narrow layout, they're usually thought to be non-functioning and corridor-like.
But like all kitchens, the layout of the Kitchen Work Triangle (refrigerator, stove, and sink) is key to creating a well-designed and useful space.  When properly layed out, the caboose style can actually function better than an open style because cabinetry space is being better utilized.
1. Good Lighting For Galley Style.
Through natural light or proper artificial lighting, creating a bright and airy space is important for a cook room to feel as large and open as possible.    The most ideal layout would be to incorporate a window in the center of the caboose above the sink.  If that's not possible, a window at one end perhaps near the seating area will still visually creates a larger environment.
If a window is totally "out of the question", then it's key to install lighting that is cleverly placed to illuminate the cabinets, work surface(s), and floor.  Decorative fixtures will add intrique and style to the space, but hi-hats on the ceiling and task lighting under the cabinets are most important for creating a bright cook-galley that is both aesthetically pleasing and functional.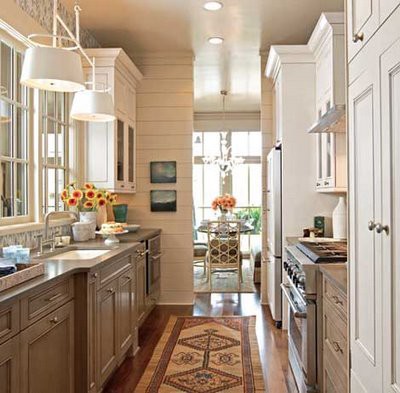 Windows above the sink area and in the dining space at the end create a light and bright feeling throughout this galley kitchen. (Image via Traditional Home)
The bright light from the end window shines through the entire room making it airy and inviting.  Additionally, the upper cabinets have a mesh face which incorporate a more open feel.  Tall cabinets are included on the left side, which heightens the room and brings the eye up.  And a large open area with textured tile surround the large oven.  (Image Via The Kitchn)
2. Use Light Colors For Galley Style Kitchens.
I'm a huge fan of color and rarely think that it's best to stick with white, BUT with cook rooms I'm making an exception.  When designing a cook-galley style where the space is narrow, it's best to use white or light colored cabinets.  Accents of color can be introduced, but because the cabinetry usually takes up 80-95% of the wall surface, your space will feel largest when it's lighter in color.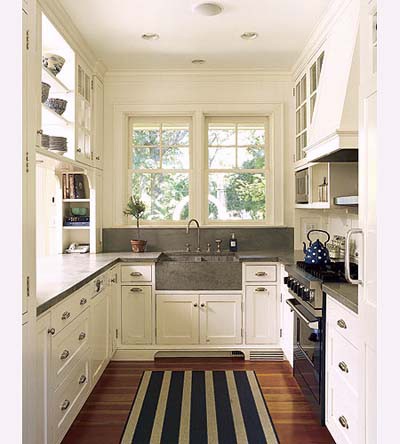 When designing a galley room, allow a minimum of 3 feet between the cabinets, yet 4′ or more would be ideal to minimize congestion. (Image via This Old House)
3. Add Useful And Right Accents.
Since the main color of a galley kitchen space would be best in white or light colors, adding accents of color, pattern, and/or texture, are great ways to add in touches of your personal taste and style.  By using a bold rug, contrasting wallpaper, or an exciting light fixture, a small space still can be functional, yet interesting.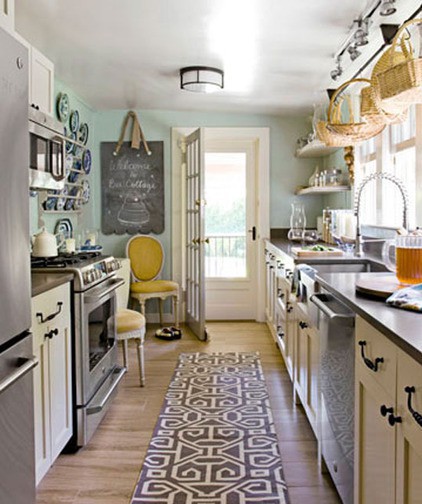 A bold rug and light blue colored walls creates for an inviting galley kitchen space. (Image via House Beautiful)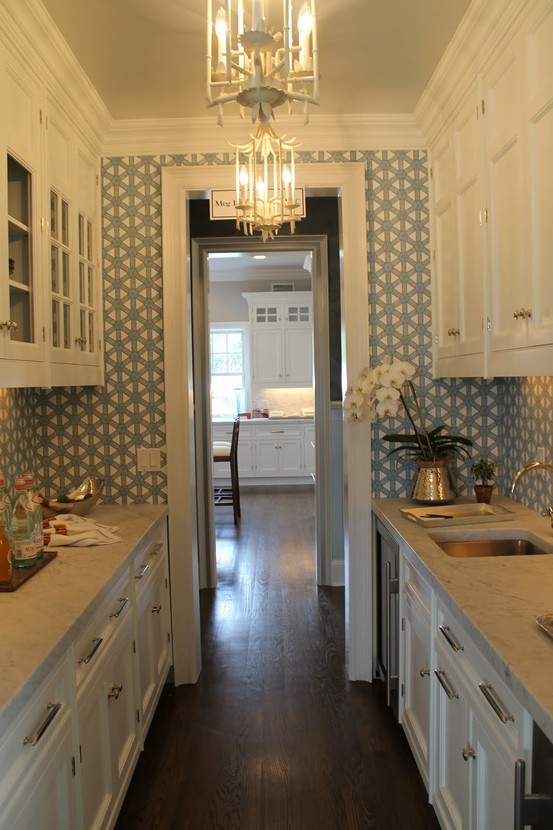 A dynamic geometric wallpaper in blue and white is a beautiful and striking accent to the white cabinets in this cook room space.  (Image via Hampton Toes)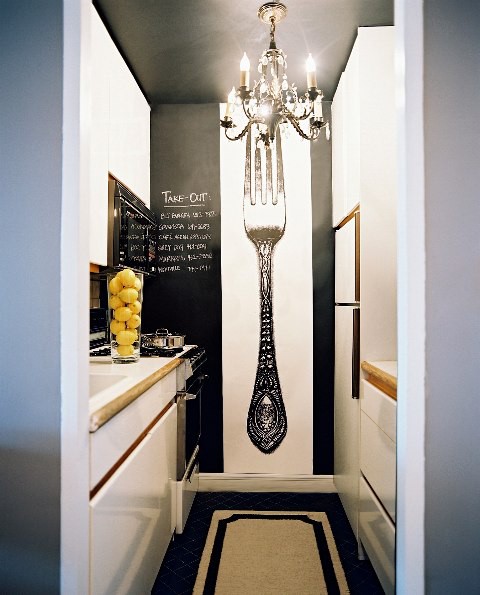 In a small kitchen, use simple cabinetry that elongates the space.  Maximize your space and storage abilities by incorporating high cabinets that reach the ceiling. (Image via Lonny Magazine)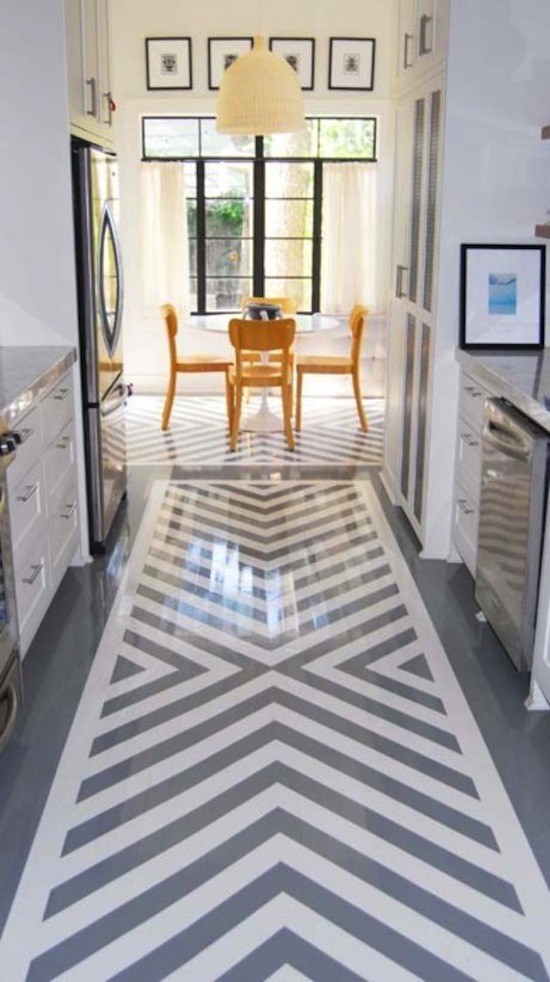 Consider a strong carpet or tile pattern in the kitchen that leads to the next space.  It will give visual interest to the space and connect it to the adjoining room (image source unknown).
4. Incorporate Smart Storage Solutions.
Because of the limited space in a cook room, unique storage solutions are needed to create a functioning hub of the home.  A kitchen of this style will need extra thought during the planning stages, but will be well worth it when being used.  To start off, make a list of your must-have necessities and a separate list for your wants/desires.  This will help figure out the layout and how your kitchen can run most efficiently.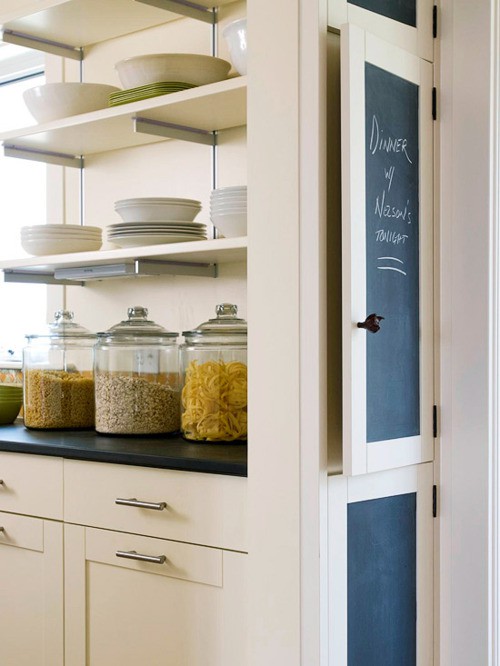 Use the inside and/or outside of your cabinet doors to keep your family organized by adding a chalkboard or corkboard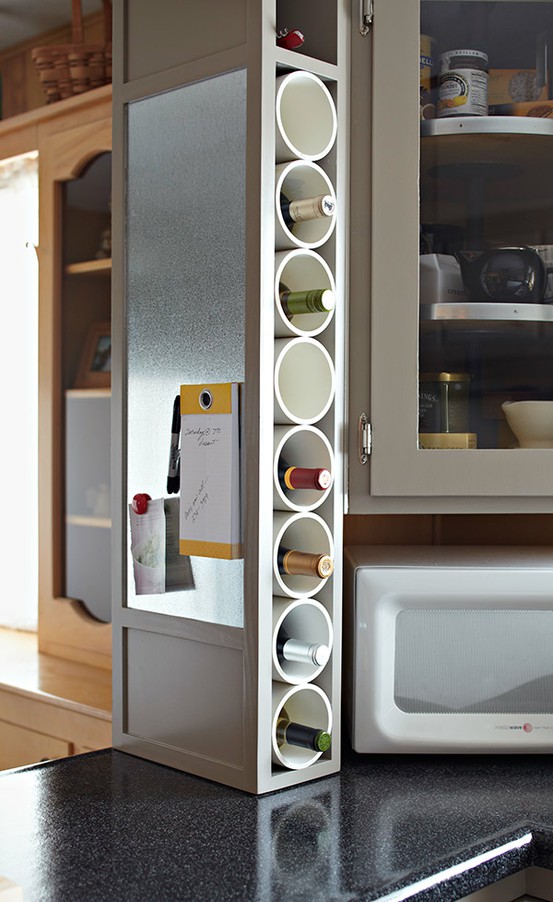 PVC cut to size makes a smart solution for a wine holder.  (Image via Lowe's Creative Ideas)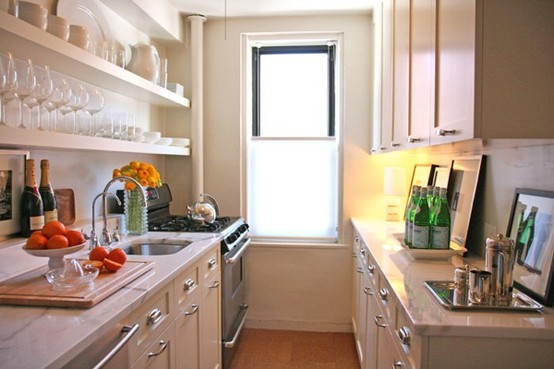 Adding open shelving to display glasses and/or plates makes a galley kitchen space feel larger and more open. (Image via Ron Marvin Design)
5. Create A Functioning Layout For Galley.
All cook room should be designed with the Kitchen Work Triangle in mind, but the galley kitchen especially because of the narrow corridor-like width.  It's key to have the larger appliances staggered when on opposite sides, as well as creating large amounts of work space for food preparation.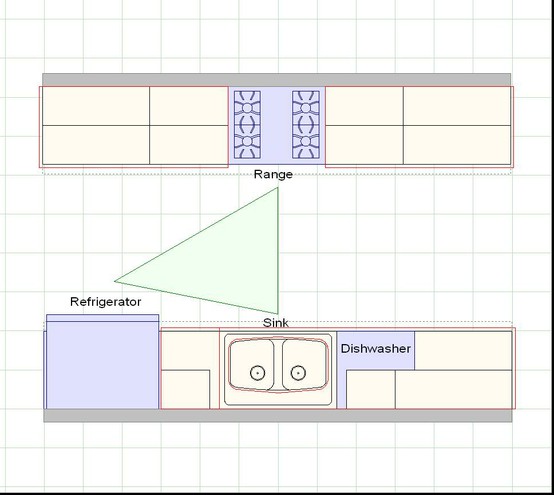 Kitchen Work Triangle showing a layout example for a galley kitchen, via Design Matters Home