Give a kids' room a fun makeover with a few cans of paint. This graphic ceiling design looks cool and is so easy to do. Here's how.
Children's rooms are great places to experiment with both pattern and color. While traditional grown-up spaces may not be the best choice for covering walls with bold hues or incorporating strong graphic elements, kids' spaces offer a blank canvas to do pretty much anything. And of all places within a kid's room, the ceiling often offers the largest, most unexpected surface on which to paint.
Not just any ceiling will work. Flat, smooth ceilings made of drywall or plaster are the best candidates. In fact, it is best for the ceiling to lack in any ornamentation or architectural interest, since a painted ceiling graphic can provide the architectural detail that the space otherwise lacks.
In order to create a graphic painted wall treatment, the design must be easily executed with painter's tape and latex paint. For this reason, stick with geometric patterns that have straight lines and that are scaled proportionately to keep the design from becoming too busy. One of the easiest designs to paint is a radiating rectangle, something often associated with 1970s supergraphics. Follow these step-by-step instructions to add fun, energetic shape and color to your own kids' room.
Materials Needed:
three to five different paint colors
paintbrush
detail brush
roller
roller sleeve
tape measure
chalk line
painter's tape
pencil
paint pan
pan liner
notepad
ladder
drop cloth
Measure Ceiling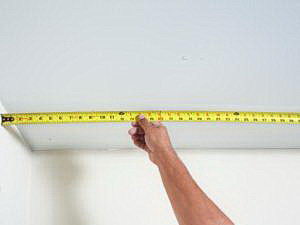 Use a tape measure to determine the length and width of ceiling, then mark dimensions down in notepad with pencil.
Sketch Design
With the ceiling dimensions in mind, create a free-hand sketch of the desired design onto paper. This will serve as a reference for painting the ceiling.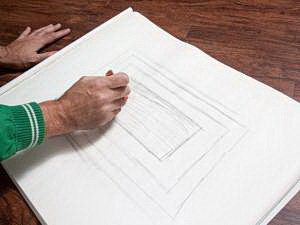 Assign Paint Colors To Sketch
Assign a color to each portion of the design by marking the paper sketch with a small dot of paint (Image 1). Cover floor surface with drop cloths.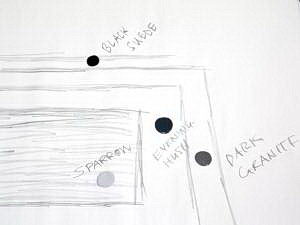 Measure and Mark Each Rectangular Band on Ceiling
Starting from the outside and working your way inward, measure the proper width for each rectangle with tape measure, marking only the four corners of each rectangle.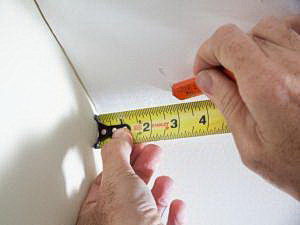 Snap Chalk Line
Once all four corners of each rectangle are marked with a pencil, have a friend assist you with snapping a chalk line.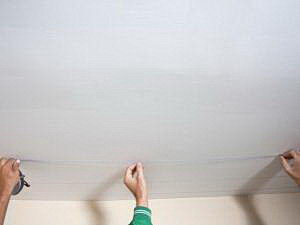 Examine Marked Ceiling
Once all chalk lines are complete, stand back to ensure the proper design has been outlined.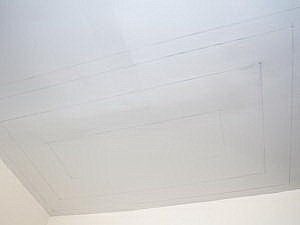 Mark Each Rectangular Band
Add a small dot of each paint color to its corresponding place in the design to serve as a guide once painting begins.
Protect Walls
Add painter's tape along the top of the wall where it meets the ceiling. This will ensure paint does not drip onto walls while the ceiling is being painted.
Tape Off, Then Paint Every Other Rectangular Band
Add painter's tape to the inside edge of every other rectangular band, then paint inside the taped portion of every other band. For smaller, more narrow bands, apply paint with paintbrush. Use a roller for wider bands. NOTE: This will make the painting process more efficient and ensure straight lines.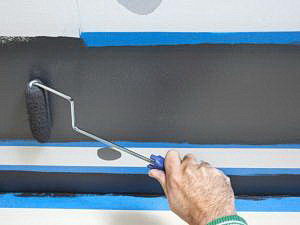 Peel Back Tape And Examine Lines
Once paint is dry, slowly pull back tape to ensure perfectly straight lines have been created. TIP: If paint bleeding occurs, simply touch up any bleed marks with a detail brush.
Reposition Tape and Paint
Once every other band is completely dry, reposition tape to the outside of every unpainted band (Image 1), then paint within taped areas (Image 2).
Remove Tape
Once paint is dry, remove painter's tape. Enjoy, and call the kids in the room to marvel at your handiwork.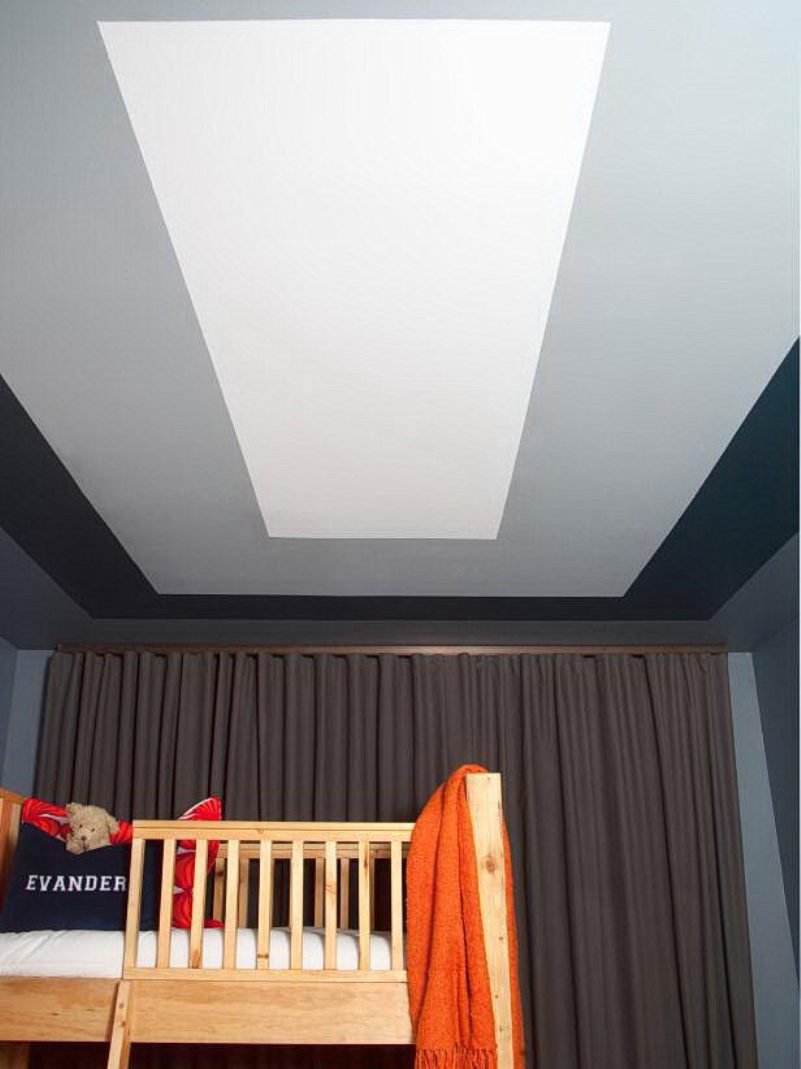 Source: hgtv.com