If you don't read books and don't care about the bookshelves don't be too quick to close this article. Just think about it. What impression does a room full of books make? That's right! It will immediately make you look smarter!
Just make sure to put some smart books about topics you barely understand like quantum physics, advanced mathematics or neuroscience. Of course, you might run into a problem if some smart ass tries to chit chat about something you have in your library. Don't worry, just fake a phone call and when you finish, no one will ever remember the topic.
Now that we agree that it's essential to have a bookshelf, let's take a look at some of the most creative designs out there.
Which one would you put at your house?
0. Digonal bookshelf
This slanted-center storage system deviates from conventional and diagonal bookshelf.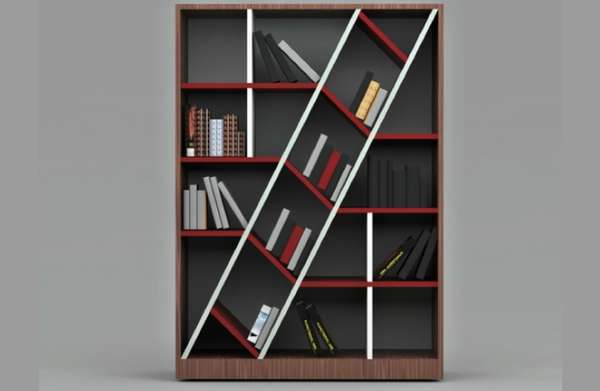 Image sources: http://www.trendhunter.com/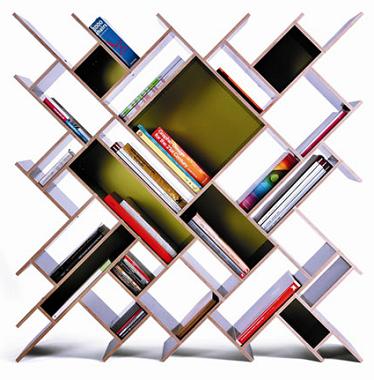 The most impressive looking bookcase or shelving unit I've ever come across has to be the X-shaped Quad Bookcase by designer Nauris Kalinauskas. Made from simple plywood and metal, the multiple diagonal shelves create a visually arresting furniture piece which will make a room's ambiance jump with passion and life. The stained oak veneer finish of the plywood shelves together with the colorful powder-coated metal back panels adds a look of quality to the unit.
The x-shaped Quad Bookcase can be used to store a wide variety of objects including books, CDs, DVDs, contemporary sculptures, folders and even lighting. Whilst most bookcases are horizontal in shape when it comes to their shelving, this fun lattice style bookcase offers a unique and somewhat dynamic alternative for your storage and display needs. Whatever you place on the shelves, the Quad Bookcase will be a stunning feature and literally a work of art in itself.
There are 3 varying models of the Quad Bookcase, each in the distinctive diagonal x-shape. The differences largely rest in the size of the shelving unit. These details can be found on the product page which can be found via the link below. As one can see from the picture, the bookcase is free-standing and provides further storage space where the slats meet the floor and possible side walls.
1. The Invisible Book Shelf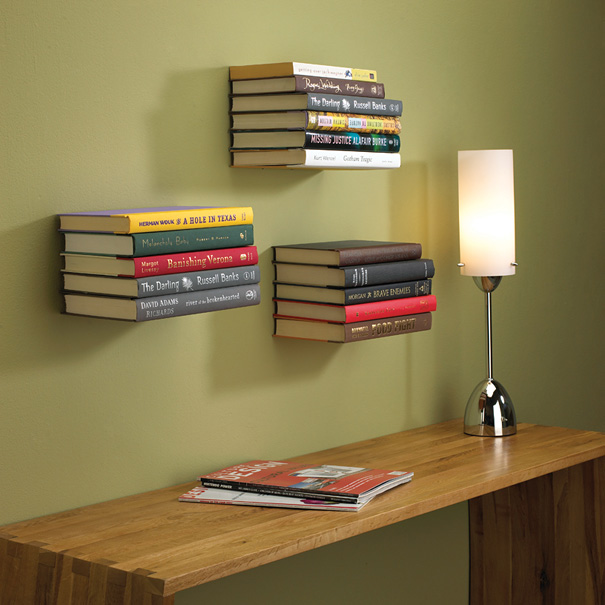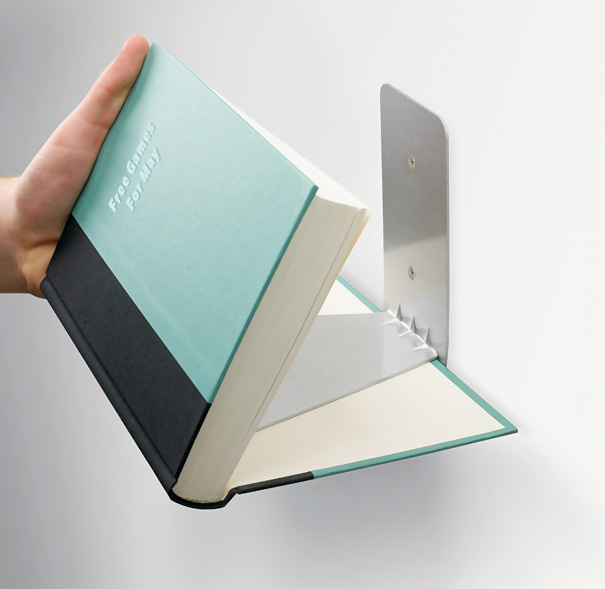 "This book shelf, which holds up to 15 pounds of books, screws directly into a wall stud and presto – you have an invisible book shelf! The maximum stack height is 16-Inches. All hardware is included so all you need is a screwdriver. The Conceal Book Shelf, which has already won design awards, is innovative, inspirational and imaginative." (Designer: Miron Lior) (buy)
2. Industrial Corner Pipe Shelf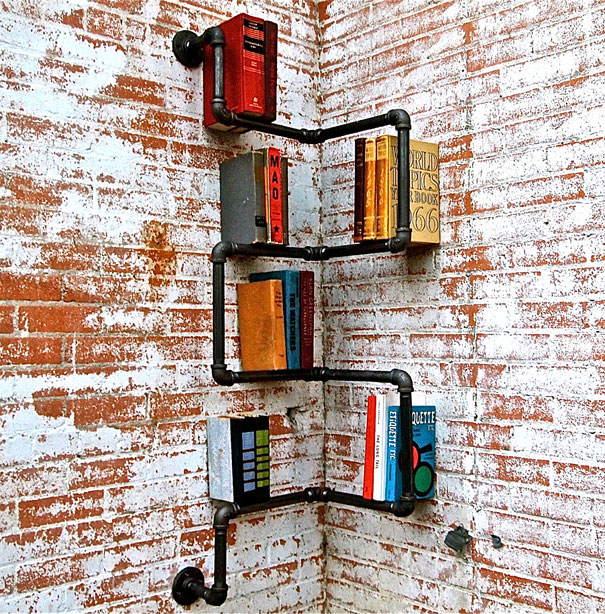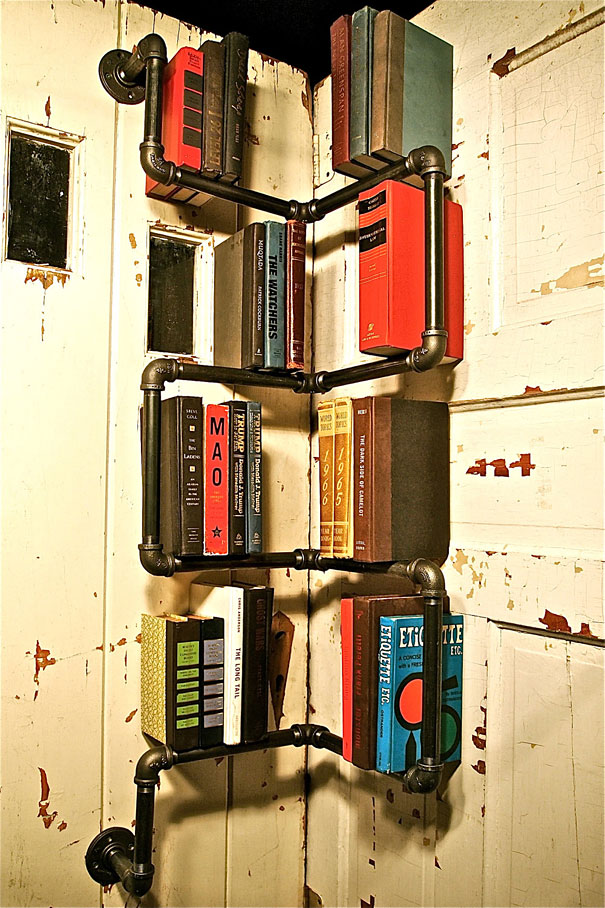 "The Corner Industrial Bookshelf is a great conversation piece turning heavy iron piping into a modern urban look that will add a sense of history and character to any space." (Designer: KKatz)
3. Cutshelves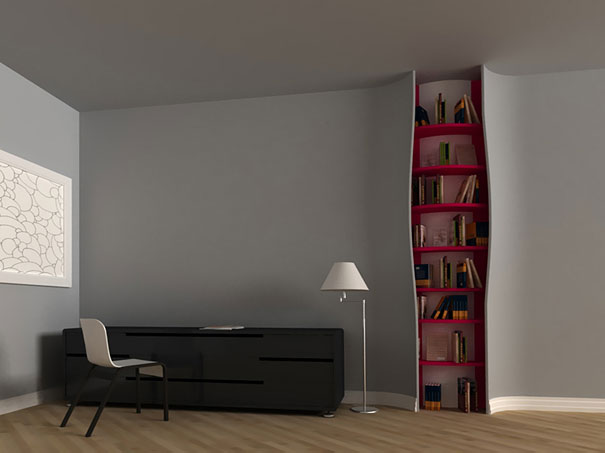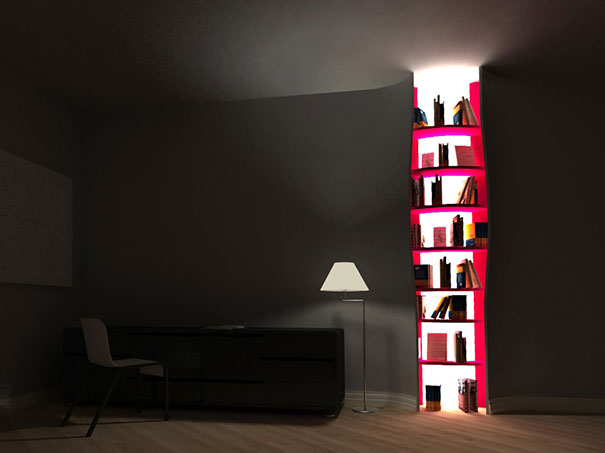 This unique solution lets you find your favorite book at night without waking up the whole family. (Designer: Tembolat Gugkaev)
4. Malagana: Equilibrium Bookcase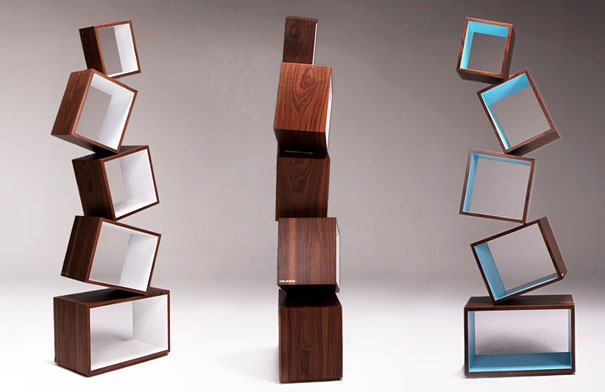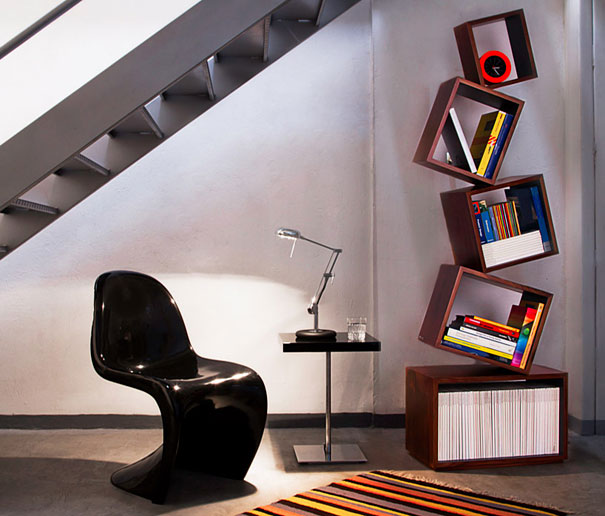 "With its cantilevered modules stacked upon each other at a single angled point, Equilibrium is a unique furniture piece that immediately catches attention by creating a sense of amusement and surprise. While its compartments seem to float in the air, Equilibrium can hold over 120 Lbs of weight and its different modules allow to keep books and magazines organized in a natural tilted position that eliminates the need for bookends." (Designer: Alejandro Gomez)
5. Handmade Stacked Teacup Shelve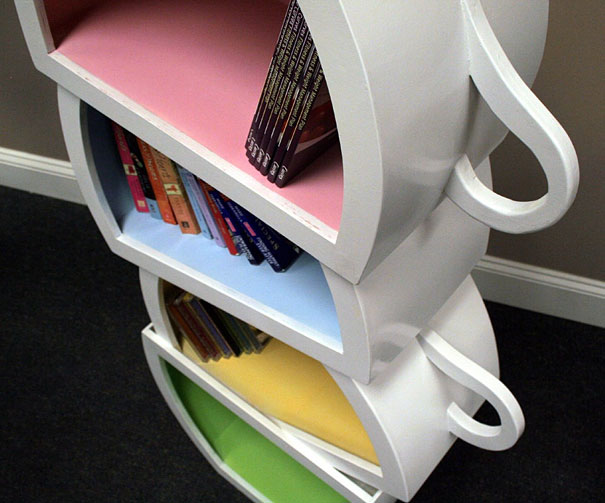 A cup of tea and a good read do go together well, which makes it easy to fall in love and crave this stacked teacup bookshelf. (Designer: Scott Blackwell)
6. Has been Read / Will be Read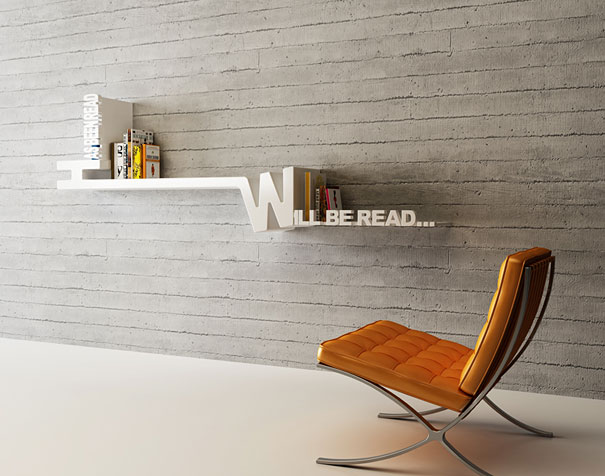 "Simple way of organizing your books as "has been read" and "will be read". When we look at an ordinary book shelves we just see a boring stack of books which all books get lost in each other. Even when we buy a new book and plan to read it later, after a short time it gets forgotten in this book chaos. Aim of "TarGetBooks" design is based on this point." Designer: Mebrure Oral
7. Booktree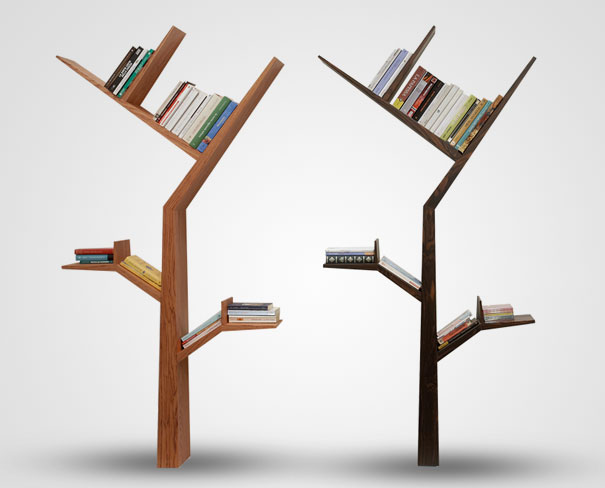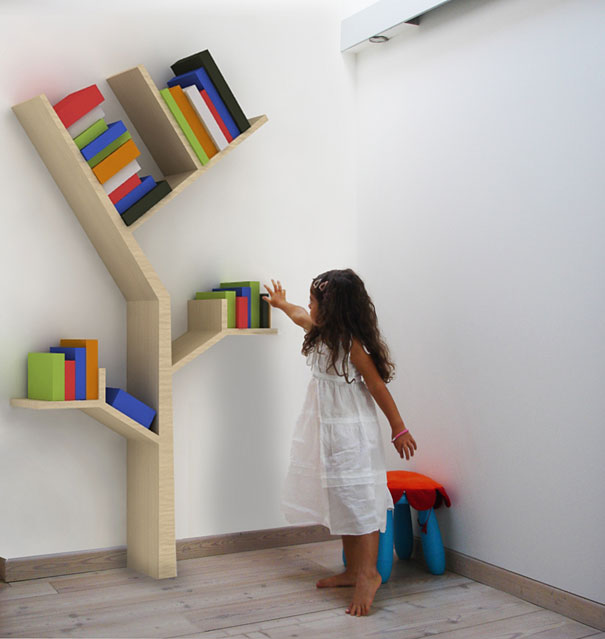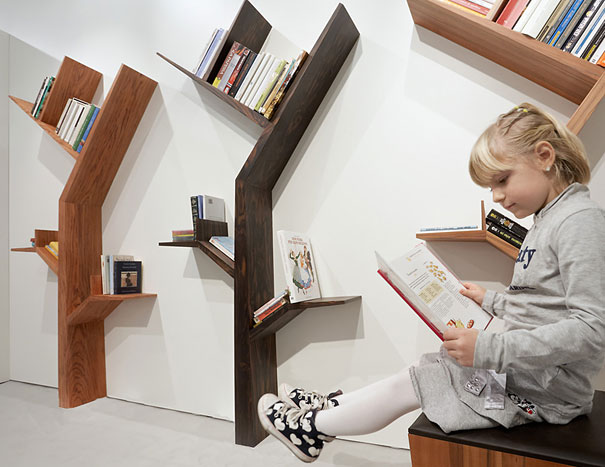 If you're the romantic type and long for summer afternoon readings out in the park, the Booktree shelves will help you recapture the feeling. (Designer: Kostas Syrtariotis)
8. Bookworm Shelf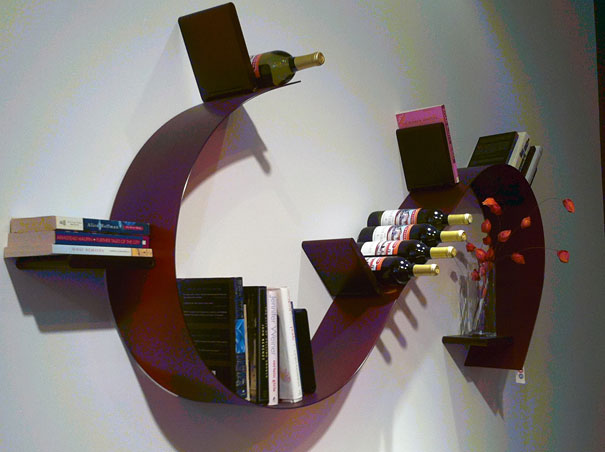 "The Kartell Bookworm Shelf designed by Ron Arad combines an artist's creativity with a great company's technology. A careful analysis of extrusion technology has allowed the creation of a curvy bookcase which assumes any desired shape, without compromising strength and functionality, a bookcase design of industrial scale that can rightfully be considered the world's most daring and revolutionary." (Designer: Ron Arad) (buy)
9. Check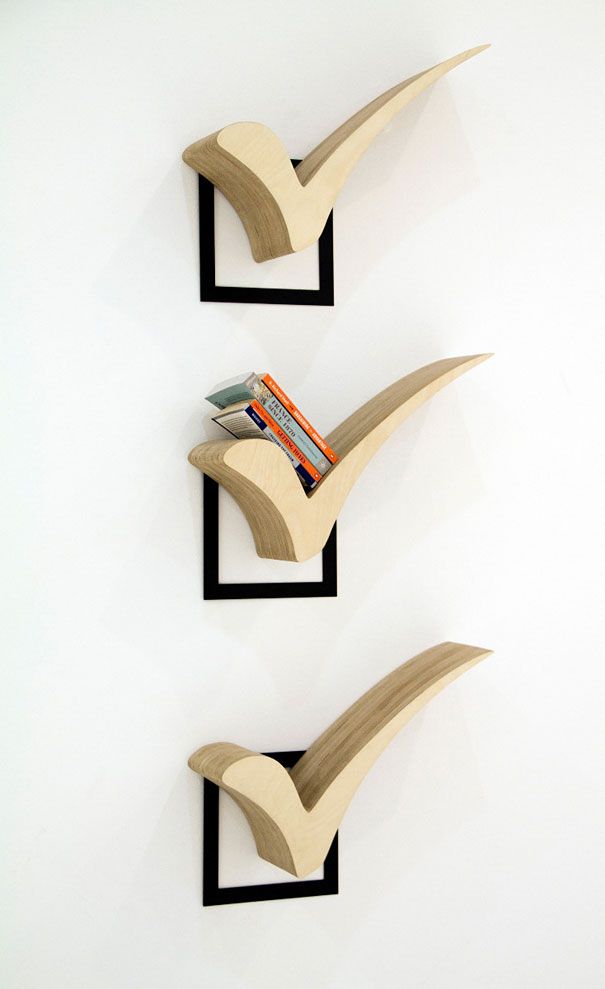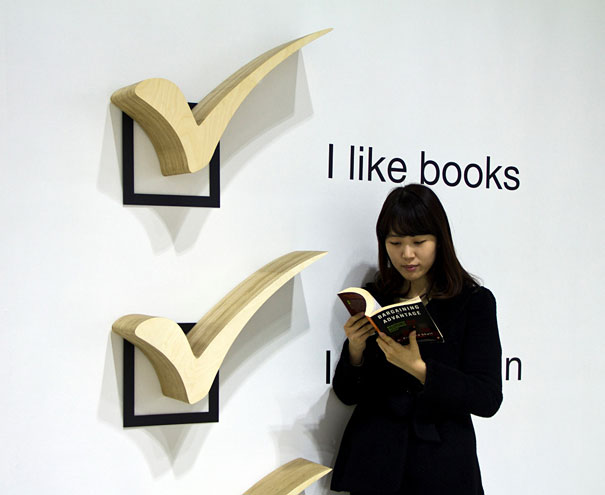 "The object that shows the meaning and importance of a book through the V–shape, that is often used in checking, is used as the bookshelf where we can hold up the books." (Designer: Jongho Park)
10. K Workstation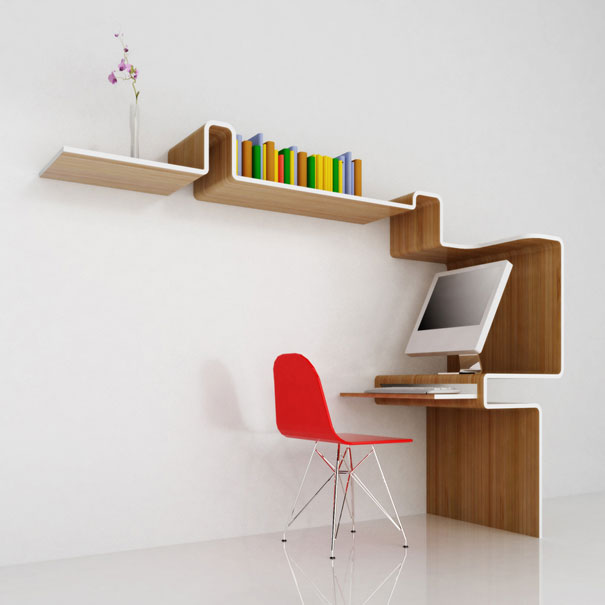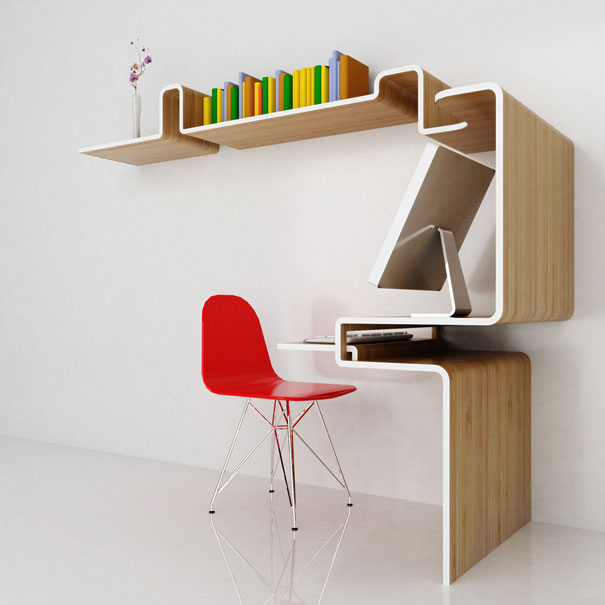 "K Workstation incorporates Bamboo laminated plywood for creating efficient space managing working space. The folding curved shape creates shelving and desk space within one working unit. K Workstation could be manufactured each segments for easy fabrication process and transportation, yet it could be configured with multiple possibilities." (Designer: MisoSoupDesign)
11. Bookseat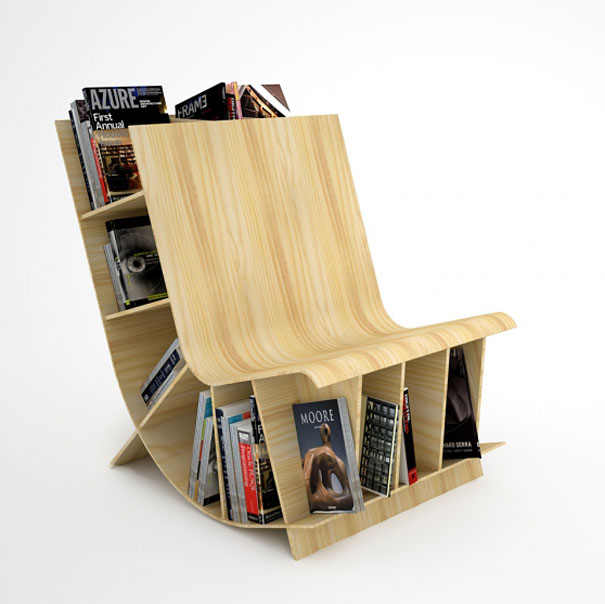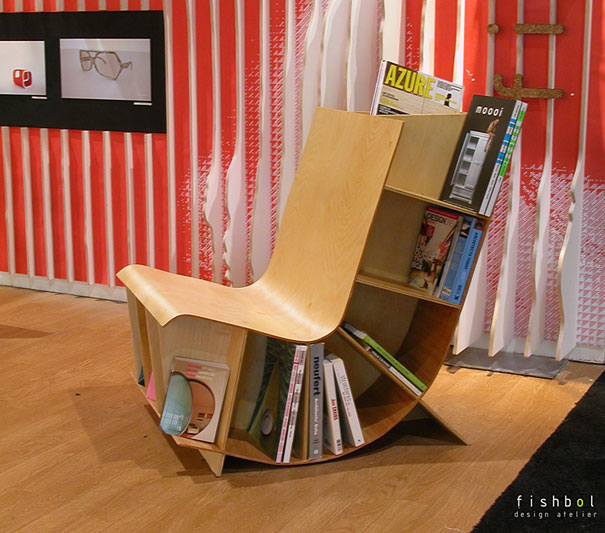 "The Bookseat is a simple bookcase that playfully curves and becomes a seat. The creative design is a response to the advent of multifunctional spaces in today's urban living. Noted as one of the "ten must sees" at Toronto International Design Show 2008, and awarded for best Design at Montreal's International Design Show, SIDIM, 2008." (Designer: fishbol)
12. Kulma Bookshelf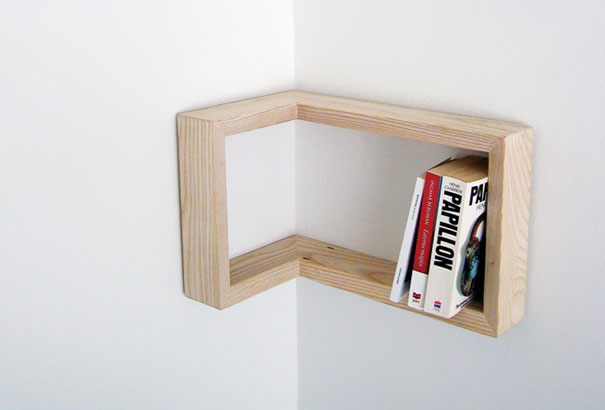 "Kulma, corner in Finnish, is a shelf to be hanged either in a positive or a negative corner of a room. The idea is to utilize and highlight both the space within the shelf and the corner surrounding the shelf." (Designer: Martina Carpelan)
13. Letterkast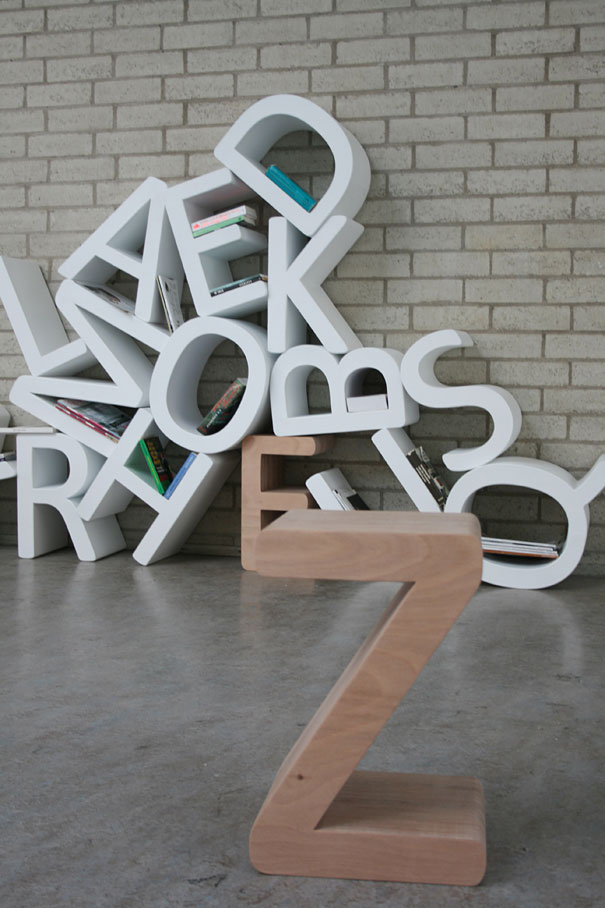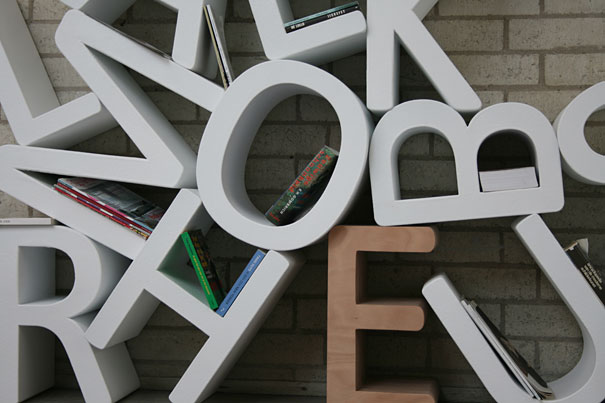 What better describes reading and writing in the most basic way, if not … a bunch of letters? A witty and stylish bookshelf is designed by Pieter de Leeuw.
14. CTline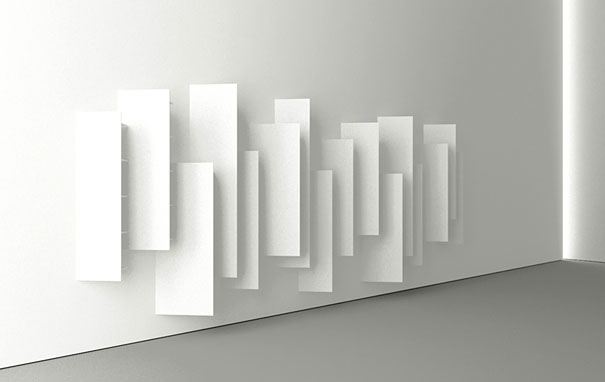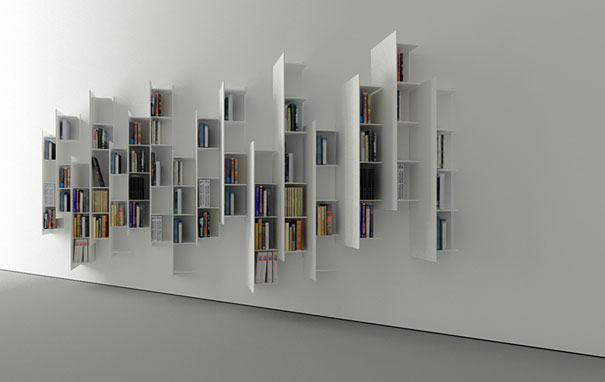 From a particular angle, this construction looks nothing like a bookshelf, but rather a minimalistic art installation. As the shelves are constructed diagonally, you can see the books from one side only. (Designer: Victor Vasilev)
15. Tatic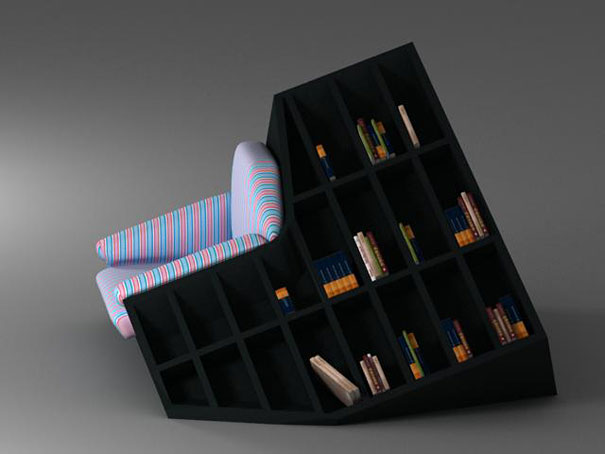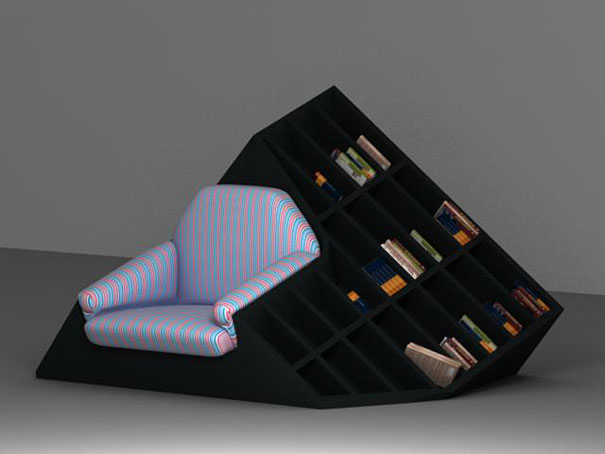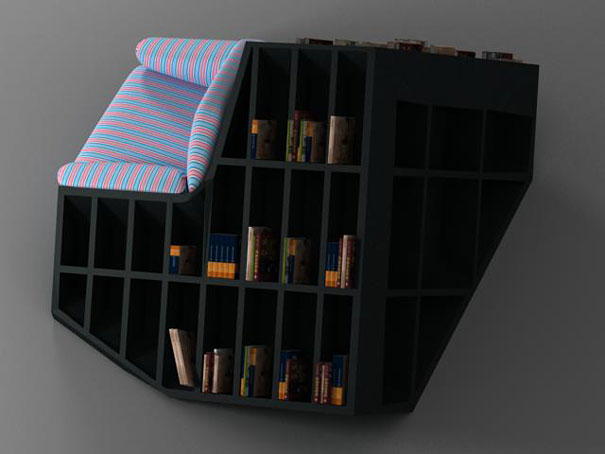 This original combination of an armchair and a bookshelf allows you to reach for a new book even without getting up. (Designer: Tembolat Gugkaev)
16. Read Your Bookcase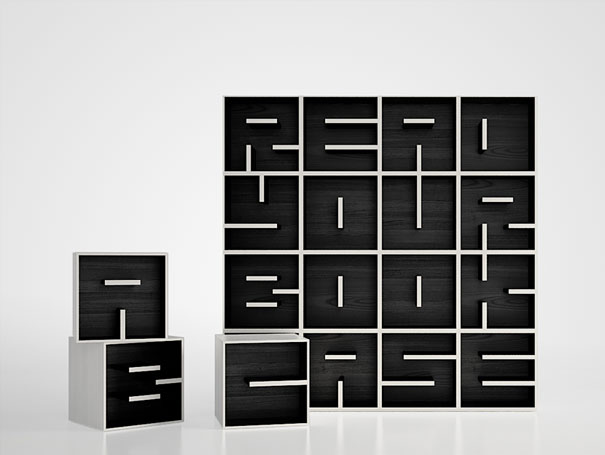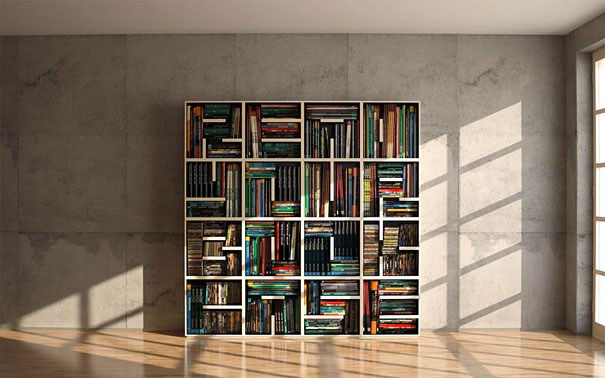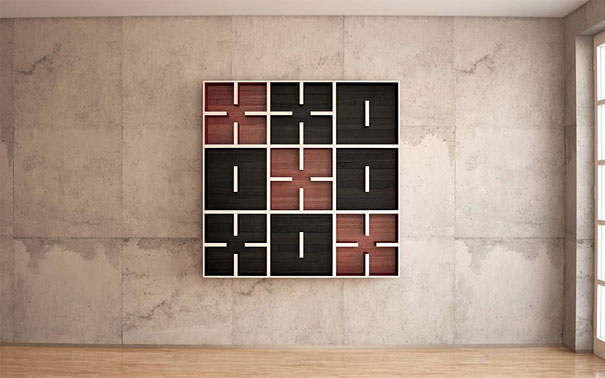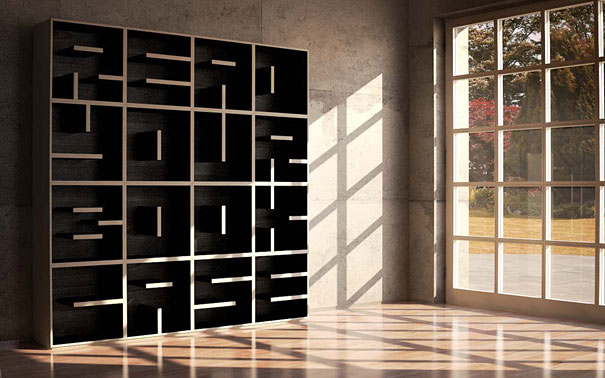 Nominated as the Selected Design in the Young & Design 2010, this stylish bookshelf will always work as a good reminder to read what you have put in ti. (Designers: Eva Alessandrini & Roberto Saporiti)

17. Shelf Life Unit or Room Divider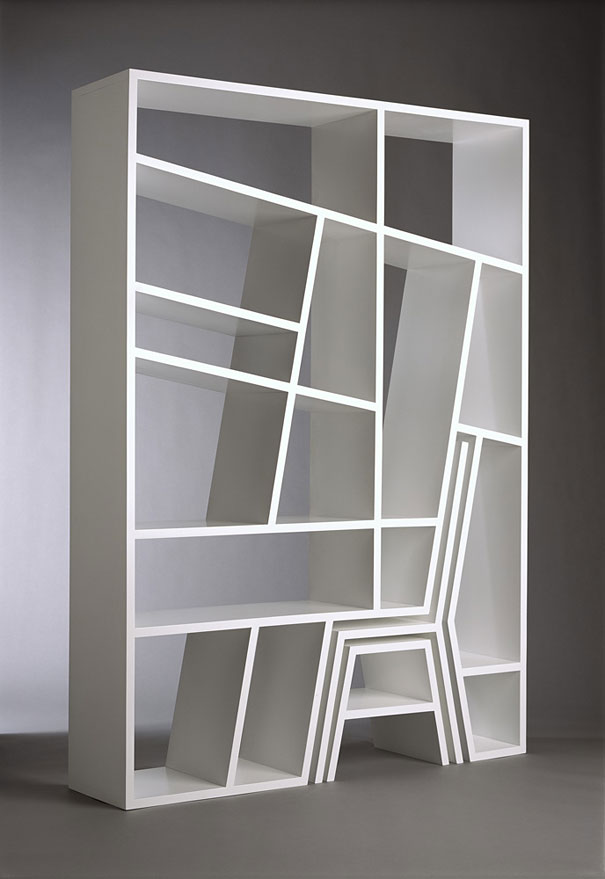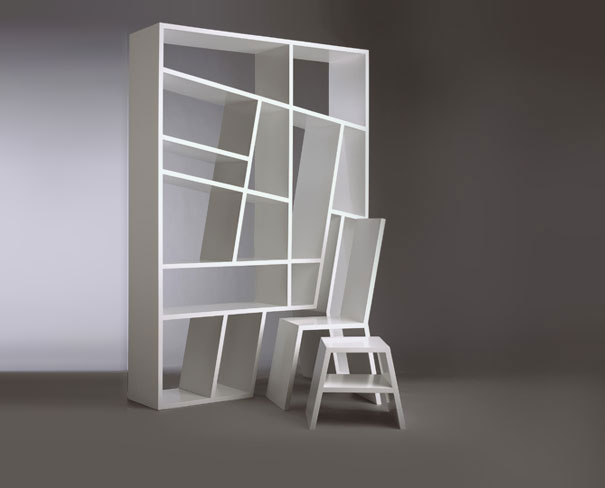 "Shelving unit or room divider in lacquered LDF (low density MDF) with removable chair and side table. Shelflife's striking angular appearance belies a practical functionality. Angular shelves prevent books from toppling, while the chair and table provide a convenient place to browse the collection." (Designer: Charles Trevelyan)
18. Equation Bookshelf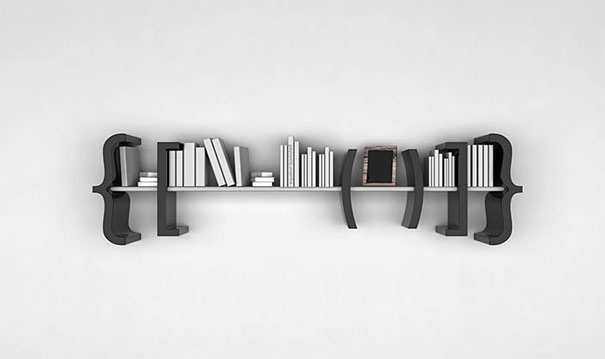 "Equation Bookshelf is a simple idea of to divide things in priority order, put together the books that you need immediately or more important between (parentheses)! Set others between [square brackets] and {braces}." (Designer: Marcos Breder)
19. Dream Bookshelf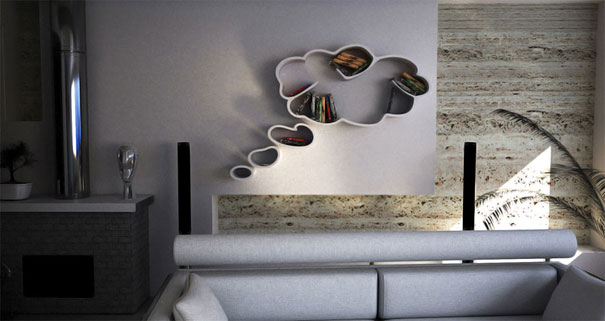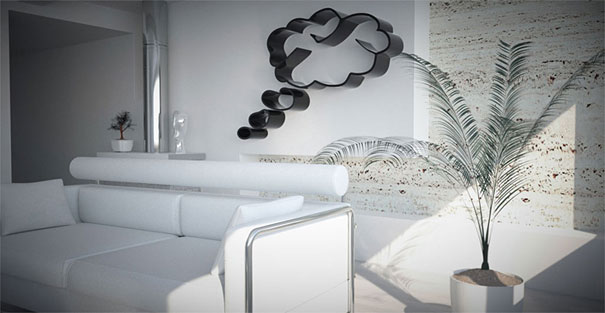 "Daydreaming is an indulgence most of us never grow out of, but plenty of us don't set aside much time for. Stay inspired and remind yourself to dream with Dripta Roy's Dream Bookshelf. Straight out of comic mags and up on your wall, this bubble will hold the tales you treasure the most and showcase the trinkets you cherish." (Designer: Dripta Roy)
20. Ousama Bookshelf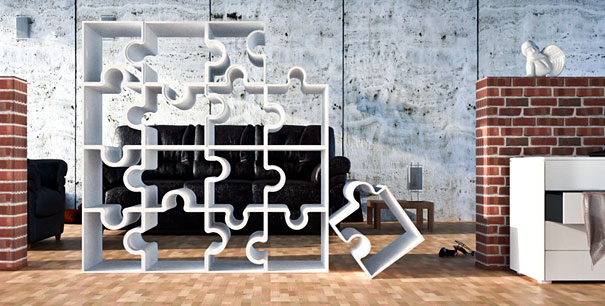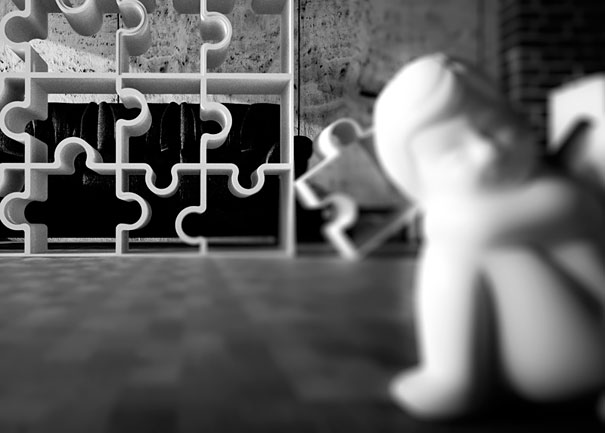 "Ousama bookshelf is another design by Dripta Roy to create some fun in the consumer's life." (Designer: Dripta Roy)
21. Wha Cabinet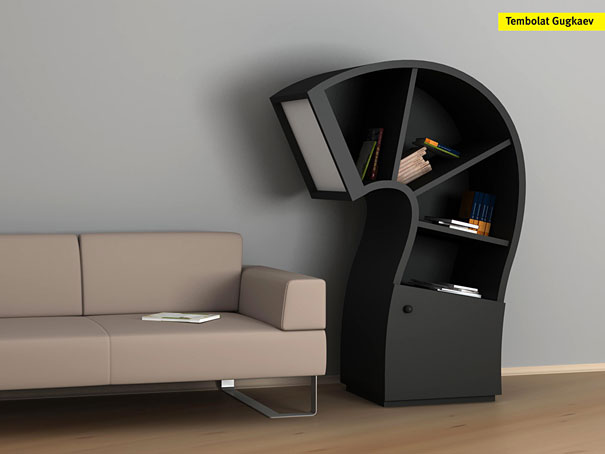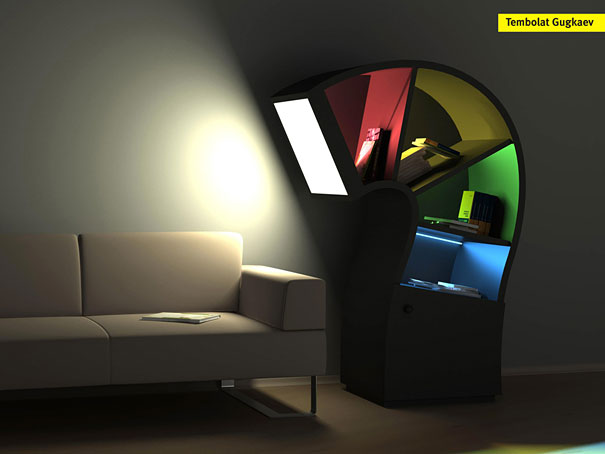 If only a little light bulb would turn on every time we have a question in our heads… Well, it does, when we have this question mark in our room! (Designer: Tembolat Gugkaev)
22. The Cat-Library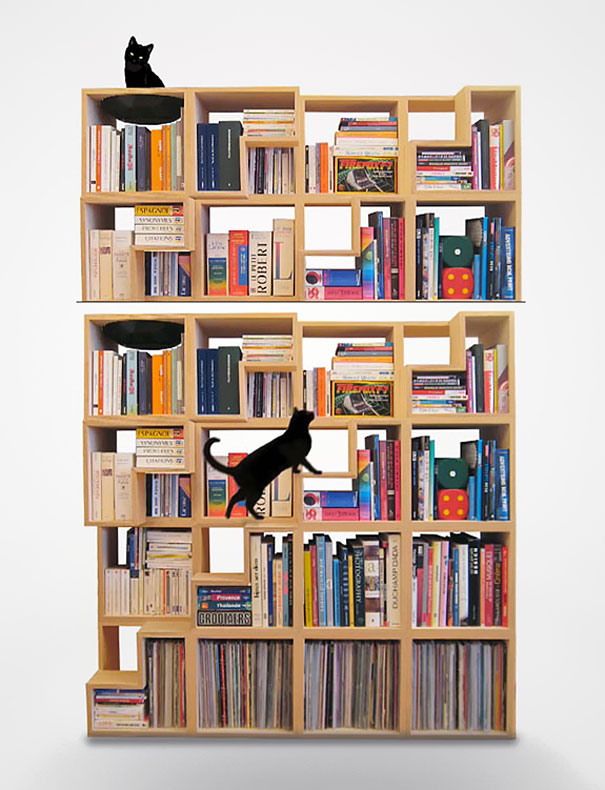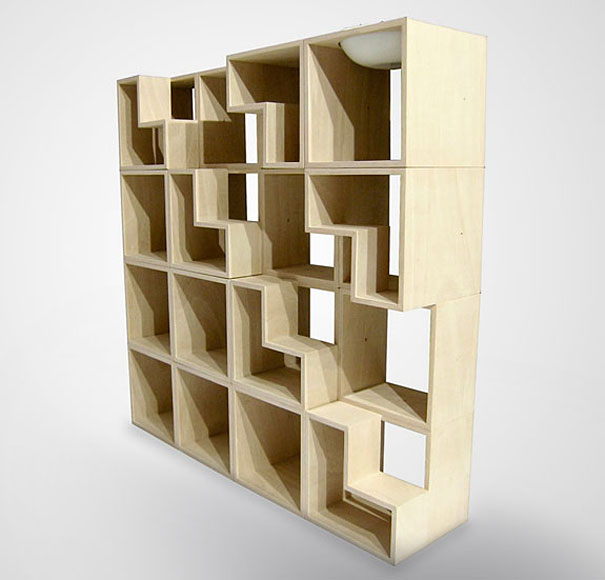 "100% Cat-Friendly Modular Bookshelf. The modules are not painted, not oiled, which after observation seems to seduce cats more. Paint has a tendency to make "the stairs" slippery for cat paws. The shelf exist with two kinds of cat-baskets, one called hi-top (for bigger cats) and another one called lo-top (for smaller cats) which is the one on the picture here-left." (Designer: Corentin Dombrecht)
23. Tectonic Bookcase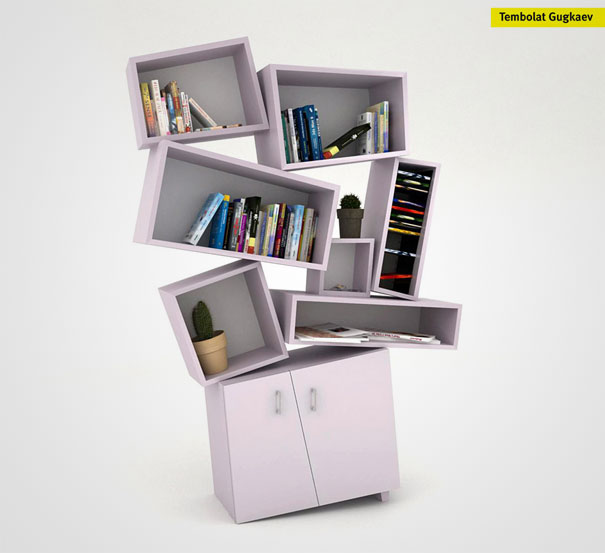 24. Second And a Half Dimension Shelves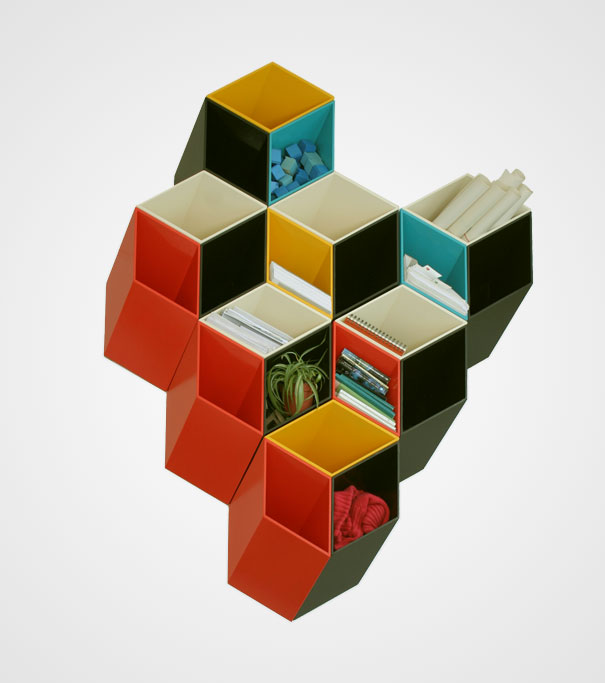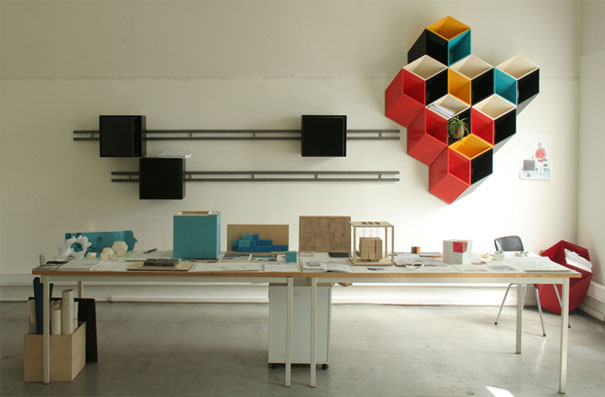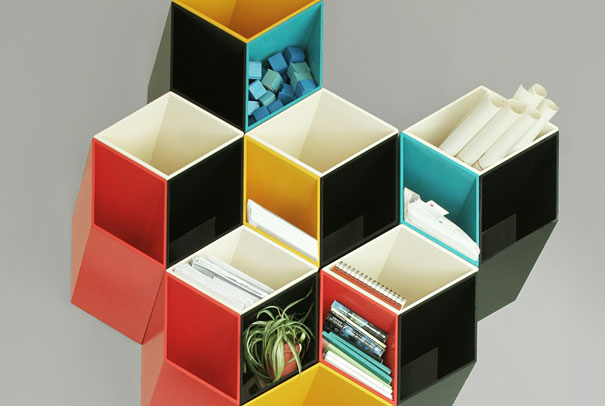 (Designer: Bjørn Jørund Blikstad)
25. Skateboard Shelf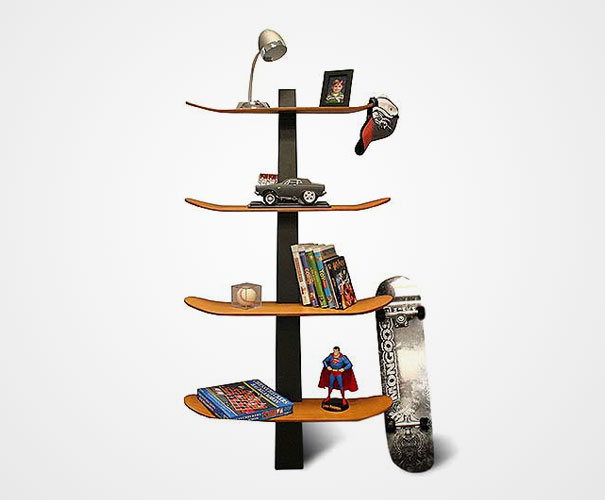 "Skateboard shelf is a piece of furniture that every skateboard lover would tell your that is awesome. Perfect for students and kids, it provides substantial storage space for books, display and even skateboard paraphernalia." (link)
26. Movement Bookcase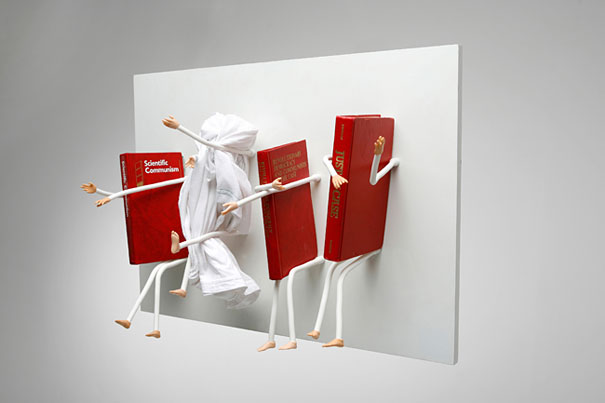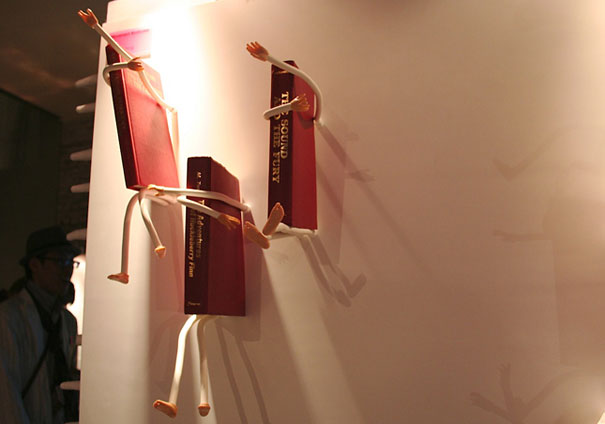 "A bookcase that embraces your books." (Designer: Sungmin Hong)
27. Modular Shelving Unit: 'Vjunok/Bindweed' Series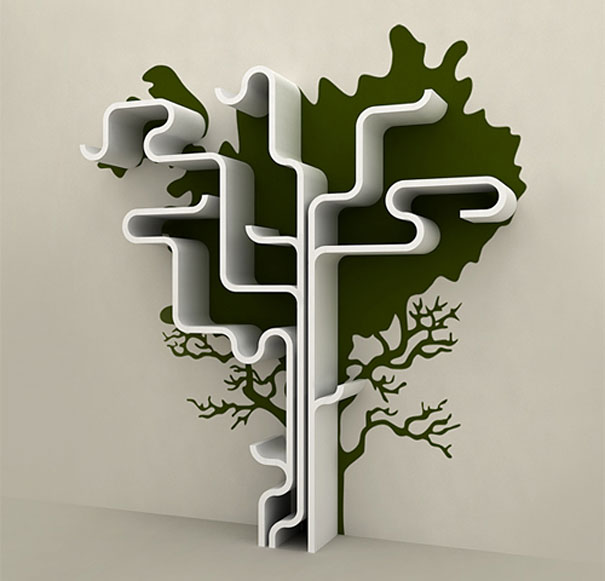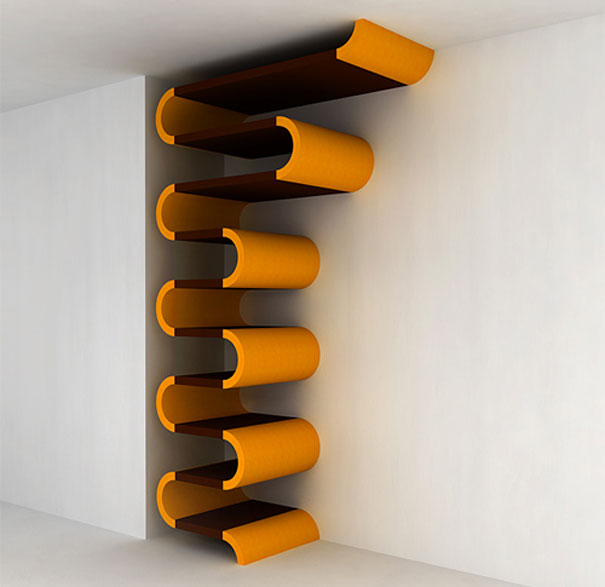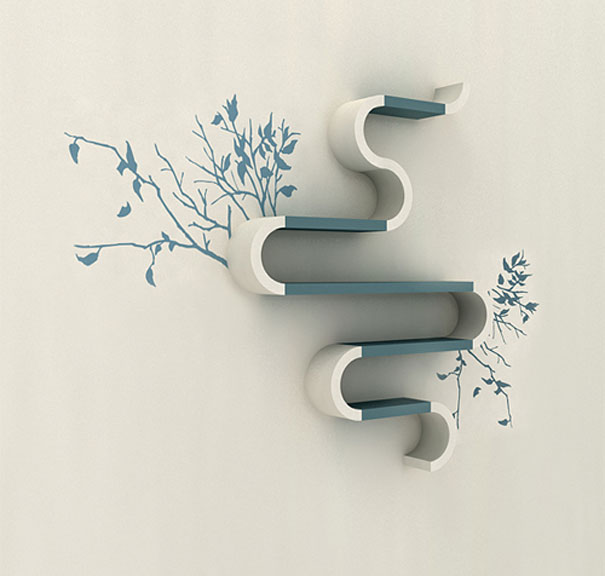 (Designer: Maria Yasko)
28. Milky Lake & Waterfall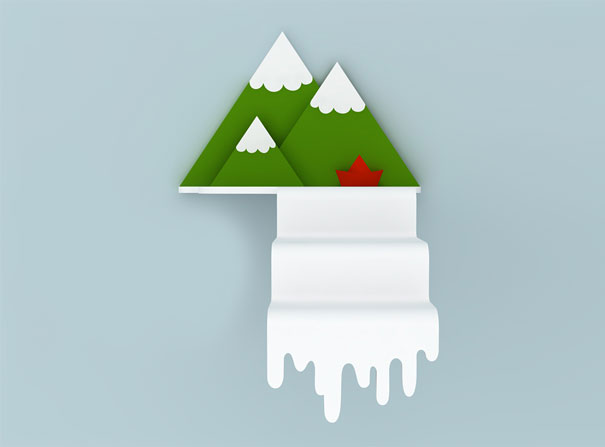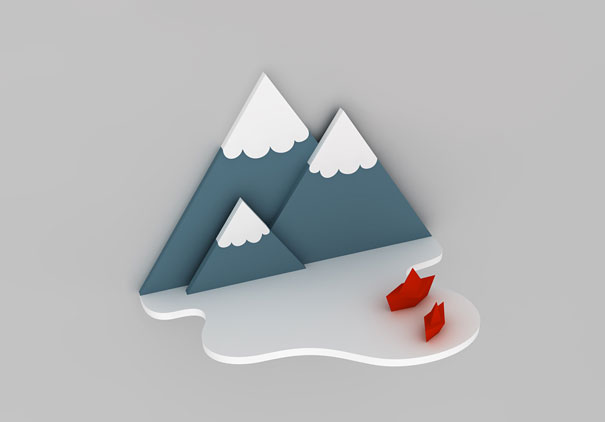 Fun melting bookshelves for a kid's room. (Designers: Maria Yasko &Igor Marisko)
29. Bookshelf Staircase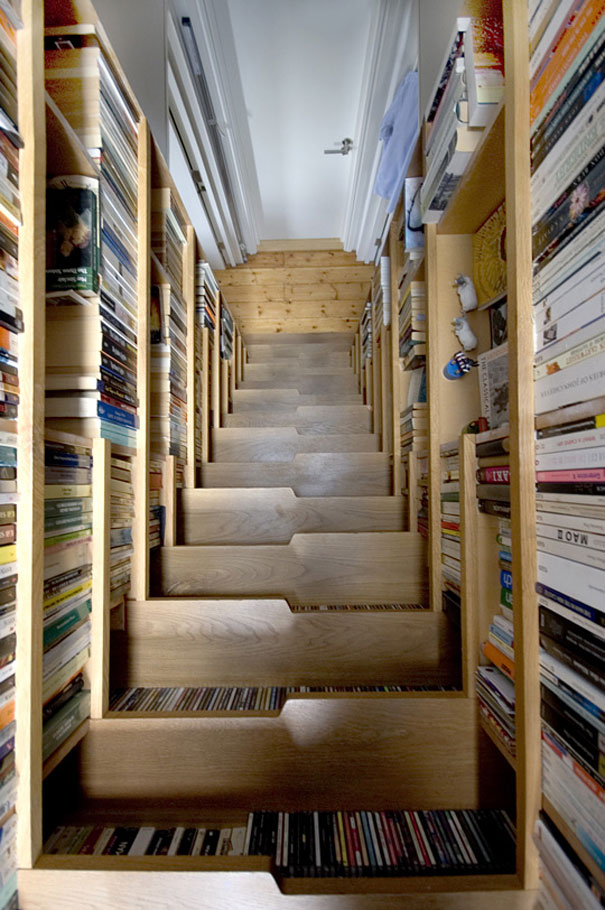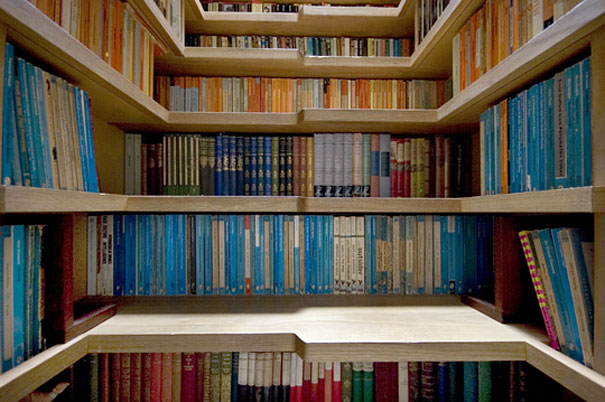 "London-based Levitate Architects came up with this ingenious solution to a book storage problem and created a loft-like bedroom nestled under the roof of the top-floor apartment." (Designer: Levitate Architects)
30. Pulseline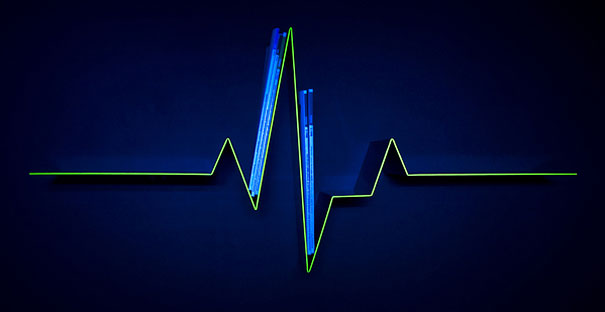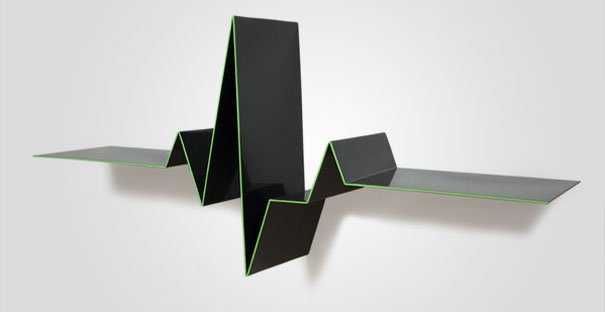 "The source of inspiration is obviously from the well-known shape of a heartbeat. The shelf works both as wall art and as an object to display some magazines and smaller items you like. The edge is painted with a florescent paint that glows in UV light to emphasize the silhouette. " (Designer: Måns Salomonsen)
31. Yule Bookshelf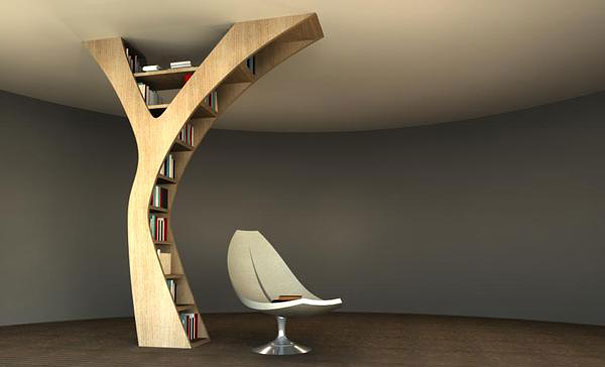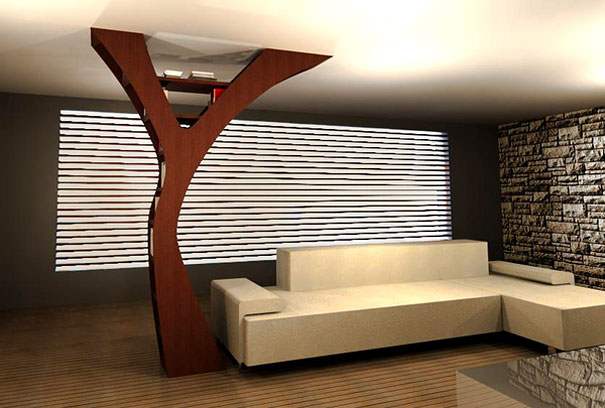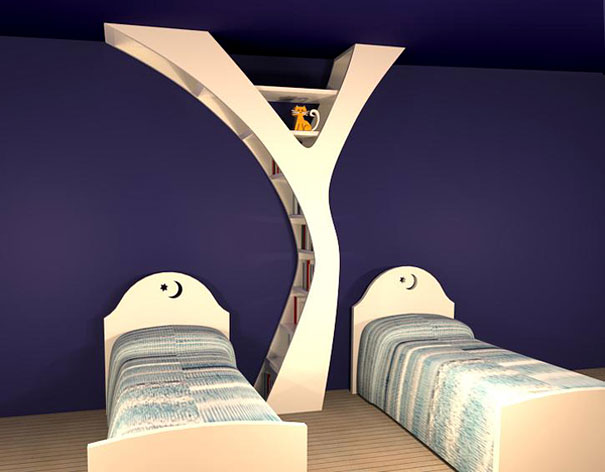 "Wooden bookshelf thought for who needs to add new shelves but has no more free space along the walls.It can be placed everywhere in the room and fixed to the ceiling.Yule optimizes the room at the top and allows you to walk above." (Designer: Claudia Bignoli)
32. Console Bookshelves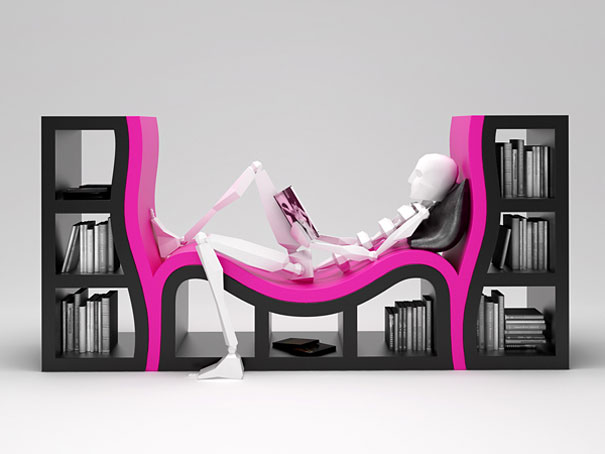 A perfect bookshelf and bench combination. Just pick a favorite book and  lay down in a comfortable position. (Designer: Stanislav Katz)
33. Book Rack in Wenge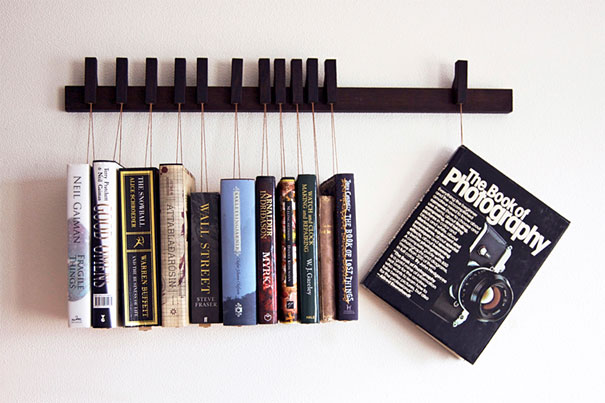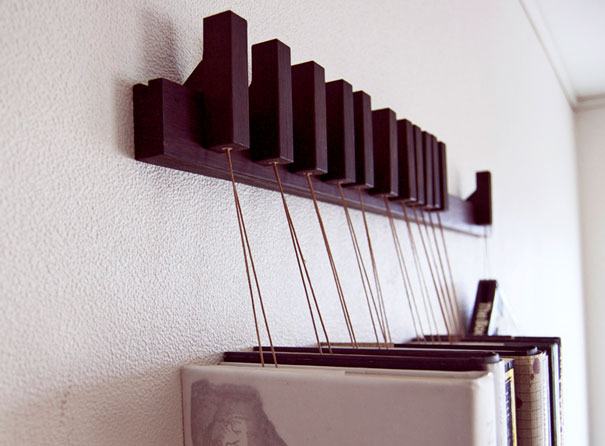 "The book rack comes in solid Wenge, with a set of 12 pins/bookmarks. The pins are detached and can be moved around the back piece to meet your needs at each time. The books rest on a small wooden plate so the pages stay intact. The plates can be moved back and forth on the bottom of the book to control the height of which the book hangs, making it possible to line different sized books up in a straight line." (Designers: Agusta Magnusdottir & Gustav Johannsson)
Some video about diagonal bookshelf
Sources: http://www.boredpanda.com/