Use Storage & Shelves to Distract
Whatever wallpaper or paint design you choose, if you're trying to go with a unisex room, try using storage to distract attention from anything else in the room that may seem more closely associated with this or that gender. Whether a large wardrobe or a giant bookcase like this one, it'll be the only thing in the room that people are focusing on. Well, that and the baby.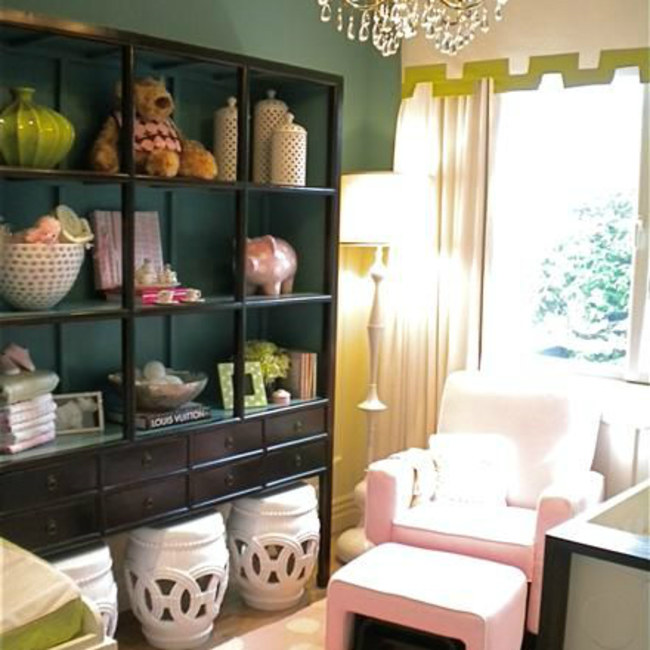 Decorate with a Nursery Rhyme
Parents read nursery rhymes to their sons and daughters all the time. Remember "Hickory Dickory Dock" and "Jack Be Nimble"? Kids love them! So use these nursery rhymes to your advantage to decorate the entire room.
Concentrate on the Mobile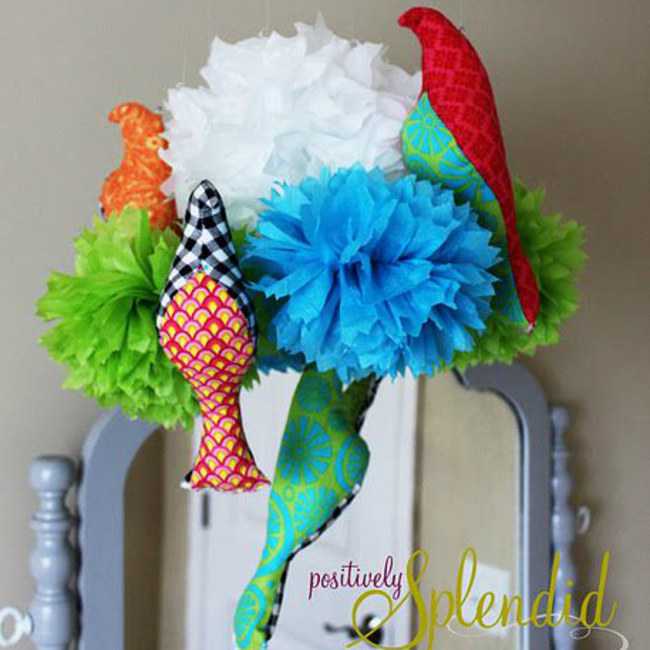 © positivelysplendid/Pinterest
To me, the ceiling mobile is definitely one of the coolest (and cutest) aspects of a baby's room. Sometimes they're so pretty that I wonder why adults don't just have mature versions of them in their room. I guess we have chandeliers but that's still a bit different. Buy or DIY an awesome crib mobile to draw the eye upward when people enter the room. If you buy something spectacular enough, they probably won't even notice the rest of the nursery.
Unisex Nursery Ideas: Play Around with Words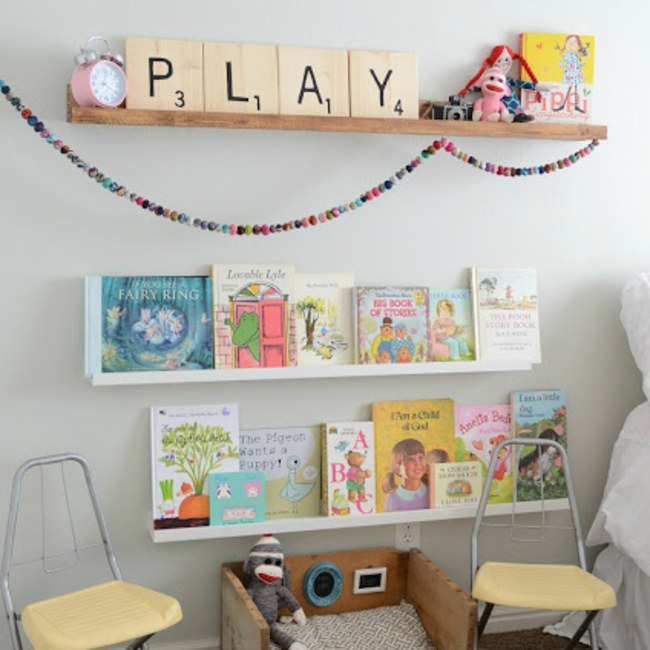 © pillowthought/Pinterest
If you're a fan of Scrabble, you'll love this idea for your little tike. You can decorate the room with random words associated with babies or even spell out his or her name on the wall. The possibilites are endless!
Play It Safe with Trees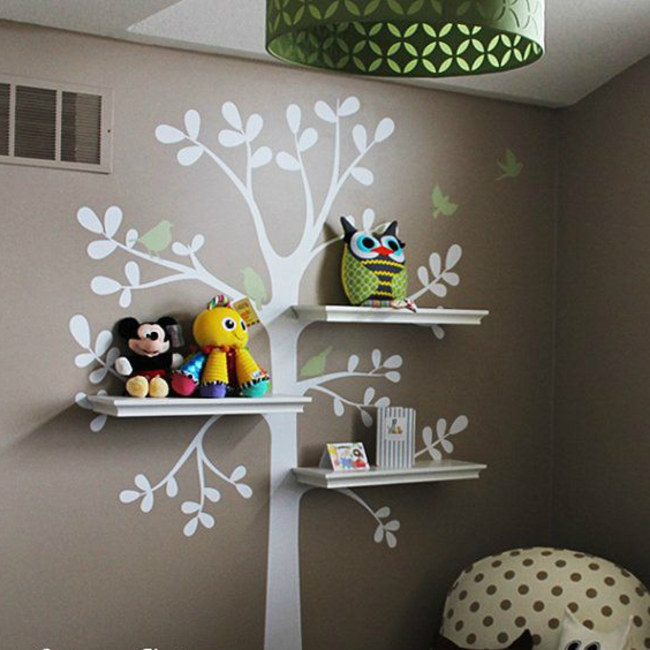 Going along with the whole plant theme that I mentioned before, using trees to decorate a nursery is a pretty safe bet if you're making it unisex. You can hire someone to paint one on your wall, do it yourself with a stencil or freehand, or even purchase a wall decal in stores. This makes for a great focal point and I adore how this person used shelves to create "branches" for the baby's toys.
Use Chalk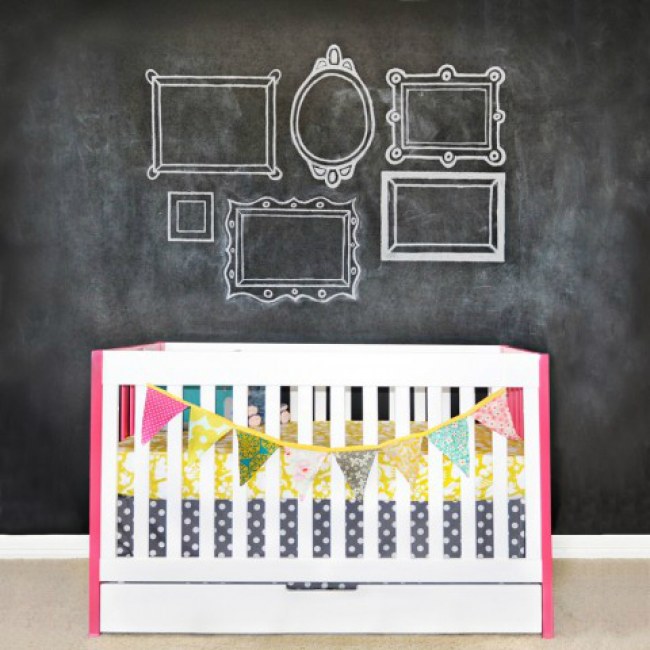 There's really no need to spend money on tons of nursery items when you can just draw everything with chalk like this genius parent did! Dedicate one wall (or all of them, though you'll probably want a pop of color in your room) to this project and use chalk paint to create your background. Decorate with picture frames like the image above or even draw furniture onto the walls. Just make sure you're baby's not in the room breathing in all that chalk dust when you're cleaning the walls or drawing.
Get Rustic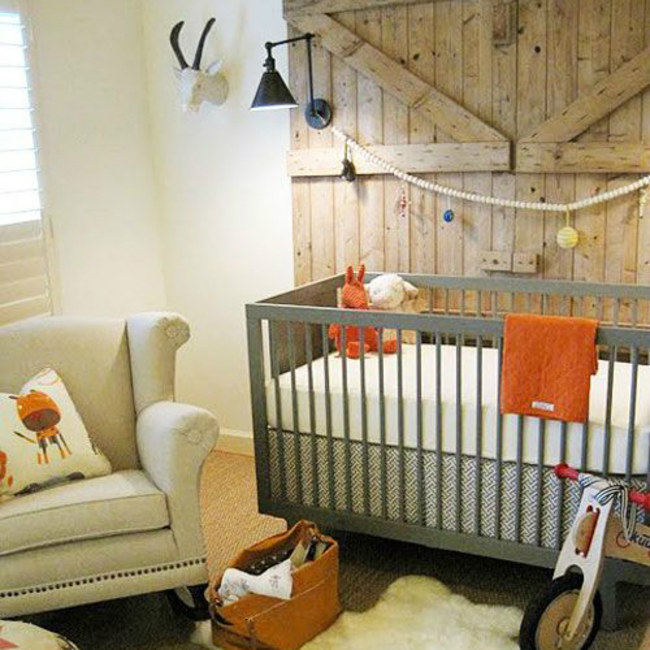 First of all, isn't this headboard amazing?! Second, these shades of brown and orange are perfect for a unisex nursery. This look seems so laidback and your baby (boy, girl or both) will definitely feel right at home.
Don't Forget the Rug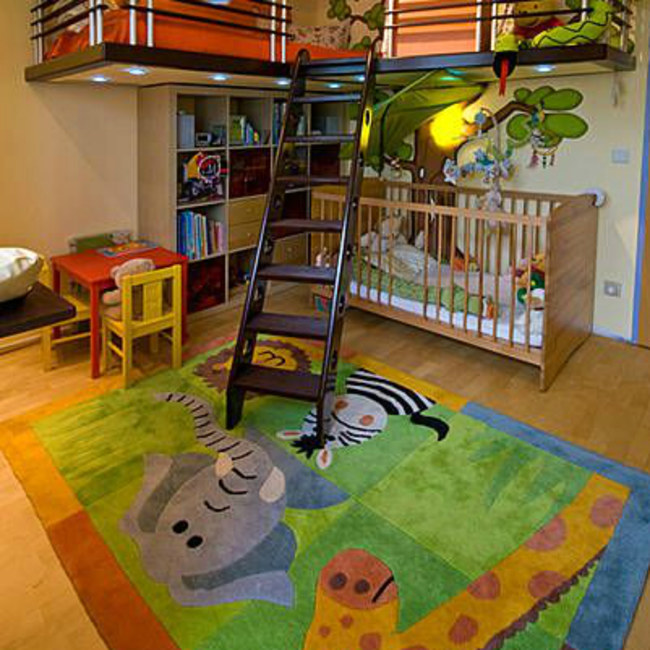 Although many parents might choose to focus on the subtle details around the room like pictures, toys and trinkets, as well as what goes on the walls and what hangs from the ceiling, it's also important to focus on the floor. If you've already got carpeted floors then that's another story, but if you don't, pick out an area rug that you feel will match both a boy and a girl's personality. Clearly this person saw our tip about using animals throughout the room… wink wink.
Save Space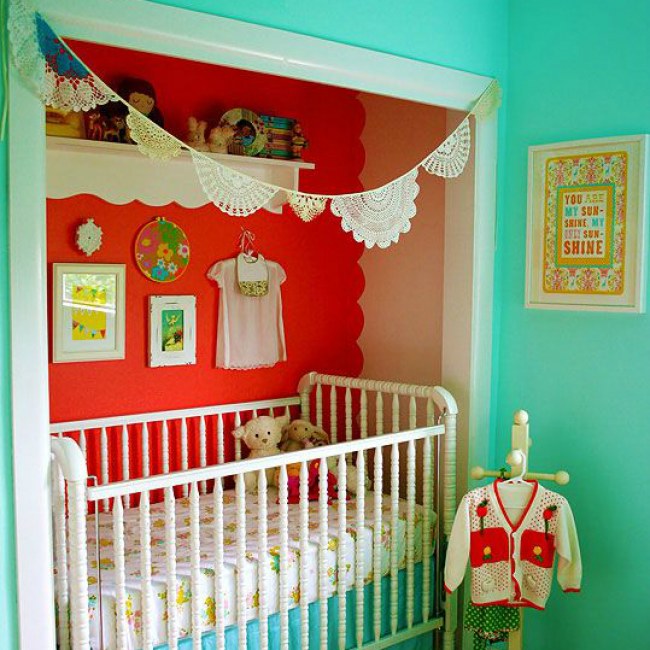 If you've decided to go with a unisex nursery because you're having twins (as opposed to not knowing the baby's sex beforehand), you'll absolutely want to save as much space as possible. With two cribs, feeding chairs, wardrobes and changing tables, the room's definitely going to be crowded. If you have a nook in the room like this one, use it to house one of your cribs to clear the rest of the room for your second crib and other odds and ends.
Easy as ABC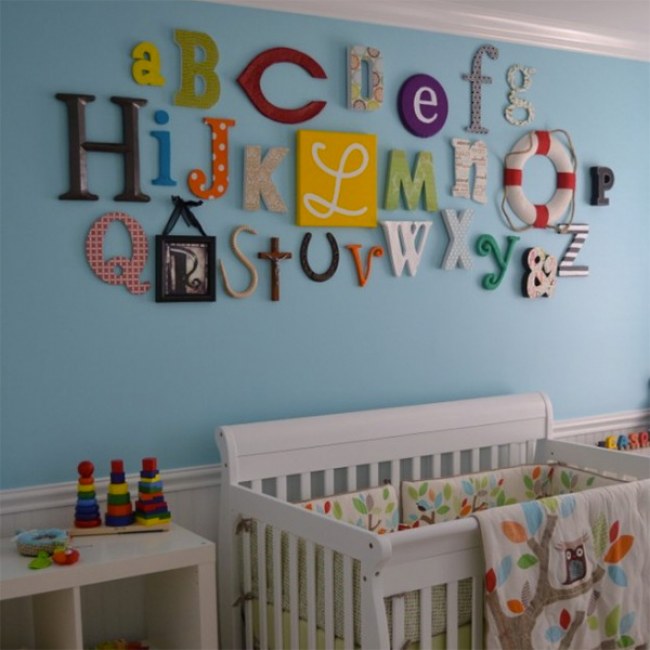 If you keep the colors bright and the theme simple – like the alphabet, you can't go wrong. A baby boy or girl would be lucky to have a stylish nursery space like this!
Source: http://www.wewomen.com/