Thinking of doing a full kitchen reno? Do you have $17,000 to spare? According to statistics, that's the average cost of kitchen renovations in Australia today. A smaller renovation using budget materials might only set you back $10,000, but that's still a lot of money. A kitchen reno is great if you can afford it, but what if your budget doesn't stretch that far? No worries. Here's how to renovate your kitchen for far less.
Why Renovate Your Kitchen?
There are three good reasons to renovate your kitchen:
Your kitchen is falling apart
You've outgrown your kitchen
You want a more beautiful kitchen
If your kitchen is old, it may be falling apart. In that case, you probably need to replace your cabinets. Does that mean you have to put the job in the hands of a kitchen renovation company? If that's a budget-buster, you can always buy a flat pack kitchen and install it yourself. You may need professional help along the way, but a flat pack kitchen can still save you thousands of dollars.
Have you really outgrown your kitchen or is your kitchen no longer organised? Over the years, we accumulate more appliances and other stuff, but don't know where to put it, so it ends up getting crammed in our kitchen cupboards and cabinets. That's no reason to have a full kitchen renovation. There are cheaper ways to organise your kitchen.
Your kitchen no longer appeals to you. You want a brighter, more modern kitchen or just a change of colour. Why throw away perfectly good cabinets when there are cheaper ways to brighten it up?
How to Do a Budget Kitchen Renovation
A kitchen is a collection of components:
The cabinets are made from melamine coated medium density fibreboard (MDF)
The drawers can be made from MDF, plastic or metal
Doors and drawer fronts can be made from a variety of materials
Benchtops are also made from a variety of materials
Other parts of the kitchen include the wall tiling or splashbacks, the sink and built-in appliances.
In most kitchens, the cabinets are still in good condition after other components wear out. A budget renovation is simply a renovation that works around the existing cabinets. Doing this saves you well over half the cost of a complete renovation because installers don't have to tear out your old cabinets and replace them with new. A budget reno can be a DIY job, a partial DIY job or you can give the job to a kitchen cabinet maker and still save money. Here's how:
You can repaint or replace your doors, drawer fronts and exposed panels
You can buy new door and drawer handles
You can have a new benchtop installed.
You can have your tiles resurfaced or install an acrylic splashback directly over your existing tiles.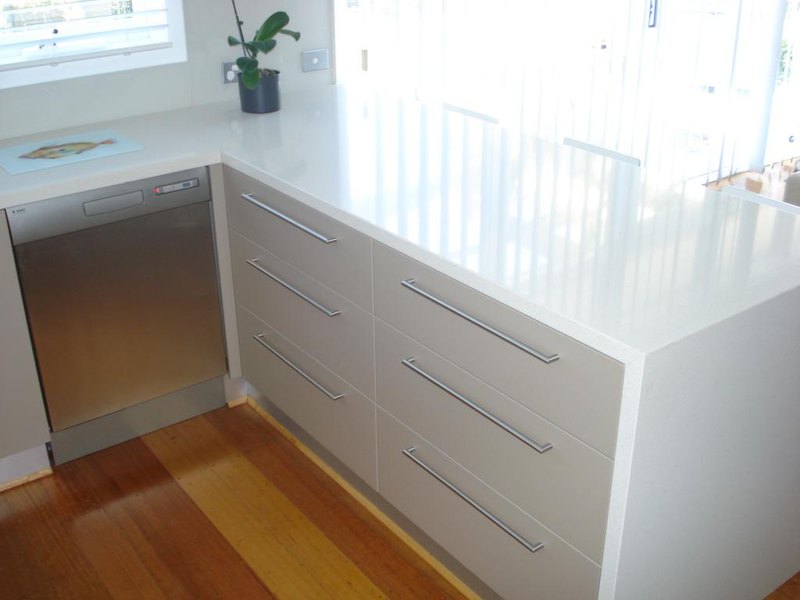 Doing these things will take care of most of your kitchen aesthetics, but you might want to go further and make your kitchen more functional as well. Over time, doors begin to sag, drawers don't glide smoothly and shelves become over-stuffed. Some solutions to these problems include:
Replacing door hinges
Replacing your drawers or replacing your drawer cabinets with new flatpack drawer cabinets
Installing drawer inserts to better organise their contents
Converting cabinet shelving into sliding shelves to make access easier
Installing lazy susans or other hardware in corner cabinets
Renovating or replacing your pantry with a clever new pantry system
Doing these things can actually make your kitchen better than new because drawer inserts, pantry systems and corner cabinet solutions are optional extras that don't come with a standard replacement kitchen.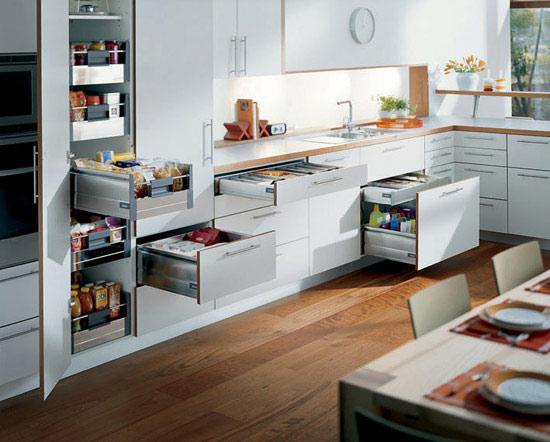 The order in which you do your budget kitchen renovations is important. Start by removing your doors and drawer fronts. Take them to your garage or workshop if you're going to refinish them yourself or let your kitchen cabinet maker take them to their workshop. If you are going to replace the handles, buy them ahead of time. That way you can fill the holes and drill new ones if necessary. If you're replacing the hinges, try to find new hinges that fit into the existing holes.
Now you can order a new benchtop. Let the benchtop supplier measure the space and leave the installation to them. It will cost more, but there are tricks to installing benchtops. The only exception is a straight benchtop. In that case, you don't need to worry about mitred edges. If you've already chosen a new acrylic splashback, you might want to install it before you replace your benchtop.
Now your kitchen will be a shell and you can safely renovate the cabinet interiors or replace units with new flat pack cabinets. If you need help, a local handyman is probably your least expensive option. If you have everything ready, you can probably do everything in less than a day.
Of course, you may not need to do a full budget renovation.