Art Deco is a hot design trend right now, and works brilliantly in a contemporary interior. It is one of the most instantly recognizable visual  references of the modern era and it came of age in the 1920s, flourishing in the era of flappers, jazz and huge social changes. The 1920s-1940s was the time mass production and mass transport came of age and Deco reflected that – the style was all about modernity, luxury, new materials, bold colours, vivid patterns – a brave new era looking toward the future. Its crisp, clean lines and luxurious touches promised modernity and energy.
The cultural similarities between the inter-war era and now (a fast-changing world with a lust for luxury) make it a clever reference in a room and its clean, bold attitude suits our modern rhetoric. The key to using Art Deco is to have it as a visual reference point, adding interest and surprise – that touch of quirkiness that lifts a room – rather than a comprehensive theme. So add a sculptural lamp here or a geometric rug there, some monochrome contrast or a touch of shimmering gold as a highlight in coving. It takes a bold designer to go all out!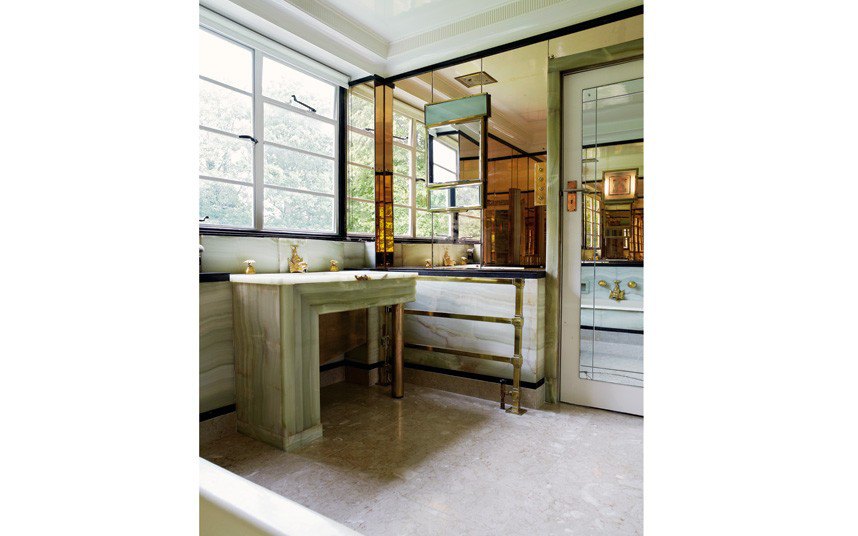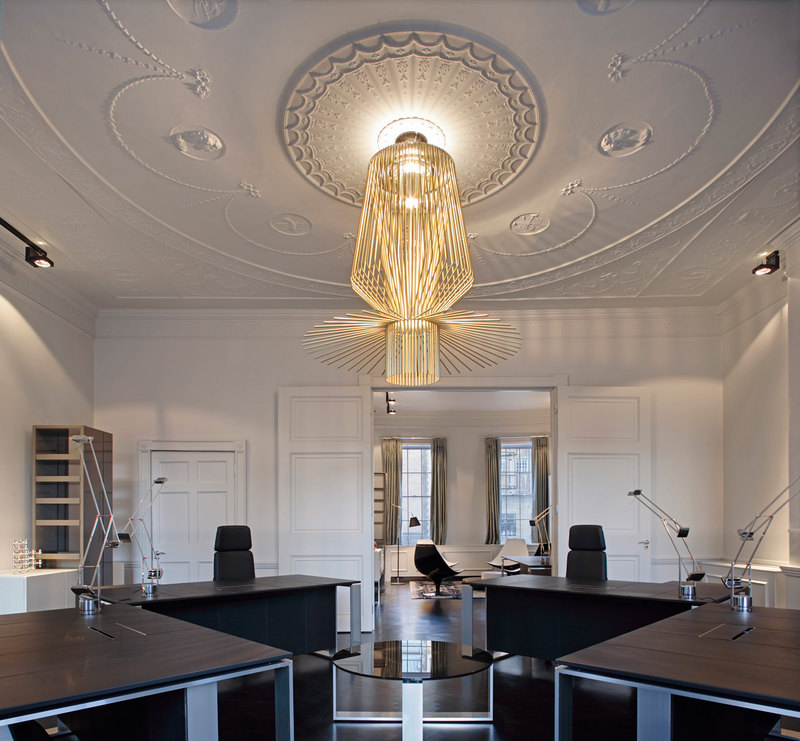 These are Arkitexture's top tips for creating amazing Art Deco flourishes in a contemporary interior…
Don't mix styles
A lot of people get Art Deco and Art Nouveau mixed up. While Deco may have grown out of Nouveau (and there are stylistic similarities) the aesthetic could not be more different – one is all about nature, natural materials and bohemia, the other the Machine Age, modern materials, flappers and jazz. Art Nouveau is earthy colours and sinuous shapes, Art Deco bold hues and geometric patterns. Mixing the two in a contemporary interior can be very jarring, and – as much as we love nods to other eras – anachronistic. So here's an easy crib: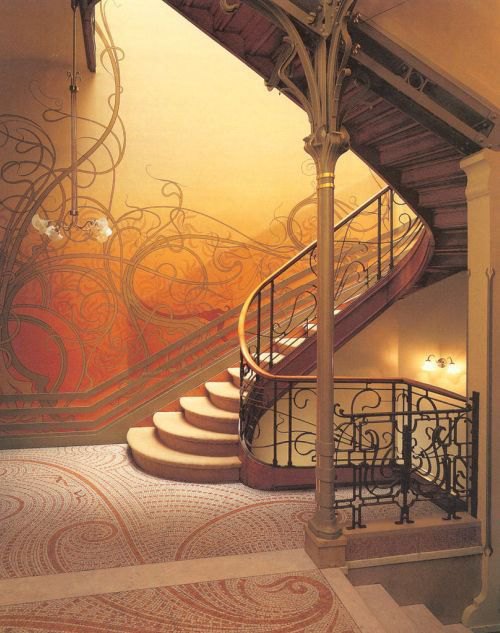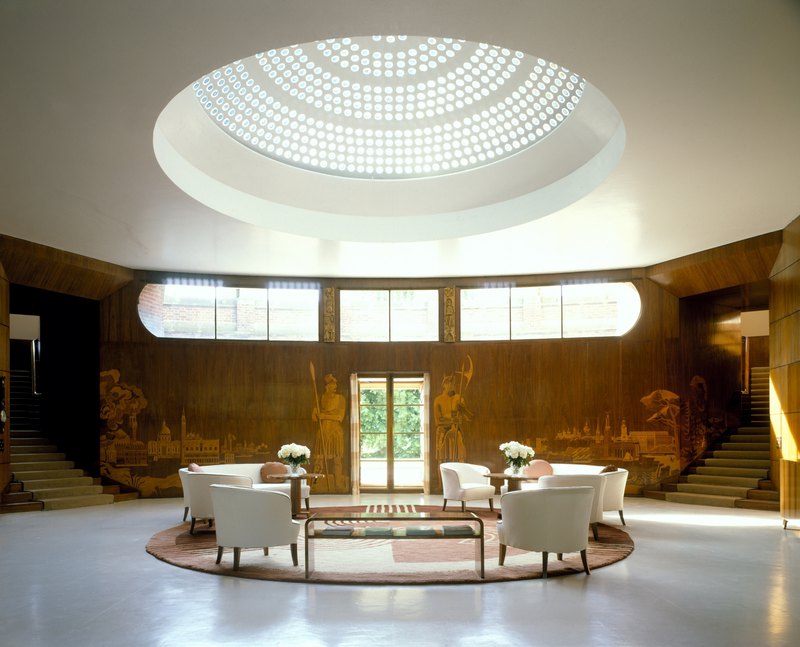 Do work with the historic elements of your property
The post World War I-era saw a building boom with millions of properties built across Europe, many of them with Deco details. Paris's Piscine Molitor was once a fashionable public pool, before falling into disrepair and becoming a world-renowned canvas for graffiti in the 1990s. Now restored as a hotel, the interior embraces both sides of this vibrant history, with contemporary street-art complementing the architectural detailing of the Deco age. Jean-Philippe Nuel was responsible for the interior design, retaining some of the original features, such as the bright blue doors of the changing rooms, mixing it with modern pieces, including a chair that Nuel designed especially for the project.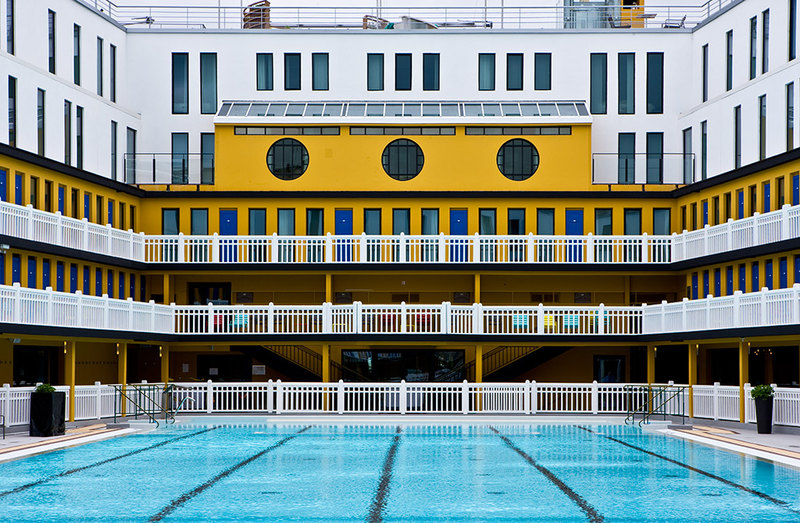 But you don't have to have a 1930s architectural gem for your concept to work: many houses retain one or two original features. So create an elegant nod to your Deco coving, tiles or a chimney piece for example. In Studio Indigo's Chelsea interior, a monochromatic theme, geometric shelving and a strikingly retro candlestick emphasise the lovely Deco fanlight.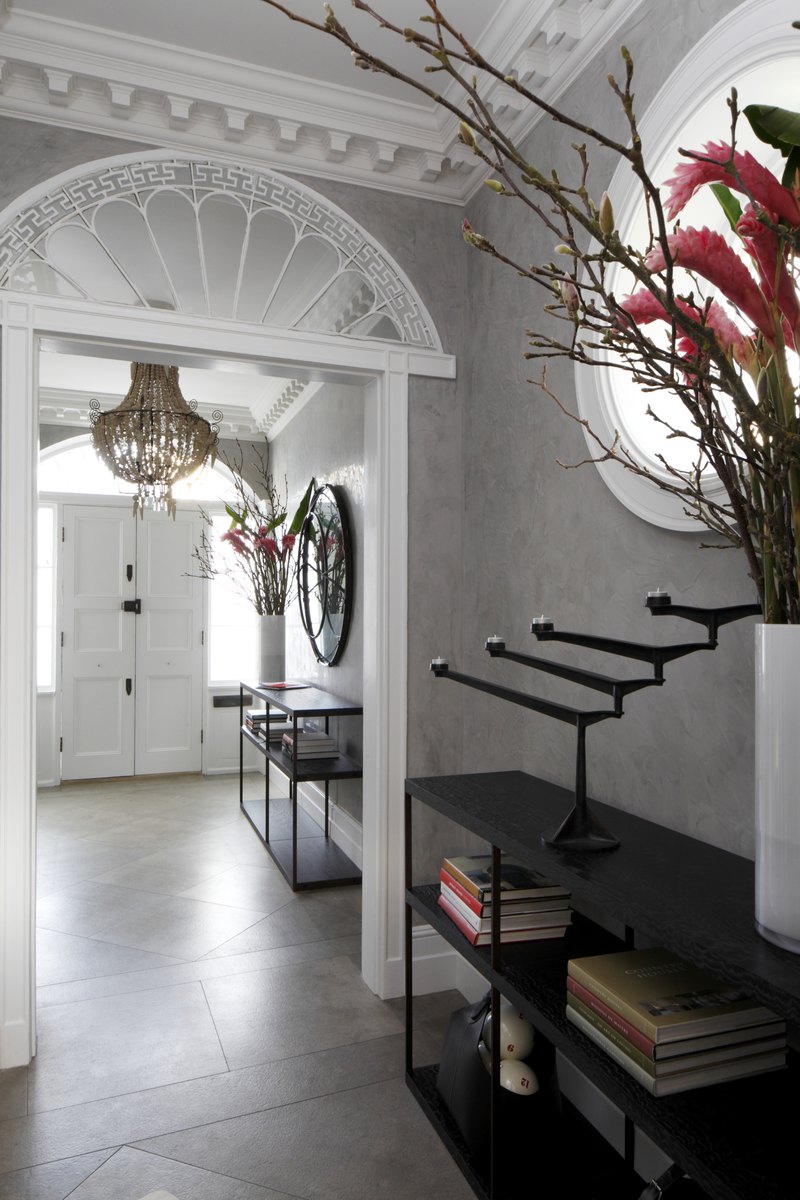 Do use bold patterns…
Nowadays 'factory-built' has almost become a dirty word among people who love originality and luxury, but for the post-Great War generation anything that reflected the machine age was absolutely the thing, expressing itself in precise geometrical patterns based on cubes, spheres, zigzags and sunbursts.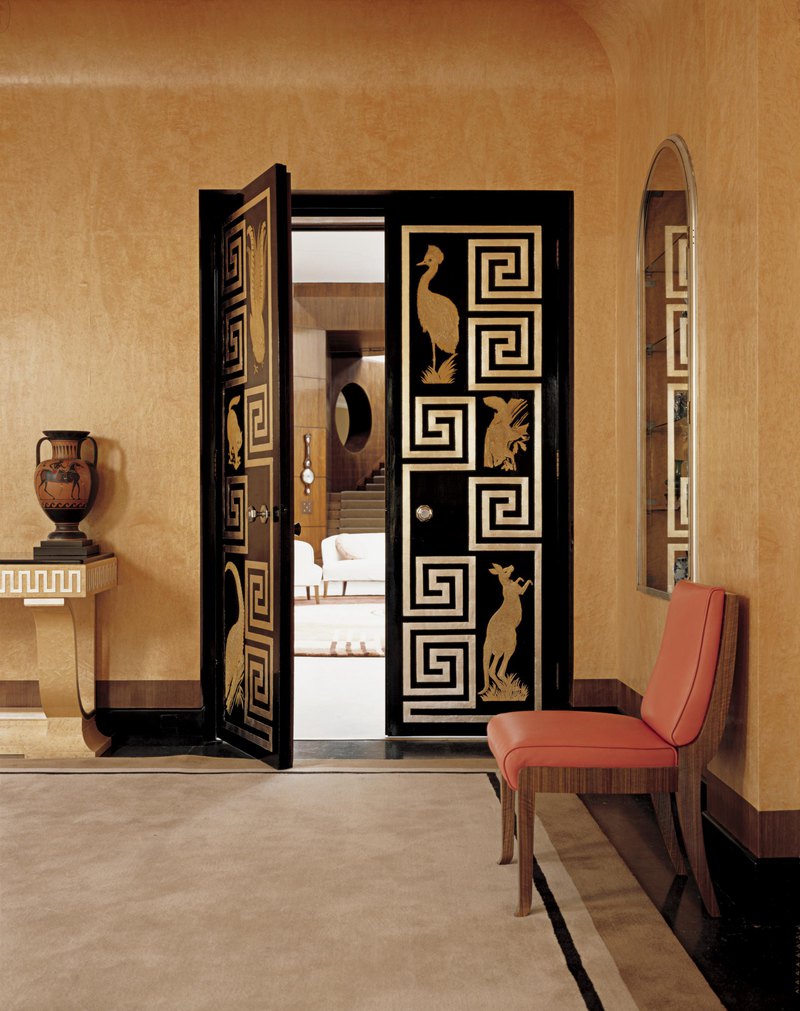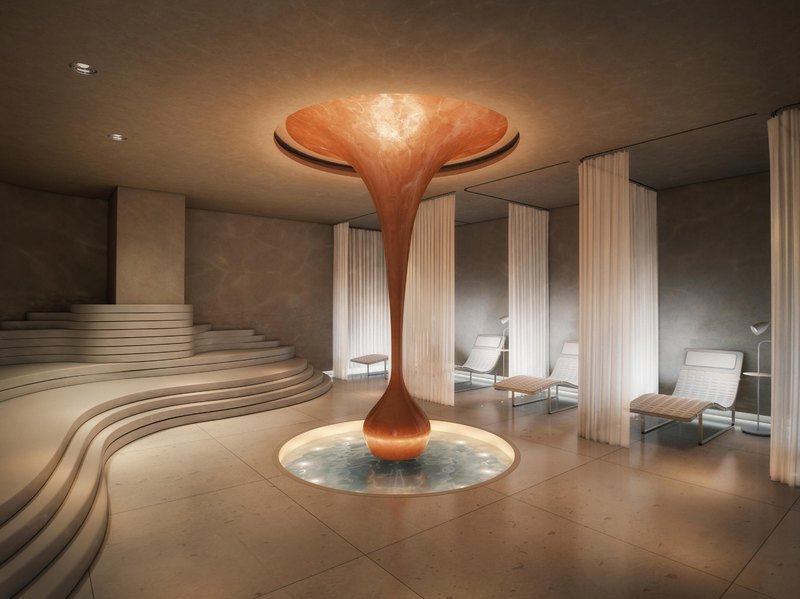 …And bright, contrasting colours
Avant Garde movements like Cubism and Fauvism offered fascinating new directions and designers were quick to pick up on their abstract, form-based vocabulary to evoke the dynamism of modern culture. Rich blues, racing green and plenty of red evoke a spirited sense of fun in any interiors – Check out Rouge Absolu's joyful eclectic Parisian apartment with its bright blue geometric carpet and Deco chair which contrasts/clashes with turquoise walls and sofas.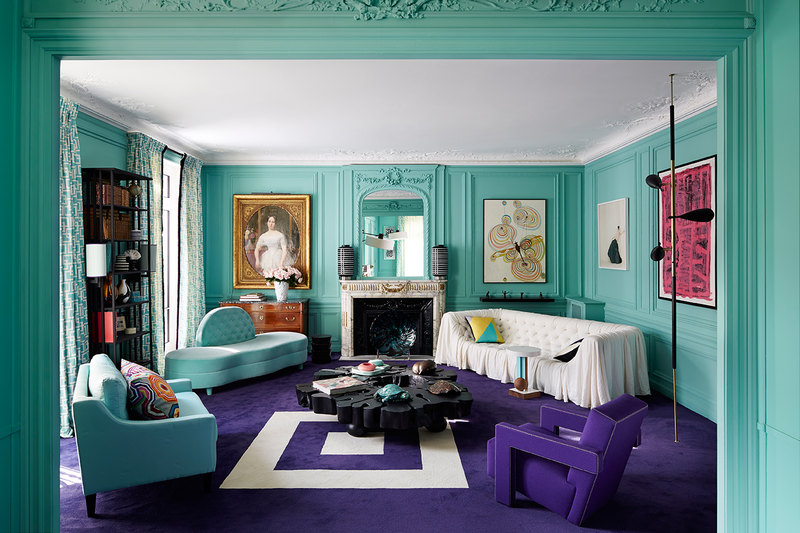 Do try a touch of monochrome
Black and white with flamboyant touches of colour or gilt perfectly fitted with the geometric symmetry that so defined the era. It's a style that has been updated over the decades and remains popular particularly for bathrooms and kitchens, but done cleverly can look incredibly chic without being obvious. A case in point is the penthouse at Trafalgar One which features a spectacular interior done in neutrals, black and white. The staircase is a Deco marvel – albeit with modern engineering –while the living room features geometric-patterned black and white cushions and white carpet, statement lamps and dark walnut latticework, softened by gold walls.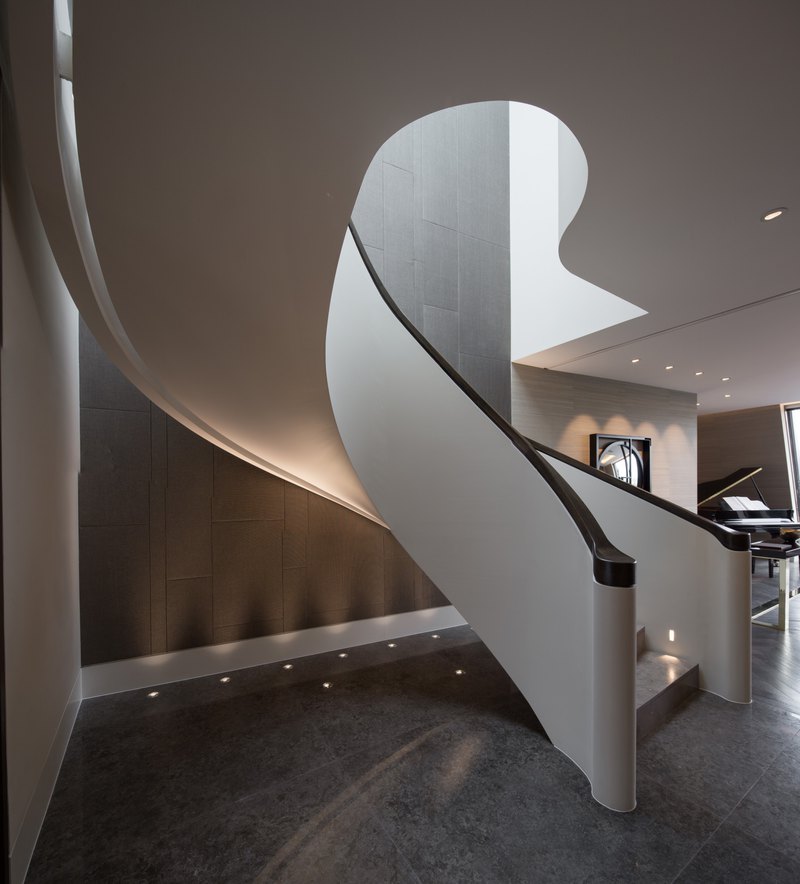 And rich materials….
It was an era of boom (followed by the bust of the 1930s) and after the horrors of the Great War materials that whispered luxury, that cocooned and embraced you were all the rage. Gilded ceilings (like at Eltham Palace), acres of walnut and gold baths were all part of the Deco style and certainly work today, albeit with a little more restraint. Take Eva Jiricna's refurb of the Hotel Maximilian in Prague, a tribute to the ambience of the 1920s. The reception uses materials evocative of the time, with a backlit onyx wall and desks in walnut and black lacquer, while the theme continues through two guest salons, a library, smokers' room and breakfast room. In a smaller space gilded alcoves and backlit ceilings can give a quietly rich effect.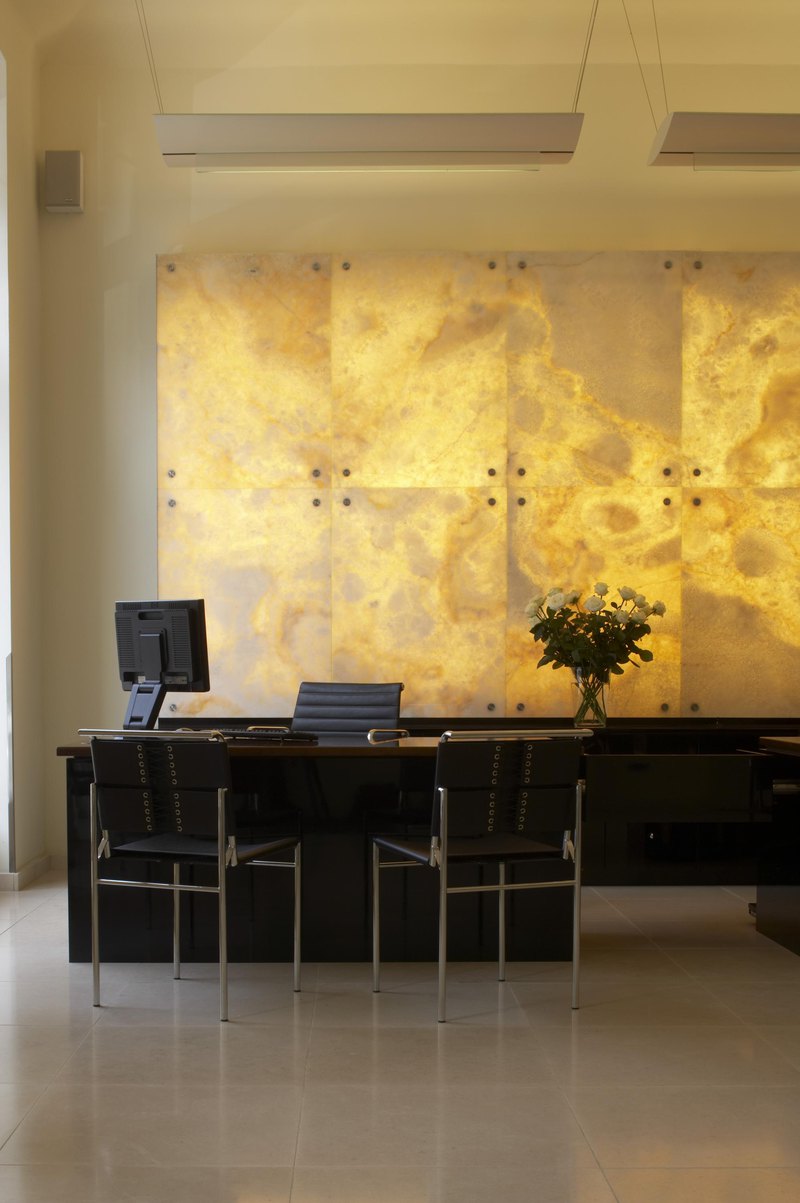 …In dramatic neutrals
Of all the Art Deco interior design impulses, the one which most suits the contemporary mindset is the rich neutral. Following on from using wood and stone to create a lush effect, paint in golds and beiges can be stippled onto walls to give an opulent feeling of depth.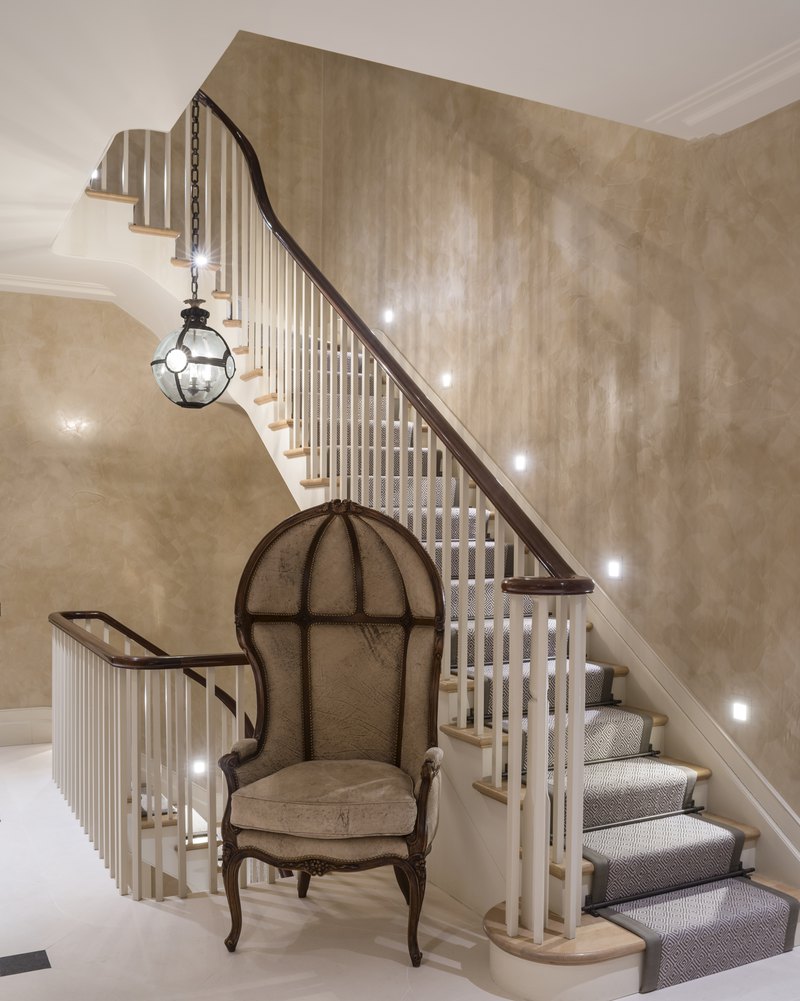 But for really decadent use of materials, Studio Indigo's 1930s-inspired vellum-covered dressing room probably takes the biscuit…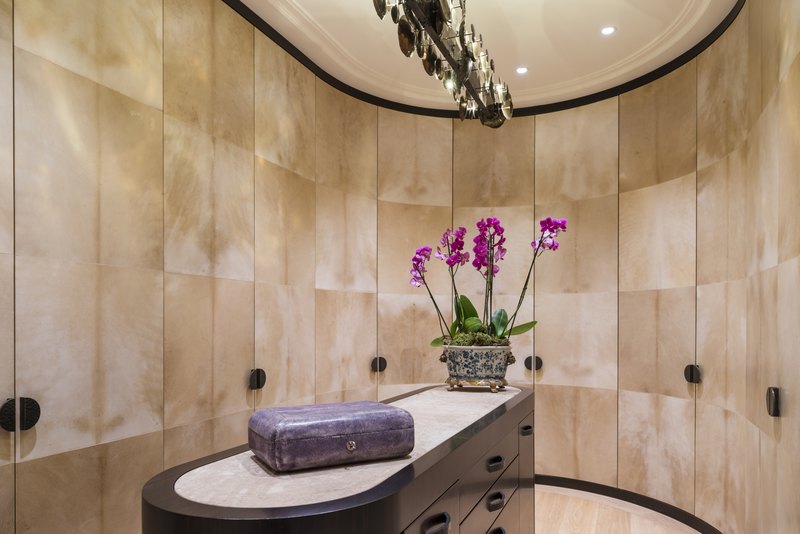 Try exotic or native art references
The period between the World Wars saw travel on a mass scale for the first time, and for those who couldn't afford it, cinema gave everyone a taste of the exotic. Darkest Africa and the treasures of Egypt particularly caught the imagination with leopard prints, native crafts and hieroglyphics showing up on everything from wallpaper to cigarette boxes. For a hugely inventive modern take on this theme, Kit Kemp's design for the Ham Yard hotel is both a nod and a wink at a highly eclectic style.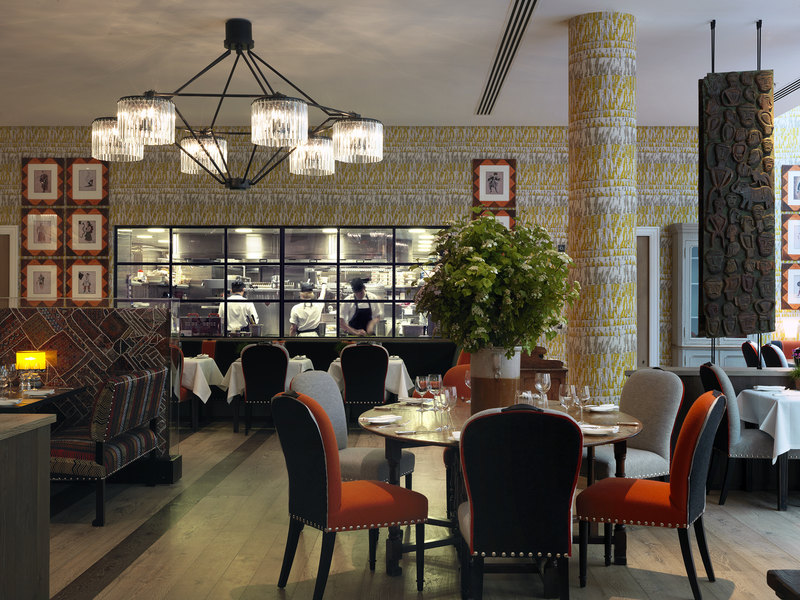 Or go for a simple statement piece
Perhaps the simplest way to add an Art Deco interior design touch to your interior is with a statement light or artwork. Geometrically striking lights like Fine Art Lamps' Black and White Story or go hyper-luxurious with a waterfall chandelier like the one at Villa Orsini.
And, while a slinky Tamara de Lempicka oil painting will set you back millions, one of Pullman Gallery's carefully provenanced Deco posters with their active skiers or trains zipping through the night to a bright future, look fabulous on any wall.
Last but not least contemporary furniture with a vintage feel can add that perfect touch of Deco and modern. For cutting edge design try Front's Hideout Lounge Chair for GTV, a wonderfully quirky yet elegant combo of bright blue textile and wicker.
 Source: http://arkitexture.com/