From the Wizard of Oz to Clark Kent in Smallville, there's a special place for the farmhouse in the American psyche. It only make sense that these intrepid homeowners would create their own vision for the "modern farmhouse."
When the clients (and parents of two) are an an organic farmer and radiologist, you know the results are going to be unique. That was the case for this modern farmhouse in Wake County, North Carolina. "The main volume presents a traditional front and is wrapped on the west and south by a deep porch," says architect Erin Sterling Lewis. "Living and dining spaces access the porch." A standing seam metal roof with a Kynar finish and HardiePlank Lap Siding cover the exterior of this 3,000-square-foot home.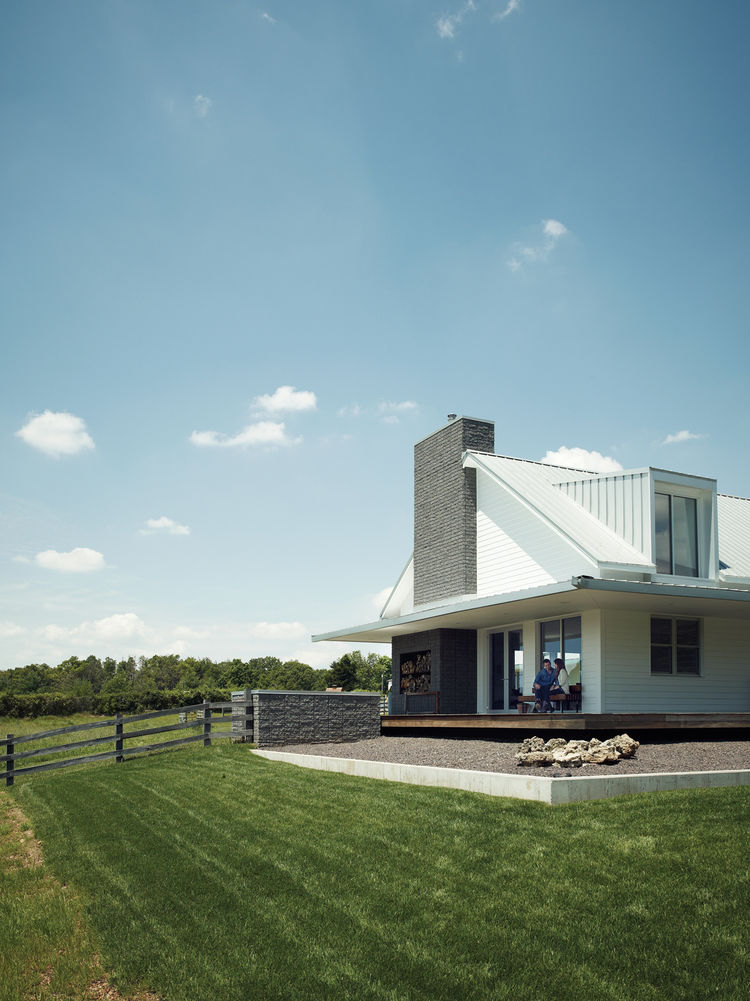 Thanks to Matthew Hufft, their envelope-pushing architect and longtime friend, Hannah and Paul Catlett have a new home in southwestern Missouri that's a fresh, unconventional approach to the traditional farmhouse. "They were really pushing for a traditional farmhouse," explains architect Matthew Hufft, of the Kansas City–based firm Hufft Projects. "But through the design process, they got more and more excited about modern."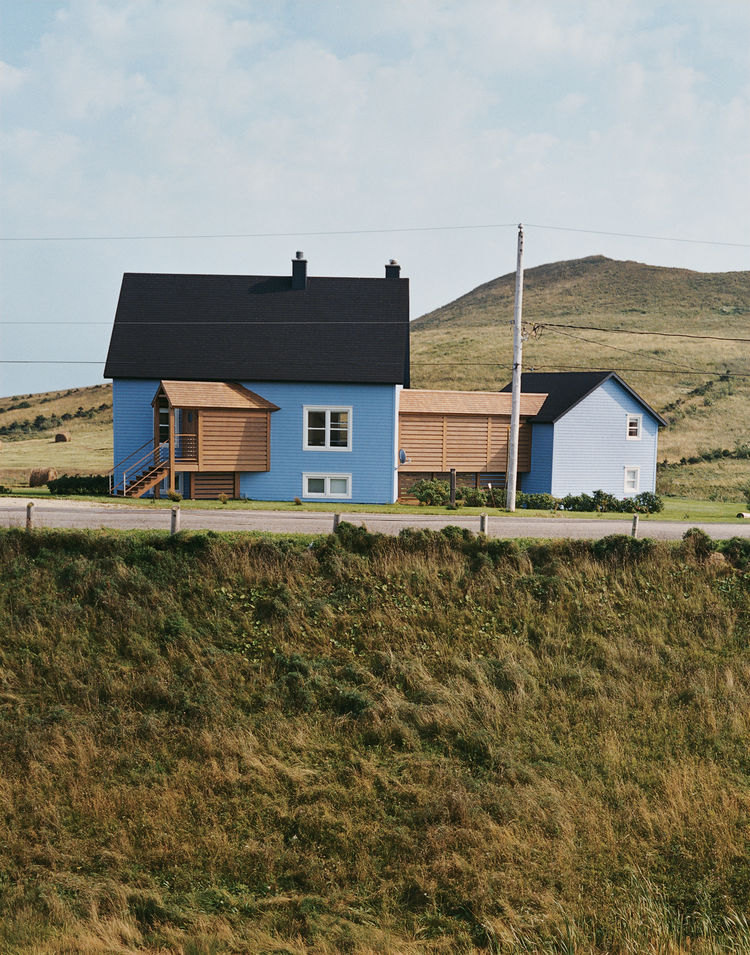 Canada's Magdalen Islands offer a seaside retreat to landlocked Quebecers, two of whom have turned the local vernacular on its oreille with a winsome vacation home. "We wanted something lively for the house, something spectacular but not vulgar," says resident Yves Bériault of the blue hue of the modest 1,690-square-foot house.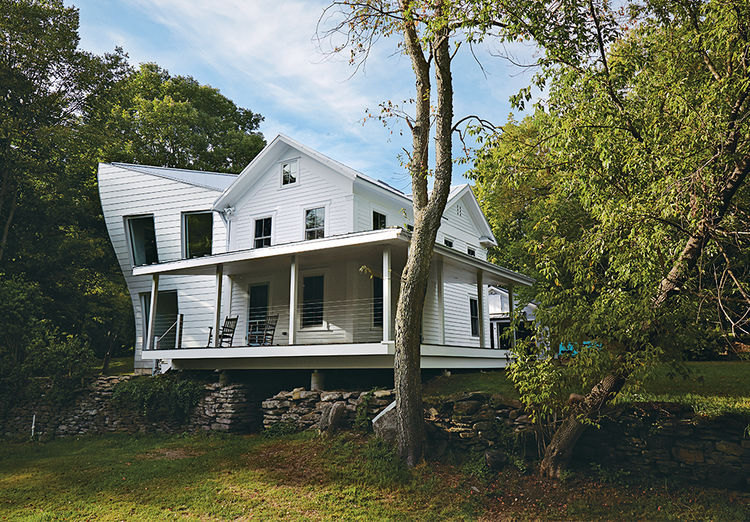 Self-taught designer Tom Givone continues his practice of updating 19th-century farmhouses with unexpected details and salvaged materials with his latest creation—this torqued-volume addition to an 1850s family homestead in Pennsylvania.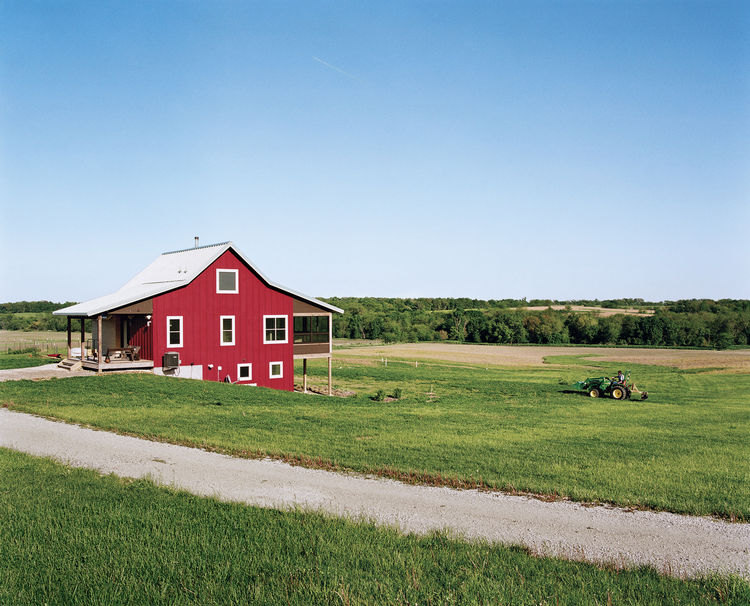 Geoff and Joanna Mouming's compact modern farmhouse is the first permanent structure at Yum Yum Farm in Wellman, Iowa. On the field that stretches out before it, organic vegetables will soon make attentive farmers of the Moumings. The benches on their entry porch were built by Geoff using a design plan by Aldo Leopold, the pioneering Iowa-born conservationist and writer whose spirit and thoughts seem to preside over the house.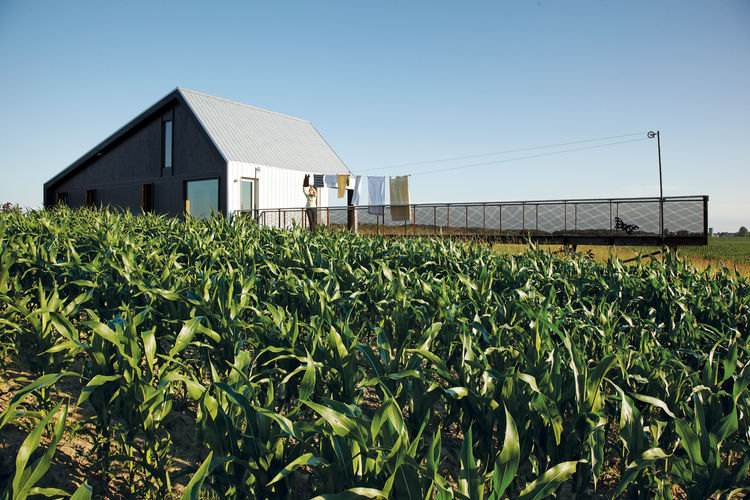 The 925-square-foot house Maggie Treanor calls home blends into the landscape somewhat; with a galvanized steel shed roof and siding, it looks like a high-design little brother to the barns on the surrounding farms. Its long gangplank of a deck runs right out into the fields, a fact that Treanor relishes.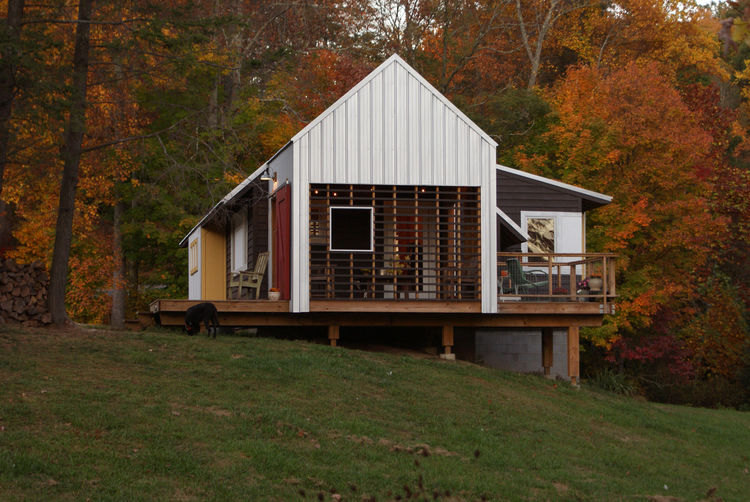 This farmhouse was literally falling down when architect Chad Everhart came across it. He and his wife demolished the building—salvaging some hemlock and chestnut flooring here, some one-inch-by-ten-inch planks of white pine there—and set about rebuilding on the original concrete block foundation.
Red and yellow accent colors now help the 950-square-foot home blend with natural North Carolina foliage. Cantilevered porches and decks provide deep shadows.
Source: dwell.com