It's fairly standard practice for me in my interior design biz that I install custom curtains (drapery!) in my clients' homes. I happen to LOVE curtains. They add softness, texture and sound-softening into almost any room. So WHY am I writing an article on NOT using window treatments??
It got me thinking outside the box a bit. When would I opt not to use large swaths of fabric to bring colour, texture and style to a room? The answer is when the room doesn't want it or need it. You read that correctly when the ROOM doesn't warrant it. Having said all that, it's your home, it's your space and it needs to be your vibe. If curtains aren't your thing, then by all means, don't hang them. Feel like you should but are looking for an excuse to get out of it? Read below for some great drapery alternatives. Want to see what this looks like visually? Visit my website for visual aid.
First, there are two basic types of window coverings:
Privacy & Decorative. Privacy window coverings have the goal of just that… providing privacy, but also light control, temperature control and sometimes sound absorption. Decorative is where you get your creative juices flowing. Good room design benefits from both, but decorative does not need to be curtains only.
Many privacy treatments look pretty fantastic! There is a vast array of woven woods that add lots of texture and pattern. Roller shades have progressed far beyond basic white with splashy patterns and unique finishes. Shutters are a truly upscale choice that adds not only privacy but VALUE to your home! When the windows are decorated with privacy treatments that also combine style… you're off the hook for curtains (hmmm… unless you want them!).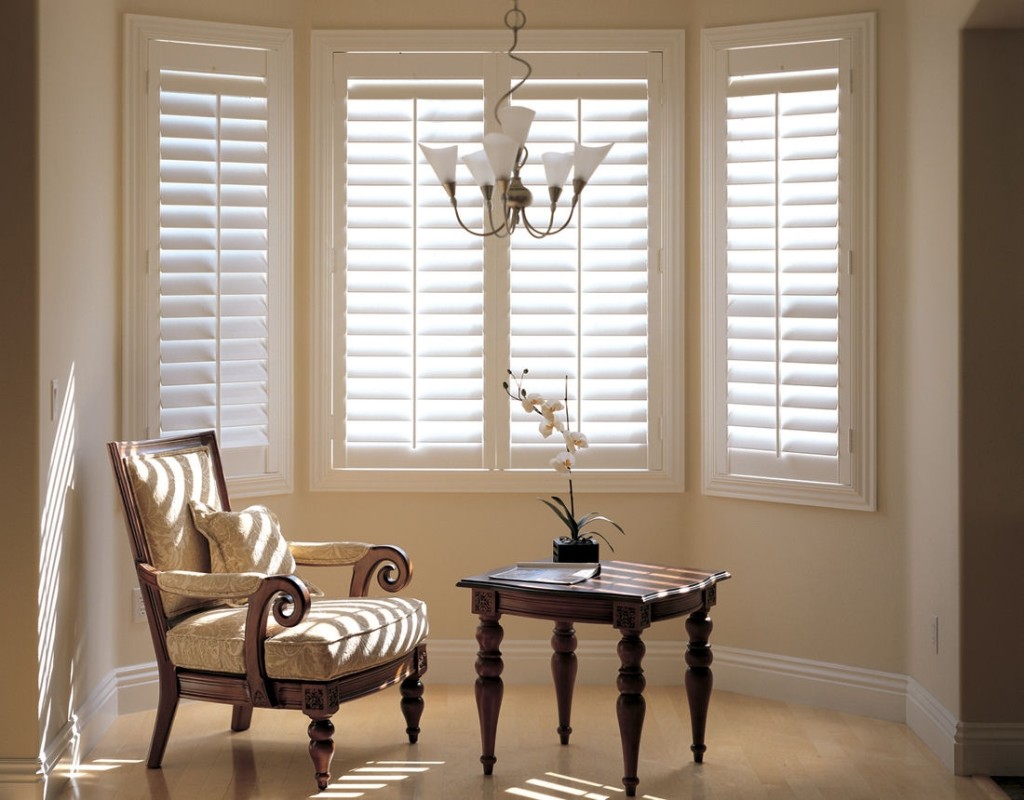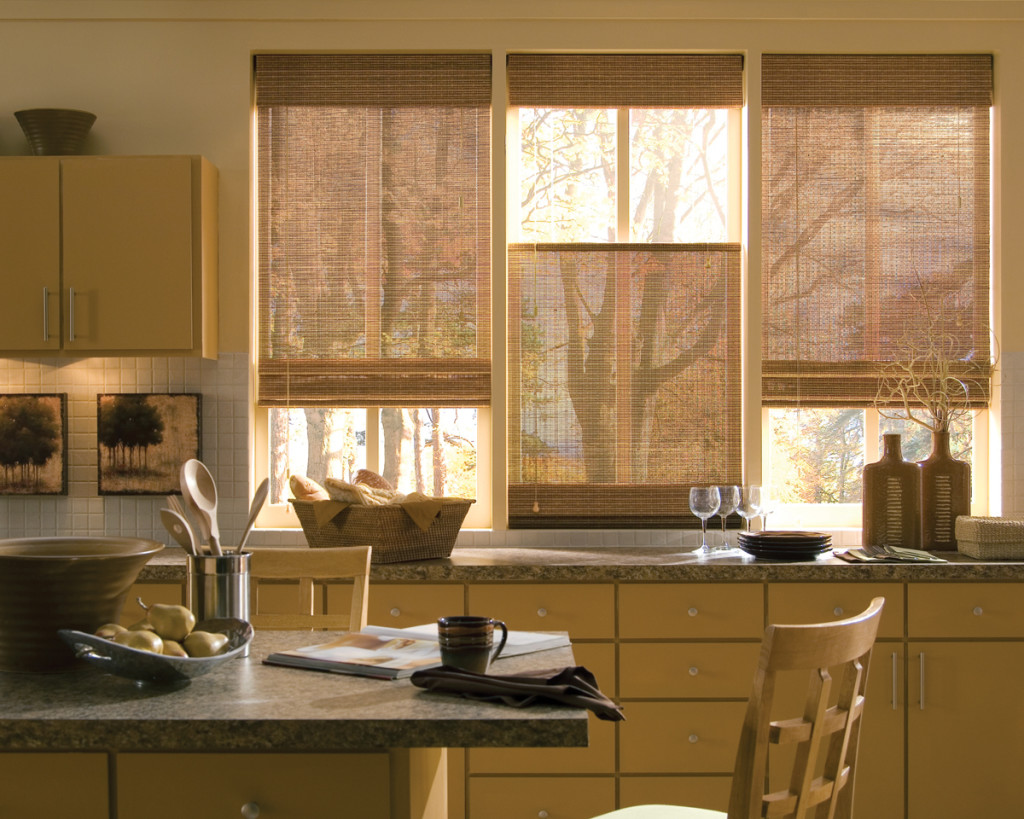 Contemporary Style decor is usually perceived as a very clean-lined decor, sometimes even stark. Occasionally a modern design will incorporate drapery, but more often than not, the windows are left simple and unadorned. Even for privacy, the blinds tend towards the simple and clean.
Have a great view? If the view is the thing, you may want to allow that to be the total focus of the room. Whether it's a breathtaking oceanfront or an arresting cityscape, if your view is unobstructed by neighbours, it probably doesn't need much in the way of privacy. For light control, you can focus your options more into simple rollers or even UV window film.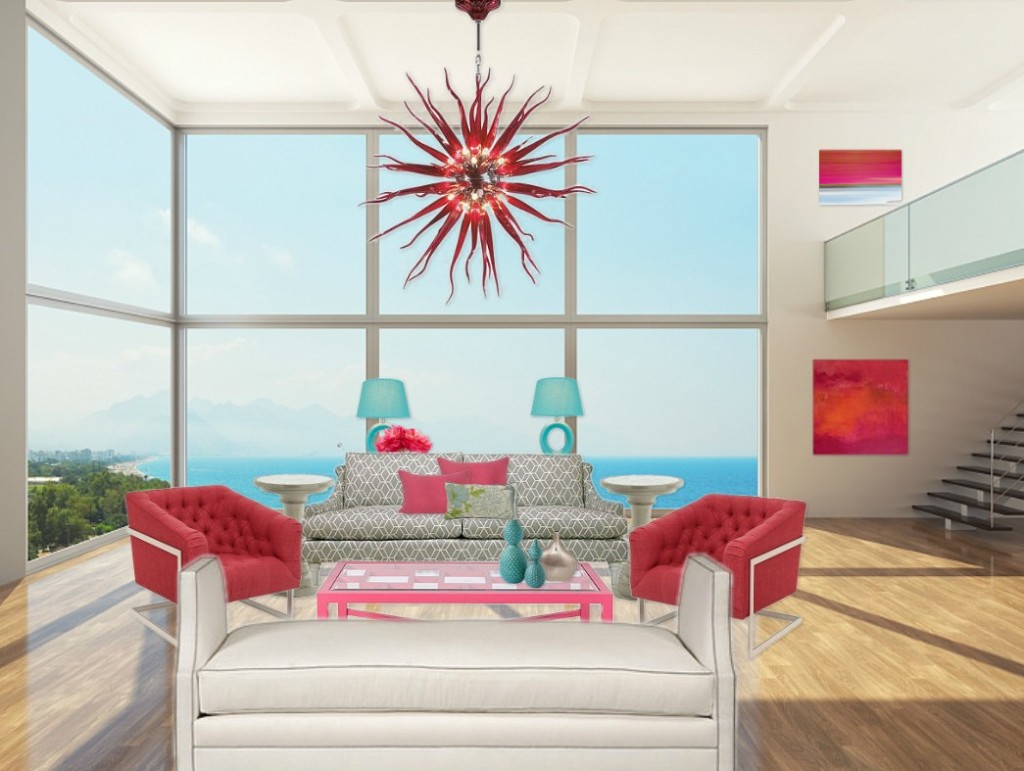 Sometimes the architecture of the room will prevent curtains from being an option. One of the most remarkable examples is a room that has the floor to ceiling bookcases flanking the all the windows. Amazing! A condo with floor to ceiling, wall to wall windows and Stone walls flanking either side does definitely not need the curtain treatment. Hanging out over the ocean, it simply doesn't need to "fill" of fabric.
Bathrooms, especially kid bathrooms, might actually be adversely affected by curtains. These areas are constantly subject to excessive moisture. If you DID want drapery, you would need to make sure it's a fabric that can literally take the heat! The best option is to leave it out entirely.
Finally, life circumstance might preclude you from wanting to hang drapery. My kitties LOVE to curl up inside the base of the draperies in my office. It's a cosy little place for them to hide. Small children think they make great hiding spots as well. If you have little ones, either furry kids or human, think clearly about how they will be affected.