They say that grey is a color that does not show emotion, or when it does, it means gloomy or sad. This color is neutral, detached, impartial and indecisive. From a color psychology perspective, grey is the color of compromise – being neither black nor white, it is the transition between two non-colors. The closer grey gets to black, the more dramatic and mysterious it becomes. The closer it gets to silver or white, the more illuminating and lively it becomes.
Being both motionless and emotionless, grey is solid and stable, creating a sense of calm and composure, relief from a chaotic world. The color grey is subdued, quiet and reserved. It does not stimulate, energize, rejuvenate or excite. In the meaning of colors, grey is conservative, boring, drab and depressing on the one hand and elegant and formal on the other, yet never glamorous. But whatever it means, if the color works for you, then it's definitely good. Take a look at our 15 Warm and Grey Kitchen Cabinets below.
Atlanta Kitchen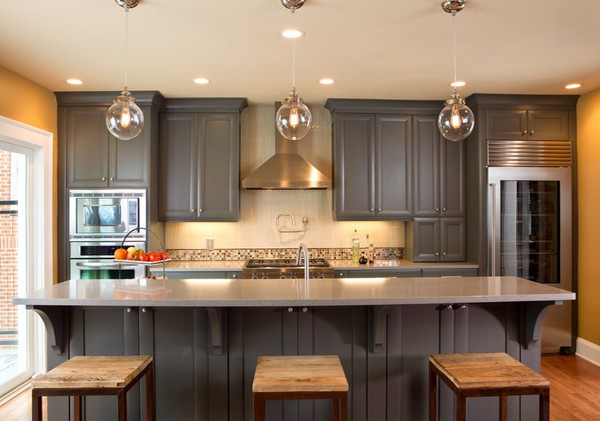 These cabinets may seem really simple, but you can see the great craftsmanship that was done with them.
Black Residence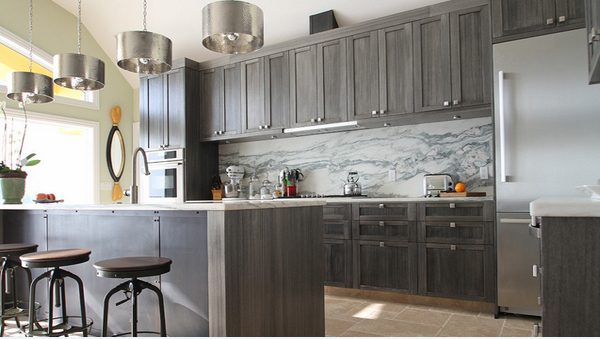 Casual coastal living is promoted with a kitchen you'd find in Nantucket- where grey woods and white marble fill the space, while the master bath puts you in Paris- with white subway, dark black walnut cabinetry and thick white concrete on top.
Boston Kitchen
The grey cabinets showcase a simple design and clean lines but the tone matches the stainless handles.
Brady House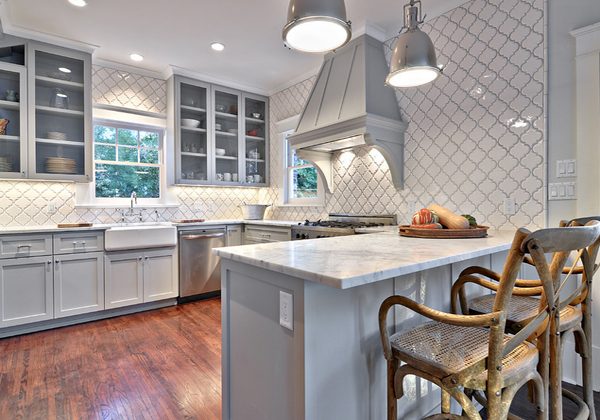 Love the beveled arabesque tiles they used for a glamorous and clean look. But notice how much these tiles complement color of the entire kitchen.
Cabbagetown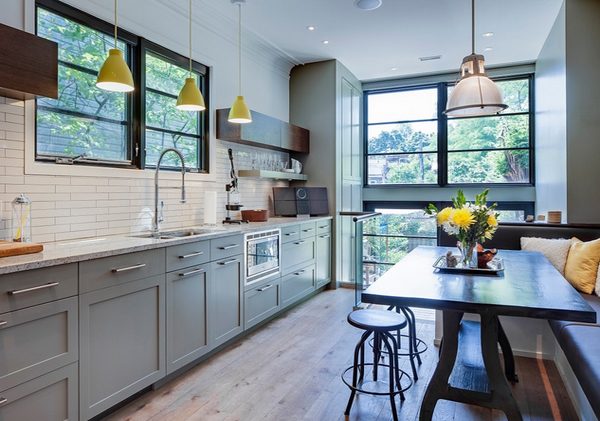 Do you know how cute the name of the color of the cabinets? It's called desert twilight. Clean lines, sleek and simple.
Electrolux Inspiration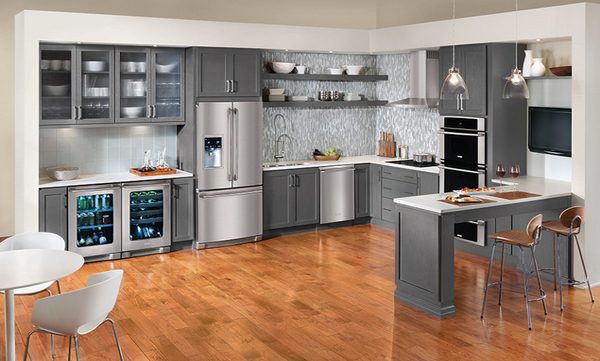 Look at how accessible everything in this kitchen is. From open shelving to enclosed cabinets! The color of the appliance match the color of the paint which gives a clean look.
Glossy Grey and Wood Kitchen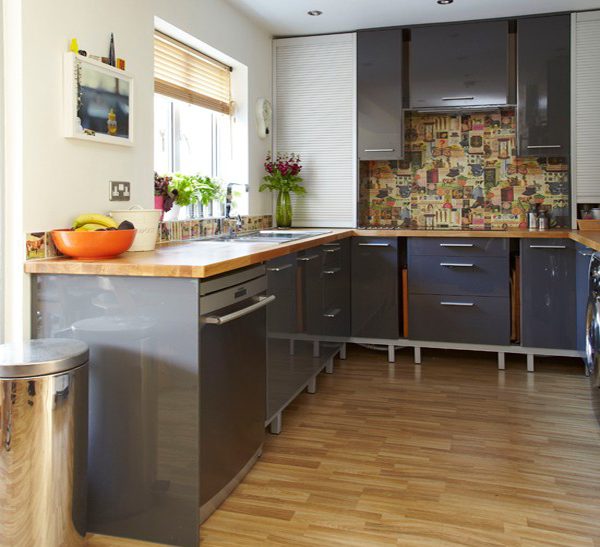 Glossy grey cabinets combined with solid-wood worktops give this modern kitchen a designer look.
Grey and Marble Modern Kitchen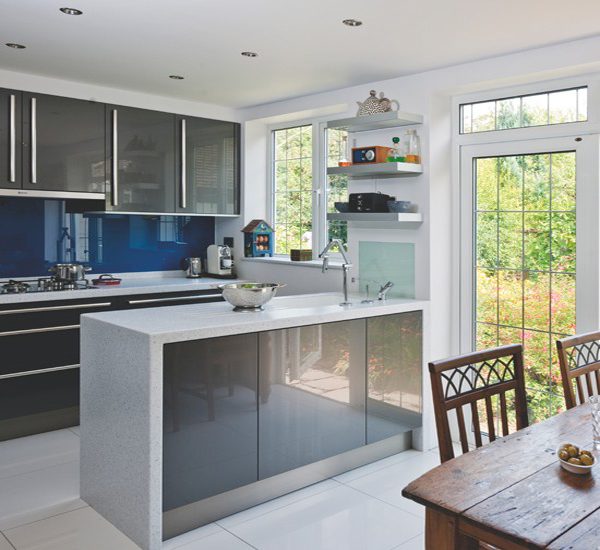 High-gloss units give this kitchen a sleek and chic look. Built-in ovens and a warming drawer are housed together for practicality and ease of use.
Kitchen and Dining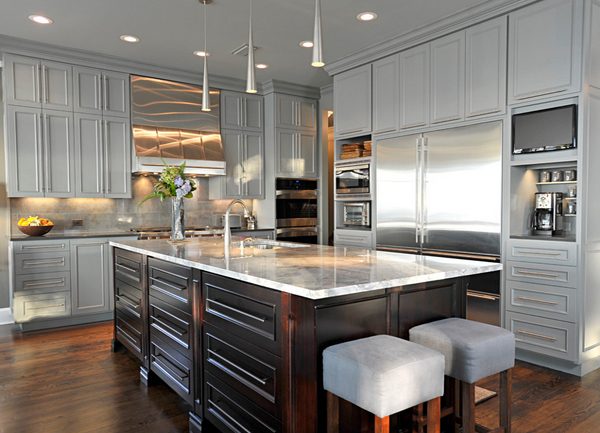 Designing a custom-made kitchen like this one takes time but sure is worth it. Love the open shelves beside the refrigerator.
Sask Cres Kitchen
Large kitchen cabinets for more storage are a must for every home! We like the shade of this one!
Sleek and Chic Grey Kitchen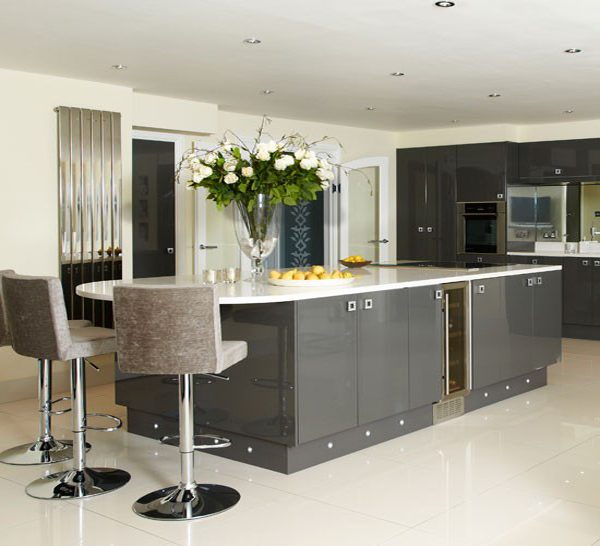 Sleek and chic look for a modern day kitchen. The stainless-steel details are fascinating.
Trump Residence
Super fabulous kitchen hood which looks extremely flashy but definitely the center of this pretty kitchen!
Vancouver Contemporary Kitchen
Catchy red range which accents this entire grey frame and panel cabinets and island.
Villa Nuevo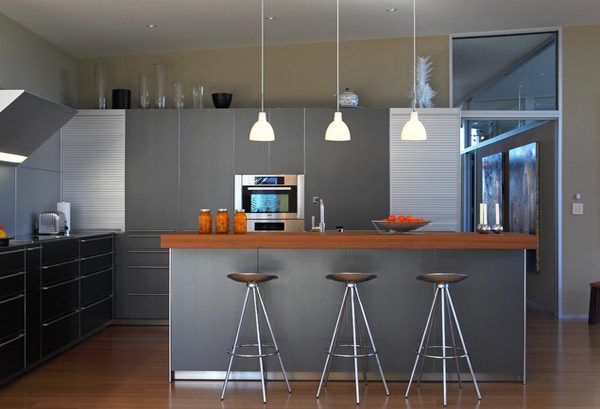 This Austin kitchen utilizes a lot of metallic finishes. The bulk of them are matte, while the stools, hardware and a few accent pieces are polished.
Warm Grey Kitchen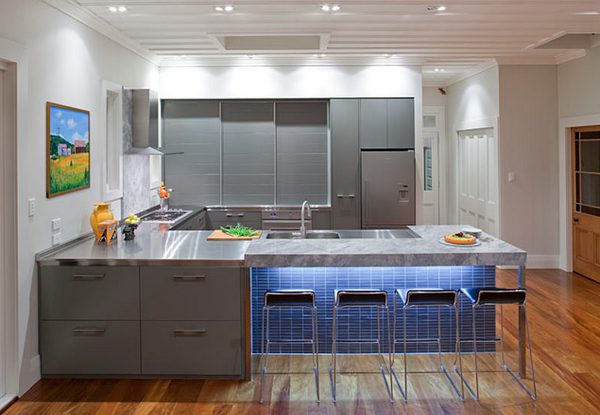 The cool grey cabinets and deep water cobalt blue tiles stir the entire look of this contemporary kitchen.
Of all the pictures we have seen above, we have learned, well, not only in this list, but at all times in design, add color where it's least expected. Seeing a block of color from a swatch you've never tried before is most likely the easiest way to make a space feel fresh and new. Although this particular area is made up of small tiles, it shows that color in an unexpected place can be just what you need to get the groceries through the door and into the pan. That's how we like our 15 Warm and Grey Kitchen Cabinets and A Collection of 18 White Kitchen Cabinet Designs! More to come in Home Design Lover!
Source: http://homedesignlover.com/