Crunched for space, the residents of these homes—mostly under 1,000 square feet—have the same ideas: look upward and compartmentalize. Lofted sleeping areas, closets, and reading nooks are among the smart space-saving solutions.
Small Loft Ideas And Books.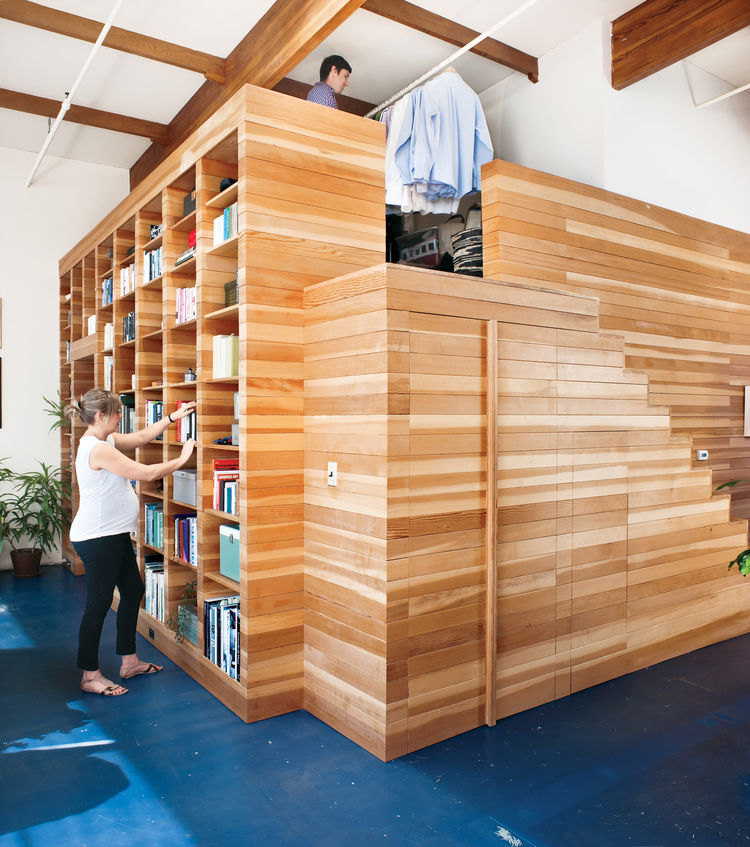 In a 1,100-square-foot loft in Emeryville, California, Lynda and Peter Benoit designed and built a wooden structure to hold books and keepsakes, store clothes, and house a bedroom. Peter documented the whole design-build process in this three-part series.
Photo by Drew Kelly.
Small Loft Above A Full Kitchen.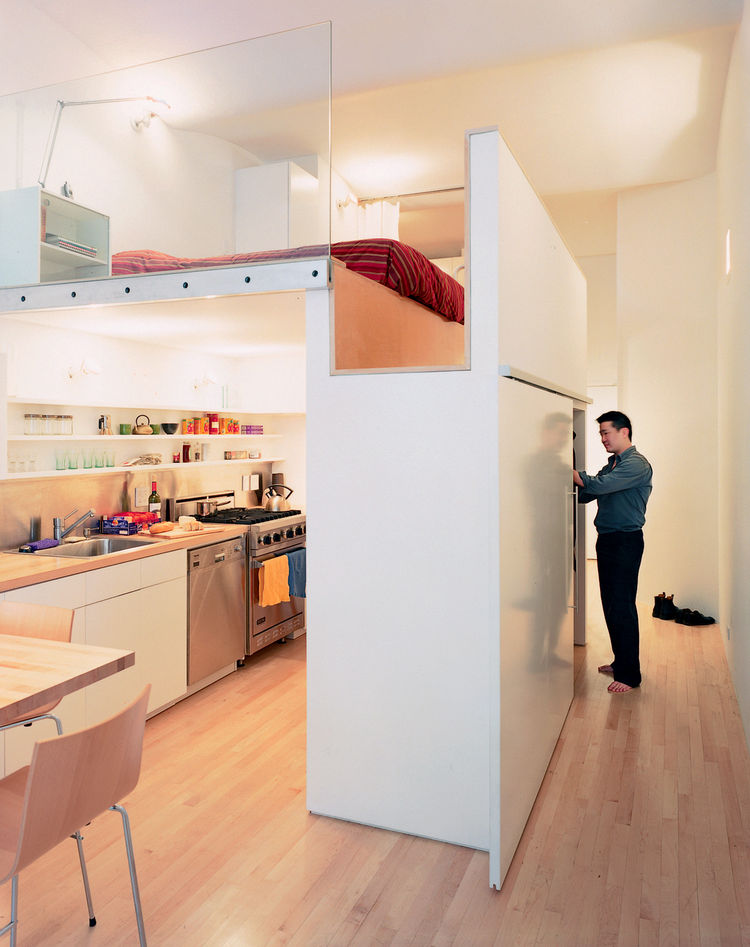 Located in New York City's Union Square area, this 700-square-foot apartment features a bedroom lofted above a full kitchen. The volume that both incorporates the single closet (accessible from the hallway) and the refrigerator (which opens into the kitchen) and serves as the bedroom floor is, says resident Kyu Sung Woo, "where everything comes together."
Photo by Adam Friedberg
Small Industrial Style Loft.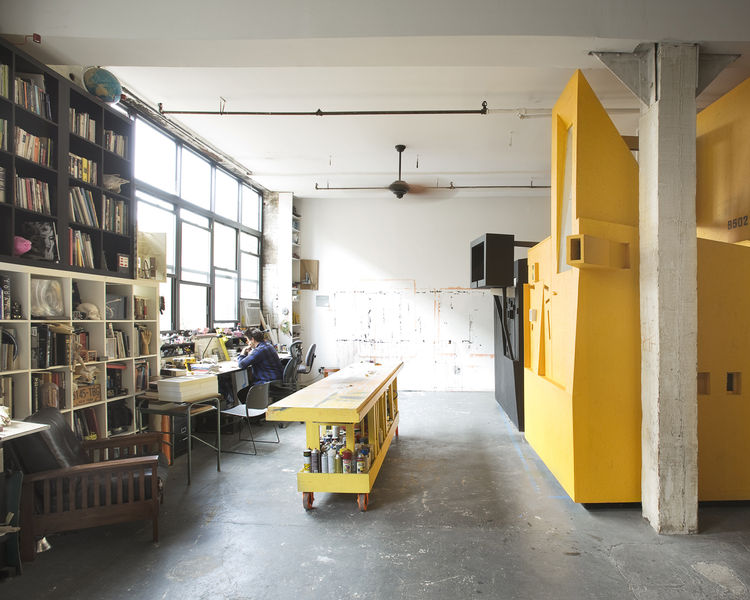 It took just five months and $4,000 for Serban Ionescu, Jim Dreitlein, and Justin Smith to build the warren of five sleeping units inside a Greenpoint, Brooklyn, live/work loft. The five roommates share the common space in their high-ceiling home.
Clever Storages And Small Loft Ideas.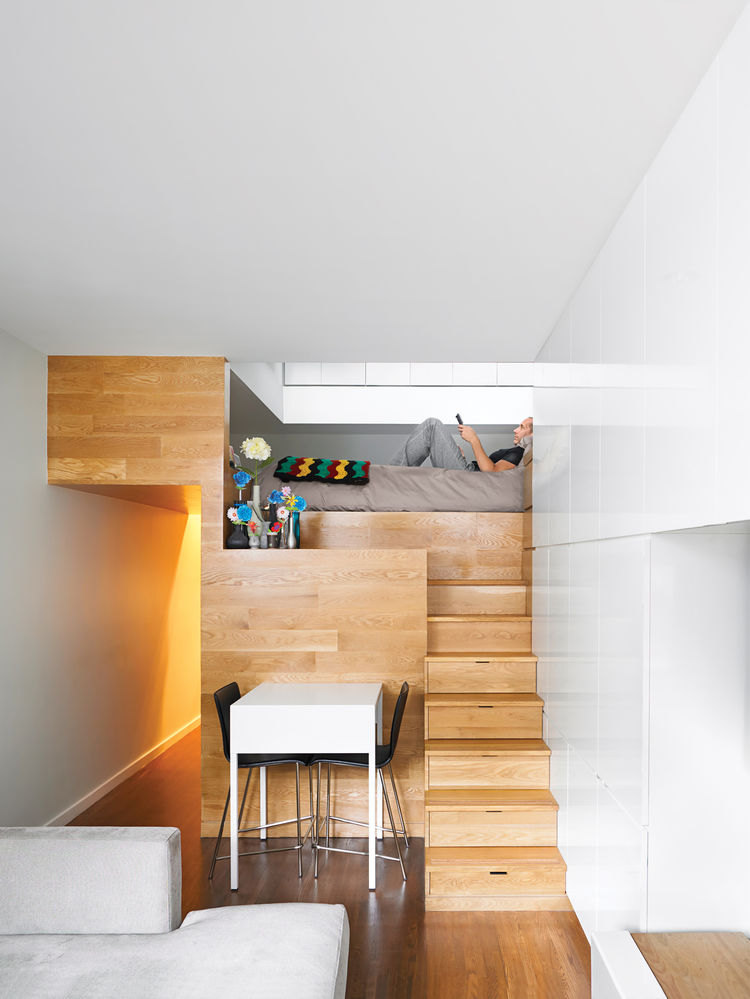 Not a square inch of storage is lost in Michael Pozner's not-quite-500-square-foot aerie in Greenwich Village. Of the seven steps leading up to the sleeping area, five contain drawers. His small set of table and chairs is from CB2.
Rail Mounted Small Loft.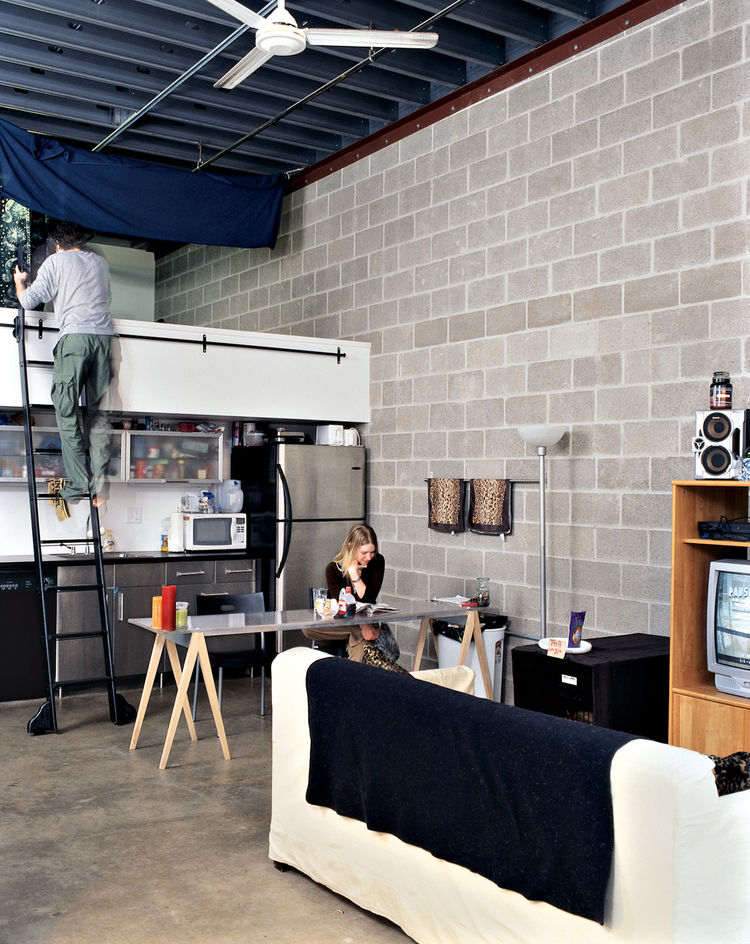 In the Pittsburgh, Pennsylvania, apartment building designed by Edge Studio, sleeping space is adventurously tucked away in an alcove above the kitchen, accessible by a track ladder that slides along a rail mounted above the counter.
Small Loft Ideas With Pair Of Windows.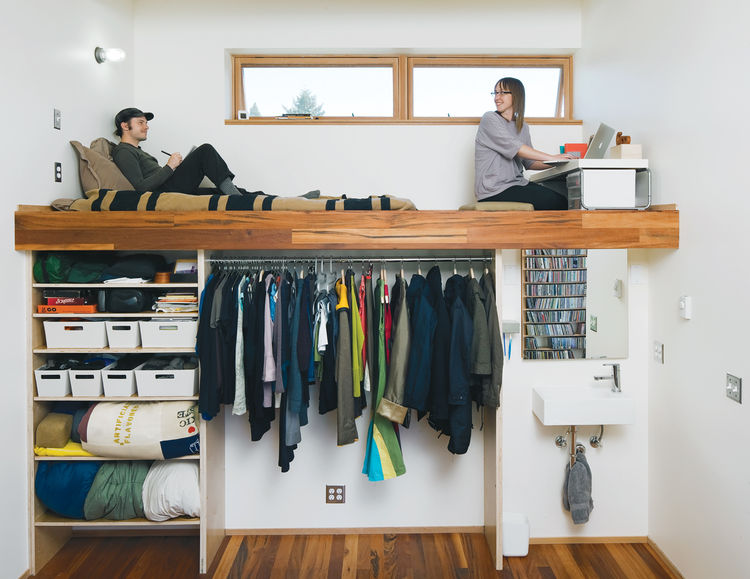 A pair of windows shed a bit of light in the Harpoon House bedroom, which boasts a lofted bed and workspace with a sink and closet beneath. The sink is by Lacava and the tap is from Fluid Faucet's Wisdom line. "People ask us, 'What did you do to make your house not feel like this cramped little thing?' with the idea that the house is trying to act big," says resident Katherine Bovee. "It's not. It's a small house acting like a small house. We built the house to fit in its own skin."
Photo by John Clark
A Large OSB Loft.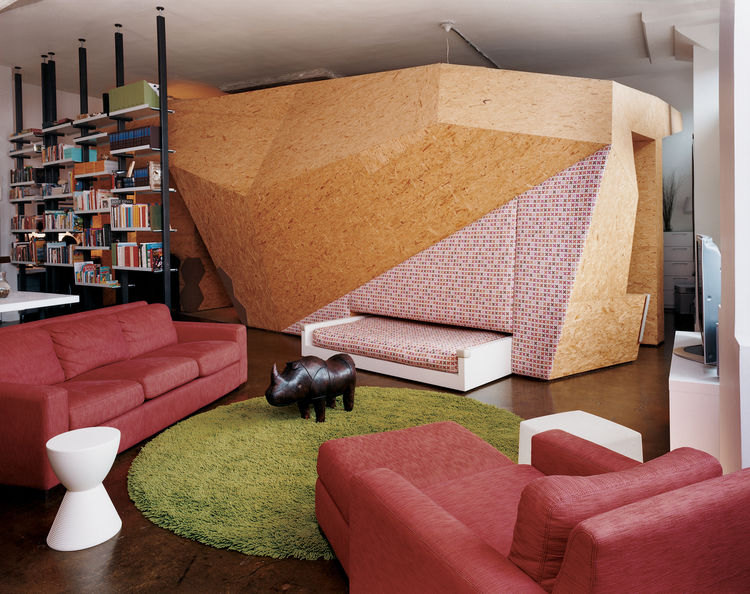 A large OSB structure with skylights, a bathroom, enclosed baby's room, and master sleeping alcove dominates Ryan and Showalter's Brooklyn loft. "The designers called it a form or volume in their plans, but our friends call it the hive, the pod, or the amoeba. It sort of looked like a dinosaur skeleton," says resident Ainsley Ryan.
Lofts And Space Savers.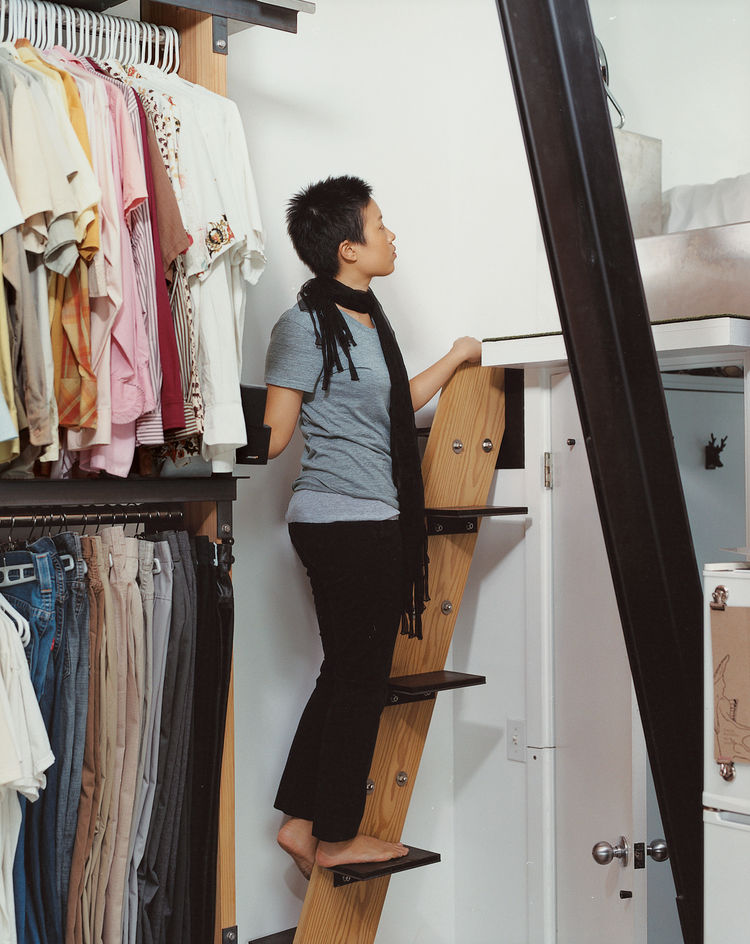 The stairway to the sleeping loft in Im and David Schafer's 426-square-foot house is a riff on a ship's ladder: "We spent a lot of time figuring out how much space we need to maneuver," says David. "It allowed us to make it as small and perfect as we wanted to." Instead of a handrail, sail cleats are bolted to the walls as hand-holds.
Small Loft For Reading.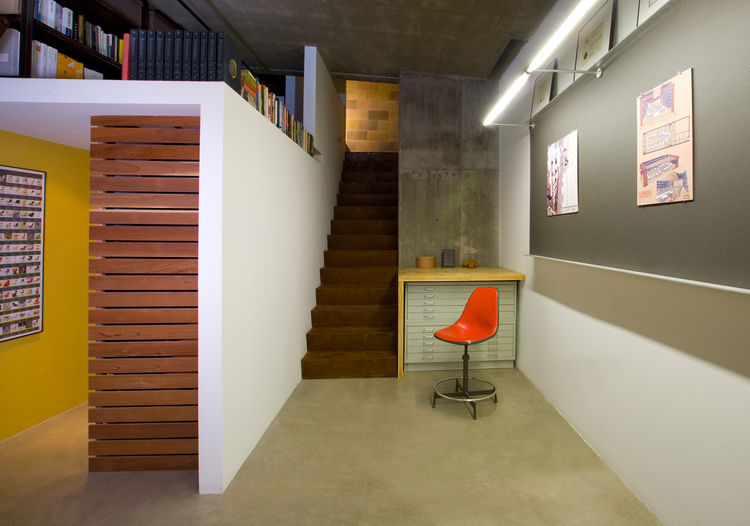 "This unit is oddly shaped, with every wall at an angle, and I wanted to do something more interesting than just putting up a wall in the middle," says architect Nathan Lee Colkitt. To that end, he devised two lofts in his apartment: one for sleeping and one for reading.
Use The Ladder.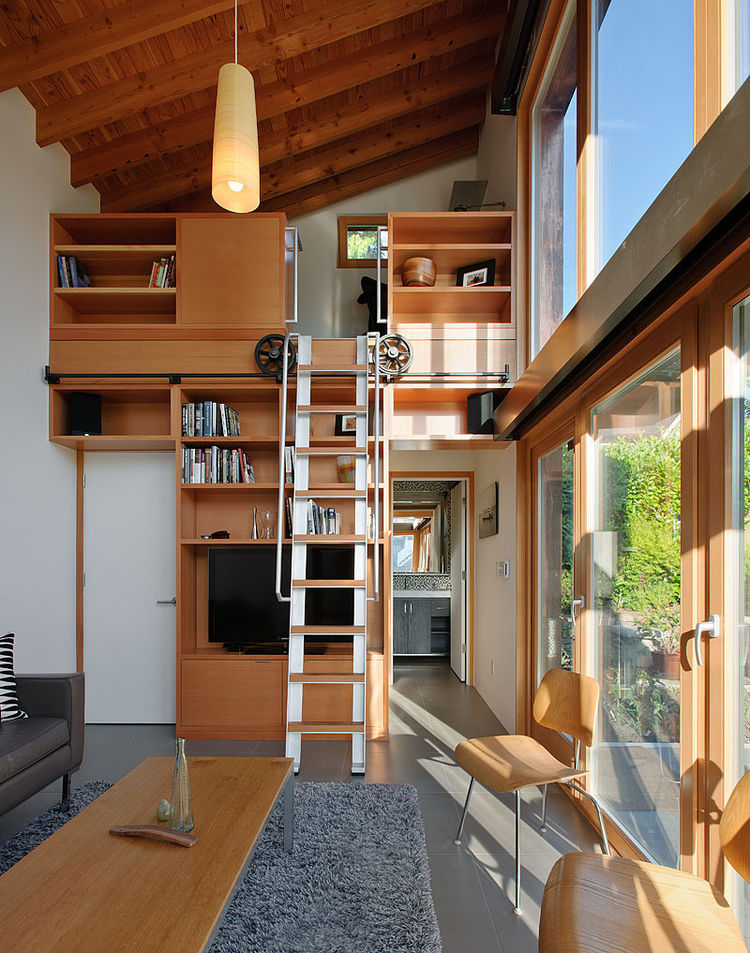 A rolling ladder made from salvaged wood and components leads to a small, yet well equipped, office in the 20′ x 12′ backyard pavilion designed by Seattle's Ninebark Design/Build.
Source: http://www.dwell.com