Whether you're hosting a holiday dinner party or gathering around the table for a weeknight meal, the dining room is where people come together. It's the spot in the home that encourages you to celebrate your signature style. From modern to traditional, get inspired by these stylish ideas.
Pop of Pattern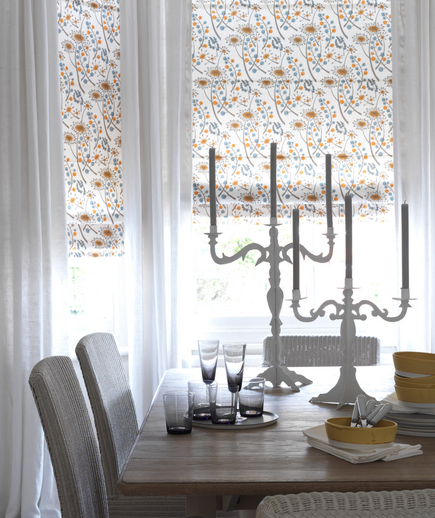 A small touch of pattern on the windows can brighten up a space. Roman shades in a modern floral fabric keep a wood table and wicker chairs from feeling too outdated. Oversized candelabras become a simple, sculptural centerpiece.
Bright Spot
Like the sun breaking through gray skies, this color combination is a happy surprise. Let the yellow accents shine by choosing clean, modern lines on the walls, windows, and floor.
Moody Mix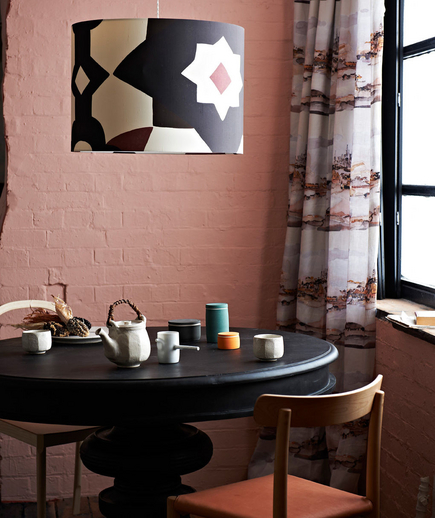 Exposed brick can add architectural charm to a breakfast nook. If you desire a more polished look, consider a fresh coat of paint. These mauve-colored walls are funky rather than girly, thanks to black accents and unexpected patterns.
Naturally Beautiful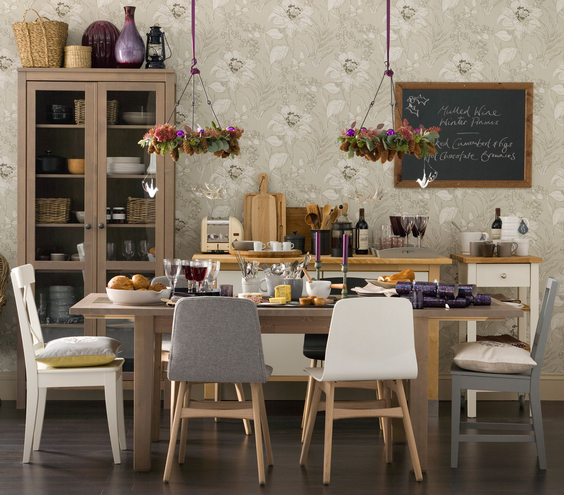 Mismatched chairs in neutral shades add character to this open, inviting space. A floral wallpaper in a muted tone will feel modern, not frilly, which can balance a space that is filled with accessories like hanging wreaths, bamboo cutting boards, and more.
French Accents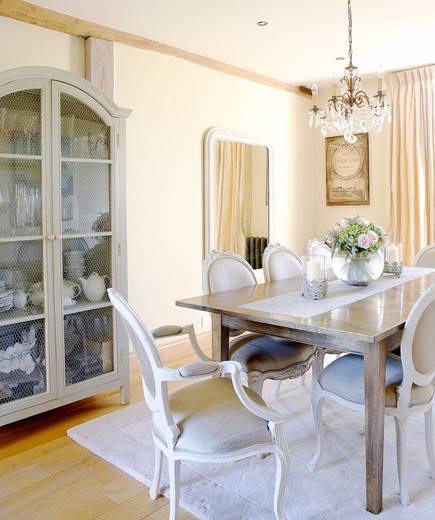 Traditional and antique pieces, like these Louis-style chairs, can feel intimidating when grouped together. But this room maintains a fresh face with various neutrals (whites, creams, and sage green) sprinkled throughout the space and accented with a single bit of hanging bling.
Double Duty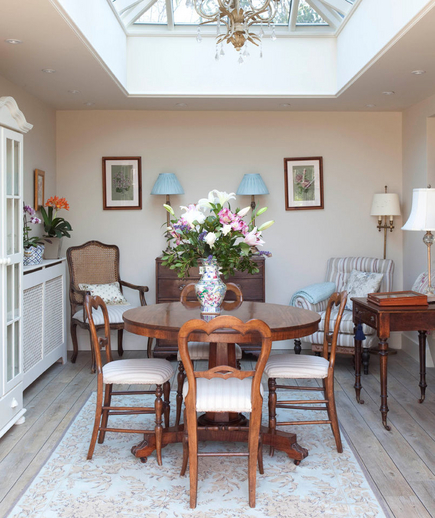 Who needs a formal dining room 365 days a year? This one is traditional enough for Thanksgiving dinner and cozy enough—with extra seating off to the side—for sitting on a Sunday afternoon. If you're short on square footage, a small, round table is a smart use of space.
Emerald Beauty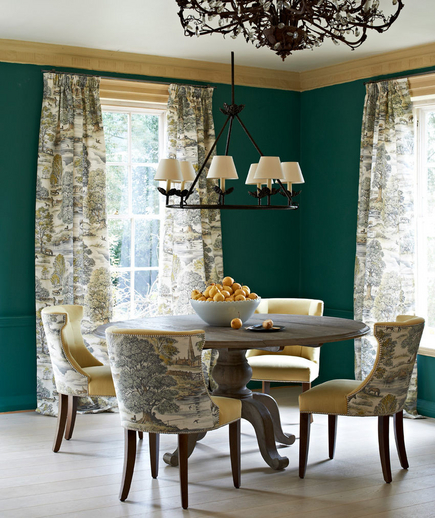 If you love one bold color, go for it, but keep the competition in check—or, in this case, in toile. By sticking with a single two-toned fabric on the curtains and chairs, the whole patterned effect is easy on the eyes.
Bright on White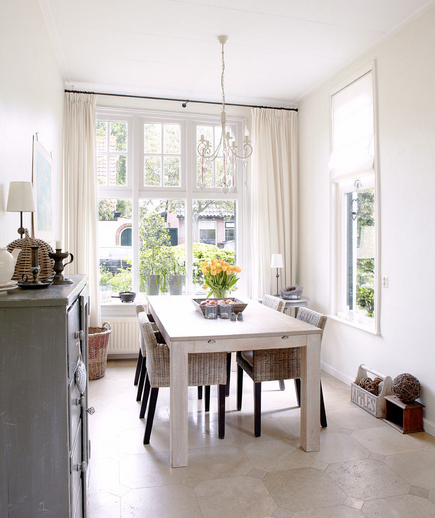 Clean walls, airy window treatments, and a whitewashed farmhouse-style table are perfect for a light-filled room with a view. Keep the whole look grounded with the right amount of texture, which is introduced with a set of rustic, woven chairs.
Family Dining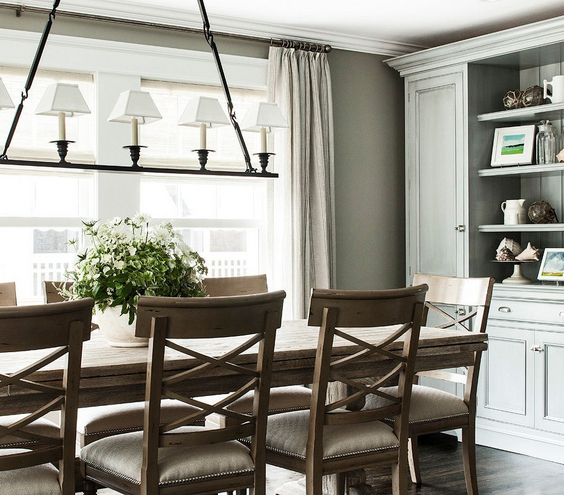 Too much wood (table, chairs, flooring, cabinetry) can be a bit overwhelming. Think creatively about the pieces you bring into the room, like this painted cabinet, which keeps things light (add adds tons of storage). Focus on details: Nailhead trim on seat cushions can be a fun contrast to the farmhouse style.
Clean Slate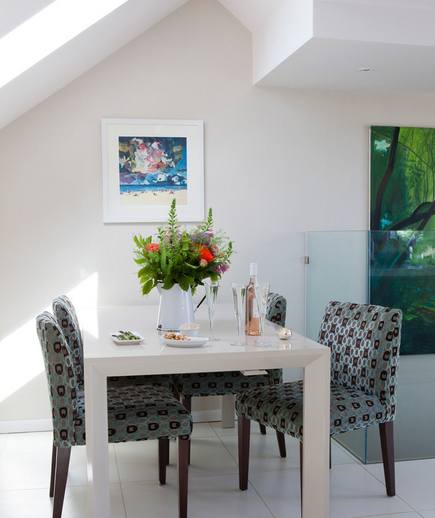 For those with a modern aesthetic, white is a popular choice for walls, floors, and even furniture. Lean on accents and textured pieces to soften up the space. Here, the set of cushioned chairs in a sophisticated pattern keep the white lacquer Parsons-style table from feeling too stark.
Fit for a Crowd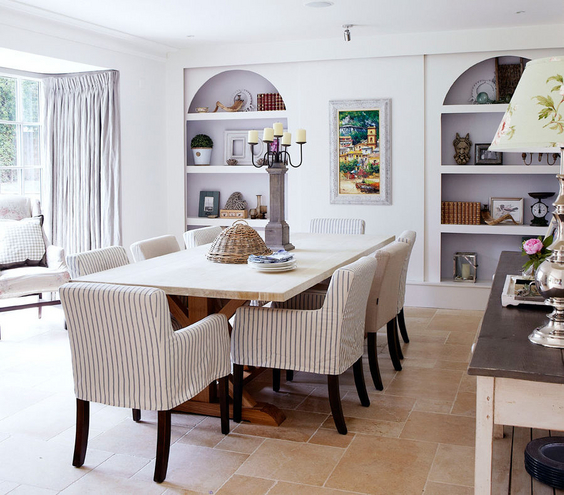 When you're decorating a large, wide-open space, focus on capturing light and calling attention to architectural details. Display treasured mementos in open bookshelves to personalize a space and to give it a cozy vibe. Slipcovered chairs add texture and offer flexibility to a palette because they can easily be changed—and washed.
Nautical Nook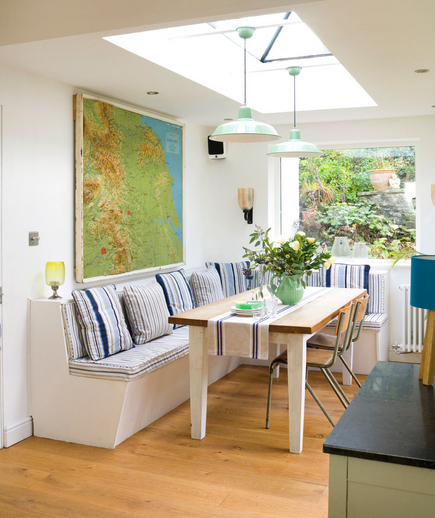 The cozy L-shaped corner bench, navy stripes, and oversized map make this spot feel like it's built into a boat—a brilliant use of space for a breakfast area.
Drama Class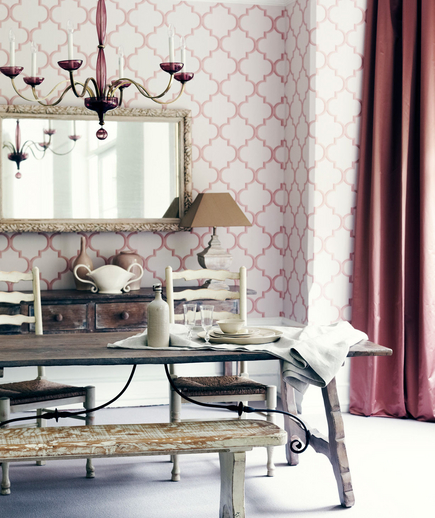 A floor-to-ceiling, graphic wallpaper steals the show, while lush curtains and a rosy chandelier add feminine (but not too precious) touches. Well-worn wood furniture gives a bit of a rough edge to this pretty pink room.
Starring Stripes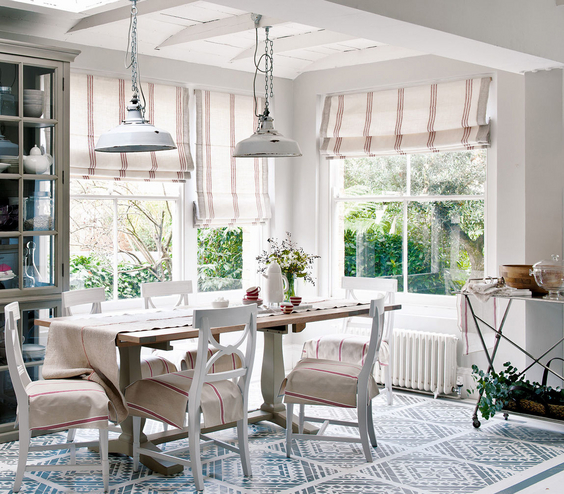 If you're looking for a casual style for a just-off-the-kitchen dining area, then choose understated design elements like blue tile flooring, red-striped linens, industrial lighting. If you need a low-maintenance seasonal change, rotate the seat covers for a fresh look throughout the year.
Spring Quartet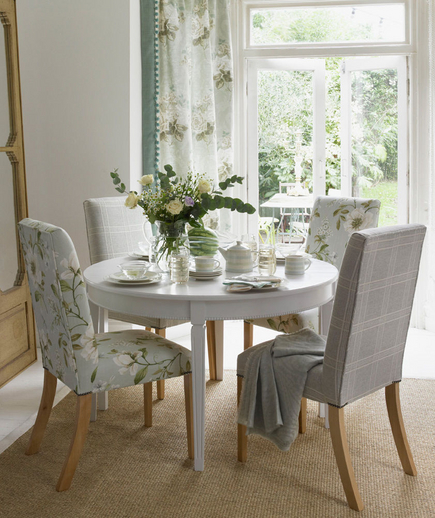 Stick to a strong neutral palette but play with pattern to keep your space from feeling tired. Soft florals can be feminine and pretty but overdosing can be a nightmare. Work in a handsome stripe to keep the room well-balanced.
The New Blue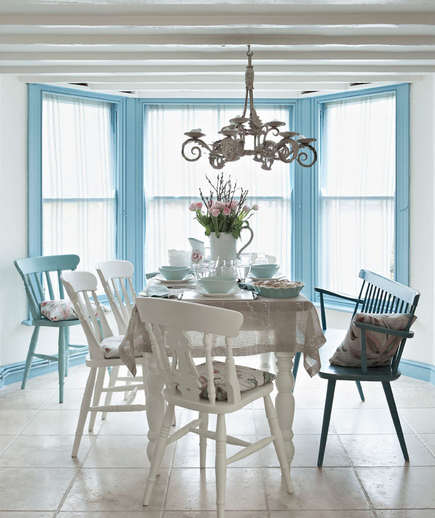 Mix-and-match seating works well when each chair—or bench, in this case—is a similar style and shape. White walls with turquoise trim is a fun switch for an informal room.
Get in Line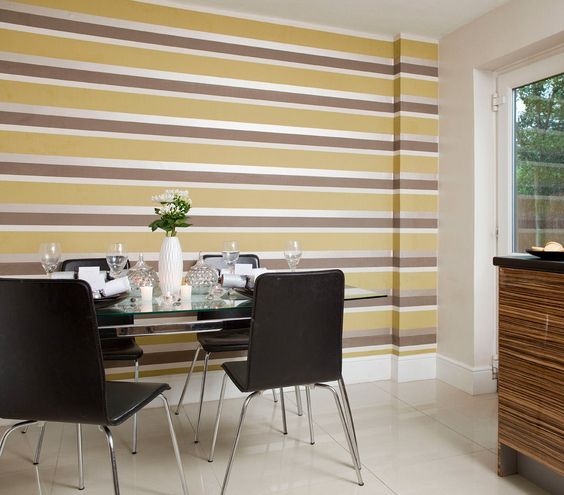 With some painter's tape and a steady hand, you can master a striped pattern on one wall. Add a metallic paint for a little shine—especially in a dark room—and then keep the furniture minimal.
Subtle Pattern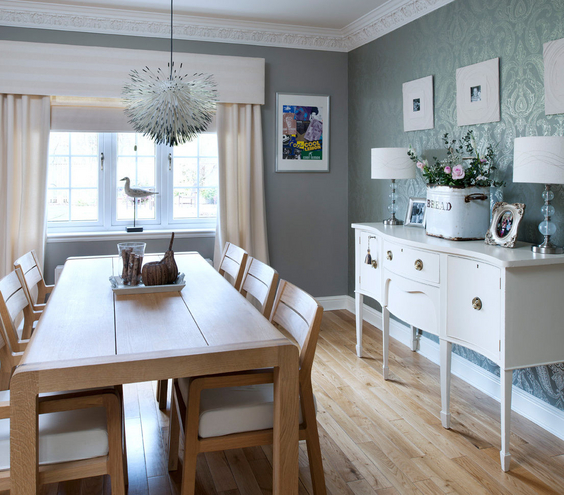 A traditional damask wallpaper looks edgy in a tone-on-tone color. The gray-green looks fresh, not muddy, when paired with white and blonde wood furniture.
High Contrast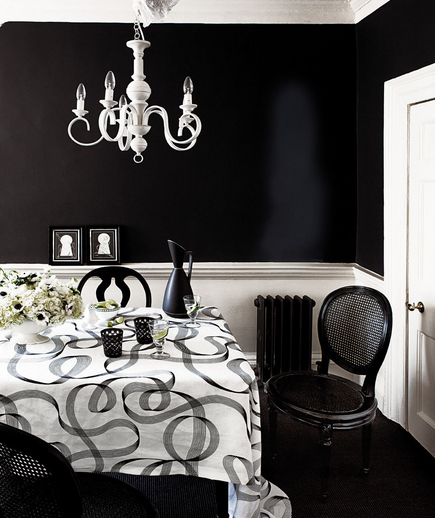 This is a color combination that can be viewed as bold, even daring. In order to keep the room from feeling closed in, paint only the upper half of the walls black and choose linens in light fabrics.
Matching Set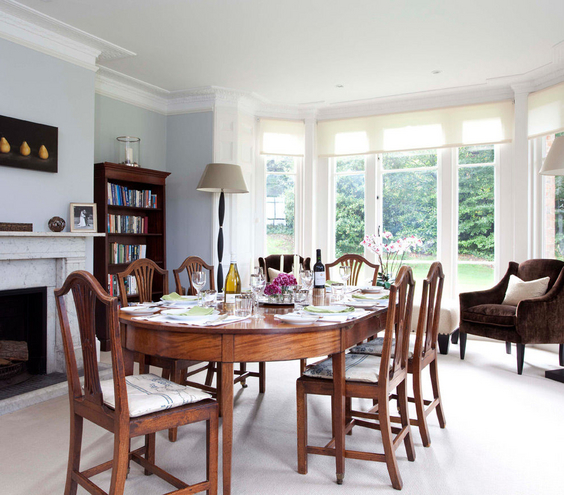 A traditional table and chairs feels less formal when the room is filled with oversized extra seating, bookcases, and relaxed lighting. The overall effect is warm, homey, and practical.
Rustic Charm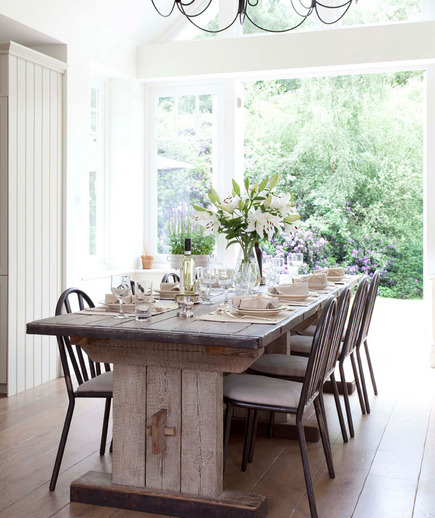 Nothing is more inviting than a long farmhouse-style table for the setting of a large family dinner. Keep the space from getting weighed down by choosing slender, not-too-clunky chairs and linen table settings.
Gallery Style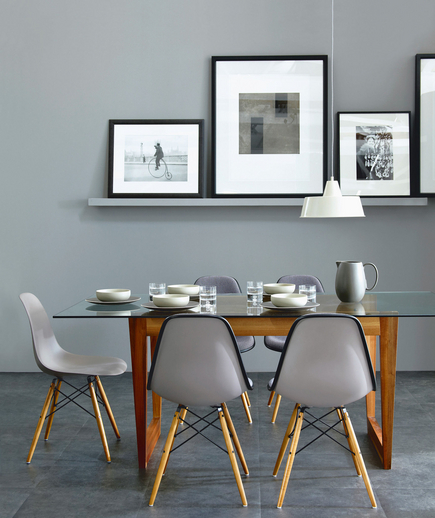 A photo ledge lets you periodically switch the artwork, and comfortable molded chairs encourage guests to linger. Hanging a pendant light extra low is an unexpected design choice, which also allows you to use a smaller fixture.
Black Magic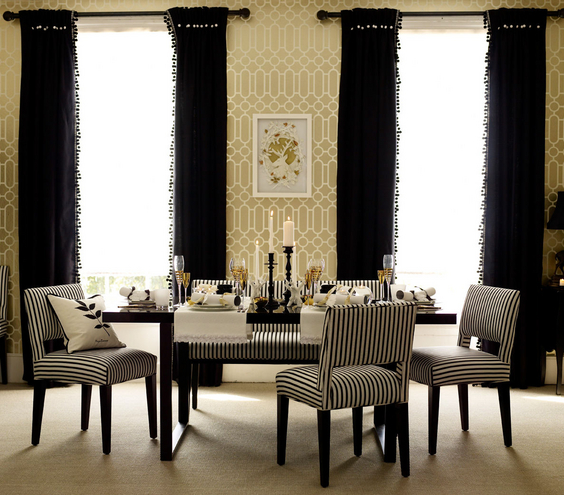 Zebra stripes and fringed curtains are playful but still sophisticated. To add warmth and prevent the space from feeling over-the-top, choose wallpaper in a creamy or gold-toned palette.
Accent Piece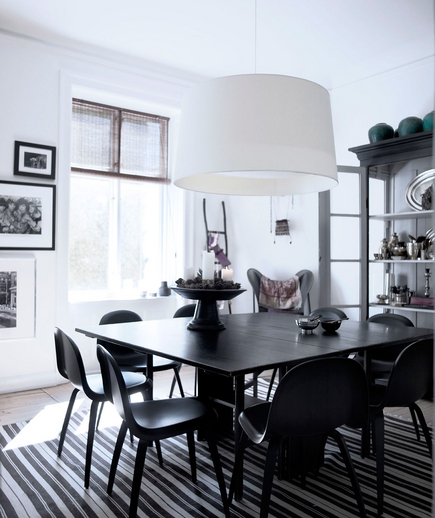 If you're on a tight budget, there are still DIY decorating touches that will make a room feel fresh. Give an old piece of furniture a new look with a simple coat of black paint. When it comes to the accessories, hang a classic, oversized drum shade and add a striped rug underfoot.
Mocha Swirl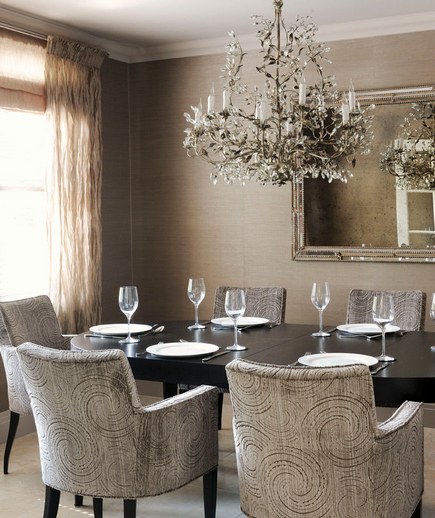 A monochromatic room is anything but boring with a soft texture and pattern on the chairs and a little sparkle in the chandelier. Leave it to the food and flowers to add the color this space needs.
Going Coastal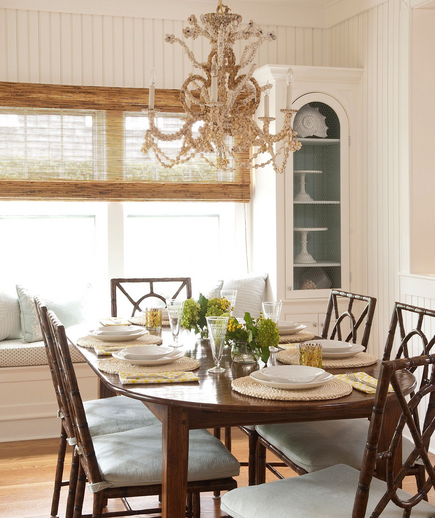 A shell chandelier and sea-green cushions give a hint of beachy style without going overboard. A bamboo Roman shade is a great way to get coverage without blocking natural light.
Full Skirted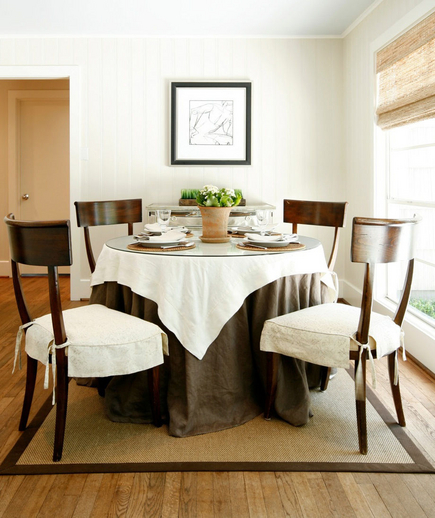 You can dress up any round table with a double layer of linens—chocolate brown and white is classic and warm—and a glass top. Chairs should stay partially naked (so to speak) to give the table some leggy contrast.
Livable Luxury Dining Room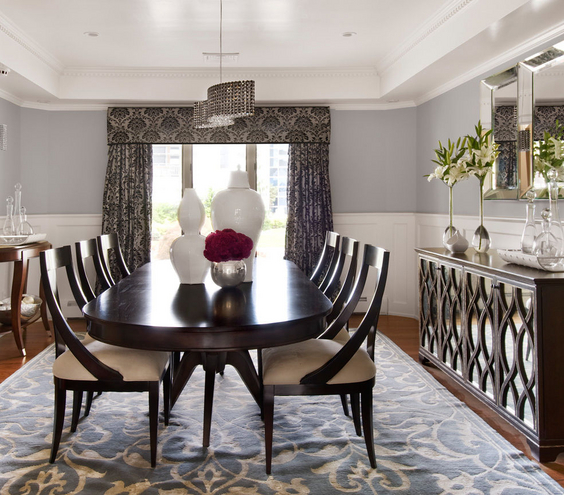 Pretty, curved details on the chairs and sideboard make this room cohesive without feeling stiff. The elegant patterns on the rug and window treatments complement—not compete with—one another.
Table for One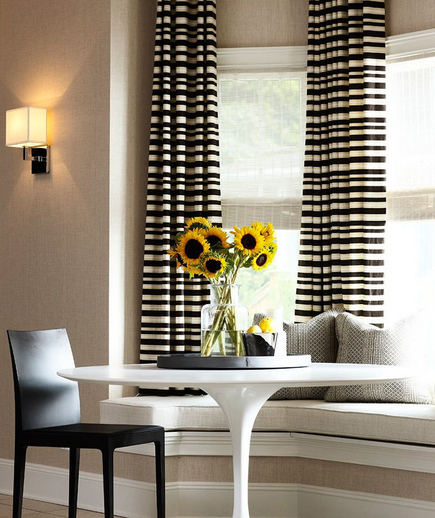 Or two…or maybe even four, if necessary. A window seat is a brilliant way to make additional seating in a small space, and horizontal stripes work perfectly on curtains that don't extend to the floor.
Modern Lines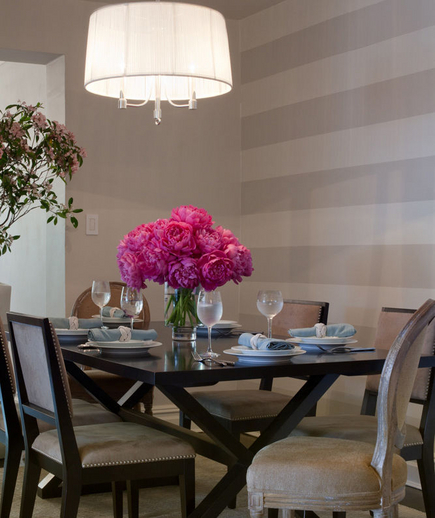 There is plenty of opportunity to liven up a room that sticks to a more traditional color scheme. For major wow-factor, focus on covering just one wall with a two-tone gray stripe.
Well-Accessorized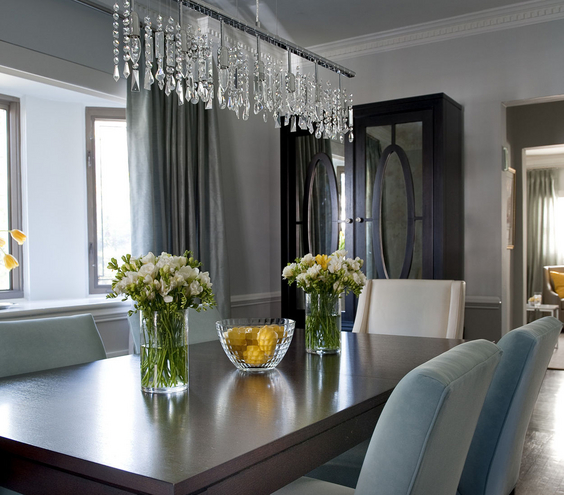 A statement piece like this lighting fixture really stands out when the furniture is clean, simple, and sophisticated. Dark mahogany wood paired with pale blue fabric create a cozy dining space.
Mix and Match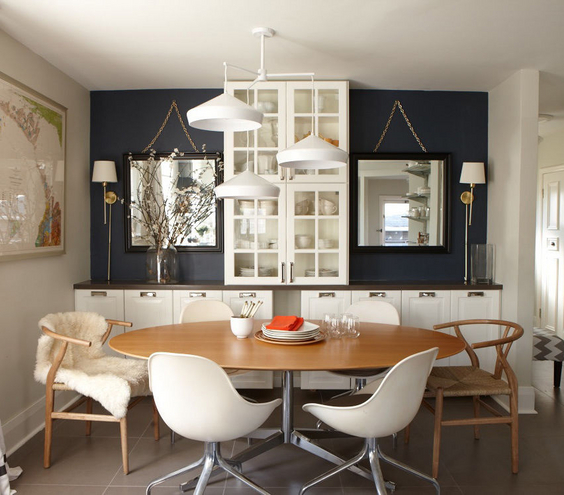 This room is proof that you can mix materials (dark and light woods, gold and silver fixtures, wood and plastic chairs) and still have a pulled-together look
Source: http://www.realsimple.com