Scandinavian kitchens are known for their open feel and modern style. Not to mention, they consistently feature elements such as white walls, wooden details and colorful accents in the form of textiles and other vivid flourishes. Today we feature 20 of today's best Scandinavian kitchens, from crisp white rooms to rustic interiors that evoke the warm feel of a cabin.
Other staples include metallic touches, clean lines, and sculptural details in the form of features such as pendant lighting. Read on for more modern kitchen ideas, and enjoy browsing our gallery of contemporary photos. Perhaps you'll be inspired to incorporate elements of Nordic style into your kitchen…
This type of interior design often feature white walls, which provide a wonderful canvas for colorful accents and other modern touches, such as metallic accents. Below we see both color and metallic shine in an airy kitchen that celebrates contemporary design. [from IKEA]
Sometimes a white background is all you need to make one or two simple doses of color really pop. The bright orange chair in the next featured photo steals the show, even though it's only one aspect of a multifaceted room. [from Freshome]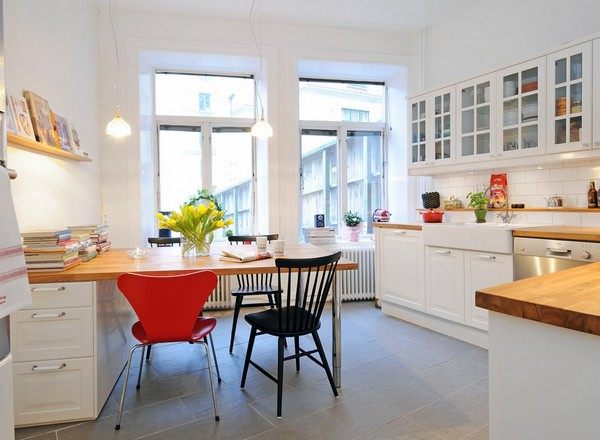 Note the strategic use of color in the white kitchen below, including the dots that grace a series of white mugs that line a shelf above the sink. Other bright details come from produce, as well as a patterned hand towel and tray. [from Colefacts]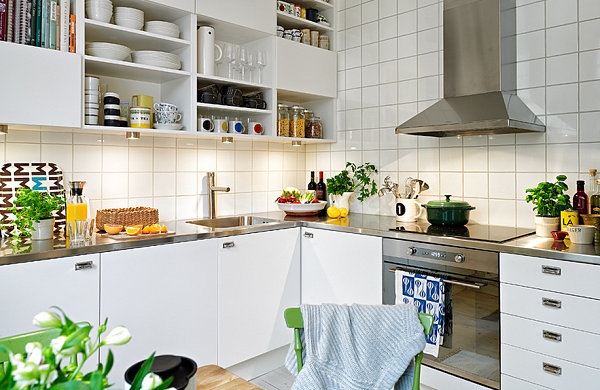 Sculptural elements are particularly interesting when added to an all-white. In the next space, a sphere-shaped pendant light and a segmented book shelf are artistic focal points, especially since the light hangs from above and the shelf is bright orange! [from Marbodal]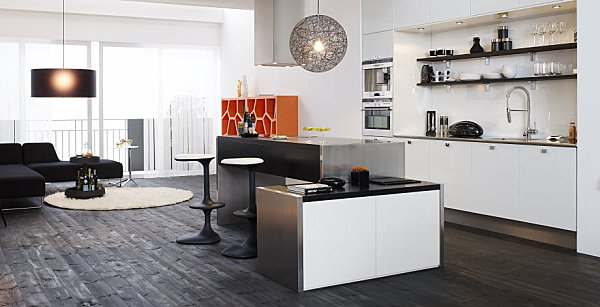 A crisp interior doesn't have to be stark white. Light blue will do just fine! The color of the sky is painted on the walls of the room below, which are brightened by the sunlight streaming in from large windows. [from Ciiwa]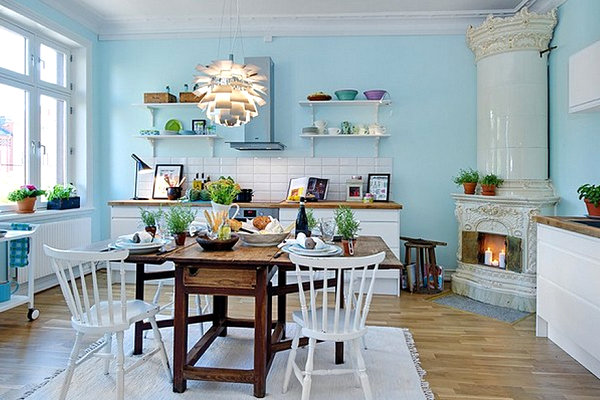 Speaking of large windows, the light and airy kitchen below is striking in its use of clean lines and open spaces. Ultra modern Scandinavian design at its finest! [from Marbodal]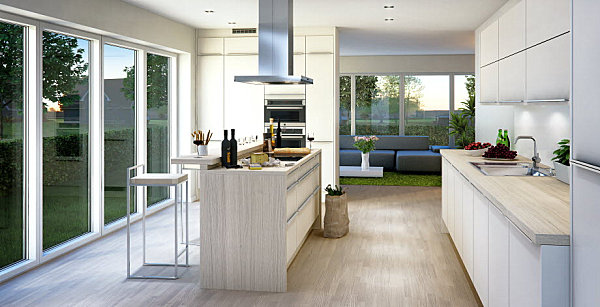 In another crisp space, wooden and metal details make a strong statement. However, instead of being stark and sparse, this room has a lived-in, industrial feel, thanks to the clever use of wall space for storage. [from IKEA]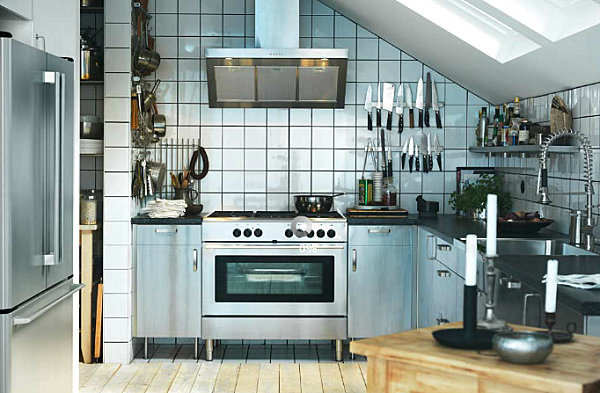 Charming Patterns For Charming Ladies.
While many Scandinavian kitchens have a distinct modern feel, an equal number use patterned details to add personality and warmth. The home below, built in 19o8, features a kitchen graced with a floral trim border. Touches like these honor the owners' Scandinavian heritage. [photo by Brit Amundson via TreHus Architects + Interior Designers + Builders]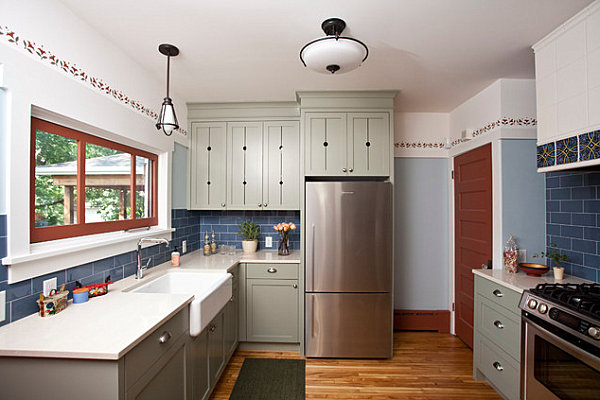 Textiles are an easy way to add color to a space. In the next image, we see an assortment of towels and napkins, some of them in patterns and rich hues. [from Furnish Burnish]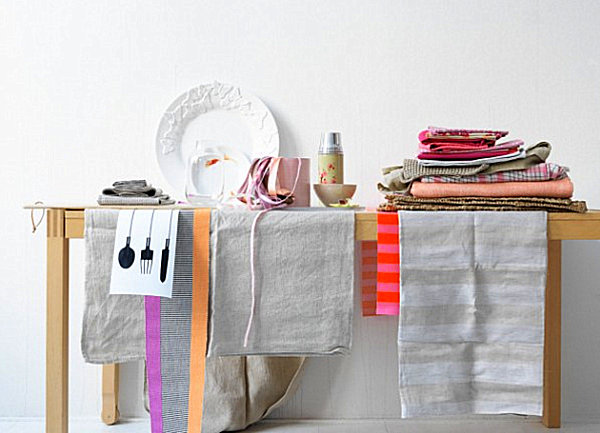 One great way to add color, texture and pattern is by purchasing a Scandinavian rug, such as the Swedish rugs from Scandinavian Made, shown below. Woven motifs add interest and style, creating a handmade look that serves as a wonderful contrast to more clean-lined modern details.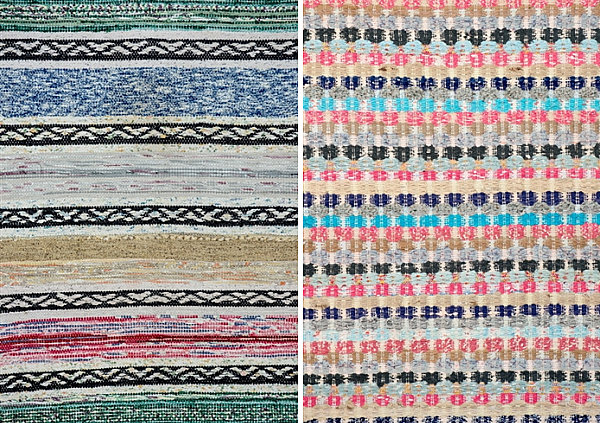 Stripes are a popular pattern for Scandinavian kitchens. In the next image, we see a colorful striped rug, which combines with the "stripes" of the room's pink radiator for a vibrant effect. [from Toynuts]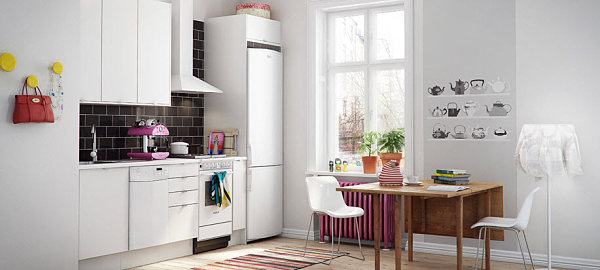 In the kitchen below, the stripes are classic in shades of navy and white! Grooved walls, woven baskets and beachy touches are enhanced by a striped rug with a nautical feel. [from Marbodal]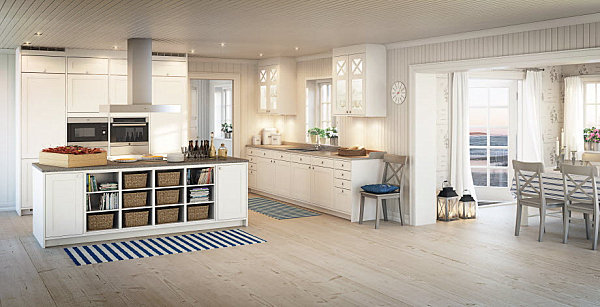 In the next featured space, the stripes extend to the walls, leaving their elegant, two-toned mark on this Scandinavian kitchen! Note how white cabinetry, a retro-style clock and a trio of pendant lights update this classic look. [from Marbodal]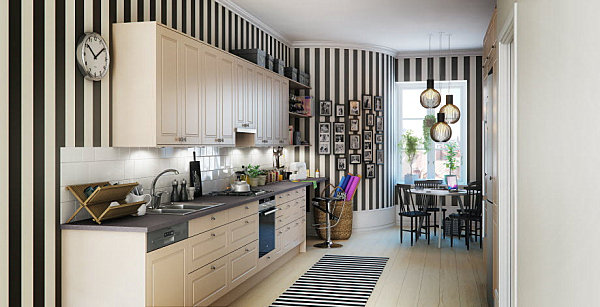 Once again, we see a kitchen in light blue, a shade that is beautifully complemented by a red and white striped rug that rests on a natural wooden floor. [from Pedantique]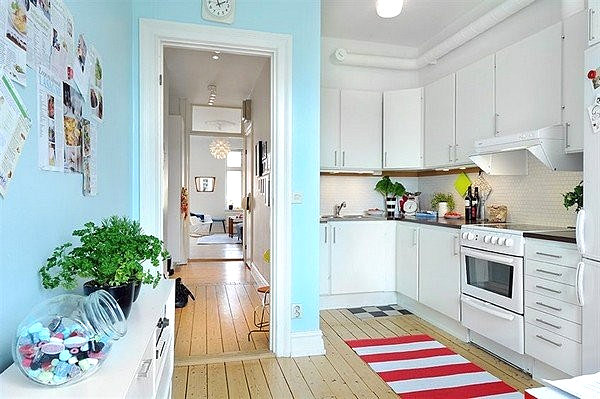 We couldn't celebrate Scandinavian kitchens without reveling in wooden accents. In fact, warm wooden touches can give a space a true farmhouse look, as well as reinforce modern design elements, as shown in the sleek space below. [from Arcanum Architecture]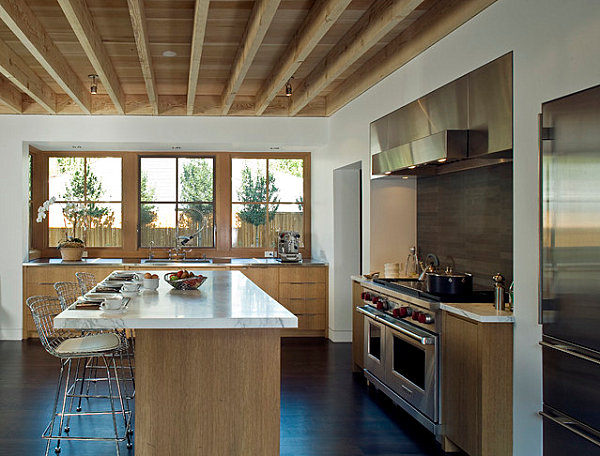 Metal and wood combine to create a unique contemporary feel in the kitchen below, which features an island bar with built-in wine storage space. Stainless steel appliances are the perfect touch! [from Scandinavian Kitchen and Design]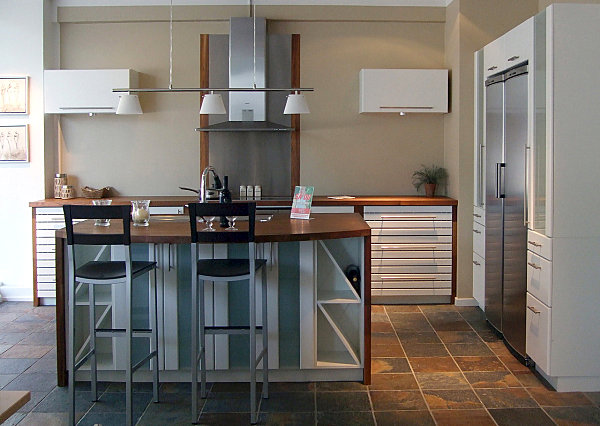 The lime green seating below isn't the only showstopper in this next featured kitchen! Oak accents in the form of cabinetry truly stand out against the backdrop of white walls and drawers. [from Marbodal]
Sometimes wooden interiors have a cabin feel, especially when fireplaces and plaid are added to the mix! In the Scandinavian-style space below, ski lodge charm is easily created through wooden walls and flooring. And a deer head…  [from Marbodal]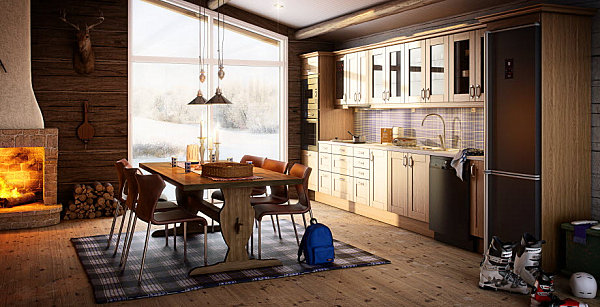 The wooden counter, sink and drawer structure in the next featured image is a solid piece that boasts gorgeous wood grain patterning, as well as the ability to set the stage for vivid accents such as bowls of produce. [from Bonholm Kitchen]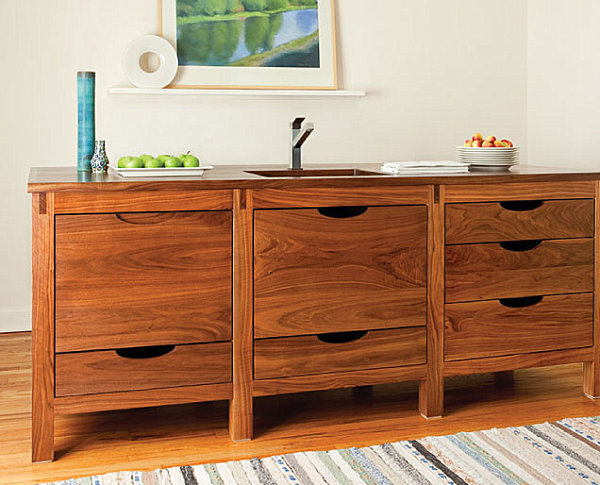 We end with a Scandinavian kitchen that features rich wood, as well as pendant lighting and black accents. White walls ensure that the space is striking rather than severe. [from IKEA]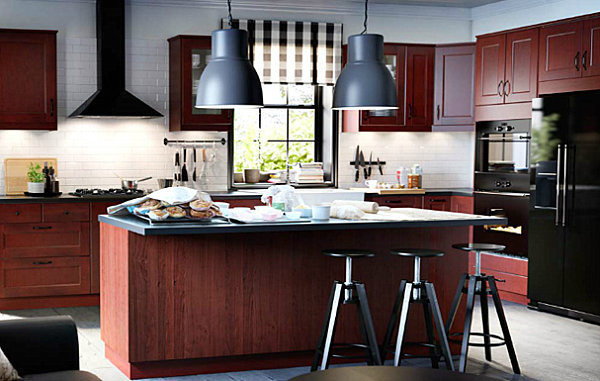 Now that you've had a taste of Scandinavian style, tell us about your favorite looks. Do you prefer all-white kitchens with a few pops of color, or do warm wooden interiors grab your attention? Do you enjoy patterned textiles, such as woven rugs? Perhaps you prefer crisp, clean-lined spaces with minimal accents. Share your thoughts by leaving a comment below…
Source: http://www.decoist.com