Does your bathroom need a flooring update? Here's what you need to know about tiling your bathroom floor.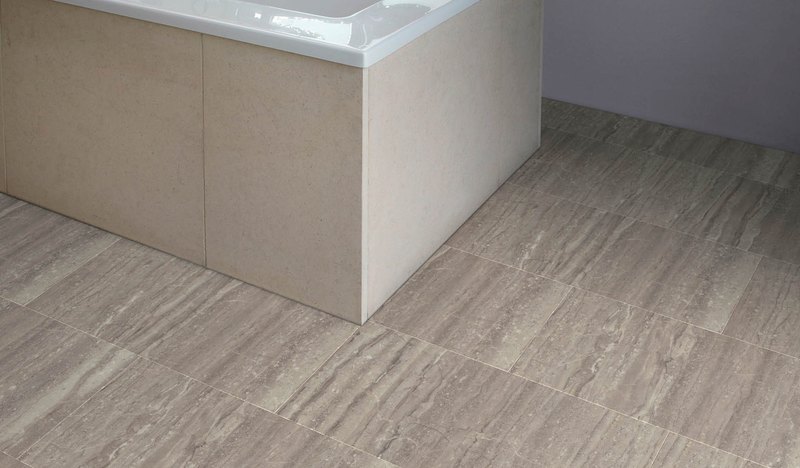 Tiling a bathroom floor is one of the most cost-effective home improvement projects that needs moderate skills and correct materials. It's a great way to add value to your bathroom remodel and can allow you to add upgrades like radiant heat. It's easier than ever to source great-looking, affordable tile.
Choosing the right tile color and style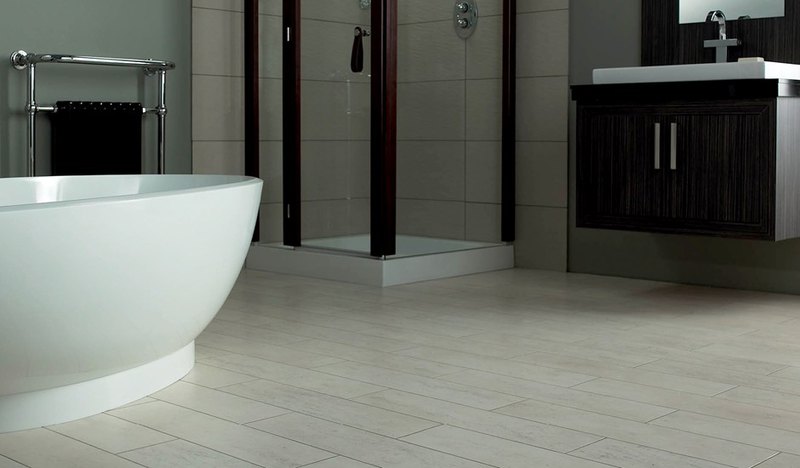 When selecting a tile for the floor, the color should be neutral and coordinate with your cabinetry, paint color and shower or bathtub. If your bathroom floor tends to get messy from dust and debris, consider a tile that isn't a solid color – a variety of color changes or textures will do a better job hiding dirt than a solid color. Using a light color may contribute to a greater sense of space but that theory isn't always true. The color choice should be more dependent upon how the color of the floor tile relates to the other colors in the room. Be sure you bring home samples of your top choices and set them on the floor next to your other items in the room. Your lifestyle (how often you want to clean a white tiled-floor, for example) should also influence your decision.
---

77 ideas of best lighting for living room
Top of kitchen island bar ideas for you
Luxury dining room decor ideas

---
Choosing the right material for your bathroom floor
There are many different types of tile on the market and here are the most common choices for bathrooms: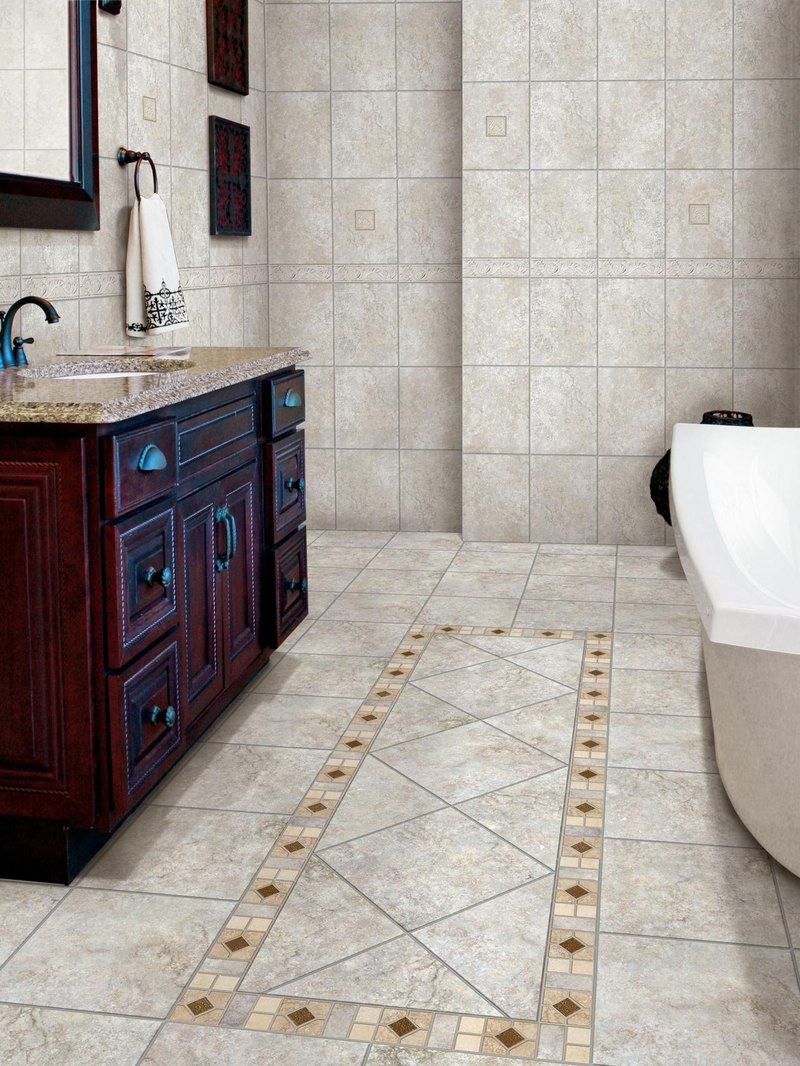 Ceramic: otherwise known as non-porcelain tile, ceramic tiles are made from red or white clay (sometimes mixed with other materials) and kiln-fired. They are easier to cut, due to their softer nature, and come in a wide range of colors, patterns and styles – nowadays you can even find ceramic tile made to look like wood planks. They are perfect for floors and walls and good for light to medium traffic.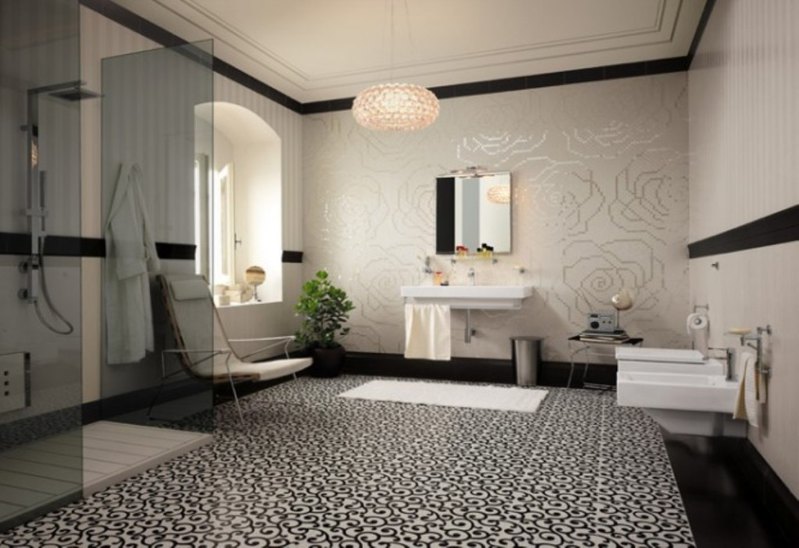 Porcelain: not to be confused with ceramic, porcelain tiles are made from pressed porcelain clay and kiln-fired. They have a much lower water absorption rate and therefore frost-resistant and well-suited for high-traffic areas. Glazed porcelain tiles are very durable.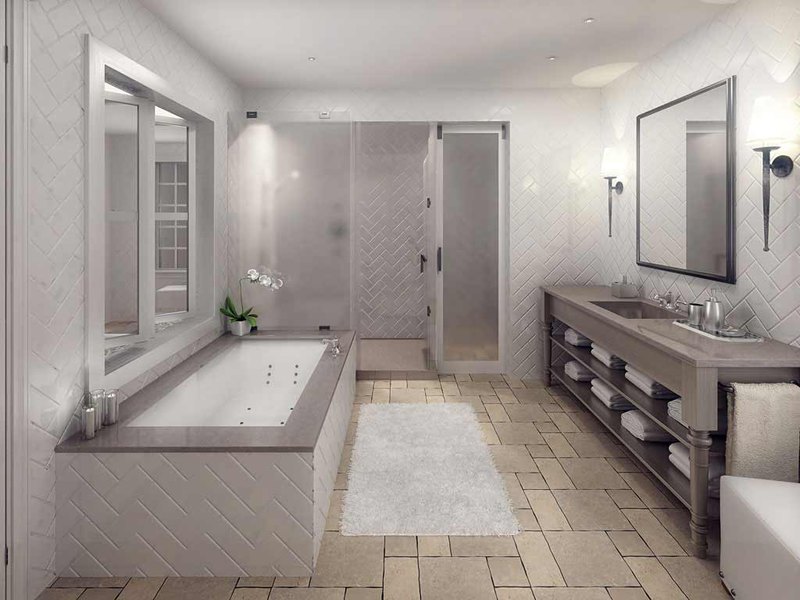 Natural Stone: natural stone is very durable when properly sealed and has a natural imperfections that many homeowners love. It usually carries a great installation cost as the material is a little more difficult to cut and takes greater skill. There are more limited offers of colors and styles of stone however it looks and feels valuable.
---

Fresh ideas for dining room walls
Perfect bathroom interior design ideas
Grey bathroom tiles variants and choises

---
Choosing the right size and shape of tile for your bathroom floor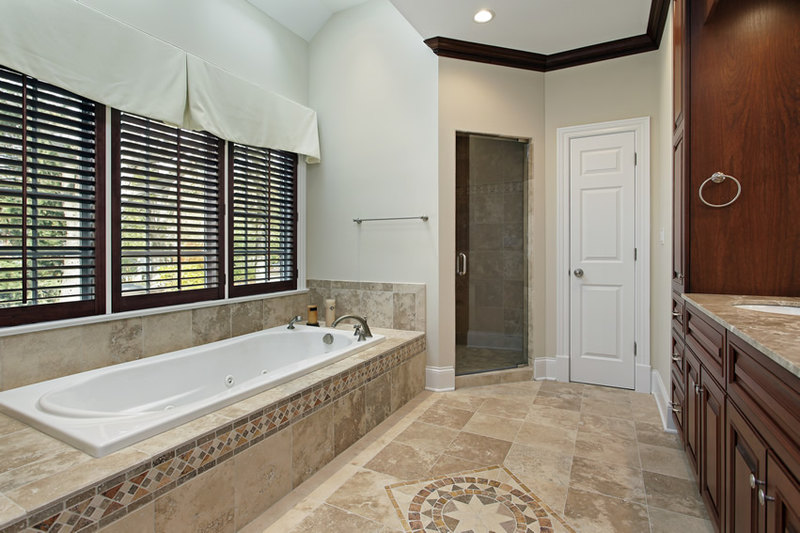 If you want to make your bathroom floor feel larger, use larger tiles. In general, larger shapes make the room feel larger while a busier pattern may contribute to a smaller-feeling room. Installing fewer grout lines will lend a more expansive look and feel to the room and be less maintenance over time. Laying the tiles at an angle will also trick the eye into thinking the room is larger and the viewer won't be able to "add up" how many tiles line across the floor. Mixing two different sizes in a seemingly random pattern can also make it harder to detect how small the room is. Floor tiles tend to be larger in size than the tile used in a shower or bathtub area; fewer grout lines make it easier to install and clean.
---

Contemporary dining room lighting ideas
Ultra modern bedroom design ideas for your home

---
Step-by-step guide to install tile on a bathroom floor:
Materials needed to install a tile floor in a bathroom
Floor tiles
Grout
Grout sealant
Measuring tape
Tile spacers
Notched trowel
Floor tile adhesive
Gloves
Dust mask
Drill
Sponge/Cloth
Tile cutter (this can be rented or purchased from your local hardware store)
Install the Tile Flooring
Installing tile over a pre-existing floor:
Before you purchase tile you'll want to assess the condition of your current flooring. The only reason to remove the existing subfloor, like vinyl flooring, is if there is damage to the subfloor. If your bathroom has rotting or other issues it will need to be fixed first otherwise you'll just be covering up an issue. Be sure you can ensure that your existing floor and subfloor can withstand the additional weight of a heavy tile floor and that the new height of your floor doesn't interfere with closing doors or other surrounding items. You may need to tear up pre-existing particle board and lay down cement board first. If your floor has no issues then there is usually no need to pull up previous flooring.
Clean and measure: Using a vacuum cleaner cleans the floor from any kind of debris. Knowing the dimensions of the bathroom will help you get the right number of tiles and required quantity of materials. You can arrange the tiles in the cross format to find the measurement of the tiles that need to be cut to fit the space. Mark the measurements on the tile as well as on the floor to make the job easy while cutting.
Foundation: Prepping the floor surface is very important and you'll want to keep in mind any slope that already exists in your bathroom. Make the foundation using a flexible adhesive or thin-set mortar. (If you are installing tile over vinyl flooring, sand the vinyl material first.) Hold the floor notched trowel at 45-degree angle, spread the thin-set, or adhesive over the floor, evenly and slowly. Always keep in mind that the thin-set motor will not produce the desired result if it is not used within an hour of mixing.
Laying Tile: Start the laying-out process by placing a full-sized tile from the most visible corner of the bathroom to the doorway. Moving the tiles slightly and applying as much as pressure ensures that the tile gets fix properly in the right place. Use tile spacers to ensure even spacing and grout lines.
Install more tiles: Continue laying the remaining tile in such a way to match your pattern and by placing the spacers between the gaps. Spread the mortar evenly on small areas and place the tiles across the room as you proceed. Ensure that the tiles are in line and maintain the pattern. Adjust the thickness of the mortar to make all the tiles up to the right height. Use a tile cutter or wet saw to cut the tiles to reach everywhere in the room, around toilets and rounded objects in the floor. Allow the thin-set to dry.
Grout the Floor: Follow the manufacturer's instructions for mixing the grout with water. Do not forget to remove the spacers before applying the grout. Use a grout float to press the grout firmly into the spaces and with the help of a wet large sponge swipe out the excess grout from the surface of the tile, before it is too late. Repeat the process and let the floor dry for an overnight or two.
Tips for tiling a bathroom floor:
Always use gloves
Turn off the water system
Never tile directly on the subflooring
Using plywood over the floor will give you solid foundation
Purchase all the required tiles all at once and expect to purchase about 10% overage for cuts and breakage
Use sheet to protect the porcelain of the water tub or shower area
Always make sure that your tiles remain steady and level
Even though the pre-mix mortar is bit expensive when compared to ready for mixing type, the former is preferred for small projects
While laying out the tile, never tap the tile directly
Source: porch.com