One of the most popular trends in kitchen design is gray cabinets. They are versatile options that can look Old World or modern, traditional or contemporary. And, depending on the style of the doors, they can even bridge the line in a transitional space. Here are some considerations to help determine whether this hot look is right for you.
Light or Dark Gray Kitchen Cabinets? What choose?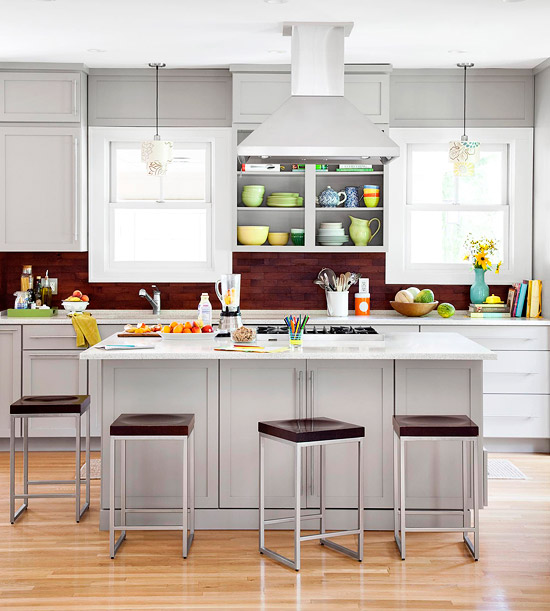 The hue you pick for your cupboards relies on personal preference, but it also has a bit to do with the space you are working with. If your kitchen is small or has limited natural light, dark gray cabinets will only make it feel smaller and darker. Deep, saturated hues absorb light, whereas light shades bounce light back into the room, amplifying the brightness in the space.
Warm or Cool?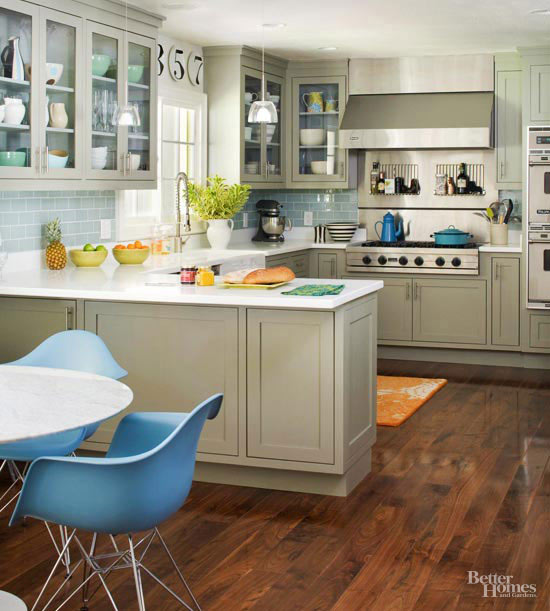 While gray may seem like a straightforward color, it is actually deeply influenced by reds, yellows, and blues. The influencing hue or undertone can make the color appear cooler or warmer. For example, a gray with a blue undertone will be a steely shade; a gray with a red undertone will be a putty tone, similar to taupe. To understand how these shades work in your space, tape paint chips of several gray shades next to each other on your wall and examine them throughout the day. You'll see the variation in color from one to the next, and you'll eventually find one that appeals most to you. If the cupboards are not customizable and you are selecting from a set palette, ask the cabinet company to let you borrow several finish samples or doors to test in your space.
Stained or Painted?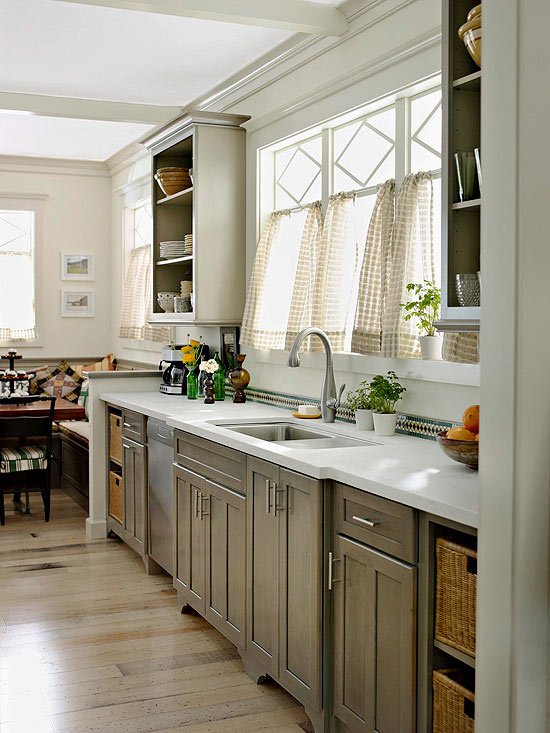 You have a choice whether to select painted cabinets, which are covered in an opaque gray hue, or stained cabinets, which have a translucent finish that allows some wood grain to show through. Just as with paint colors, there are variations of pale and dark stains. Painted cabinets offer a crisp, even coloration, and are easily wiped down. Stained cabinets have visual texture that highlights the wood underneath. With the proper protective coating, they too can be easily cleaned.
Countertop Colors.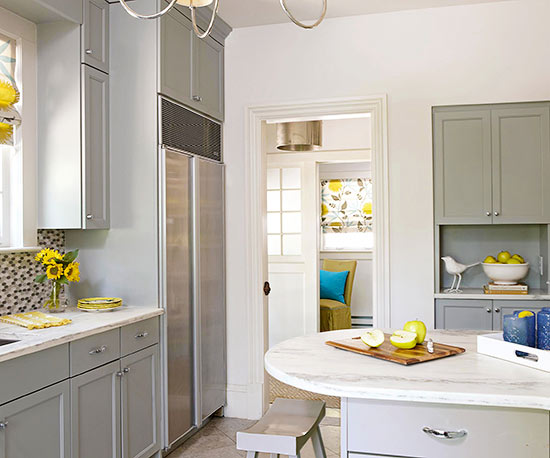 Virtually any countertop color looks good with gray kitchen cabinets. You have endless options because this colour works as a neutral hue similar to white, brown, and tan. You can pick a splashy countertop color, such as aqua, or go for a sophisticated monochromatic look using slate or stainless steel. Natural stone, such as granite and marble, is a popular complement to these cabinets because there is often gray veining or flecks in the stone.
A Mix Of Colors With Gray Kitchen Cabinets.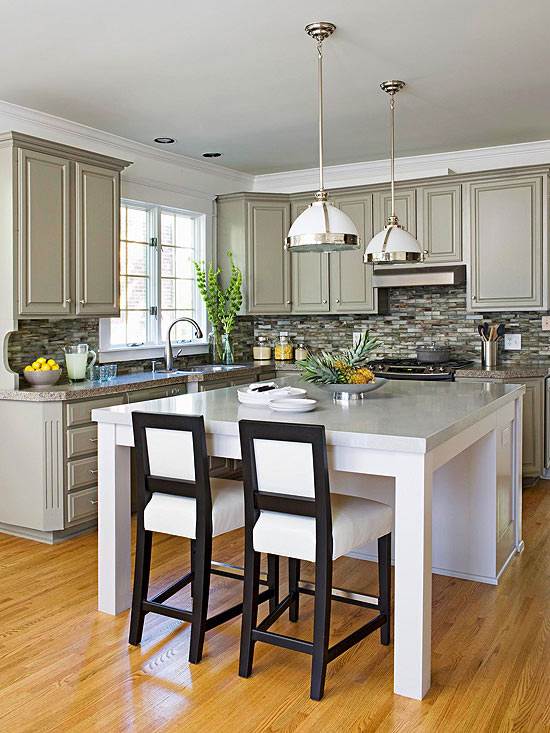 Another popular trend in kitchen design — combining two cabinet colors in the same space — works perfectly when one of the colors is gray. Because it is a neutral shade, it complements all hues and pairs well with most every color. This cabinets also work with any wood tone, so you can choose stained mahogany cabinets for the island, for example, and a cement gray for the wall cabinets. One approach is to stick to similar shades and intensities, such as butter yellow with dove gray, for a cohesive look. Another style is to play with contrast, such as charcoal with ivory, which creates a dynamic space.
Source: http://www.bhg.com