The front entry doors is the first hint one gets about the style preferred by someone before entering their home. The door can tell a lot about a person or a family. Everything about it is a hint, including the size, shape, color, materials, hardware and everything else. So if you're having trouble picking a design for your front door, perhaps these ideas can help. They focus on material and size but also on color.
Oversized Glass Doors.
The project known as House Roces by Govaert &Vanhoutte is impressive in a lot of ways. However, one thing that definitely stands out is the front door. It's a full-height door that goes all the way up to the ceiling and presents itself as just another huge window. It's made of a single large glass panel.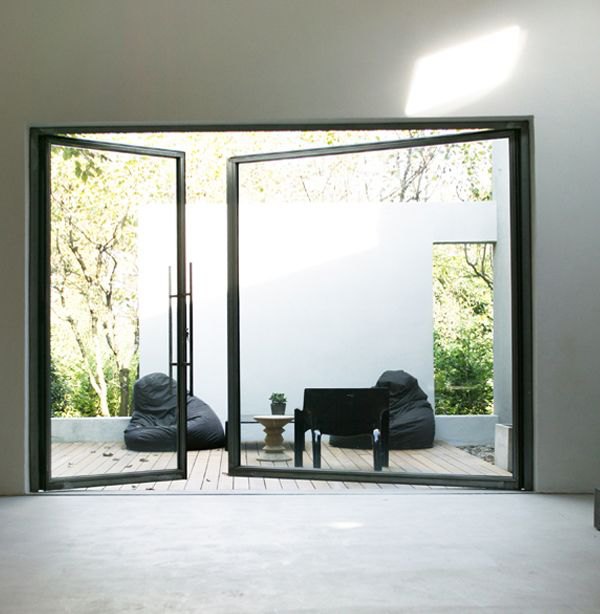 The home of Italian architects Marcello and Maria Pia Zappador of Amorfo studio is similar from this point of view. Their front doors are also very large and made of glass. They have black frames and complement each ones, one being larger than the other. This type of door doesn't really hide anything nor do they try to.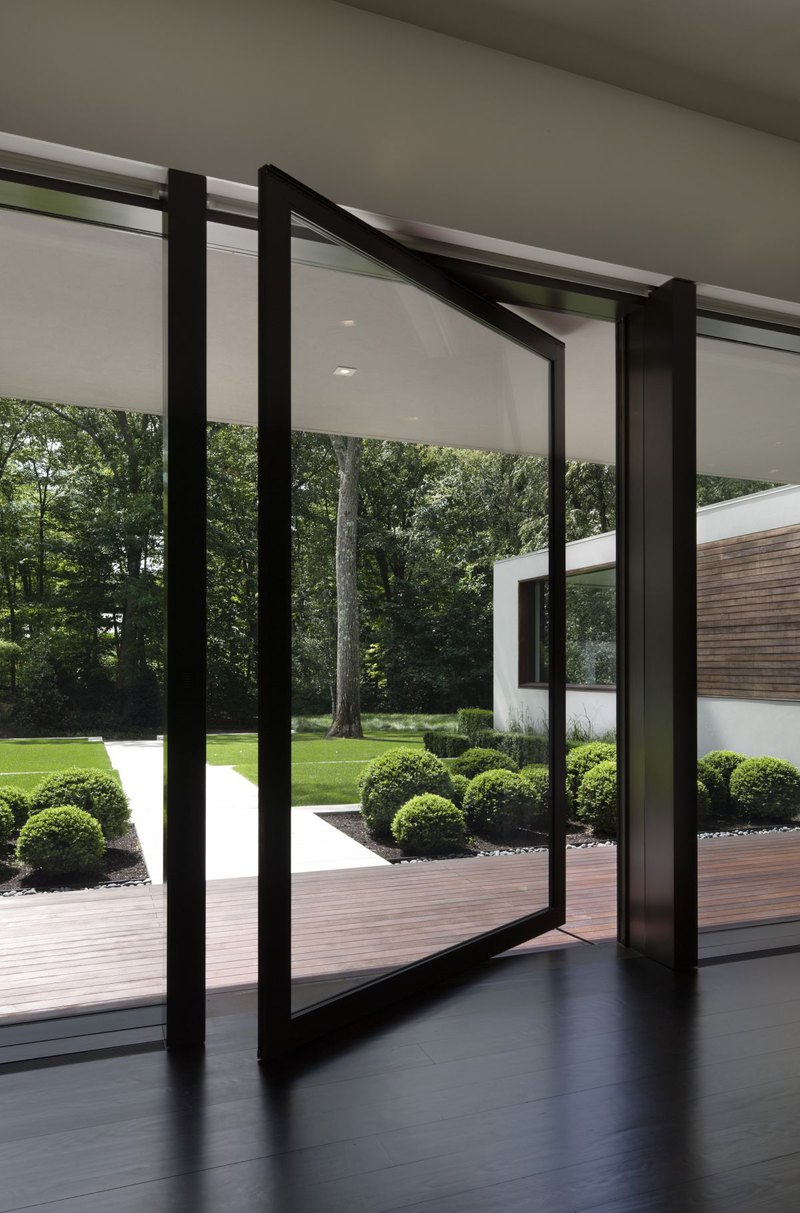 Minimalism in terms of front doors designs often has to do with the operating system. Pivot doors are very simple and stylish. The architects of Speecht Harpman used this system when they designed the New Canaan Residence, name like this after its location. The house features a large pivot glass door that offers unobstructed views of the courtyard, like the full height windows that form the facade.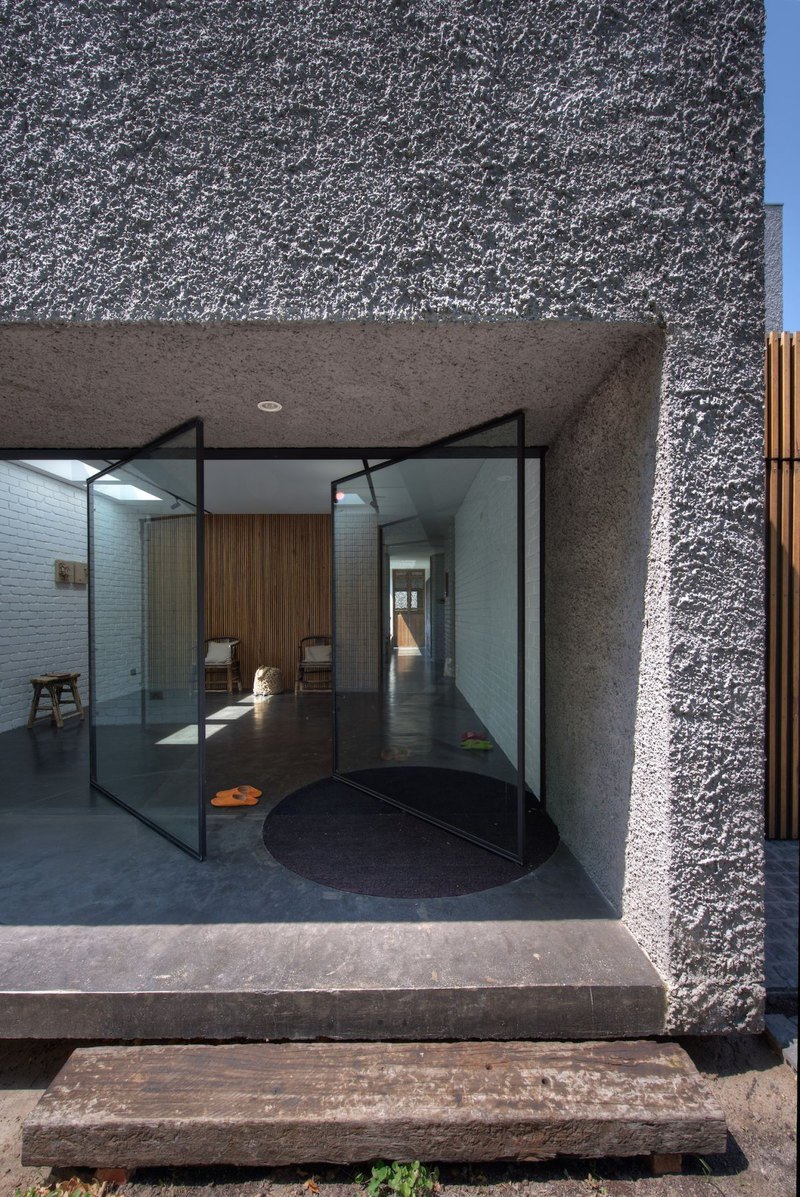 The New Old residence by Jessica Liew is located in Melbourne and features not one, but two impressive pivot glass doors. They can be operated independently and allow the barrier between the interior living space and the exterior to be almost completely eliminated.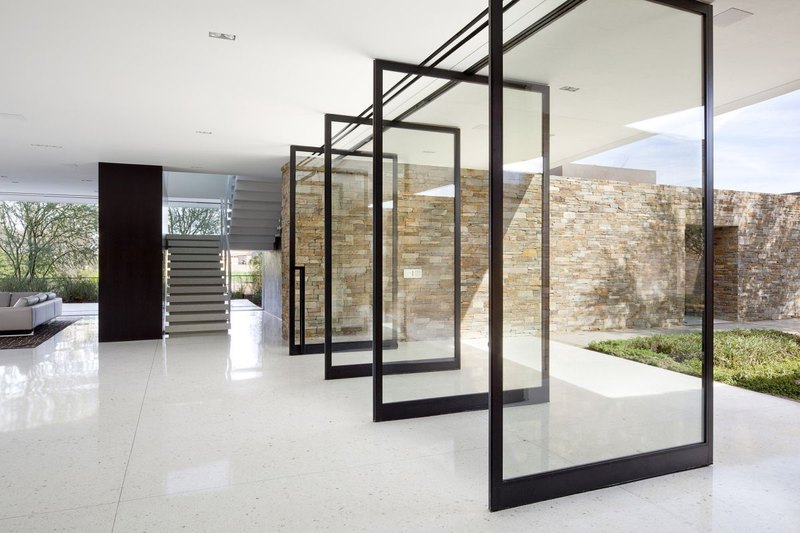 An even more impressive use of pivot doors is featured by XTEN Architecture in the case of the Madison House located in California. This residence has an entire exterior wall made up of pivot glass doors. They swivel to let the breeze in and to directly connect the living spaces to their outdoor surroundings.
Some Interesting Samples Of Wood Doors.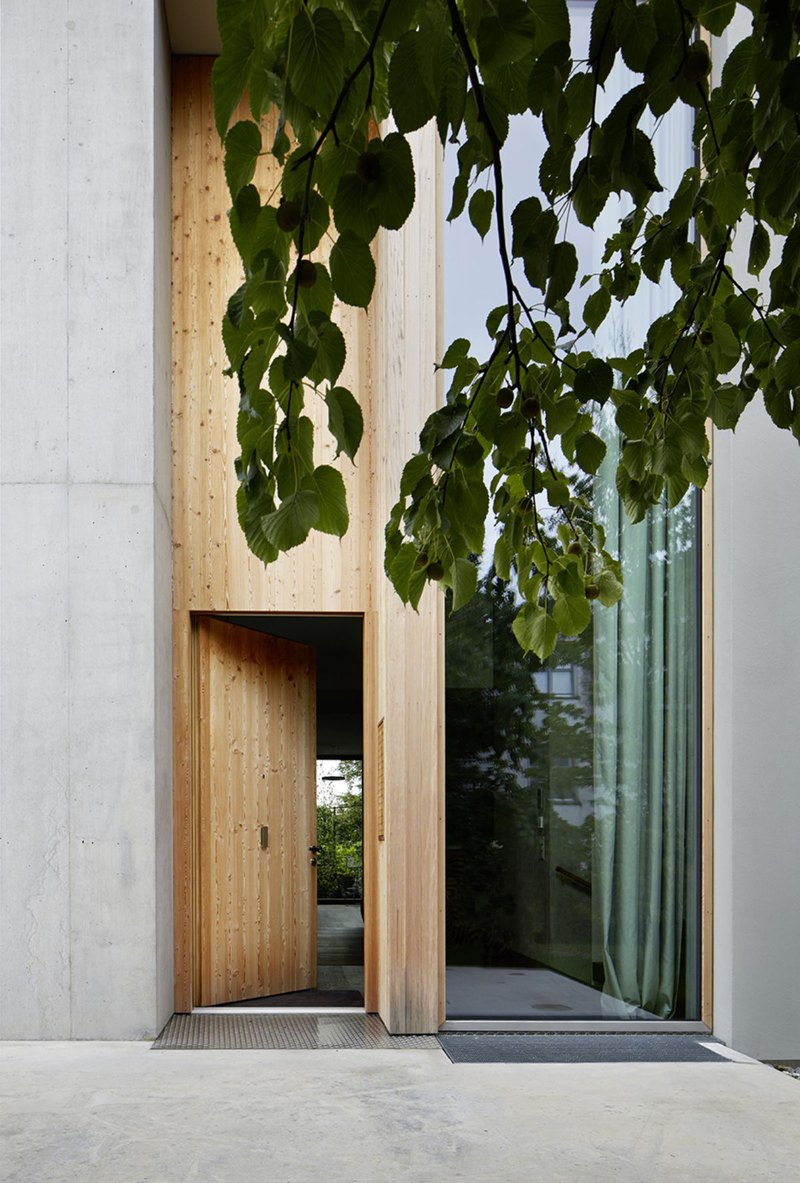 Villa M M by feliz Architects has an interesting-looking entrance. The door looks like a secret passage and that's due to the fact that this facade is divided vertically into two sections, one made of glass and one of wood.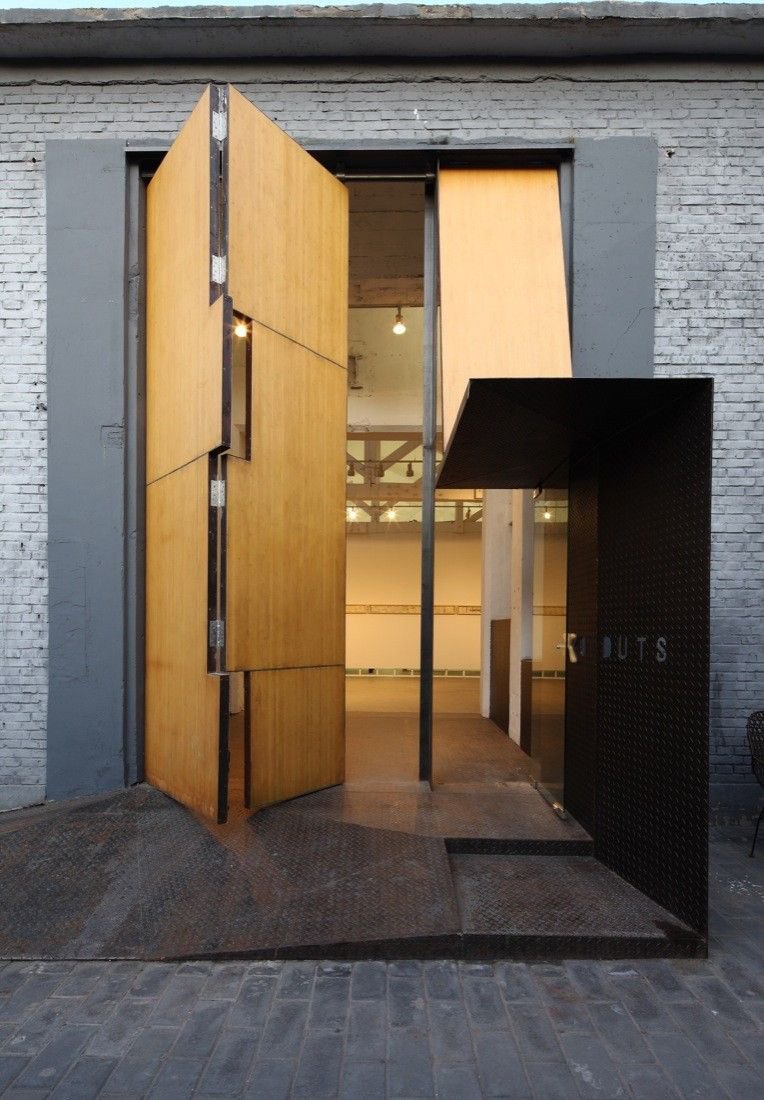 The opening system of the front entry doors used by O.P.E.N. Architecture when designing Studio X in Beijing is unusual and this makes it very intriguing. When opened, it folds into itself and reveals its puzzle-like structure.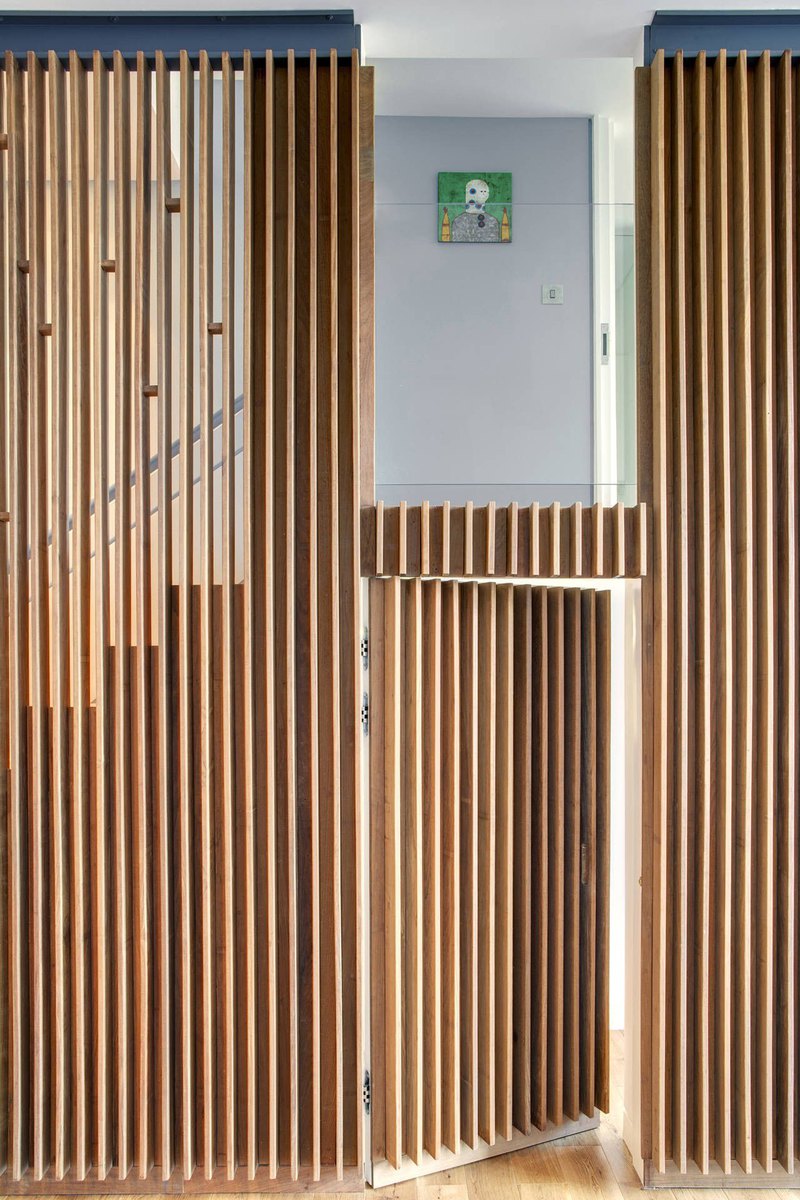 When designing this apartment in London, Studio Verve Architects may have tried to camouflage the front door and we have to say they did a really great job. The door completely disappears into the facade and unless they know it; is there someone would have a really hard time spotting it.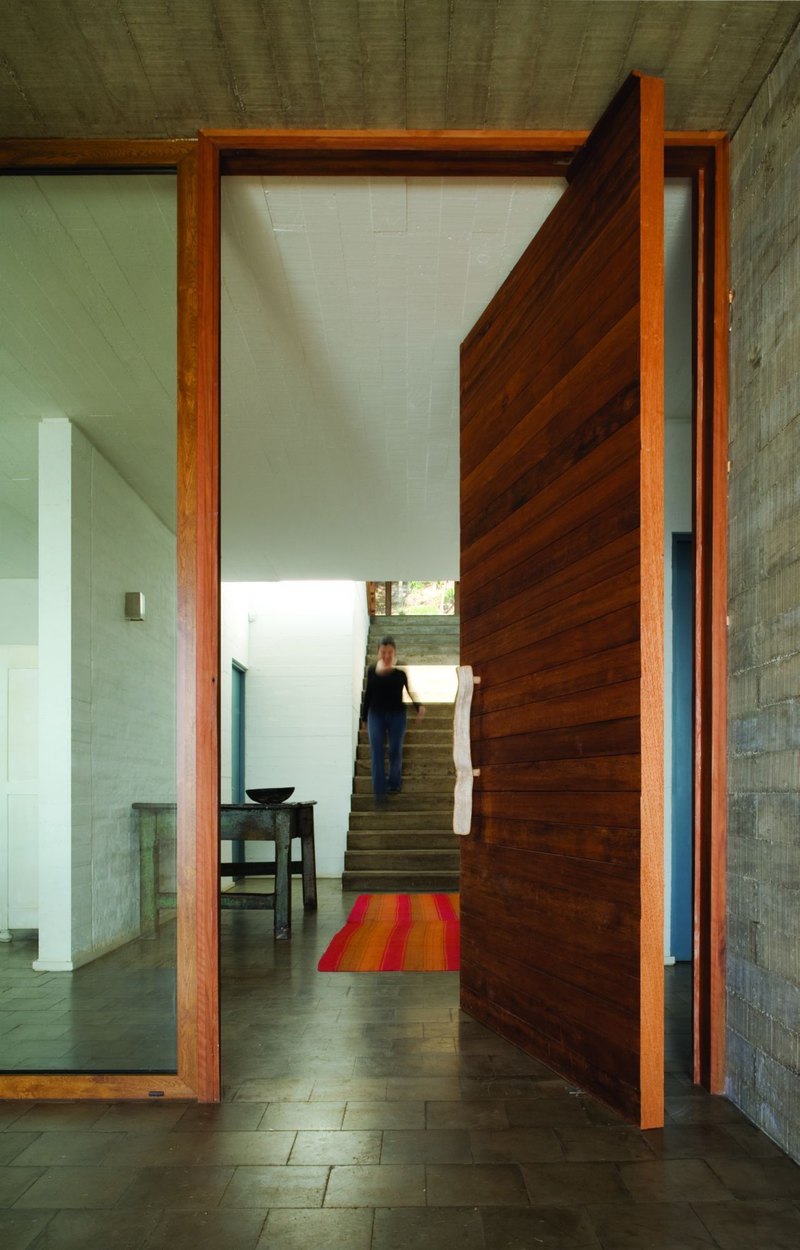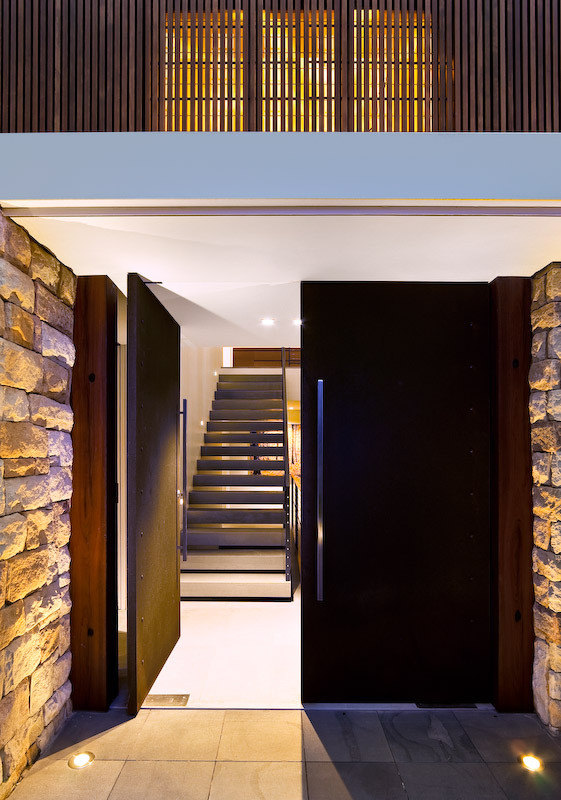 The Mosman House by Corben Architects is definitely very welcoming and you can tell that by the entrance. Two solid wood doors with sleek vertical handles allow access inside after passing through a small exterior hallway flanked by stone walls. The spotlights in the floor highlight the texture of the walls in a very charming way.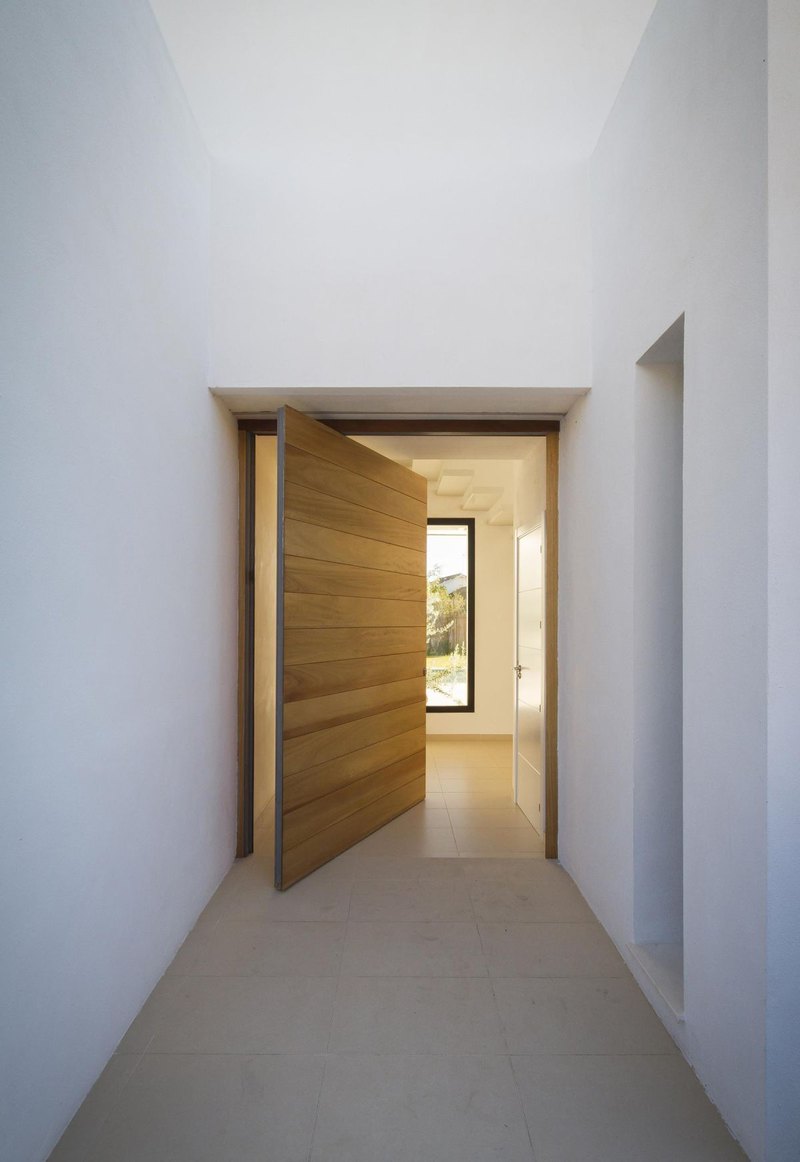 Minimalism is a defining characteristic of the Aviles-Ramos Residence by the Ceres A D architecture studio. Even if we're only interested in the front that, in this case a simple pivot door made of horizontally-placed wooden slats, it's impossible not to see the front door as a reflection of the whole interior design.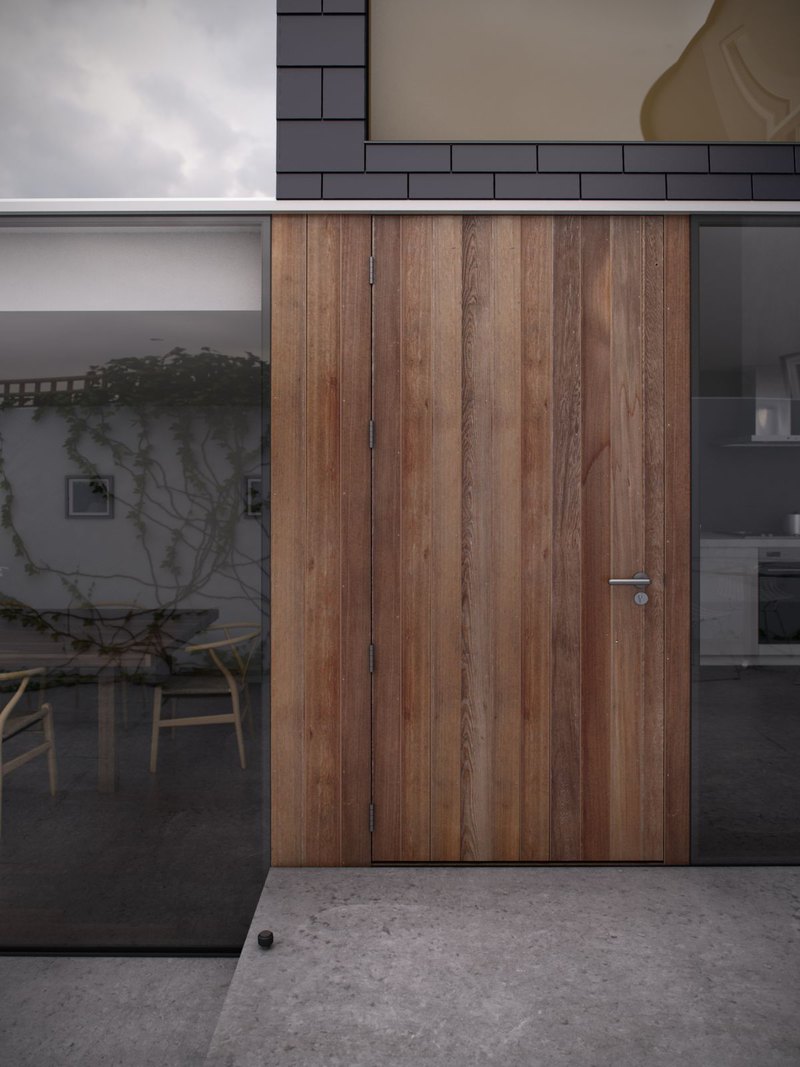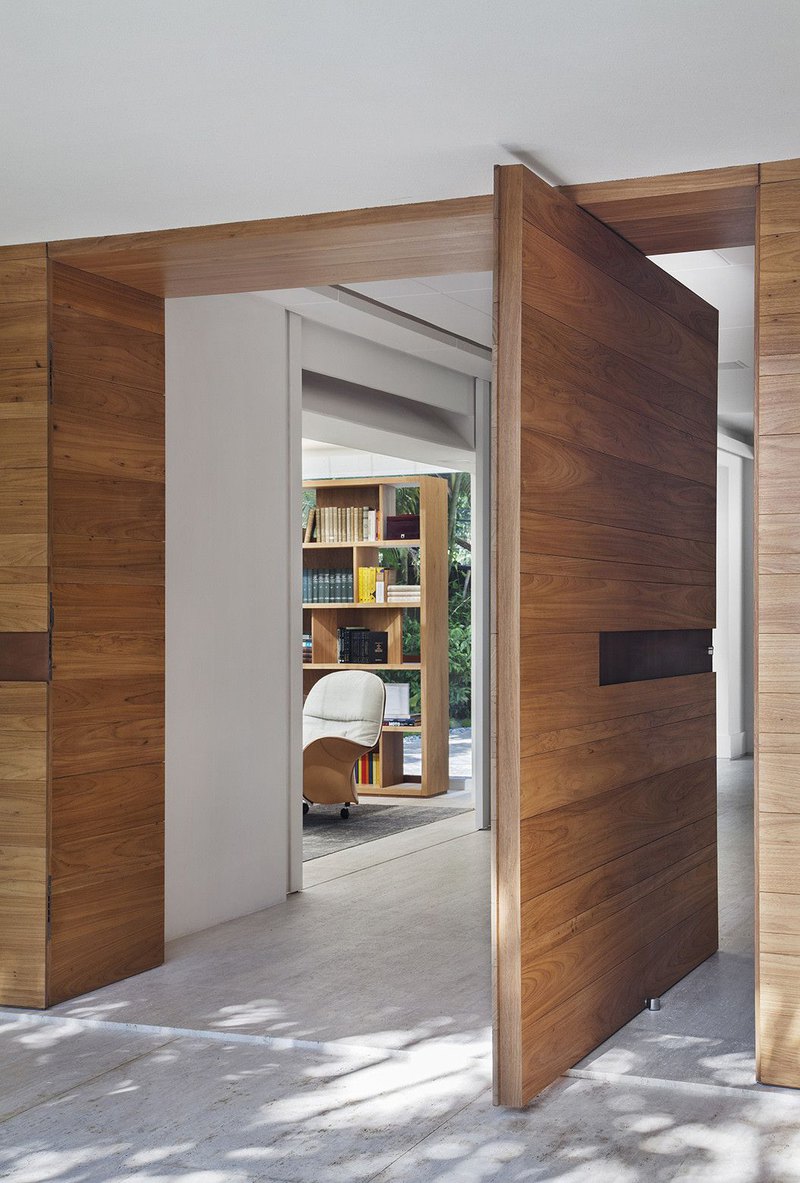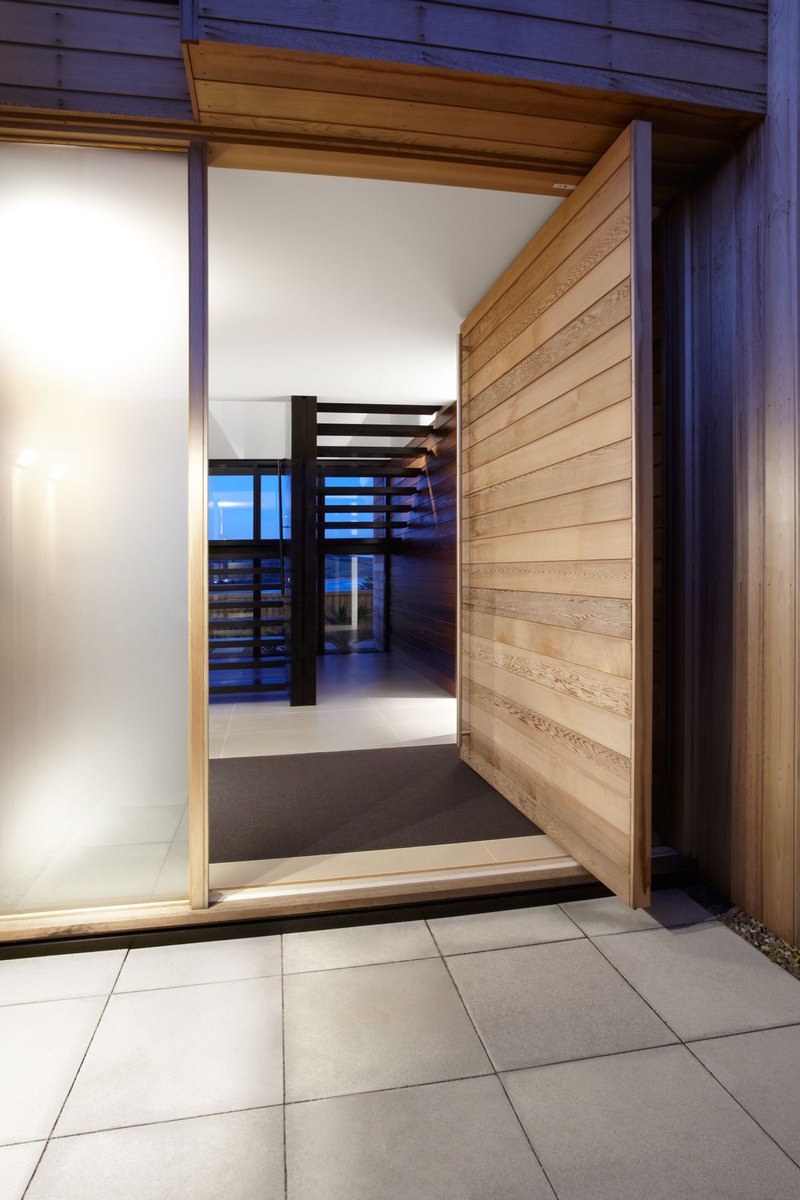 Partially made of solid wood and partially of frosted glass, this front entry is what Smart Design Studio chose to use when deigning the Lamble Residence in Australia. The combination of materials is not usually although it does carry an intriguing side.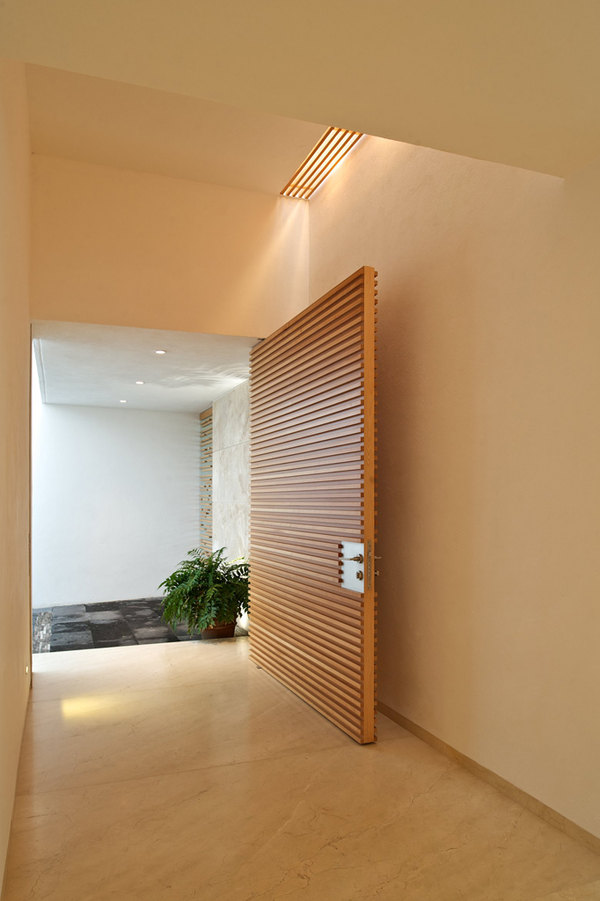 The massive wooden front door that Agraz Arquitectos used when building Casa Natalia welcomes visitors into a chic and extremely welcoming environment. The door makes the whole interior design come together, incorporates elements reiterated throughout the interior in various different ways.
11 Cheerful Bright Colors That Belong To Front Entry Doors.
When we spend so much time decorating the inside of our homes, it seems illogical that we would leave the outside to brave the elements. Mowing and gardening are obvious ways to keep up the looks of your house on the outside, but there is one trick that takes even less time and energy. Paint your front entry doors. I don't mean forest green or brown, I mean a bright color that will catch the eye of every person passing down your street. Take a look at these 11 options and decide which bright color would look best on your front door.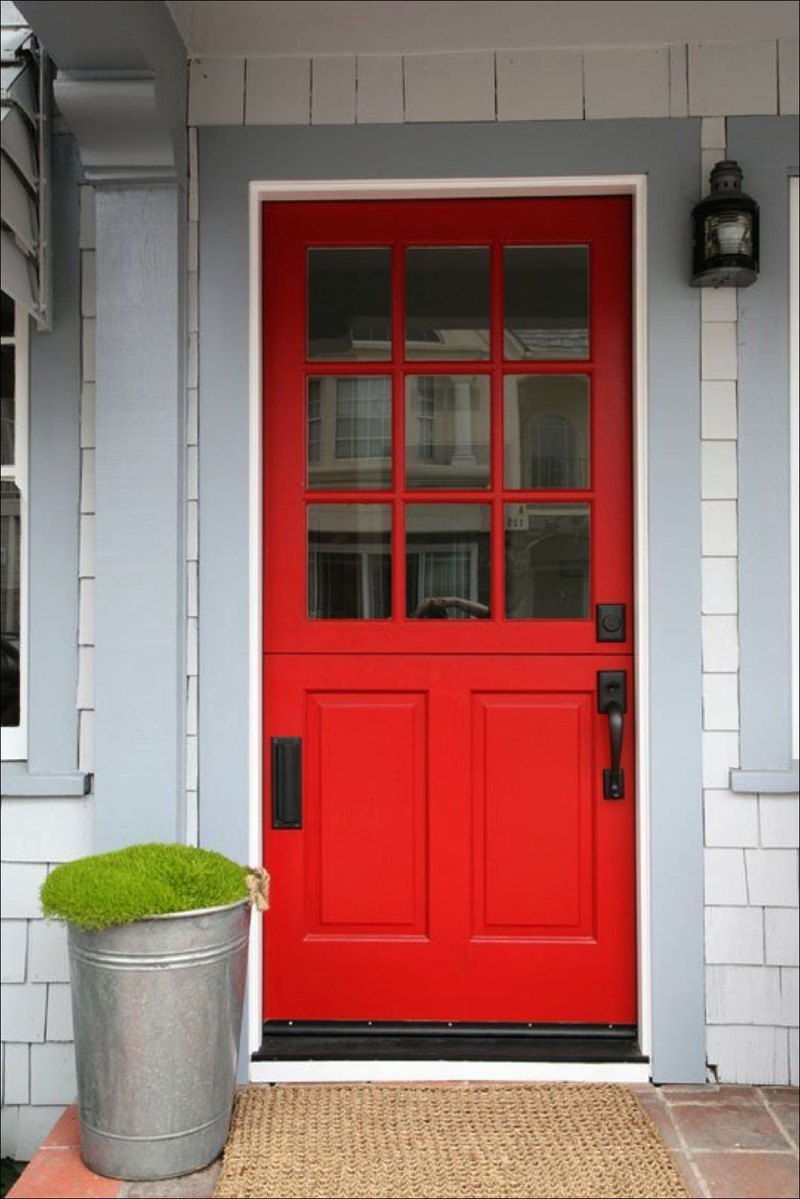 Red is a classic front door color. But if you are afraid of it being too cliche, stay away from deep reds and go for something lipstick bright. It will make a great view in the summer from your front porch swing and set off your evergreen wreath at Christmas. (via Apartment Therapy)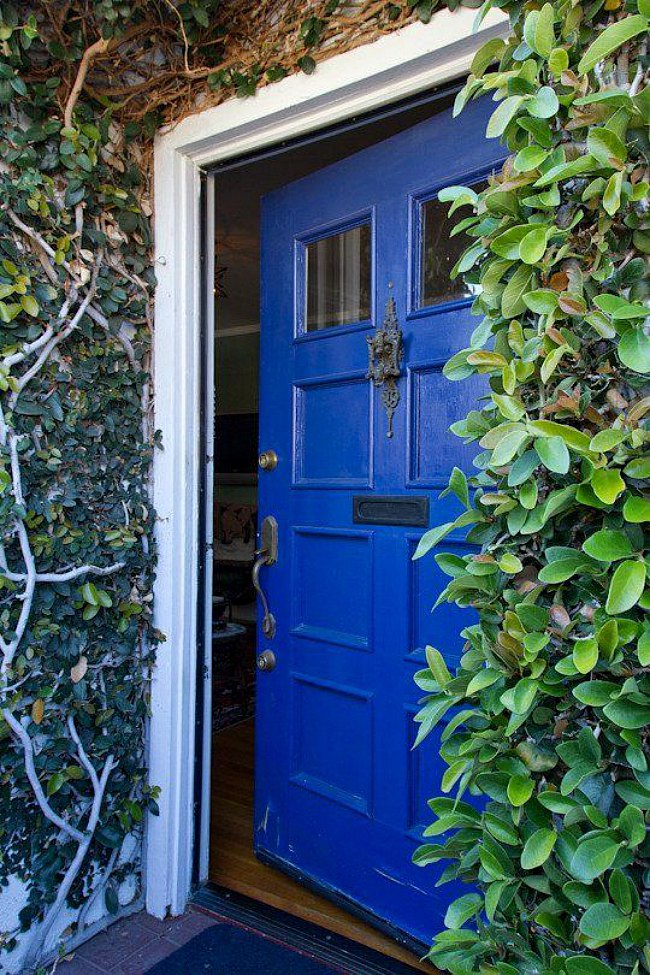 Maybe you need something in a cooler shade to offset your brick home. Cobalt blue is your best friend here. You won't see many bright blue doors around which makes it a unique pop of color for your front porch. Just think about how lovely your landscaping will be.
Green might be another color that we see on front entry doors, but probably not emerald green. Green is your front door go to because it matches so many different colors on a house exterior. Not to mention you will feel like Dorothy from Kansas every time you walk through it (via Design Sponge).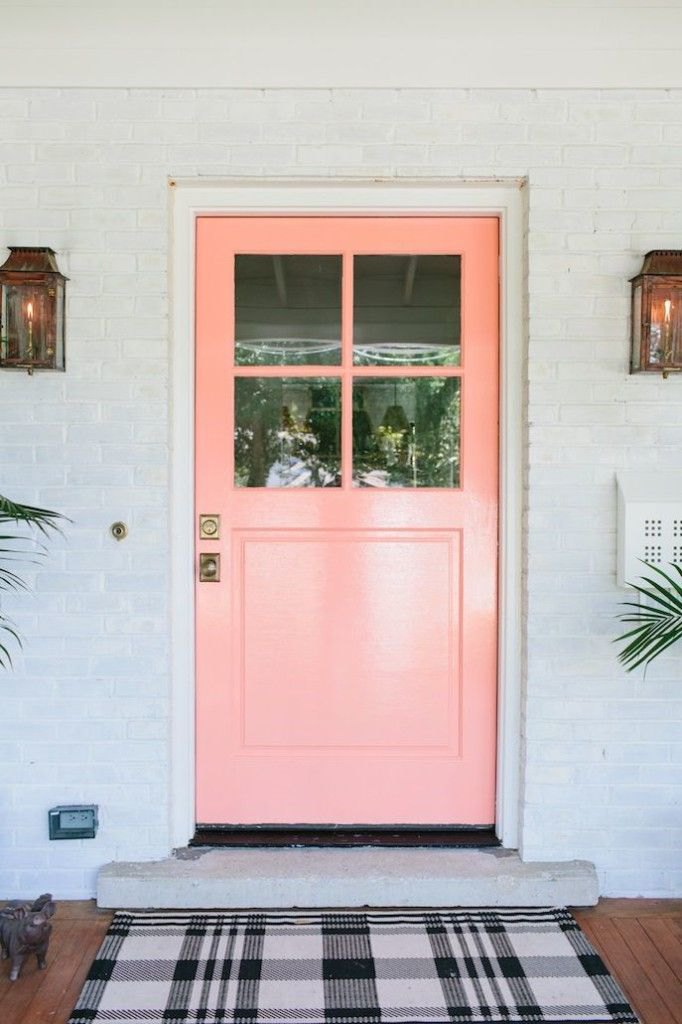 The girly girl in me jumps for joy at the sight of this front door. The last thing your guests will expect is a bright pink color to greet them when they arrive. It's the perfect shade especially for homes in hot places like Florida or California (via Waiting on Martha).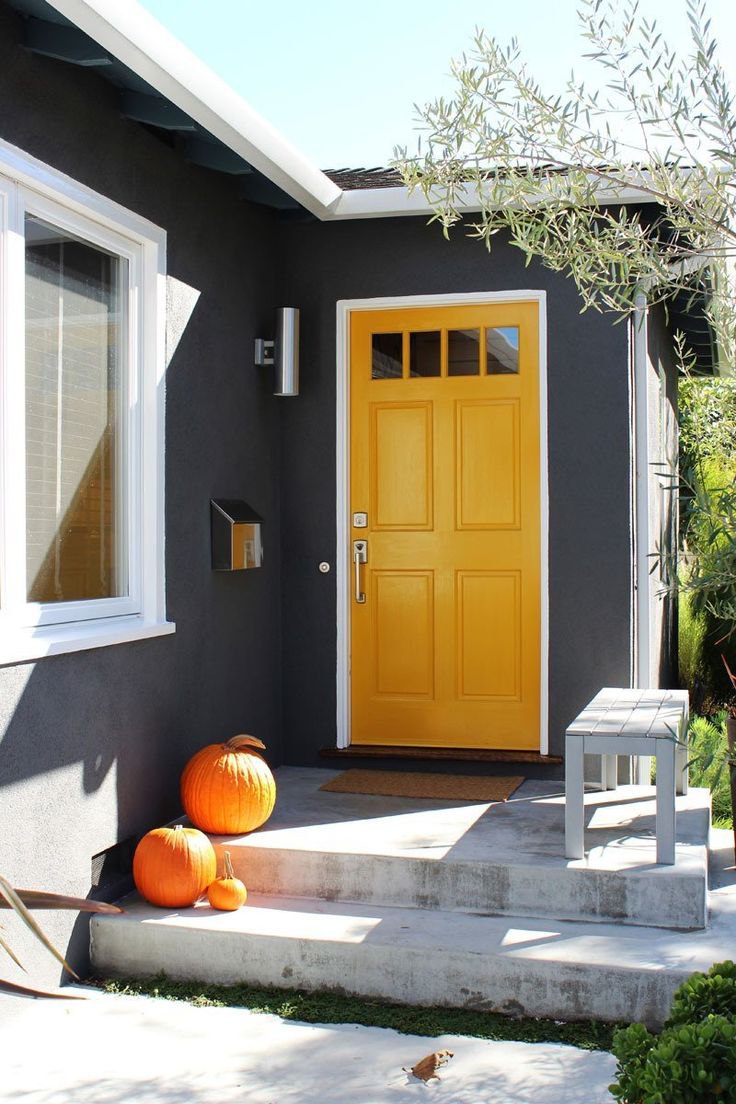 Yellow is possibly the friendliest color. If you're not sure, go for a shade that's a tinge darker like the mustard tint above. Your front door will be the most warm and welcoming front door on the block (via Apartment Therapy).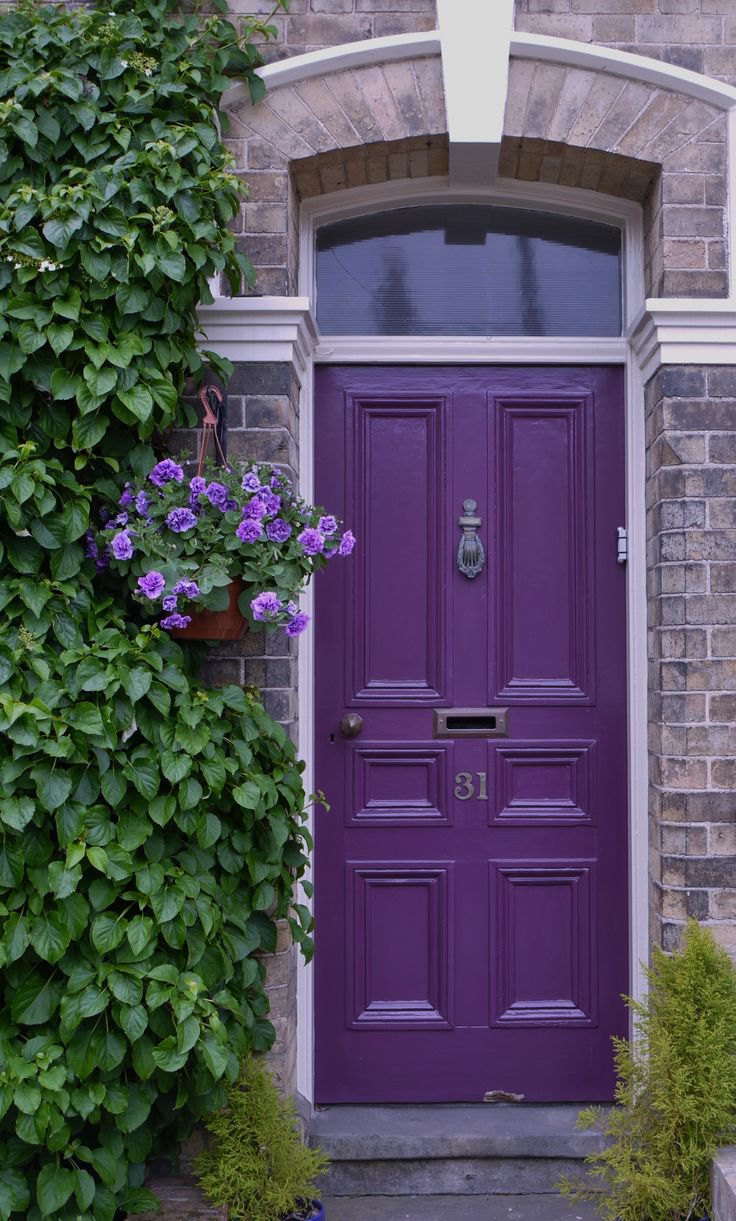 I have this thing for purple front doors. They're very rare and very unique, just like the color purple itself. A purple front door, whether bright violet or deep plum, will be a great touch to any gray or brown home. Bonus points if you have a door knocker.
Such a gorgeous and happy front door promises to make all your guests smile before they even enter your home. Plus, this shade gives you complete freedom to decorate your front porch with many more brightly colored flowers and throw pillows.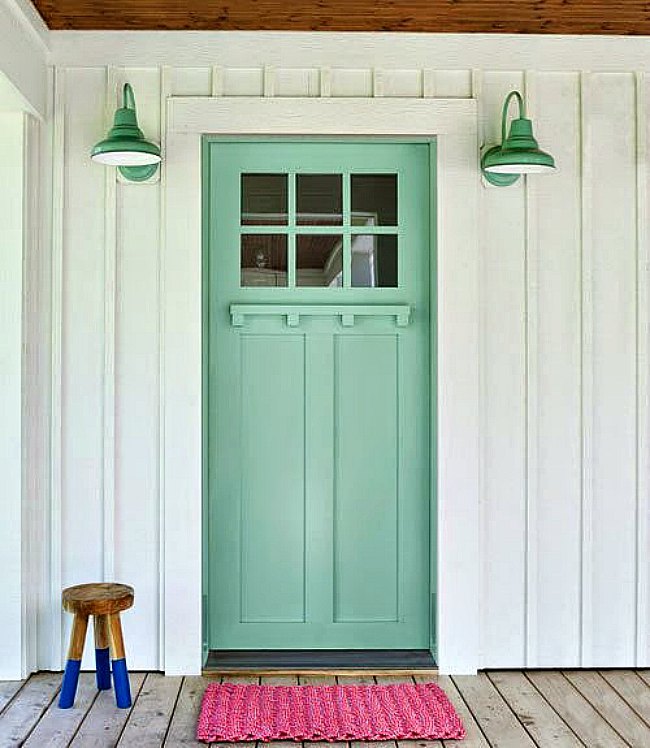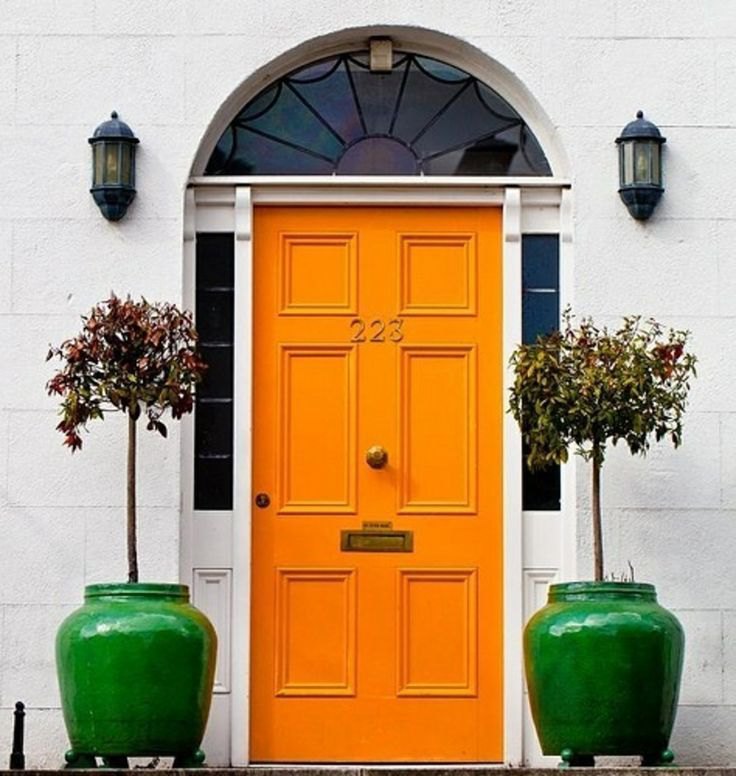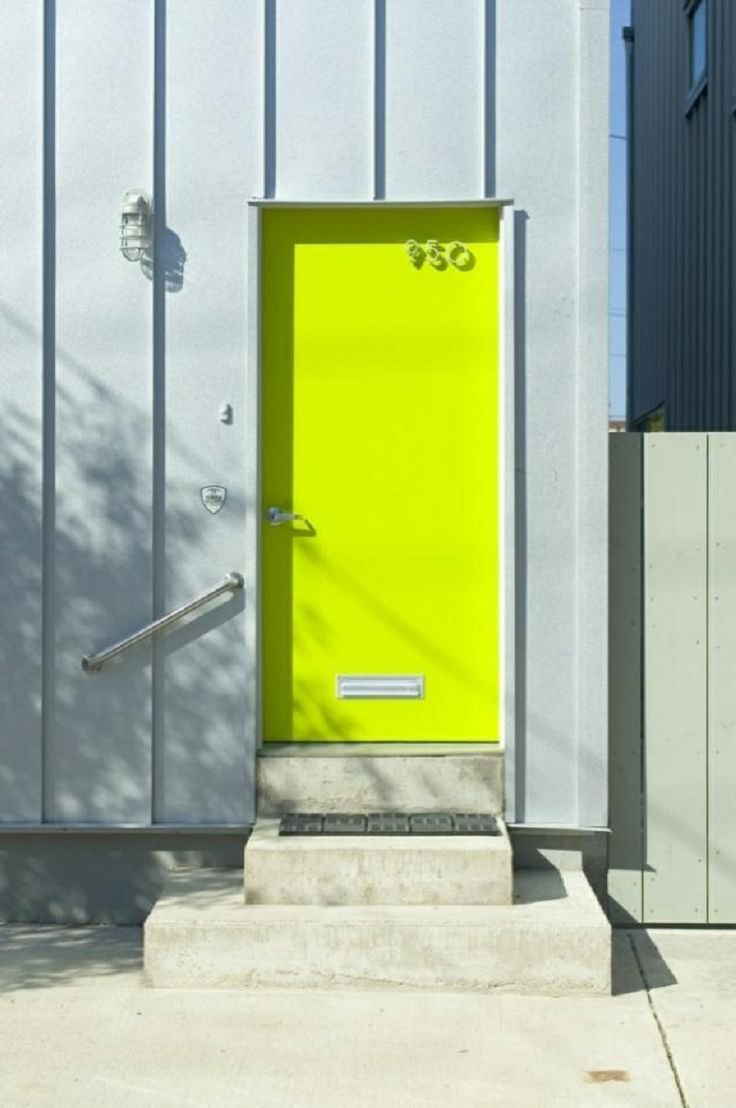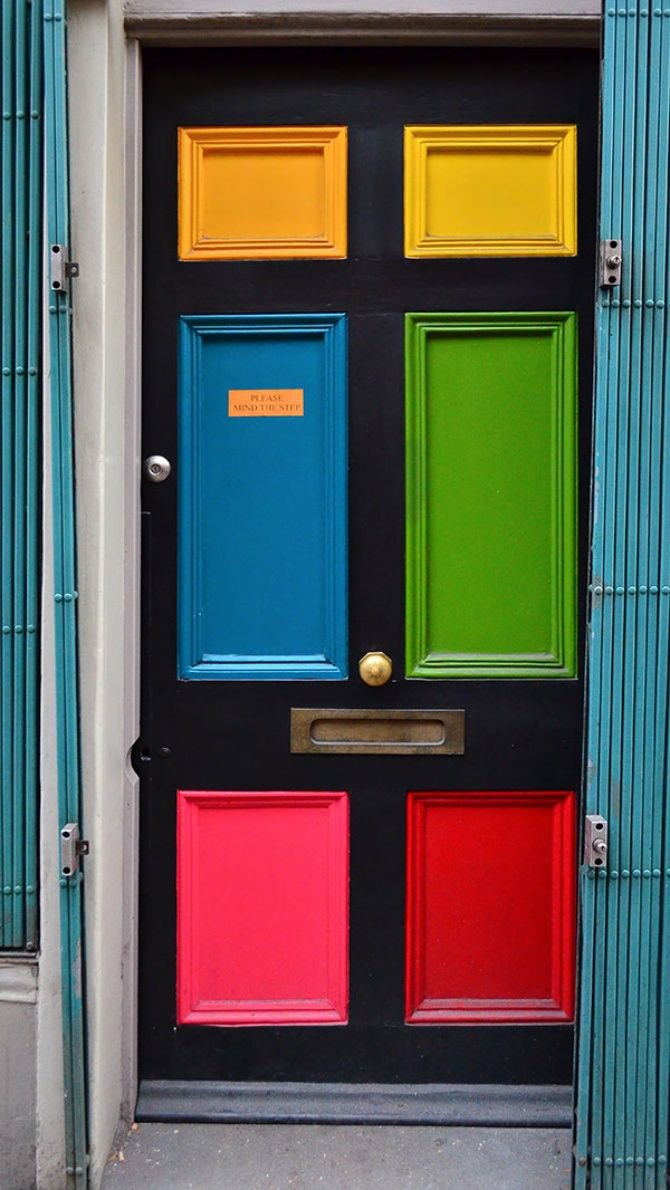 So, you can't decide which color to paint your front entry doors? That's okay. Pull out your inner Mondrian and paint each facet of your front door a different color with black in the middle. I promise you, your front door will be the favorite of every child within walking distance.
Source: homedit.com