Storage space is a scourge of many small and not so small homes. There is never enough space for anything especially if you have a big family and your house or apartment just wasn't built to your needs. Architect Filipe Melo Oliveira has remodeled a 46 square meter apartment in Lisbon's building of year 1938 creating lots of spaces as well as plenty of storage using an organizer wall that divides the room into all the different areas all the while providing the inhabitants with storage and organized neat look.
Maximize Storage Space With Organizer Walls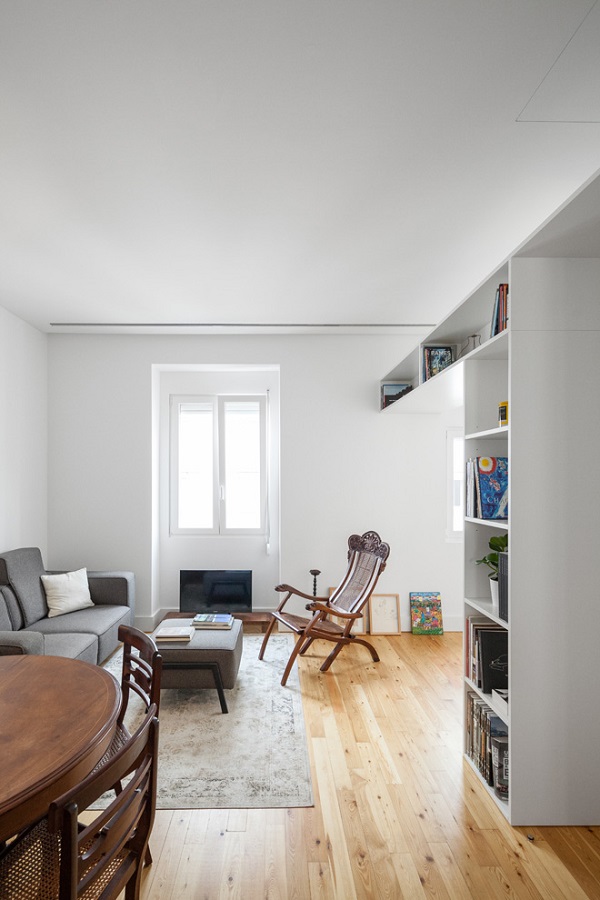 Photography by Joao Morgado
Apartment AB9 has airy interior thanks to white walls and ceiling and light wood floors. The neutral toned furniture and accessories are functional and minimalistic. The living area has an open layot and shares space with a round wooden dining table and a black kitchen counter that disguises all the utencils, stove, and sink. A bathroom, and home office are hidden behind the storage wall.
The wall itself includes both open and closed shelves, so that the things could be displayed as well as hidden from sight. Another partition that divides the kitchen and bedroom forms a wall and an entrance to the room. The bedroom also has an access to a small balcony furnished with simple but stylish outdoor furniture made of wood.
The bathroom that is hidden behind the storage wall's numerous doors is covered with small round tiles and also features storage units built into the wall.
Everything about this small apartment says function. The clever wall design offers multiple space saving solutions, which could and have bene used in other interior projects.