Beautiful window seat designs with heaters are excellent decorating ideas that add comfort and warmth to your home. Window benches with soft pillows or decorative furniture pieces that hide heaters fit into any home interior, creating favorite spots for everyone in your family. Decorative furniture items with shelves that hide a heater offer a convenient storage solution for space saving interior design. Contemporary electric heaters and retro style cast iron radiators become completely invisible inside a window seat, storage furniture items or decorative shelves. Pillow fabrics of window benches bring pretty colors and softness to interior design, creating a comfortable window seat and making entryway, hallway, kids room or kitchen nook designs more attractive and functional. Window seat designs make modern interiors feel relaxing and charming, adding warm and pleasant wood furniture in contemporary or retro style to your entryways, hallways, kids room and kitchen designs. Decorative wood furniture and storage shelves, combined with a heater bring a country style flavor to modern interiors.
Window seat designs that hide heaters
Window seats, that hide old heaters or small cast iron radiators, and decorated with soft beautiful pillows are a nice way to combine functional wood furniture with heating, creating pleasant spots for rest and adding beautiful decorative accents to modern interior design. The warmth of a small wall heater or retro style cast iron radiator make contemporary or traditional window seat designs true home decorations, especially attractive for children and grandchildren.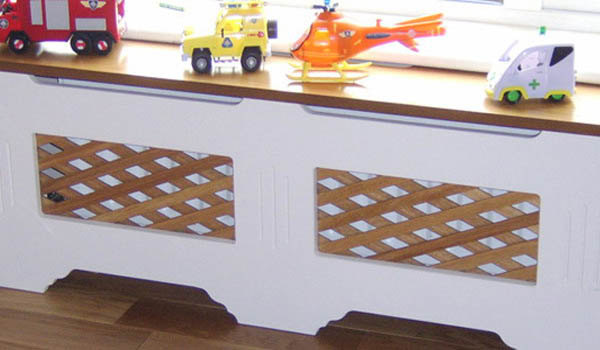 If you live in a cold climate zone, you have to heat the house or apartment in late fall, winter and early spring. Adding a wood furniture item that hides an old heater or a small cast iron radiator makes modern interior design feel warmer, cozier and more welcoming.
Painting old heaters and cast iron radiators, stylish accents in retro style Building a storage unit or a wooden window seat above and around an old heater is a stylish and creative way of enriching modern interior design, adding a comfortable seat to entryway, hallway, kids room or kitchen nook and making your home interiors more comfortable.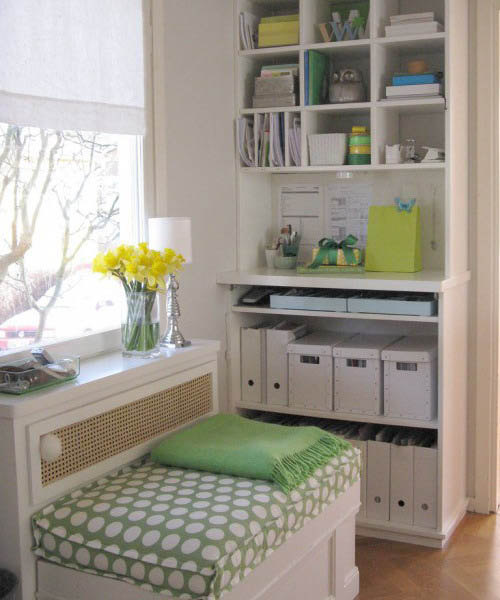 Window bench designs and shelving units that cover a small wall heater make the heating system a part of functional, beautiful and modern interior design.