You know, not too long ago the only spaces in your home that you had to worry about designing were those that are inside. But, that's simply not the case anymore. Even in the coldest climates, homeowners are paying an increasing amount of attention to the design of their outdoor living spaces.
Truthfully, it's for good reason. Your outdoor living spaces can really change the whole feel of your home, offering you and your family a space where you can enjoy one another's company – not to mention offering a space where you can throw a killer party.
Now, there's a lot to think about outdoor living spaces, but one thing you'll be seeing more and more of is the outdoor kitchen designs. It's simply not enough anymore to have a grill on the porch. You have to have a whole area where the grill master can go to work. It may seem like overkill, but trust us… Once you have an outdoor kitchen of your own, you'll never go without one again.
Not sure what goes into an outdoor kitchen designs, or are you looking for inspiration for you one of your own? Let us encourage you, then, to check out these 47 amazing examples!
1. Fire Pit.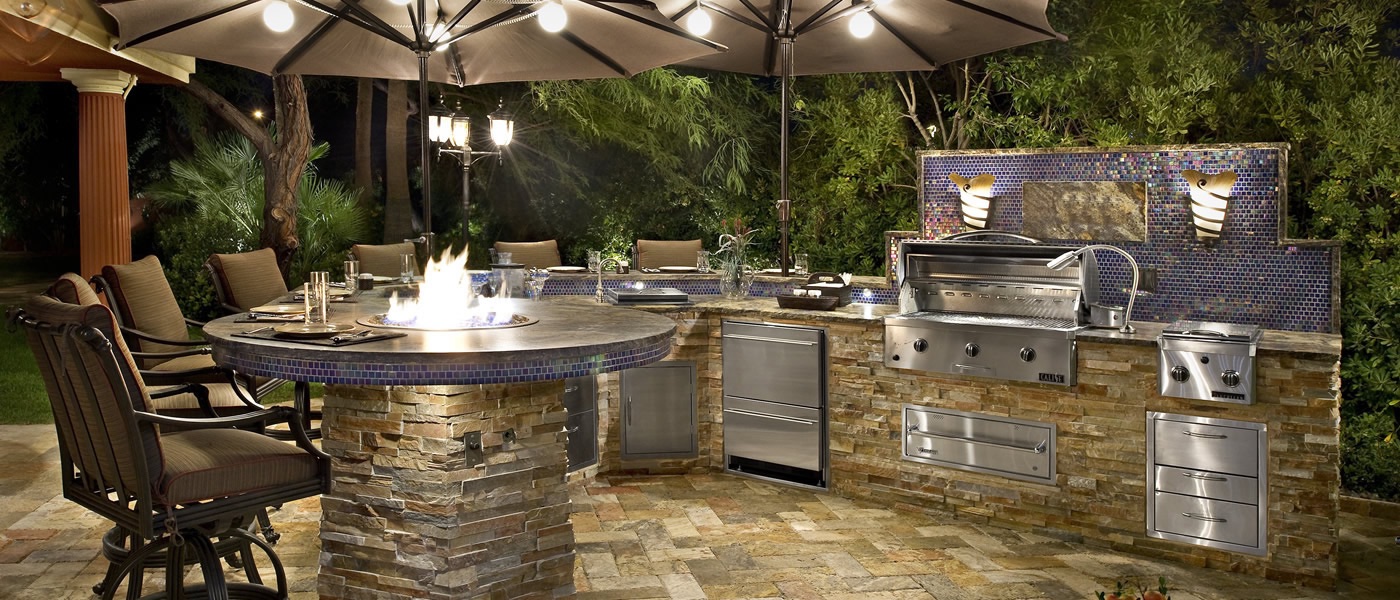 You can have the best of two worlds when you install a fire pit into your outdoor kitchen's countertop.
2. Keep 'Em Cold.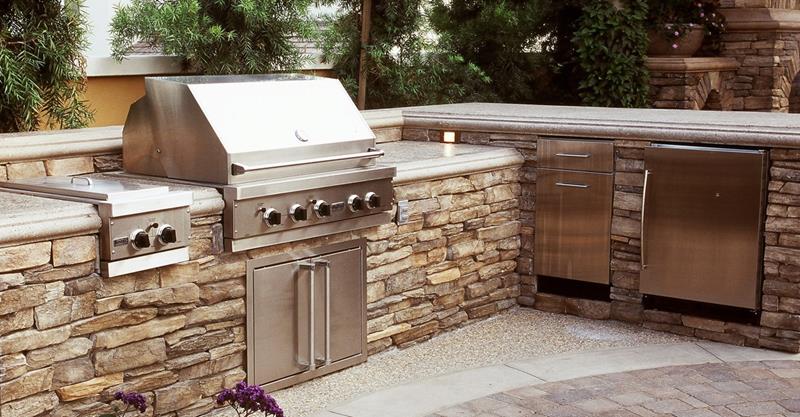 The outdoor kitchen designs: having a refrigerator in your outdoor kitchen is ideal, whether it's for holding food or for chilling adult beverages.
3. Chill Out.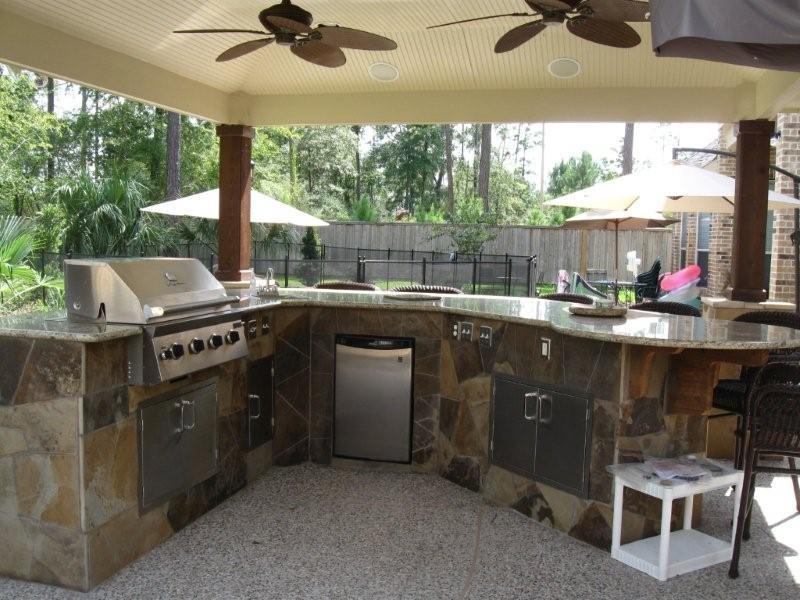 Ceiling fans can be a great way to keep yourself cool while you're cooking outside on a hot day.
4. Placement.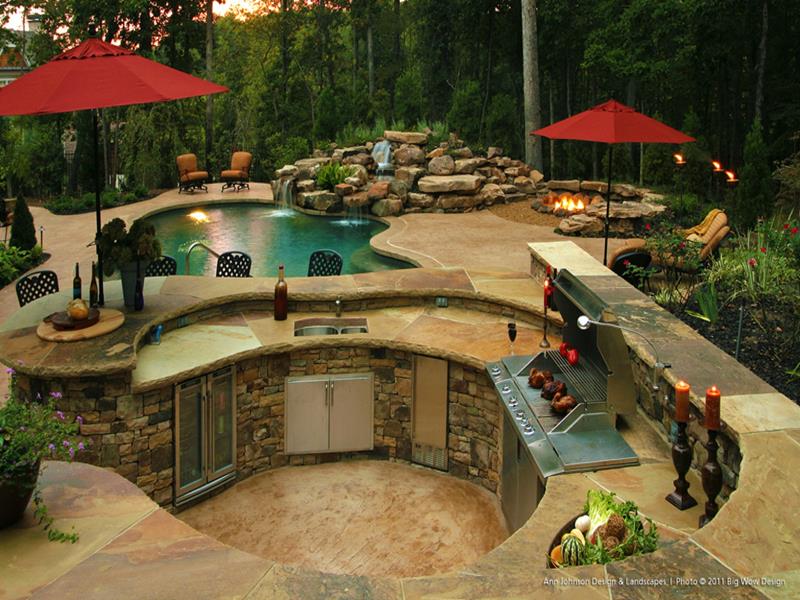 Putting your outdoor kitchen right next to the pool ensures that the grill master is never far away from the action outside.
5. Classic Look.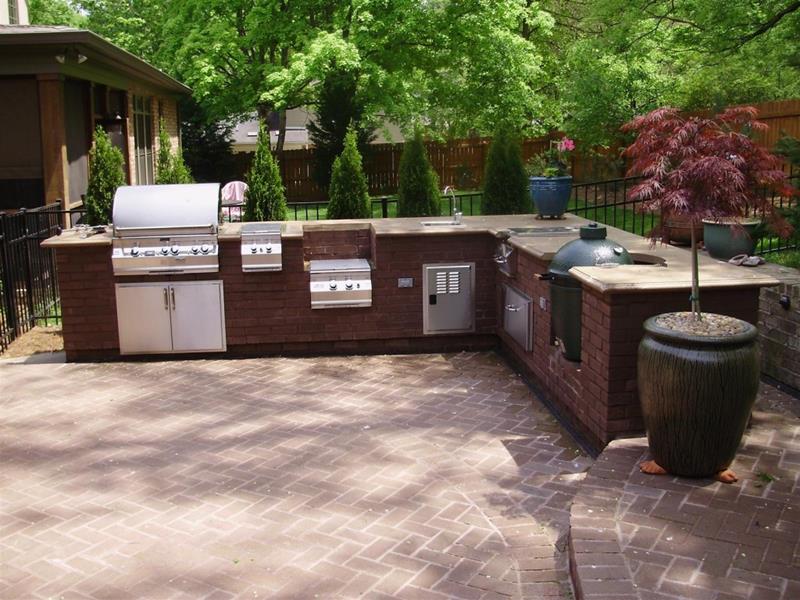 You can use a number of different materials to build your outdoor kitchen, but red bricks are ideal for a classic look.
6. Bar Seating.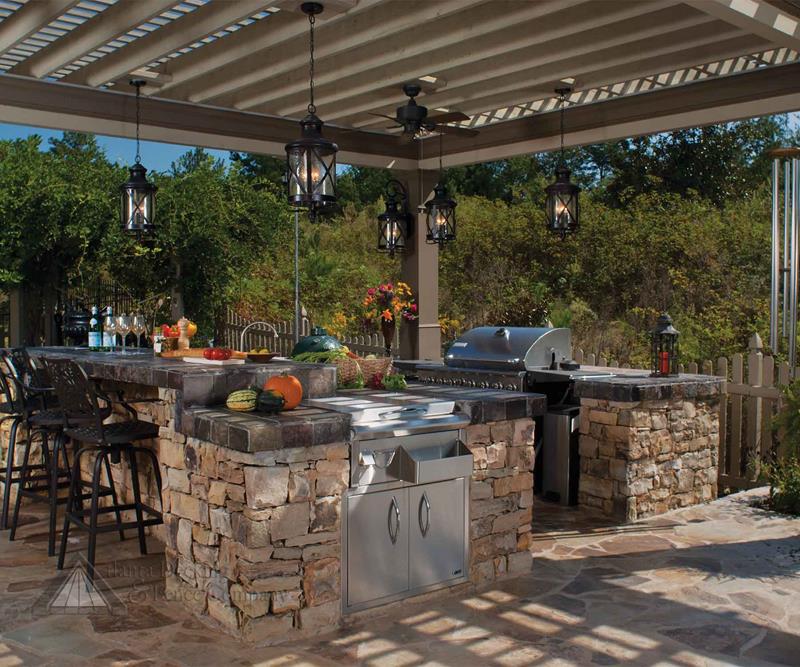 Having bar seating at your outdoor kitchen ensures that yours is one that screams party!
7. More Materials For Outdoor Kitchen Designs.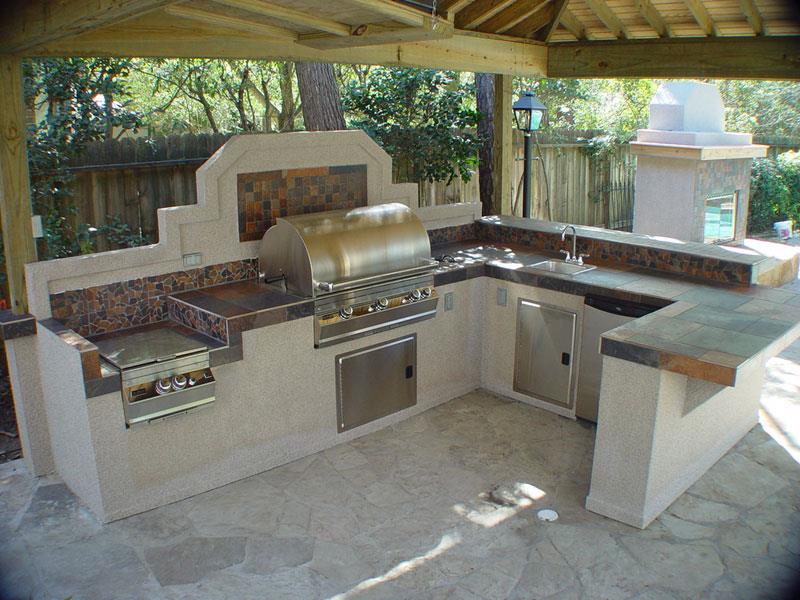 This wonderful and efficient outdoor kitchen gets its looks thanks to concrete and beautiful tile work.
8. Granite Everywhere.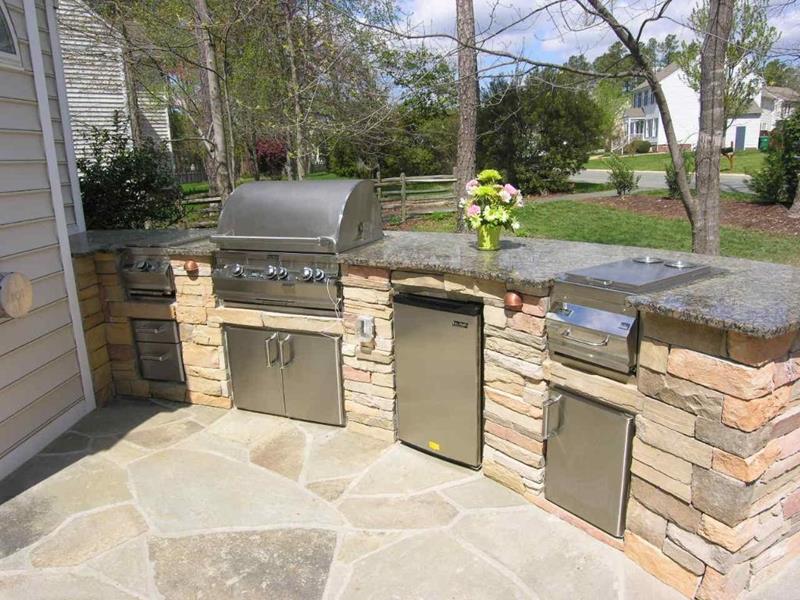 Just as you might want to inside, you can use granite countertops on your outdoor kitchen setup.
9. Stay In The Game.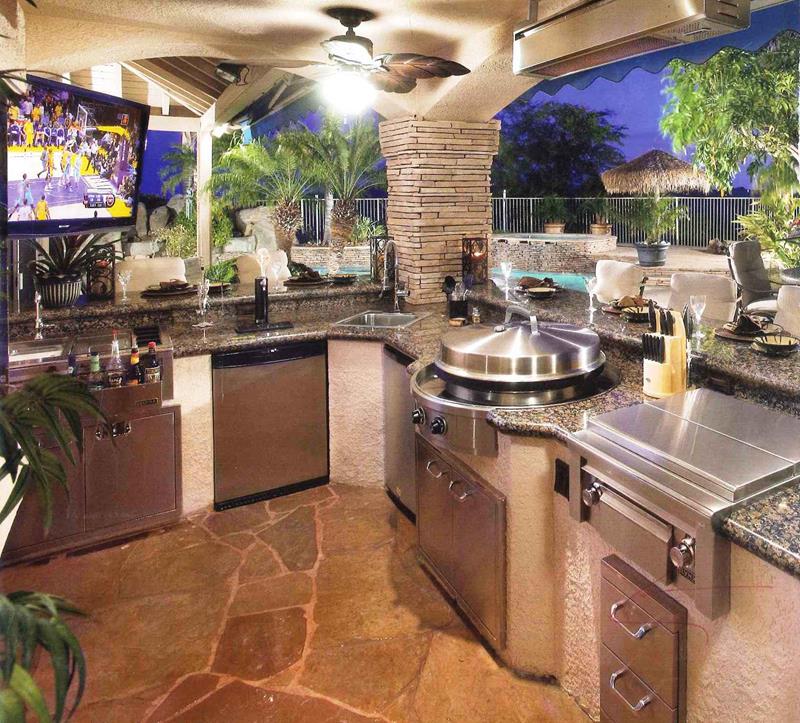 Imagine how amazing a football Saturday or Sunday would be if you had an outdoor kitchen with a television.
10. Pizza Anyone?
Wood-fired pizza is a delight! Maybe it's time you built a pizza oven of your own outdoors?
11. Aesthetic.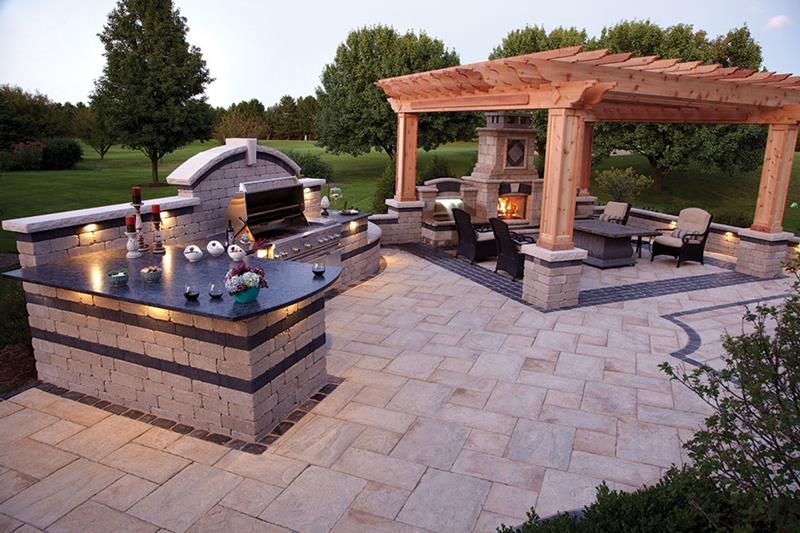 You want your outdoor kitchen to match the overall look of your outdoor living space – check out how well this example accomplishes that.
12. Go Big.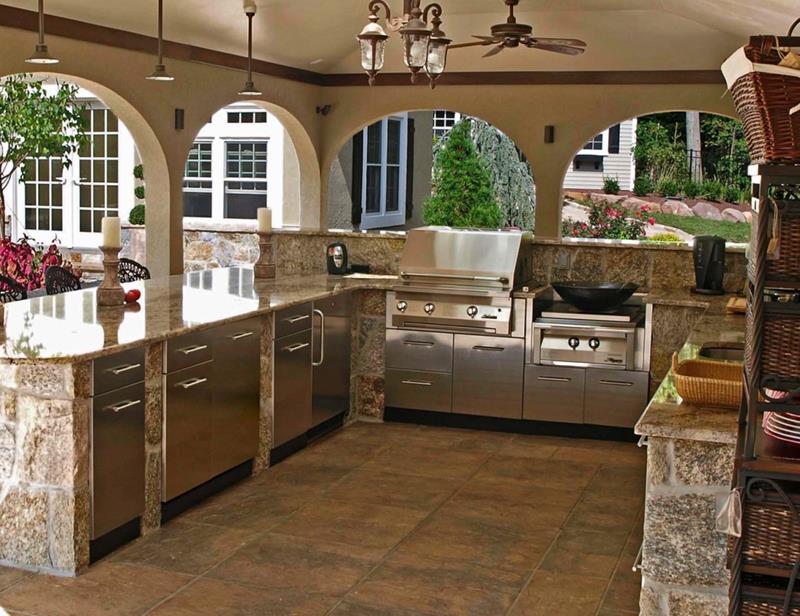 If you want a professional-style kitchen outside, there's nothing stopping you from doing just that.
13. The Outdoor Kitchen Designs: Smoky.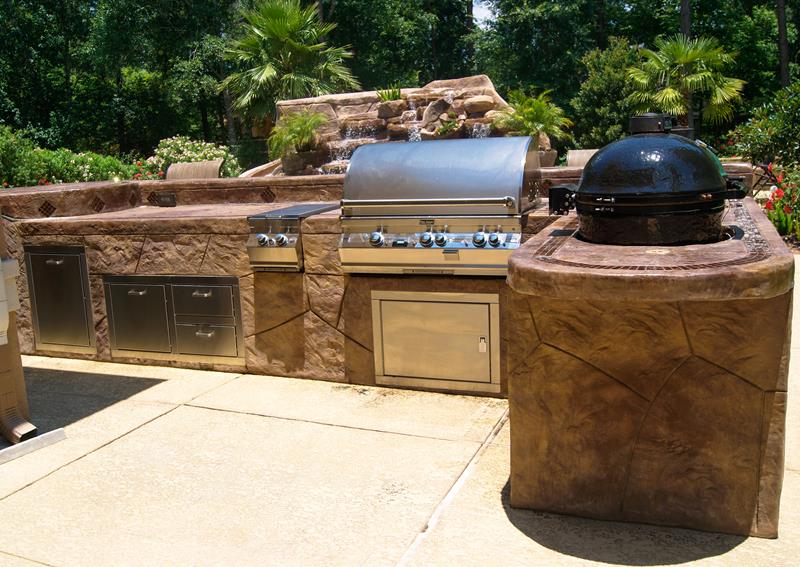 Came you incorporate a smoker into your outdoor kitchen? You bet you can! Check this one out.
14. Lights!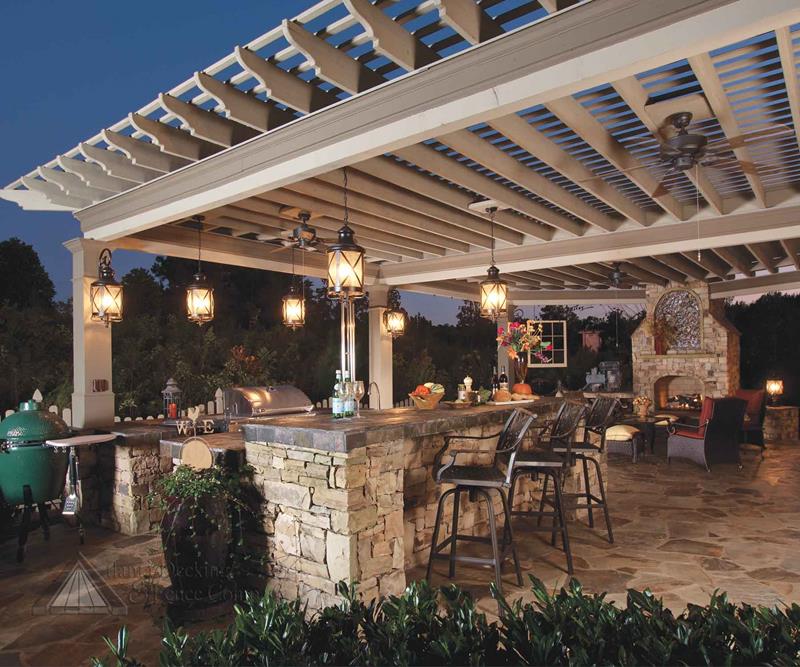 Just as with your indoor living spaces, attractive light fixtures can really help you set the mood for your outdoor kitchen.
15. Back Of House.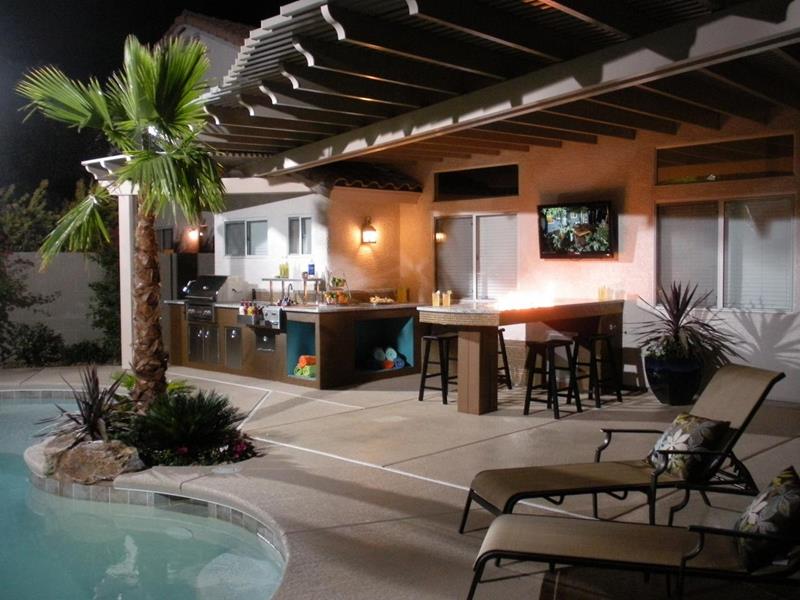 Building your outdoor kitchen along the back wall of your home can be attractive and incredibly efficient.
16. Fire Below.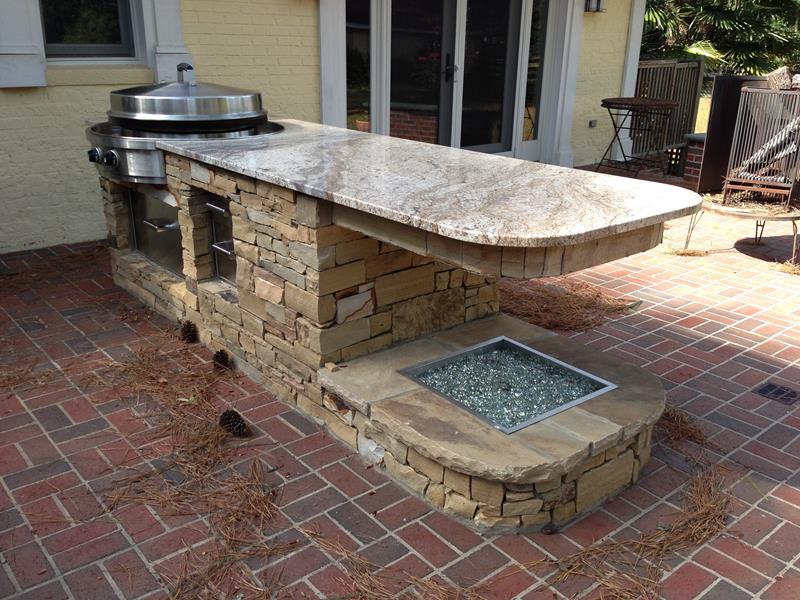 Rather than placing your fire pit on the counter, you can also place it below the counter like this.
17. Lines.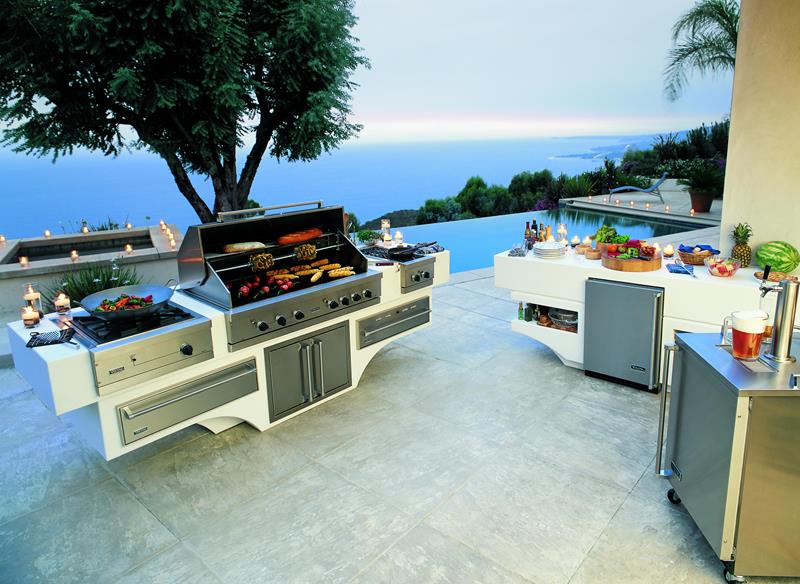 To really give your outdoor kitchen a luxurious look, consider using interesting lines in its overall layout.
18. Simplicity.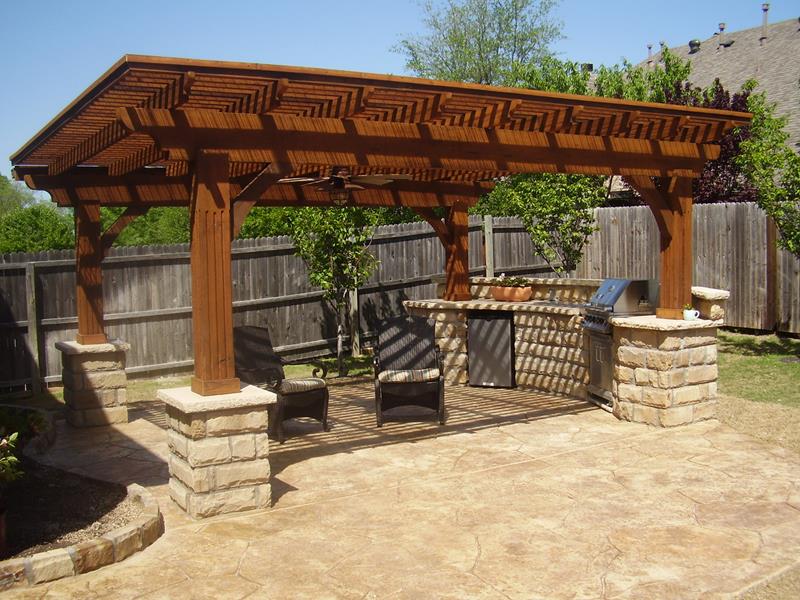 Sometimes all you need is a cozy place where you can fit a grill into an outdoor counter.
Not surprisingly, as the basic materials for the construction finishes were selected wood and stone – the closeness to nature encourages the use of natural raw materials.
19. Super Smoky.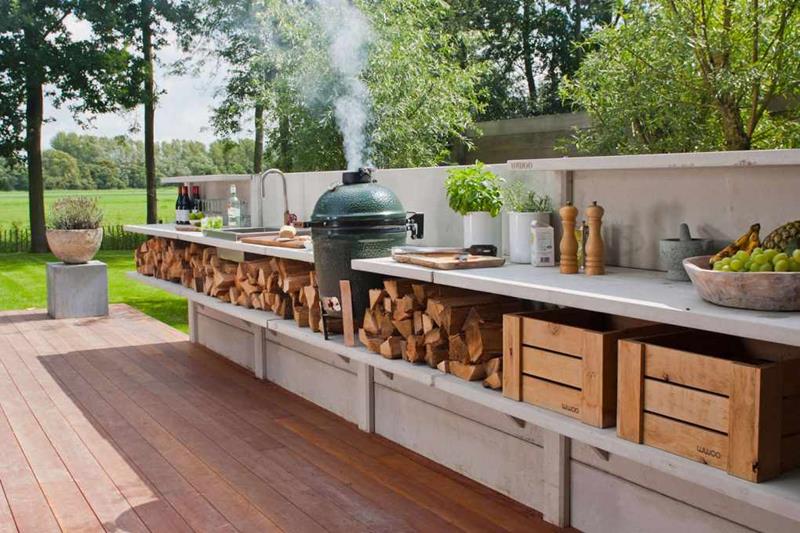 Those of you who dream of having the ultimate outdoor smoker setup will be green with envy looking at this outdoor kitchen example.
20. It's Own Thing.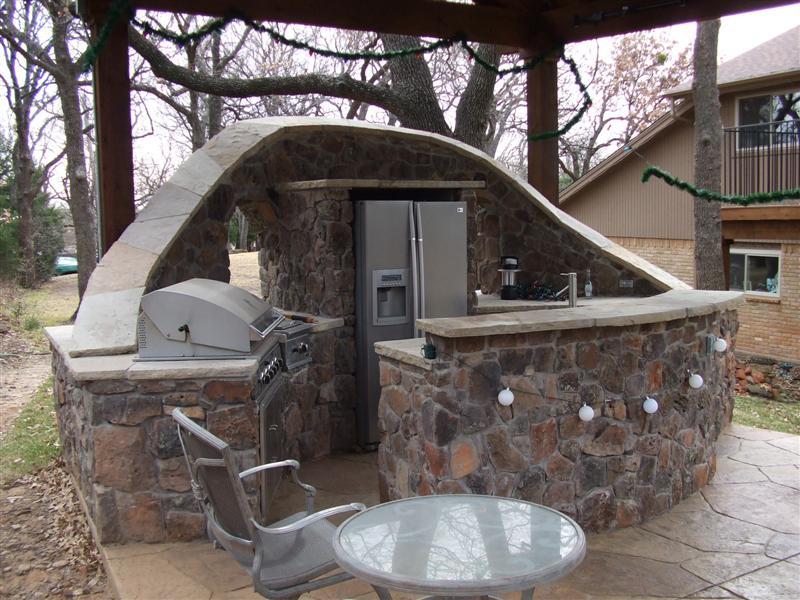 Although smaller than many of the other examples on this list, you have to admire this outdoor kitchen's ability to fit a lot into a small space.
21. Stretching Out.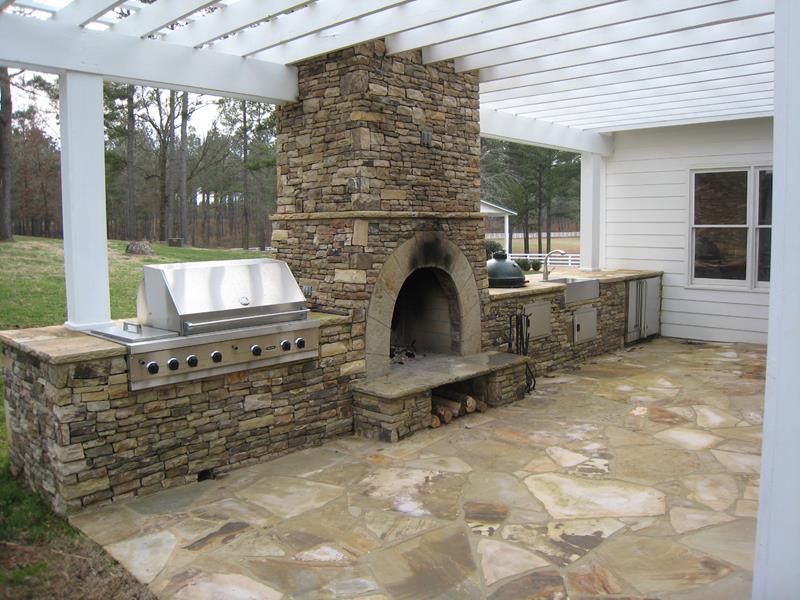 Rather than building your outdoor kitchen along a back wall, you can extend it out from the home.
22. New Meaning Of Outdoor Kitchen Designs.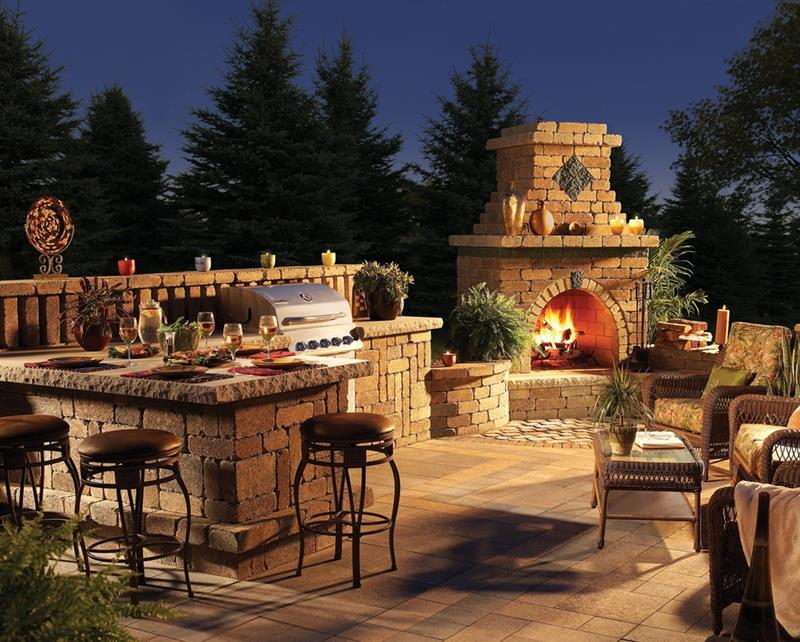 You have to admit that this outdoor kitchen gives new meaning to the term outdoor living space.
23. Keep It Clean.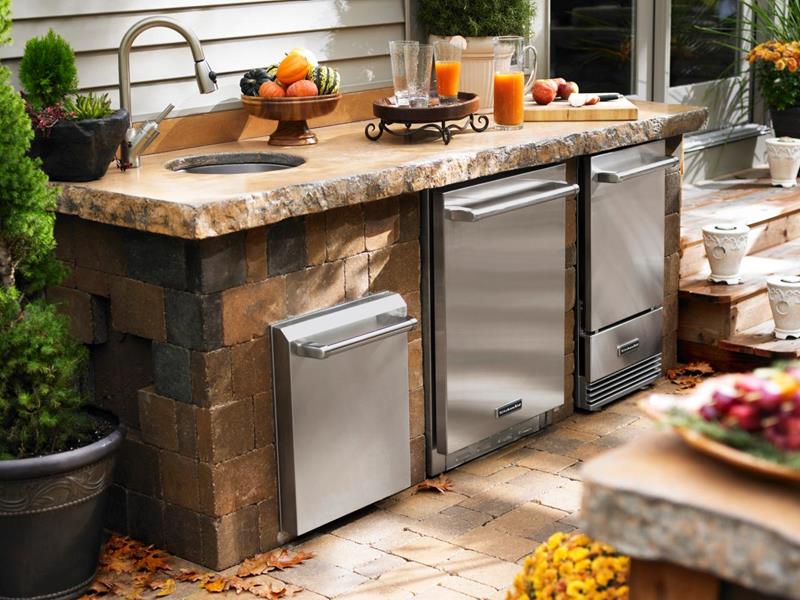 A good chef is a clean chef – so, you'll appreciate having a dishwasher in your outdoor kitchen!
24. Steel: Use The Professional Style.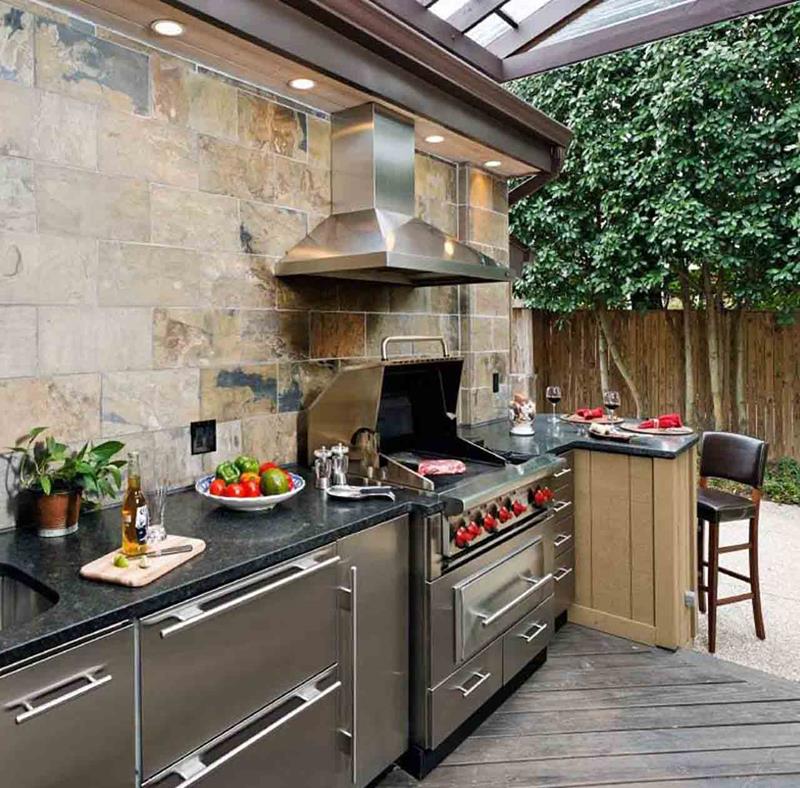 Steel cabinets can work wonders in an outdoor kitchen, and they also lend the space an air of professionalism.
25. Living Room.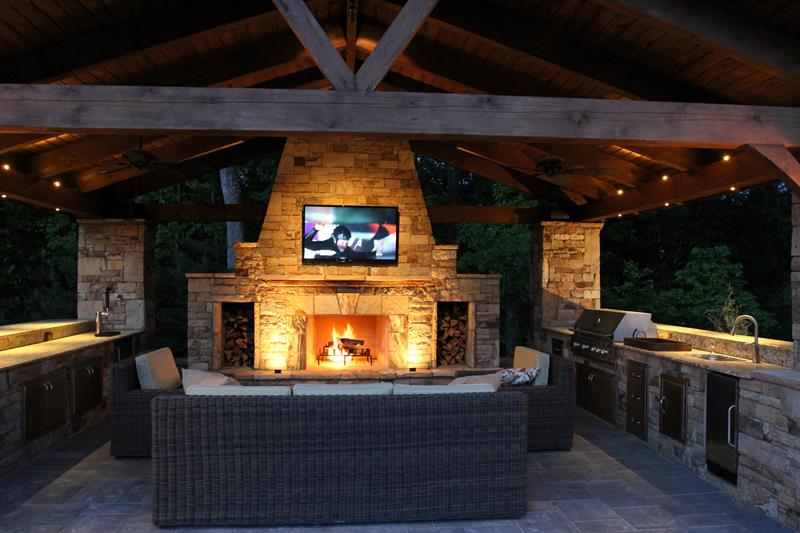 With an outdoor living room built into it, this massive outdoor kitchen is an excellent place to grill and chill.
26. Curved.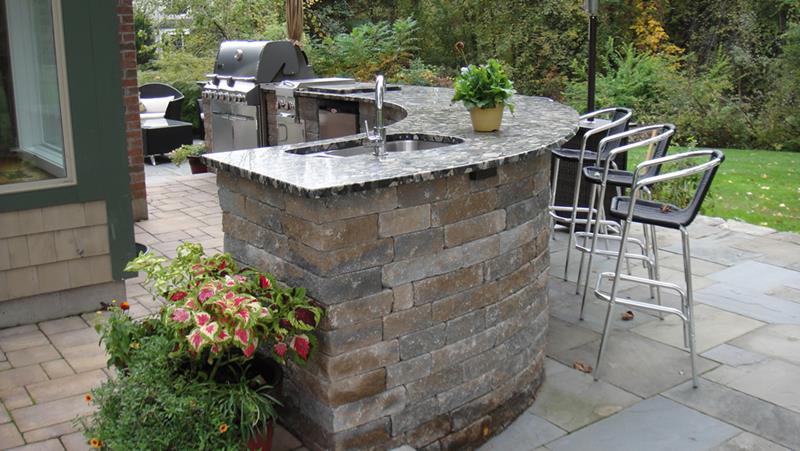 If you're building your outdoor kitchen around the corner of your home, a curved layout can work excellently!
27. Stone.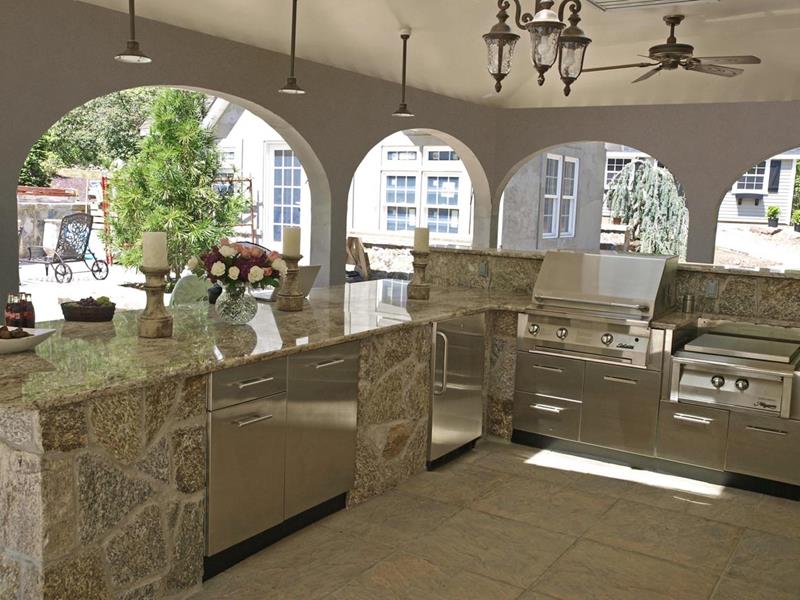 The beautiful stonework and high-gloss granite countertop give this outdoor kitchen a cheerful look.
28. Shelves.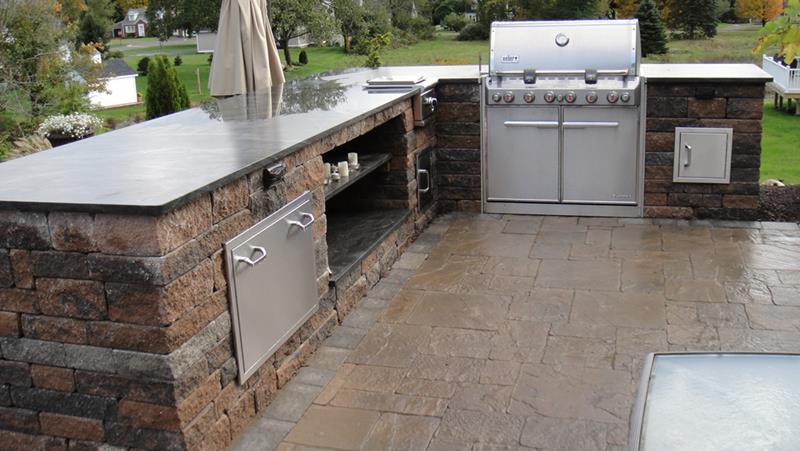 Under-counter shelves can be an attractive addition to your outdoor kitchen, and they can increase its functionality.
29. Fully Loaded.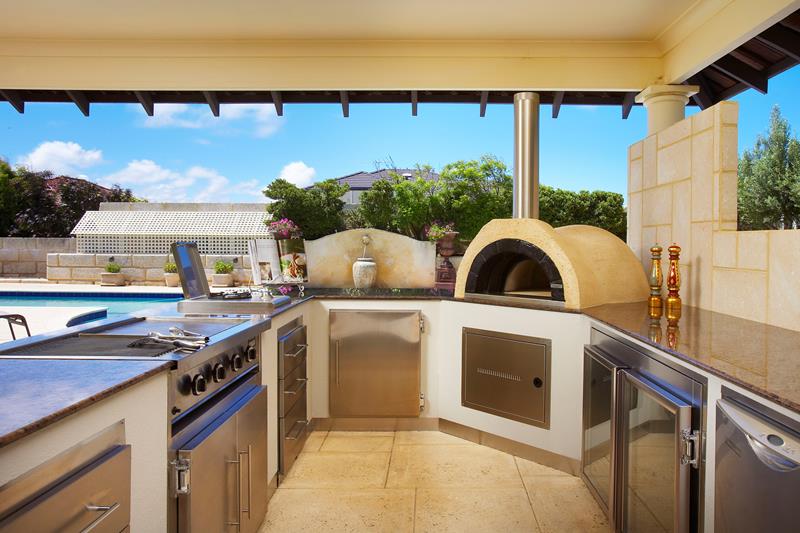 If you want an example of a fully loaded outdoor kitchen, then this is it! From a pizza oven to a griddle, it has everything.
30. More Thought.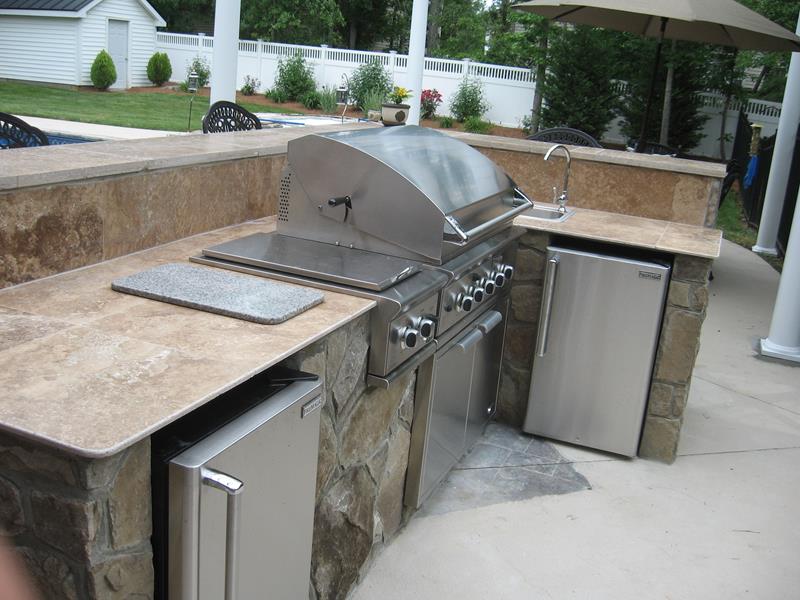 There's a lot to like about this outdoor kitchen except for one thing – check out that sink placement! Don't make the same mistake.
31. Like A Living Room.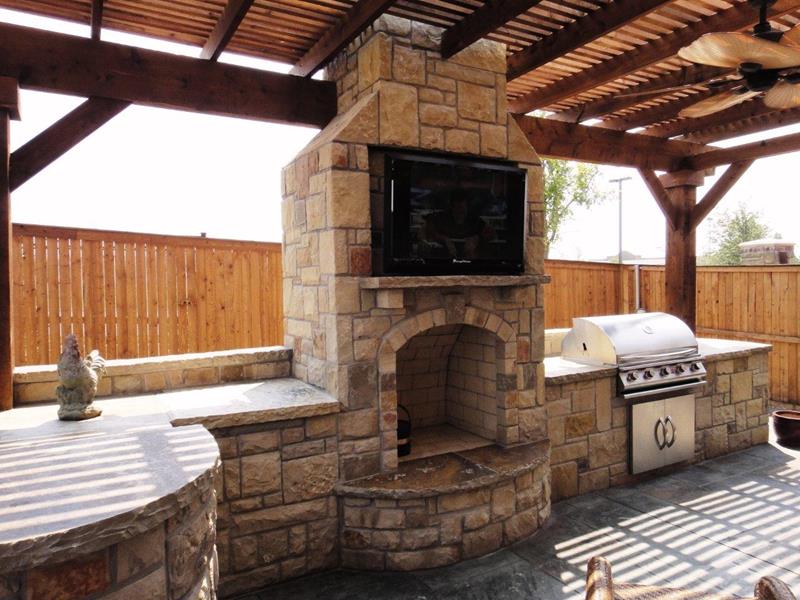 Just as you might put a TV above your indoor fireplace, so too can you place one above your outdoor kitchen's fireplace!
32. Awesome Look.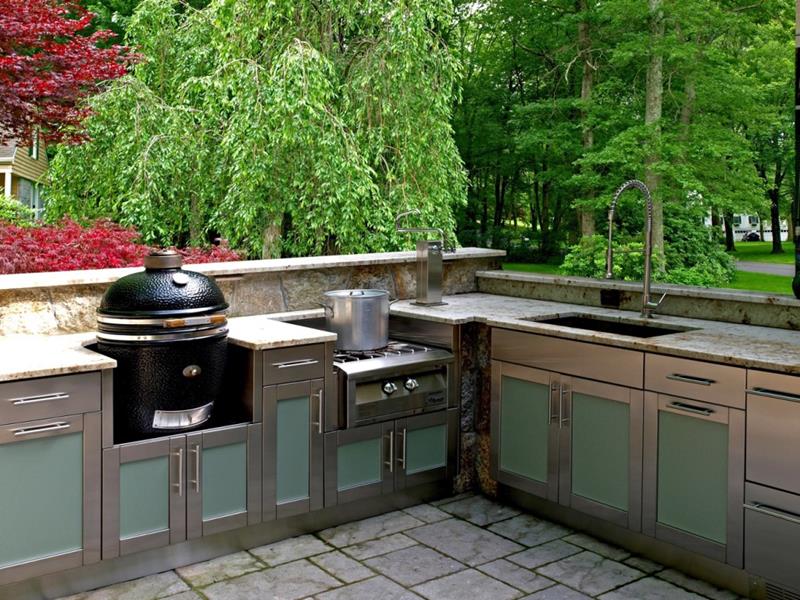 The steel cabinets with frosted glass fronts give this outdoor kitchen a professional and modern look.
33. Hooded: More Comfort While Cooking.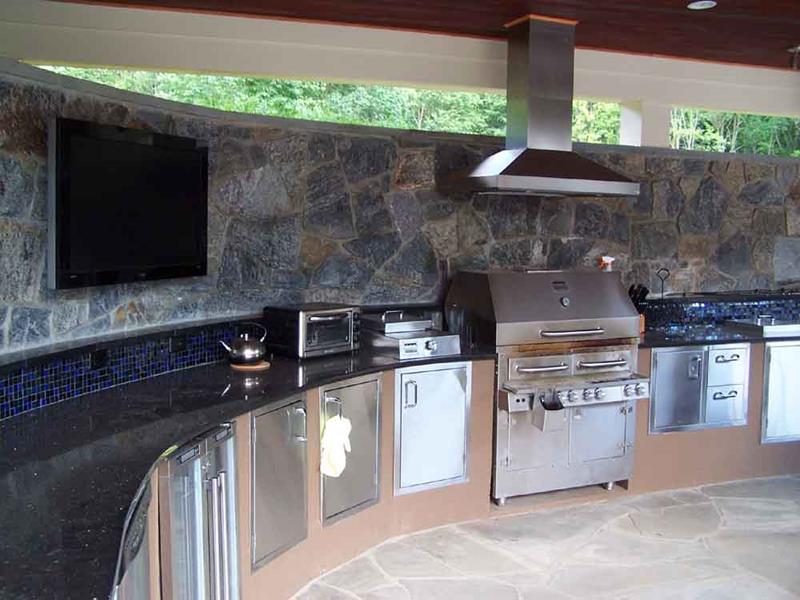 While not necessary for your outdoor kitchen design, you may appreciate having a hood above the grill.
34. Appliances Galore.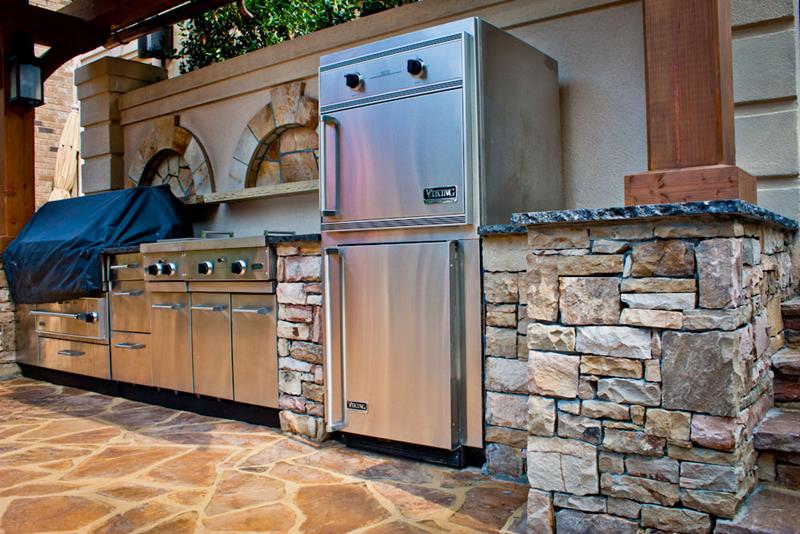 When it comes to outdoor kitchen appliances, Viking is a brand you can trust and one that has a lot of options for you.
35. All Wood.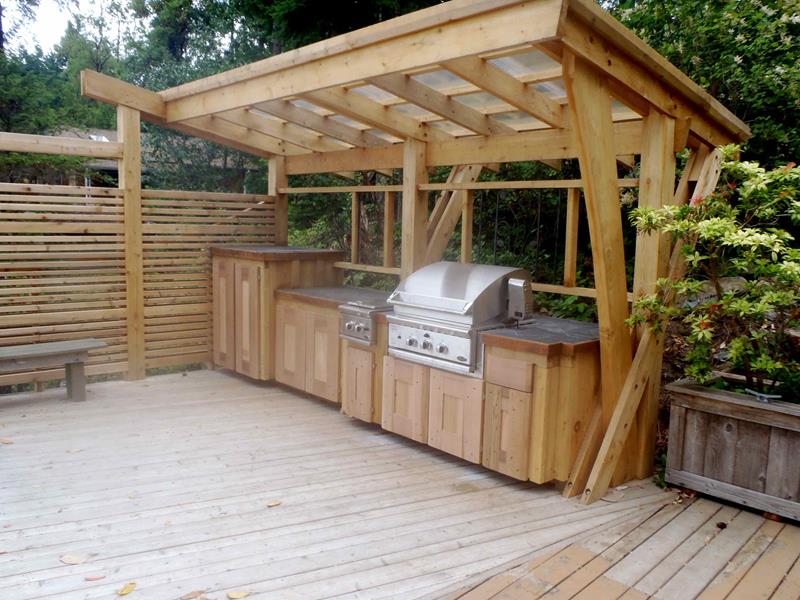 Not only can an all-wood outdoor kitchen look attractive, it will also be less expensive than on involving masonry.
36. Keep It In Front.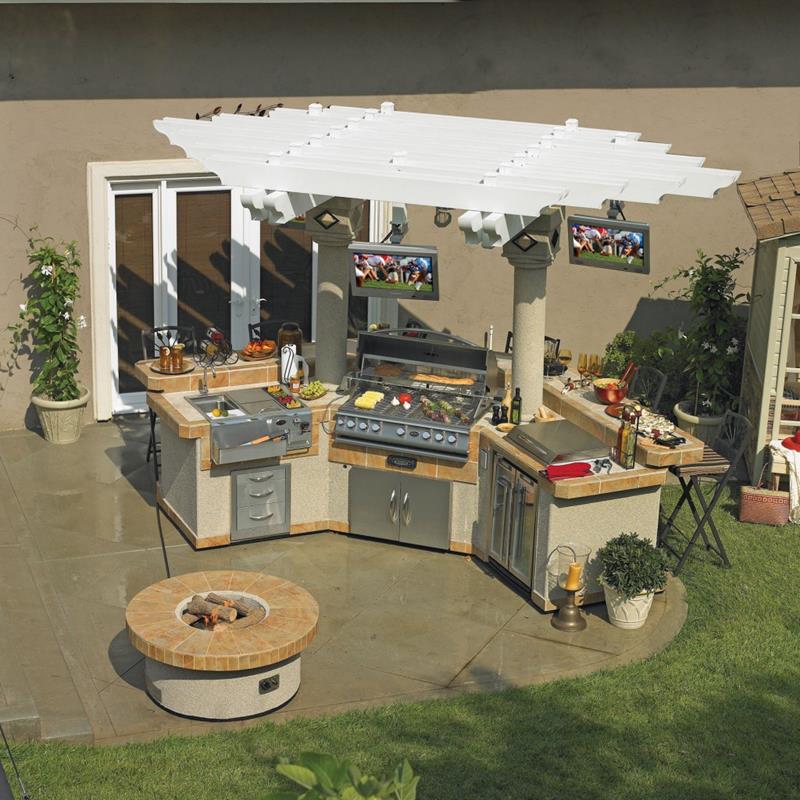 It may be a smaller outdoor kitchen, but you have to admire the way in which its design keeps everything right in front of the cook.
37. Under My Umbrella.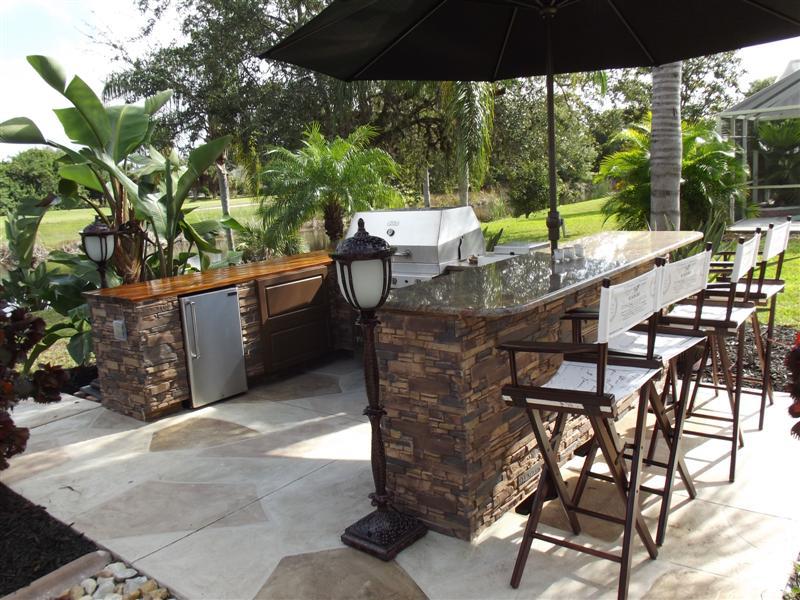 If you don't want a roof or pergola over your outdoor kitchen, you can go for an umbrella like this example does.
38. Workspace.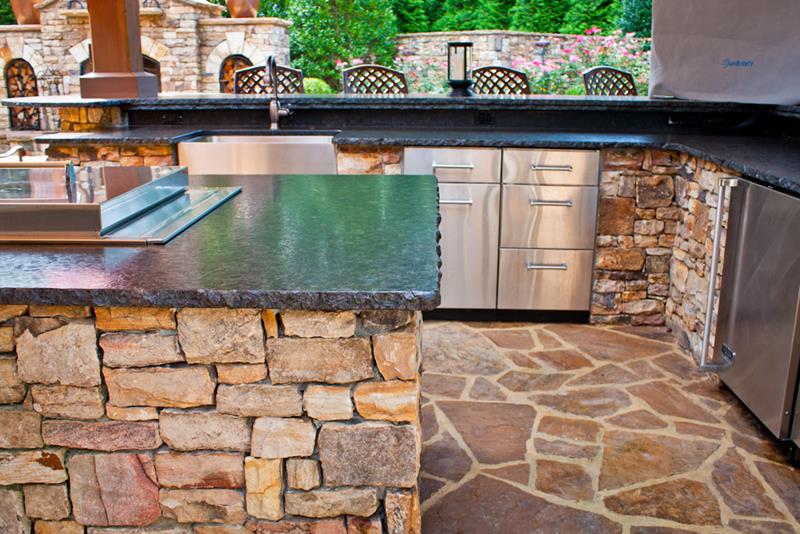 The design of this L-shaped outdoor kitchen with island affords plenty of room for multiple cooks to go to work.
39. Almost Indoors.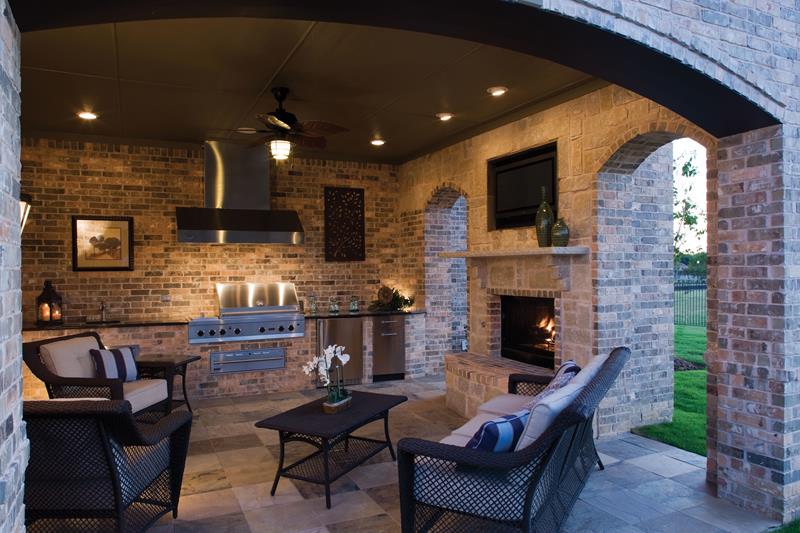 Check out how this outdoor kitchen design splits the difference between an indoor and an outdoor living space.
40. Gather Around.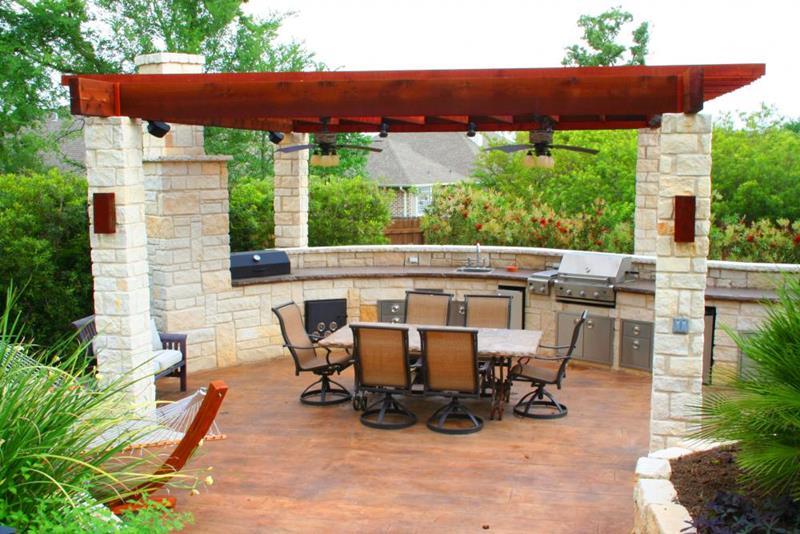 The layout of this outdoor kitchen is perfect for gathering to dine with friends and family.
41. Tiki Ti.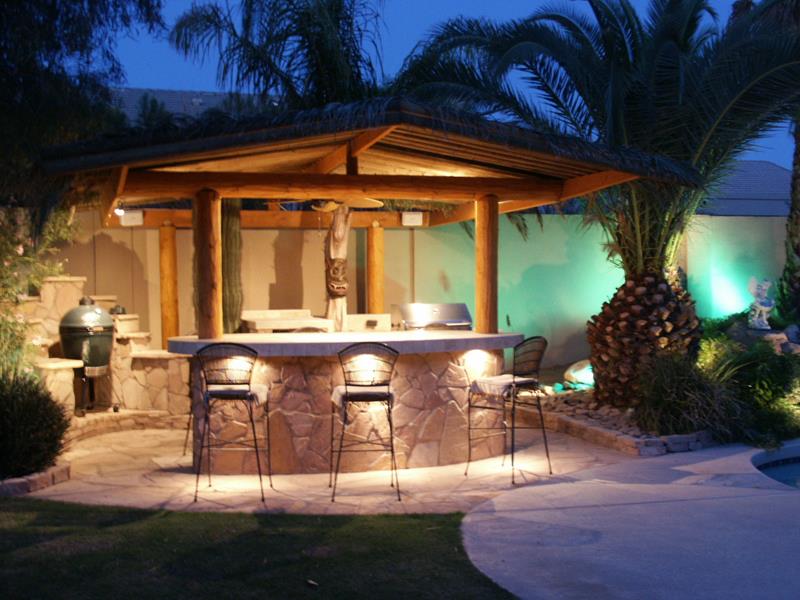 Those who appreciate their adult beverages will love that an outdoor kitchen can double as a tiki hut.
42. Modern Style.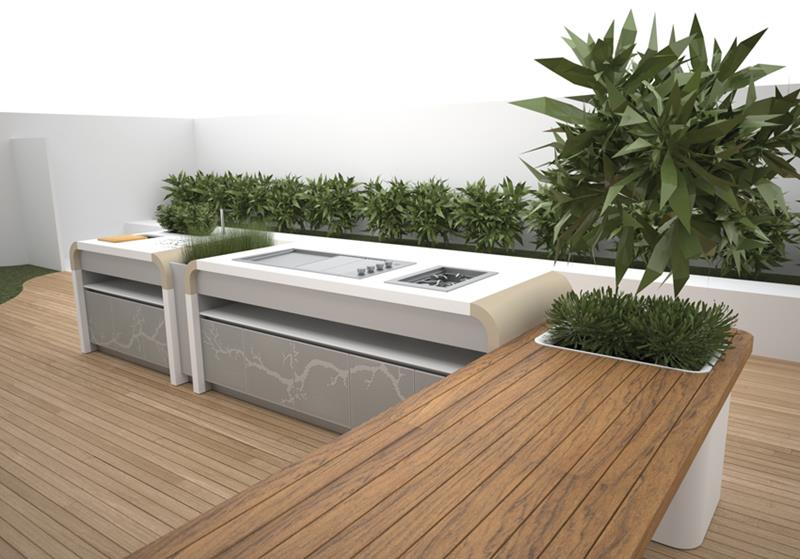 Although not exceptionally common, there are contractors who can build a stylish and modern outdoor kitchen for you!
43. Hooking.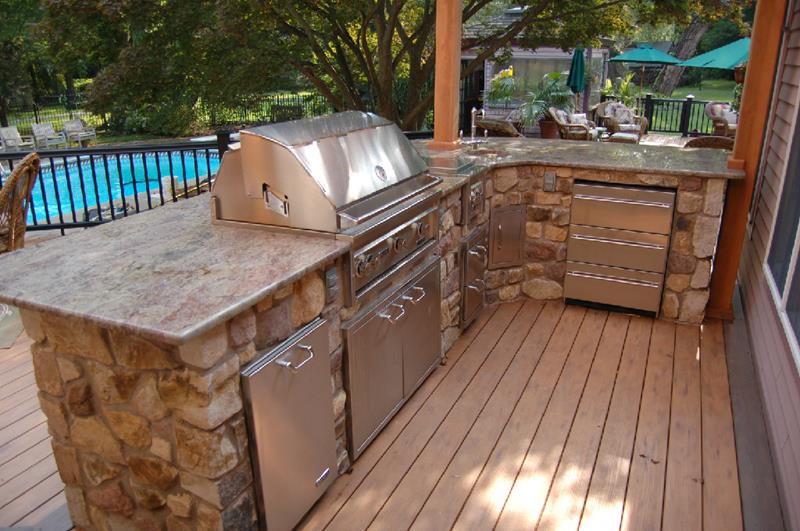 Another outdoor kitchen layout you can consider is one that extends in an L-shaped pattern from the home.
44. Décor.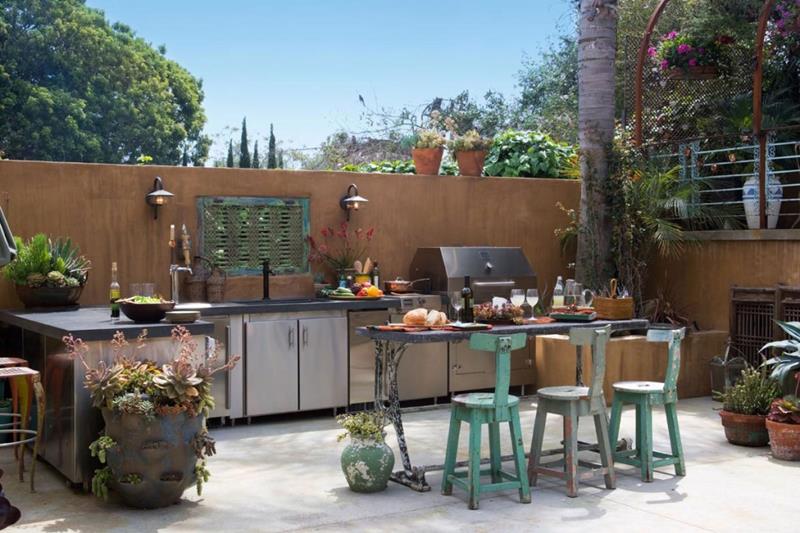 Even with an outdoor kitchen, you'll want to be sure to turn your design attention toward décor at some point.
45. Pergola.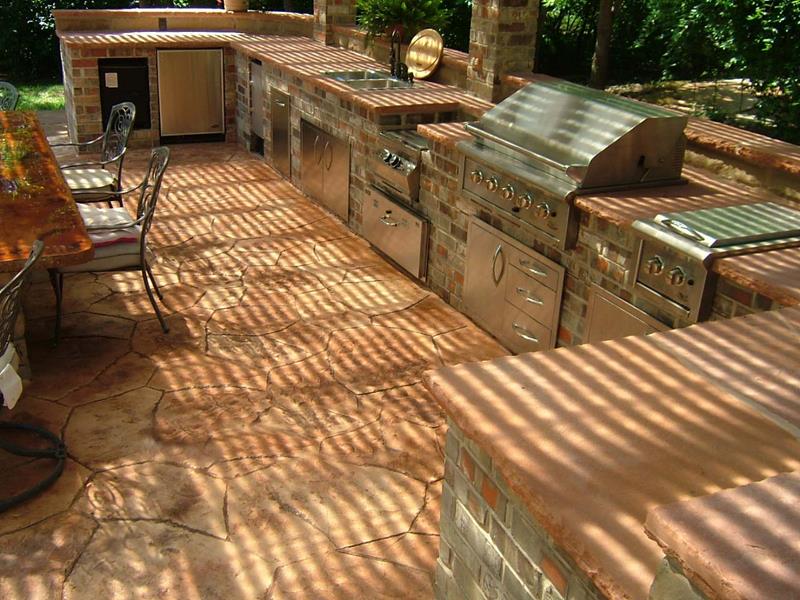 One of the reason you see so many pergolas over outdoor kitchens is due to the charming effect – evident here – that they have upon them.
46. Contemporary Feel.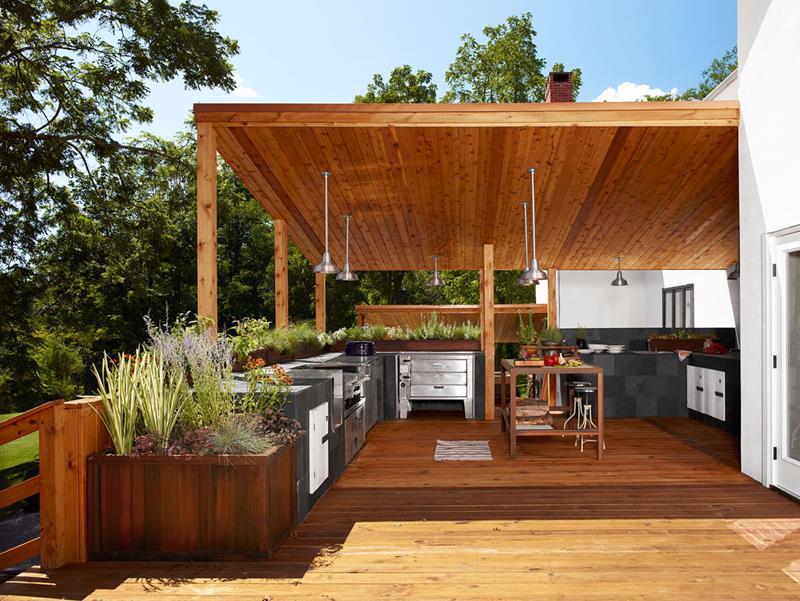 Here's another example of an awesome outdoor kitchen that adopts a decidedly contemporary style.
47. Grillin'.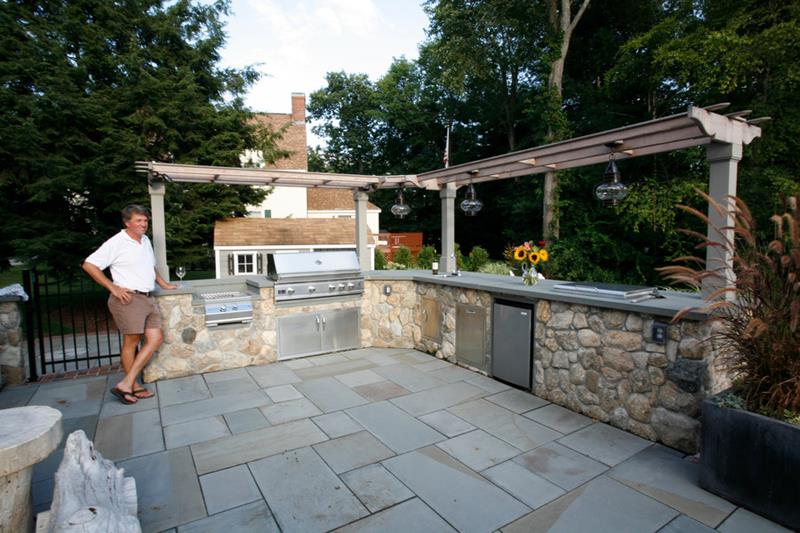 An outdoor kitchens is an amazing thing to have. If you like to grill, then you owe it to yourself to build one!
Cooking in outdoor kitchen and rest for example in chairs in the evening – an indescribable pleasure, especially when everything around breathes nature and filled with scents of plants and flowers.
Source: http://www.homeepiphany.com/