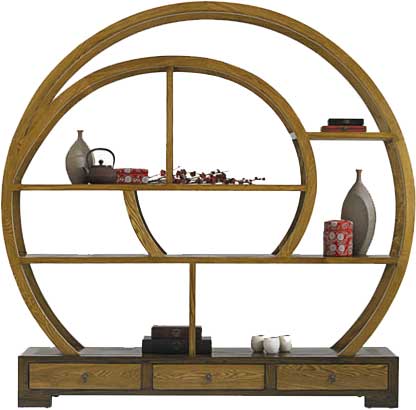 The Ellipse Bookcase has a beautiful design that will enhance the beauty of any room. The bookcase is made of sturdy elm wood and layers of wood veneer; the shelves are covered with unrolled bamboo. If you have a lot of books, this bookcase is not for you; it is for someone who cares more about how things look like than the books on the shelves.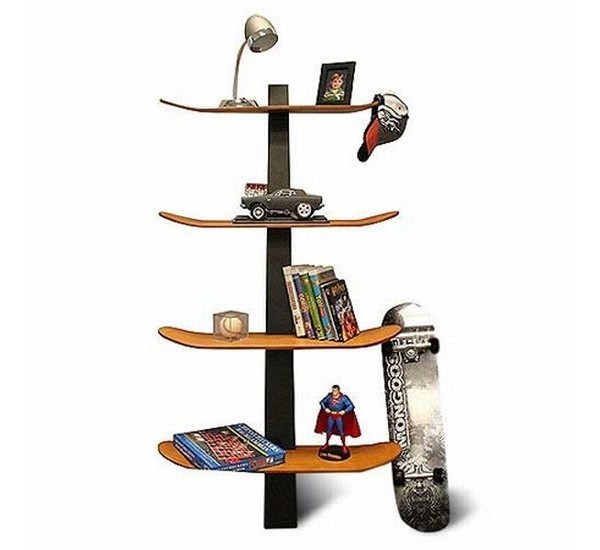 The Skateboard shelf is a piece of furniture that every skateboard lover would think is awesome. Perfect for students and kids, it provides substantial storage space for books, accessories and even skateboard paraphernalia.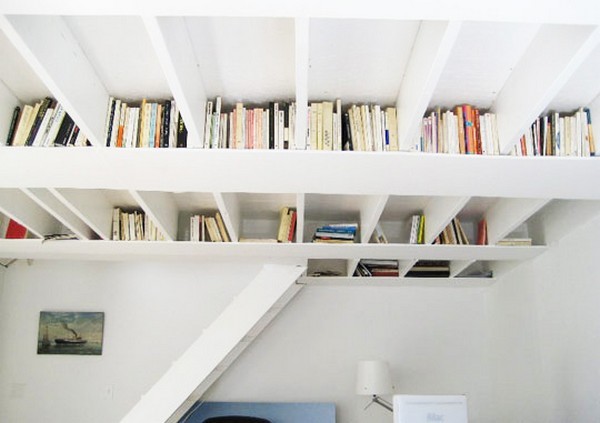 The Ceiling Bookshelf is a great idea for book storage if your space is limited. As you can see, a place that 99.9 percent of people don't use can be used in a very practical way, and it will save a lot of space in any room. The Ceiling Bookshelf is an idea that can be applied easily; but in order to get a book, you'd have to use a chair or ladder.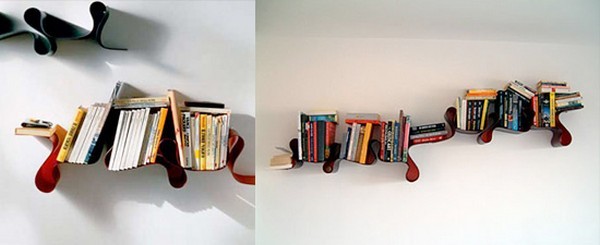 At first glance, it appears that arranging books on the Lovely Rita bookshelf could be a real adventure. It can be a single shelf or repeated by combining additional units, becoming a bookcase of any desired length. Thanks to its special shape, it allows two different figures to be designed on the wall, according to which way it is hung.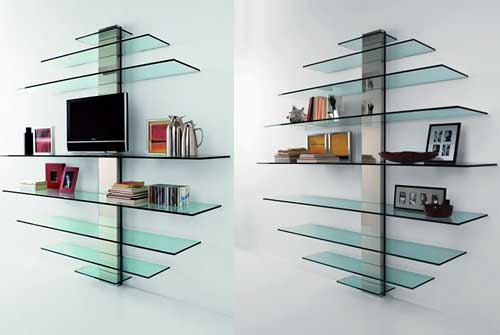 Tonelli Design is an Italian furniture company that specializes in glass, and these glass shelves are characterized by clean lines and a modern transparent design. Designed by Giovanni Tommaso Garattoni, they have different sizes, allowing you to make all kind of combinations for storing books, DVDs, decor and larger items.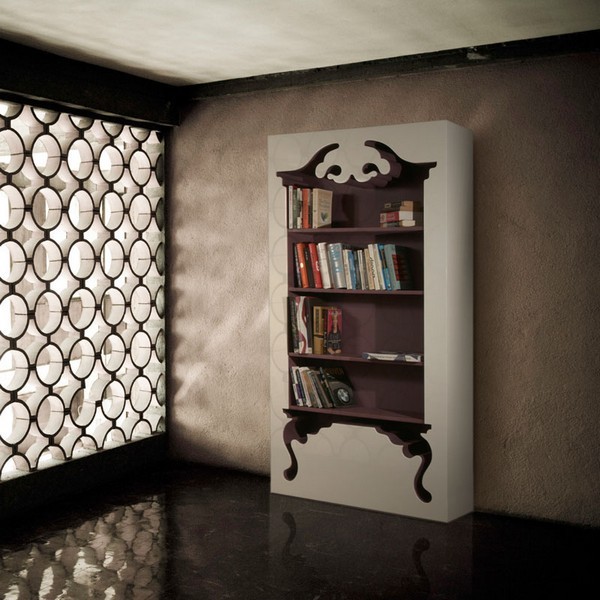 Vintage Shelf is an original shelf created by Jaren Goh Design for Munkii. Reminiscent of a classic bookshelf design within a contemporary form, it allows traditional furniture to fit seamlessly into the modern homes of today: a unique combination of the past and the present.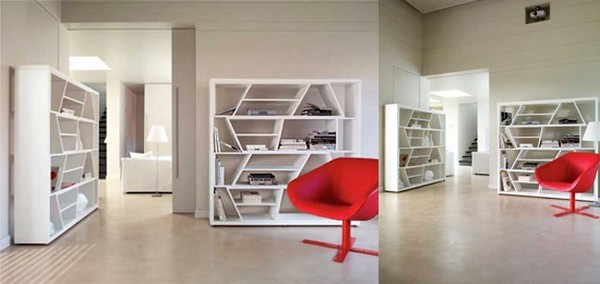 Lodge is a modular bookcase that obtains a high degree of personalization, since it is formed of blocks of equal height that allow a free composition. It offers a variety of compartments and is suitable for not only books, but also decorative pieces. It also can be used as a room partition.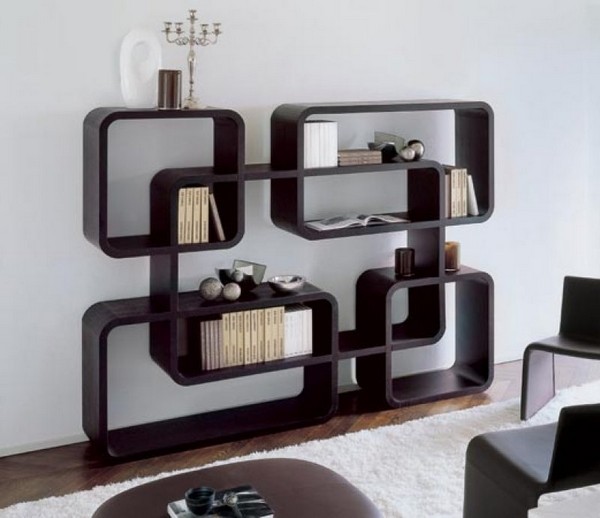 The Dedalo Bookcase is designed by Marconato & Zappa and manufactured by Porada. The Dedalo has a modern design and can be used as a room divider or placed against the wall. This unique bookcase allows you to store a lot of things in various ways.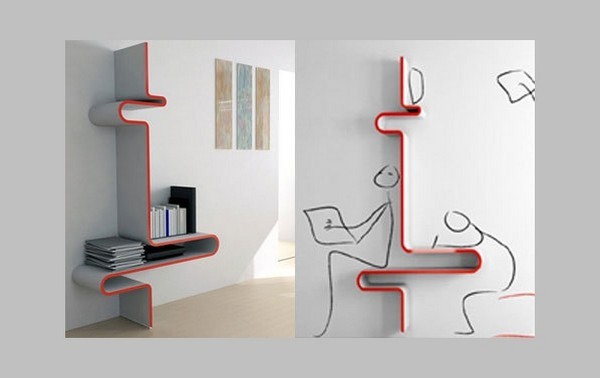 This multi-functional shelf design by Yoon-Zee Kim is a playful and creative piece of furniture. You can use it as a shelving system or a seating and a desk. This piece of furniture has a modern look, doesn't take up much space and is a very clever idea that looks nice.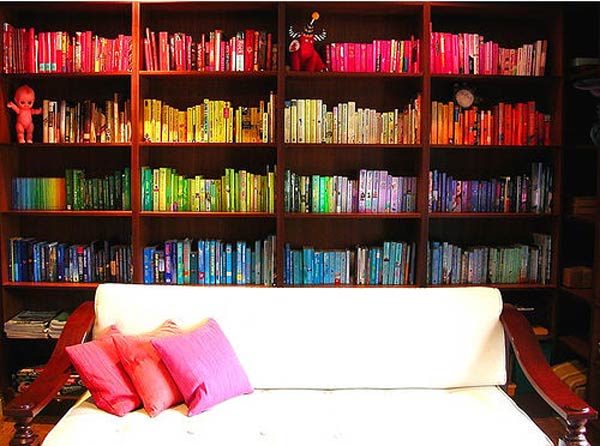 The Rainbow Bookshelf is a great way to customize your bookshelf with a little bit of creativity — and it's free and easy to do it yourself! You'll just have to pay more attention to every book's cover from now on if you want to reproduce this effect and create your own rainbow bookshelf.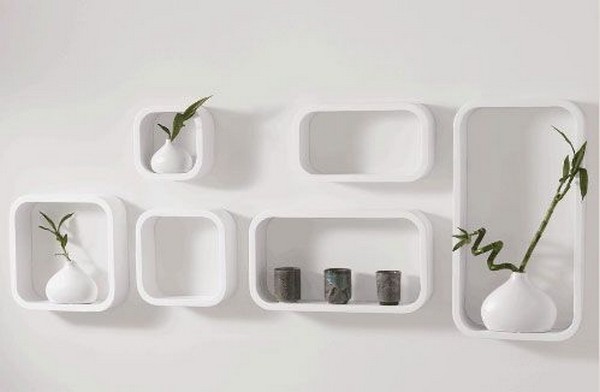 If you are looking for modern shelving, Cosmo Shelves are the ideal solution. These shelves have square and rectangle shapes with rounded corners. They come in black and white, they are easy to mount, and you can arrange them however you want to create a unique art gallery or modern bookshelf.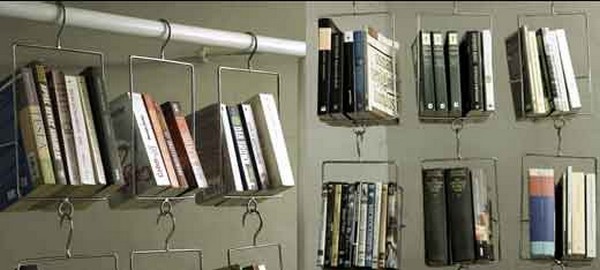 This Hanging Bookself is an innovative storage design for your books from unal&boler studio unlike anything we've seen before. It can't replace a whole bookcase, but two or three systems could be fun to hang somewhere in your home.

The U Bend Shelf is a great example of an extremely simple design. A single bar that extends from the wall supports your books. The shelf comes in high-gloss powder-coated finishes, and it's a great way to store books in a small room.
Source: http://freshome.com/