Does your home rock wall-mounted light fixtures? They save on floor and table space, they help you direct light where it's needed, and perhaps most importantly, wall-mounted light fixtures are quite stylish! If you still haven't delved into the world of wall-mounted light fixtures, here's some real-life proof the looks works — and we've included resources in case you want to get the look yourself!
In Lauren's home (above), a small-scale, wall-mounted light fixture with a brass shade provides just enough light for reading, and the asymmetrical installation gives it a bold feel. The light came from onefourtythree.
Inspiring Arts District Loft With Wall-mounted Lights.
Another take on the bedside wall-mounted lights is seen in Scott and Kristan's loft, where light fixtures from Anthropologie are centered over large nightstands rather than the bed itself.
East Village Synergy.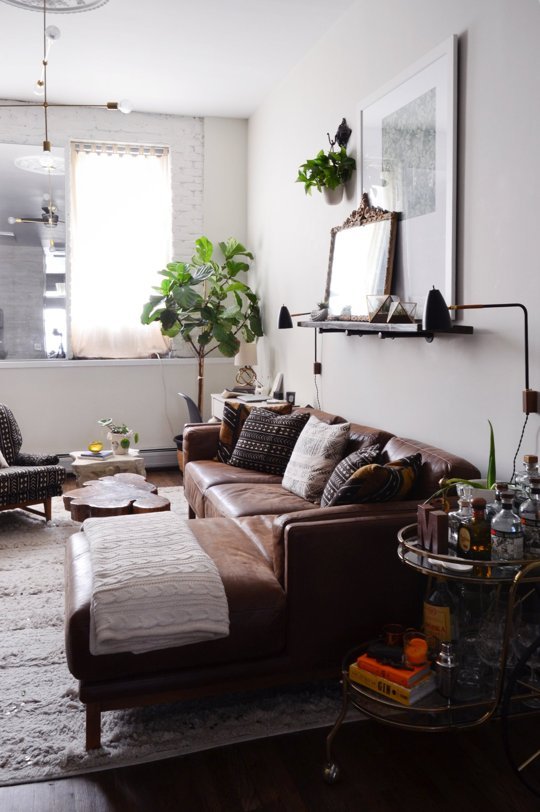 Mounting light fixtures on either side of a sofa or sectional (instead of going for the usual side table/table lamp combo) is one way of shaking up a living room. Allison and Matt found these fabulous fixtures at onefourtythree as well.
Home Among Modern Mementos.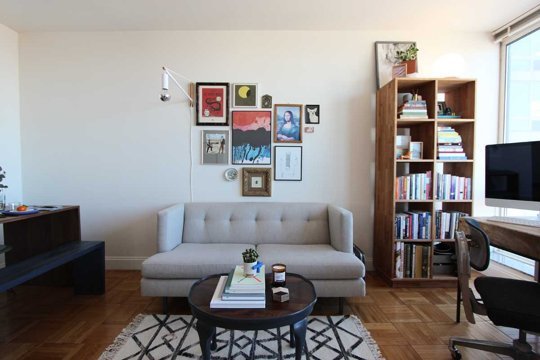 Just one swing-arm-style light fixture on the wall in the living room area of Mark and Levi's studio helps light the sofa and the art, but also serves as a visual divider and boundary between the living room area and the dining area. They found their light from TRNK.
Design & Chemistry in Seattle.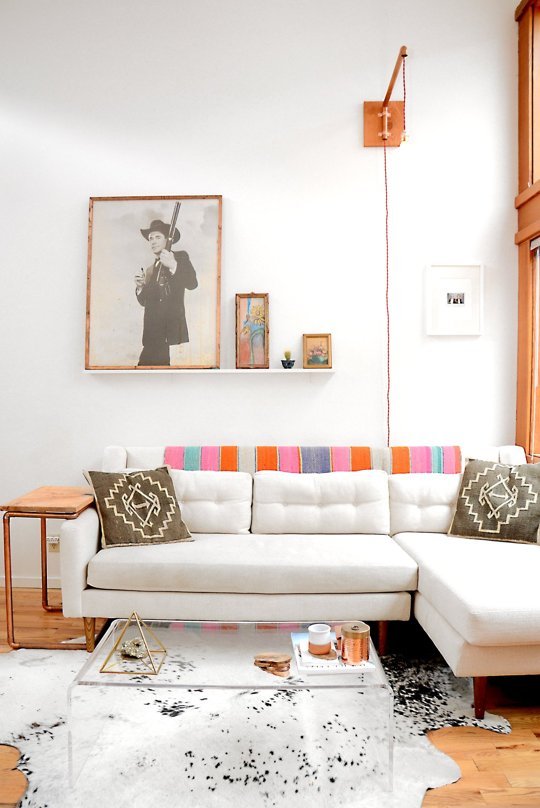 Another example of a wall-mounted lights being an awesome addition to the wall above the sofa can be found in Brooke's place. Her tour mentions that this is a DIY light fixture, and it's quite wonderful! Perhaps you might find inspiration for DIYing your own light fixture in And Then There Was Lighting: This Year's Best DIY Fixtures & Projects.
Beautiful Prairie-Style Craftsman Home.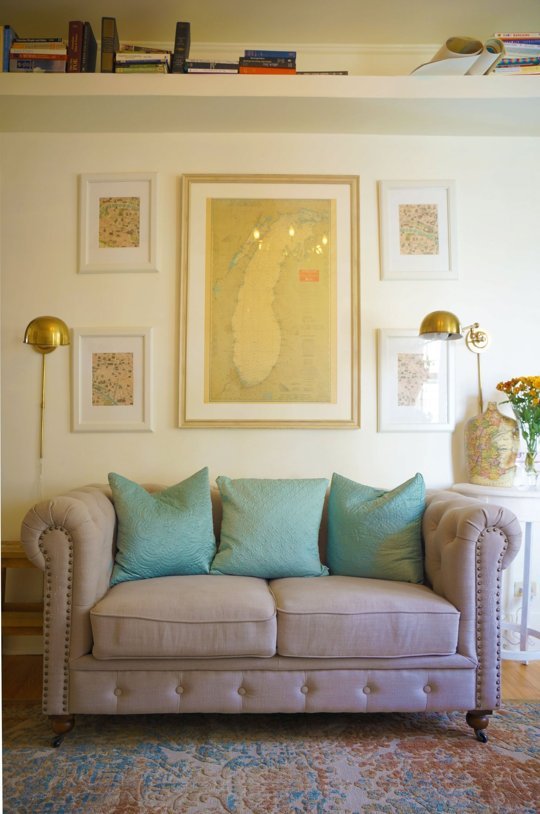 Two brass wall-mounted light fixtures on either side of Jill and Chris' sofa really add to the traditional feel of the space. They listed Pottery Barn as the source of those lights.
Evolving Patina.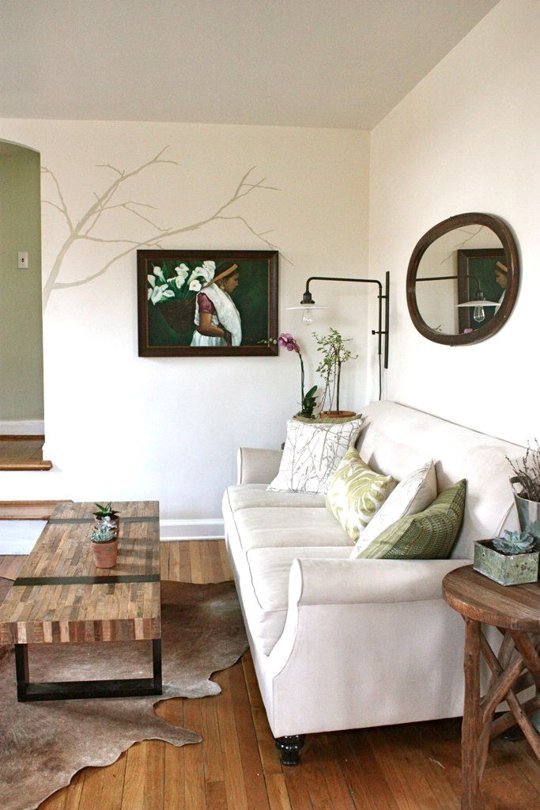 And you don't always have to create balance by flanking a sofa with light fixtures! Leah and Rich show that just one light fixture makes a great visual impact. Restoration Hardware is listed as the resource.
Natural & Inviting Irvington Apartment.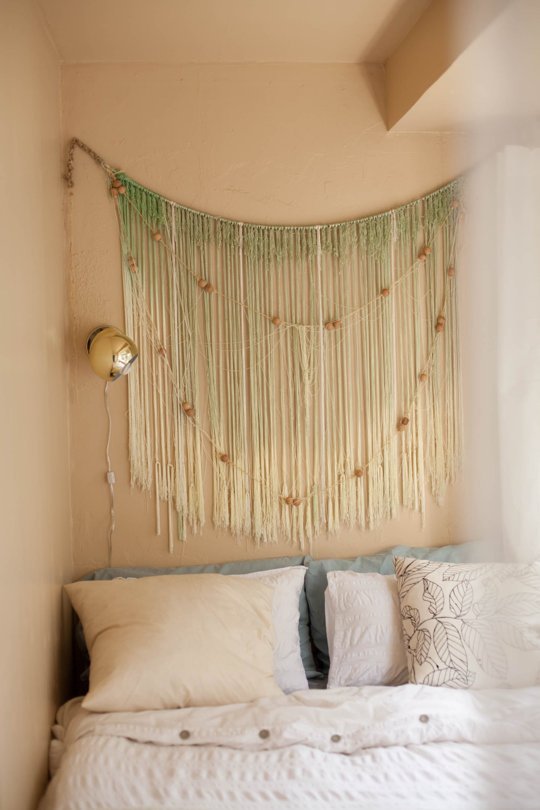 Another great solo wall-mounted light fixture found in Joanna's bedroom, this time from Urban Outfitters.
Farewell to Houston' House Tour.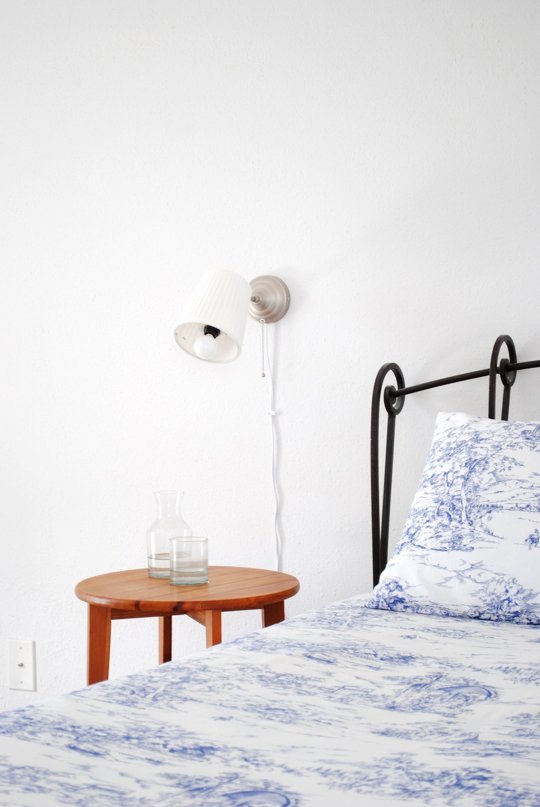 Nancy also rocked a solo wall-mounted light fixture so she could keep her bedroom nightstand nice and clean. She lists that fixture as being from IKEA.
Playful Chicago Retreat.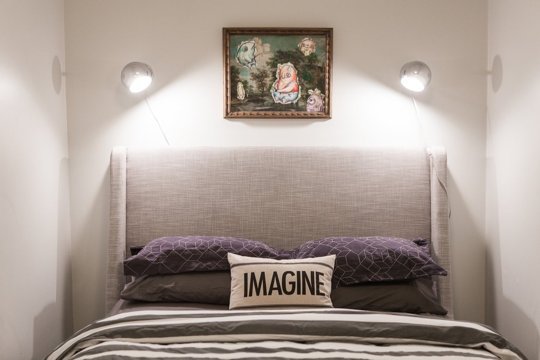 The lights in a room in Liz's home definitely look like the same Urban Outfitters lights as Joanna's above, only in a different metallic finish. It shows that you can really customize the look of wall-mounted lights fixtures by how you configure them in your space.
Silver Lake Charmer With a View.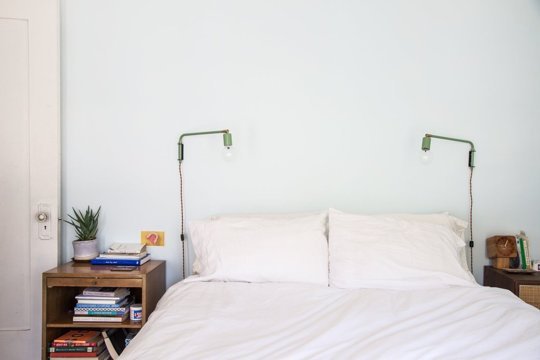 Love this sweet bedroom from Allison's house, which shows how placing the light fixtures really close to the bed can give you a lot of flexibility. These are also from onefourtythree.
Wall-mounted Lights And Design Inspiration.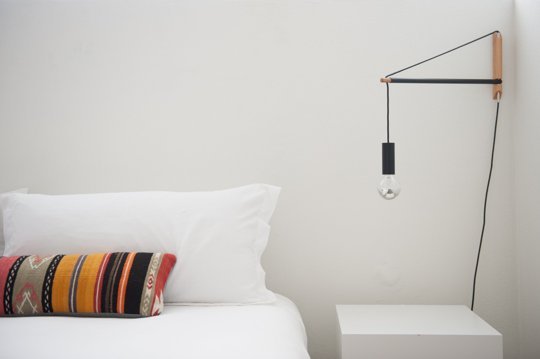 There are a quite a few lovely examples of wall-mounted lights fixtures in the boutique hotel, The Amado, and they were found at Andrew Neyer,Tandem Made, and Pablo Designs.
Source: http://www.apartmenttherapy.com/