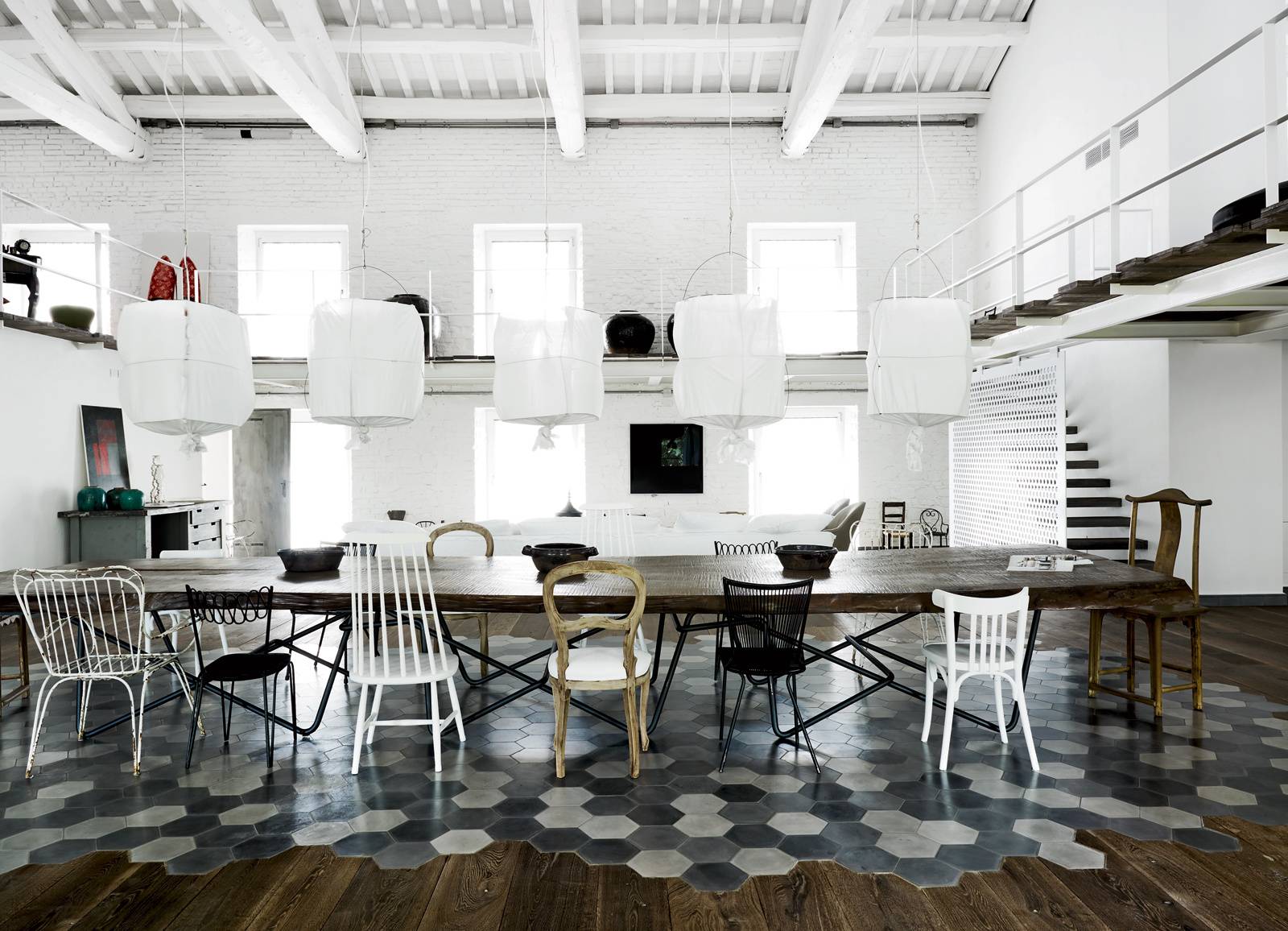 Visitors pass by a sentry wall of lamps from Design House Stockholm on their way to the airy living-dining room with its 52 windows.
How do you turn an abandoned tobacco-drying plant that started life almost two centuries ago as a silkworm farm into a cosseting, appealing home? Andrea Falkner-Campi and her husband, Feliciano Campi, faced that question after they bought just such a place in Spello, a small Umbrian town about 90 miles north of Rome, in 2008.
The couple lives in Spello because that's where Feliciano's business is based: Editoriale Campi, a small publishing company, which produces a stylish almanac, Barbanera, which Andrea describes as a yearbook for daily good living. It's been a family business for over 250 years.
When faced with the prospect of dealing with the old, ramshackle building, Falkner-Campi was overwhelmed. "I'm now 51," she says, "I've moved several times, and I've always done the interiors myself. But I told my husband, it's too big for me. I knew what I wanted, but I didn't know how to make it happen," she explains.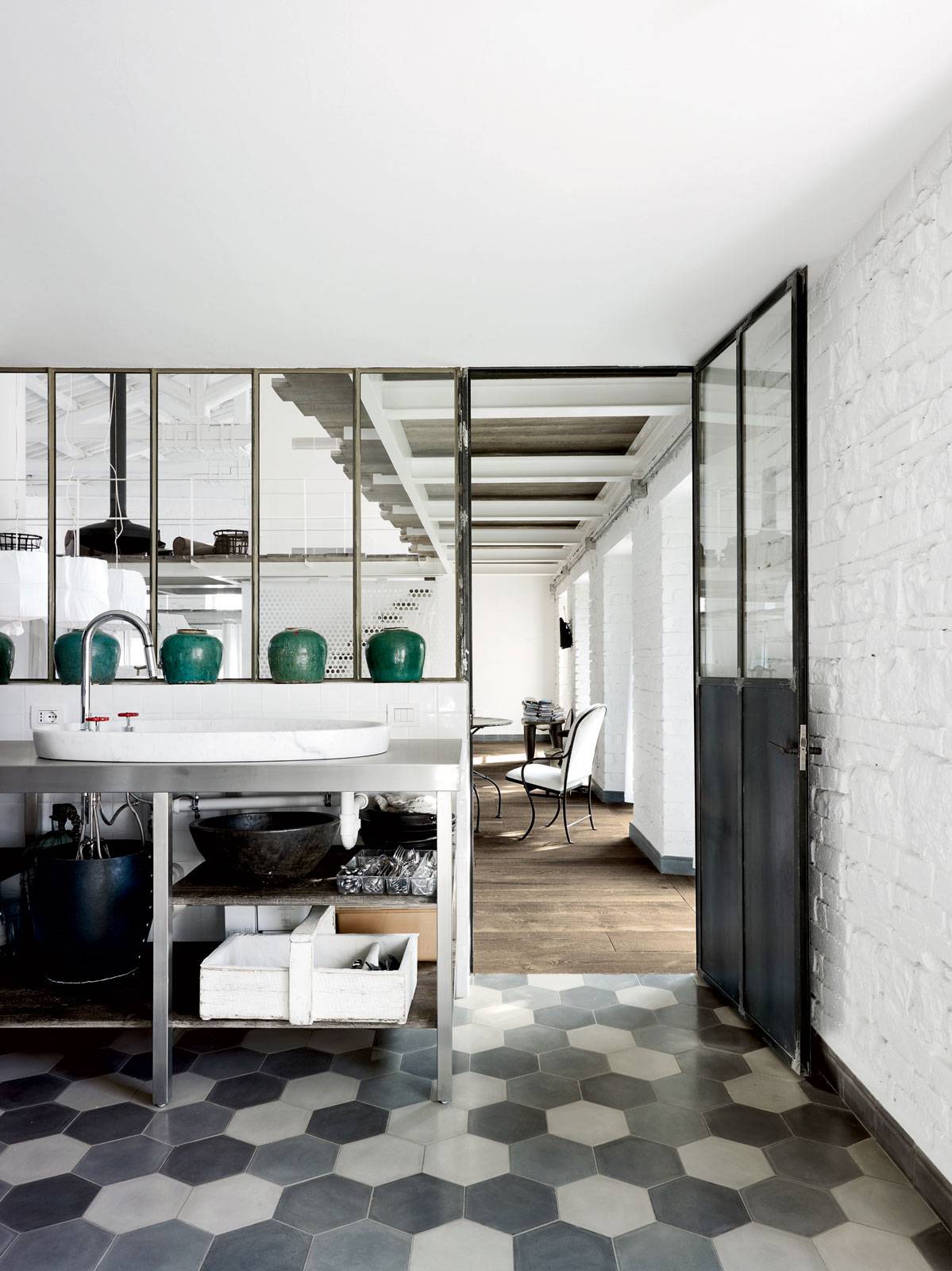 For the floors in the kitchen and throughout, Navone placed hexagonal Carocim tiles of her own design.
Andrea, who is Austrian by birth and comes from a family of hoteliers, describes herself as a design junkie who buys design magazines in multiple languages. To find help with the project, she sat down and went through ten years of back issues. "Almost everything I loved was by Paola Navone," she says. Then, the couple visited a friend in Tuscany whose house they admired, only to discover that it had been done by Navone as well. "It was destiny," Andrea exclaims.
Paola Navone, a major figure in the world of Italian design, is known for marrying modern design with traditional handcrafts. Though she has created a wide range of products as well as distinctive interiors for shops, hotels, and restaurants, she rarely does domestic interiors.
"I tell everyone that I'm not organized to do private projects," says the Milan-based Navone, "unless it's something special." After a call from Falkner-Campi explaining the home's unique past, she visited the space and immediately signed on. Says Navone, "It's one room over 5,300 square feet with a 30-foot-high ceiling. The challenge was how to put all the functions of a house in only one room," which was the couple's request. Navone acquiesced, making an exception for the kitchen, which is partially walled off from the rest of the loft because, explains Navone, "I hate the smell of cooking eggs."
Entering the apartment—it takes up the building's entire second and third floors; Feliciano's business offices fill the first—visitors pass by a sentry wall of lamps from Design House Stockholm on their way to the airy living-dining room with its 52 windows. Beyond, a gauzy wall of Indian cotton curtains leads to the bath.
A balcony runs the perimeter of the living-dining room, a solution Navone came up with to deal with existing structural beams, which would have been too costly to remove. "They were really ugly," she groans. The walkway, or passerelle, is about four feet wide. Here, an Ergofocus hanging fireplace is flanked by two Navone-designed leather armchairs for Baxter. Farther along are a library and office.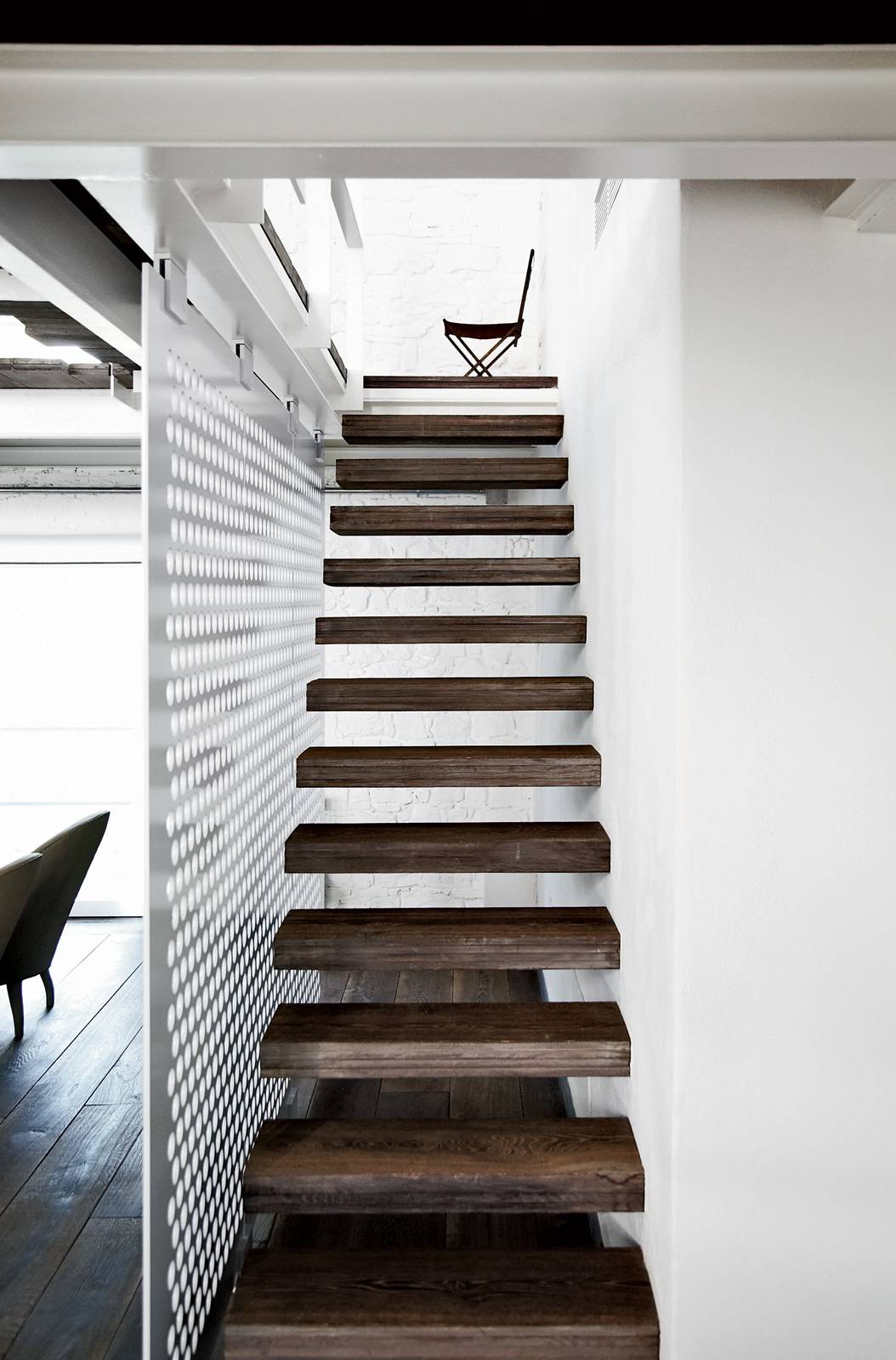 The upper level of the 5,300-square-foot space is accessed via a slender stair with reclaimed-wood treads.
Falkner-Campi, who was totally involved in every step of the project, loved working with Navone. "Everyone said, 'Don't work with an architect.' But there was no problem. She's an architect, an interior designer, a product designer who can do everything, but she's not a 'starchitect.' Those architects just design things for themselves. I told her everything that I wanted and she listened. I loved these lamps by Mark Eden Schooley, an American photographer living in France. (They're now installed over the dining table.) And I wanted everything to be practical and easygoing. I want fabrics to be washable." She also had a fireplace, large sofa, and big cabinet on her wish list. All found a place in the plan. Falkner-Campi told Navone that her budget was limited and relates that Navone told her, "It's not a question of money but of taste."
"We picked out beautiful old tiles from Sicily for the kitchen and living room but they cost a fortune. Paola said, 'No problem. I can design something and have them made in Morocco.' She did it. In three days! And it turned out to be 70 percent cheaper."
"We gave her an overall budget. When the floors were less than we budgeted for, we could spend more on the stove. We spent more on lighting but less on fabric because I bought the fabric in India." In the end, the project came in on budget.
"She doesn't design for beauty," says Falkner-Campi. "It has to be functional. She's a wonderful cook, so she knows what a cook needs in the kitchen." Indeed, the kitchen is extremely functional, with simple, restaurant-quality appliances and one wall covered with blackboard. Navone installed a window wall, so that the cook wouldn't be completely closed off.
The massive dining table—39 feet long, made of kauri wood thousands of years old, and designed by Mario Botta—sits on a carpet of tile. "I didn't want to have this old wood sitting on top of parquet," says Navone. A motley assortment of chairs completes the vignette. "The table is so big, so important," explains the architect. "You can't make a statement with a chair."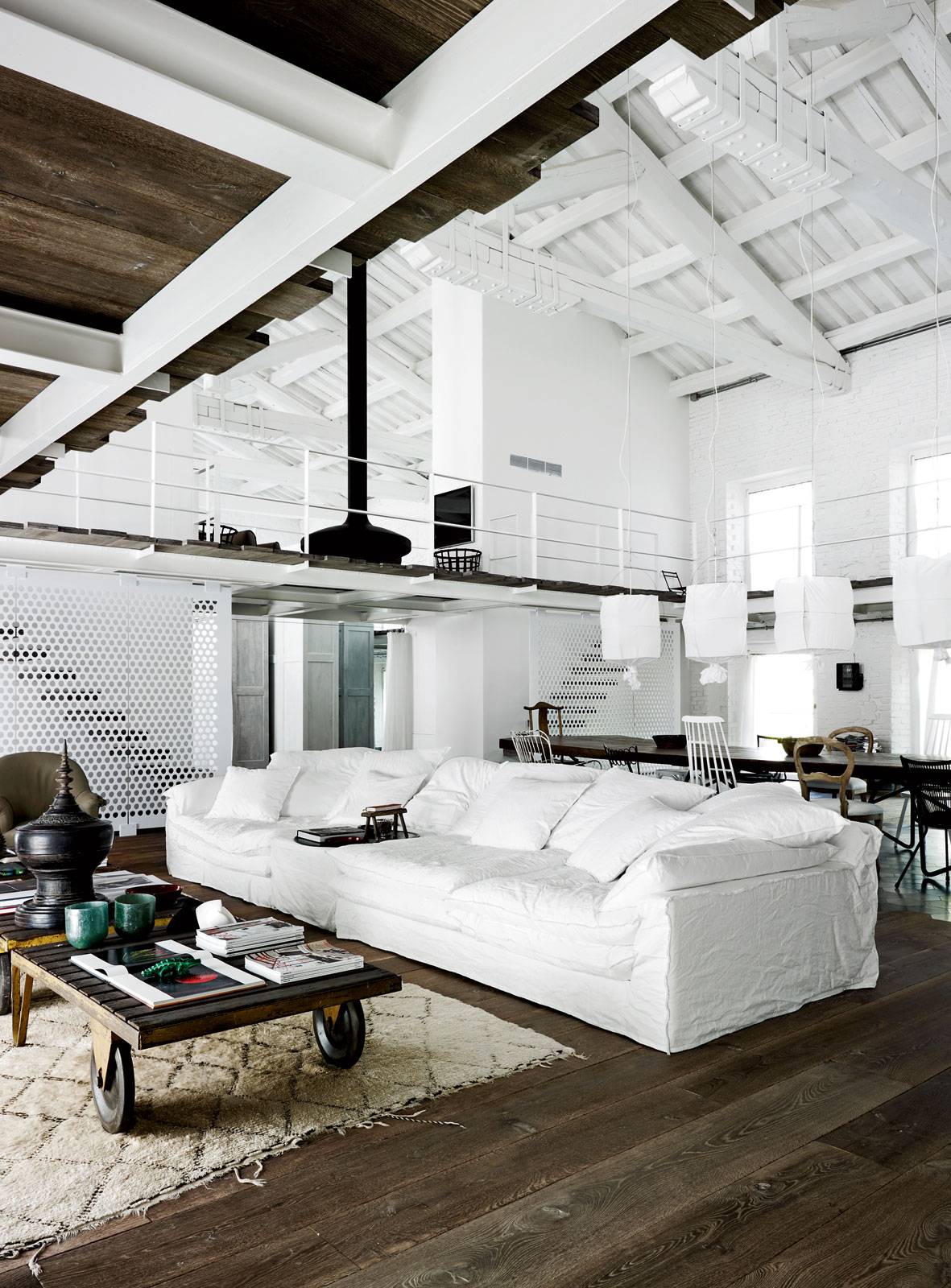 In the seating area, a trolley found at a flea market functions as the coffee table alongside an expansive Navone–designed sofa for Linteloo. Custom pendants by photographer Mark Eden Schooley hang above the dining table.
The overscaled, slipcovered white sofa, a Navone design for Linteloo, is set parallel to the dining area, flanked by two armchairs. An old printer's trolley, found at a flea market, serves as a coffee table. The rest of the living space is filled with an assortment of objects the couple has amassed over the years. "I told Paola that we're not minimalists," says Falkner-Campi. "We travel a lot and bring home things, and we need places to put them." The children's chairs she collects feature prominently in the design.
The loft's bed and bath areas are equally compelling. Andrea bought an old iron-framed bed at a flea market after texting photos to Navone for approval; the bed now takes pride of place in the room, swaddled mostly in white Indian cotton.
The bathroom is a classic Navone tour de force. She created the bathroom sink, her own design for Ceramica Flaminia, and the stand is custom made from old discarded wood. The floor and the shower are tiled with more Navone-designed Moroccan tiles from Carocim. A freestanding tub from the Water Monopoly, an English company that specializes in antique tubs as well as reproductions, is installed by the white linen–curtained window.
The couple moved into the loft in March 2012. And they love being there. The cosmopolitan Falkner-Campi is quite content to live in Spello. "With my husband, I would have moved to Alaska!"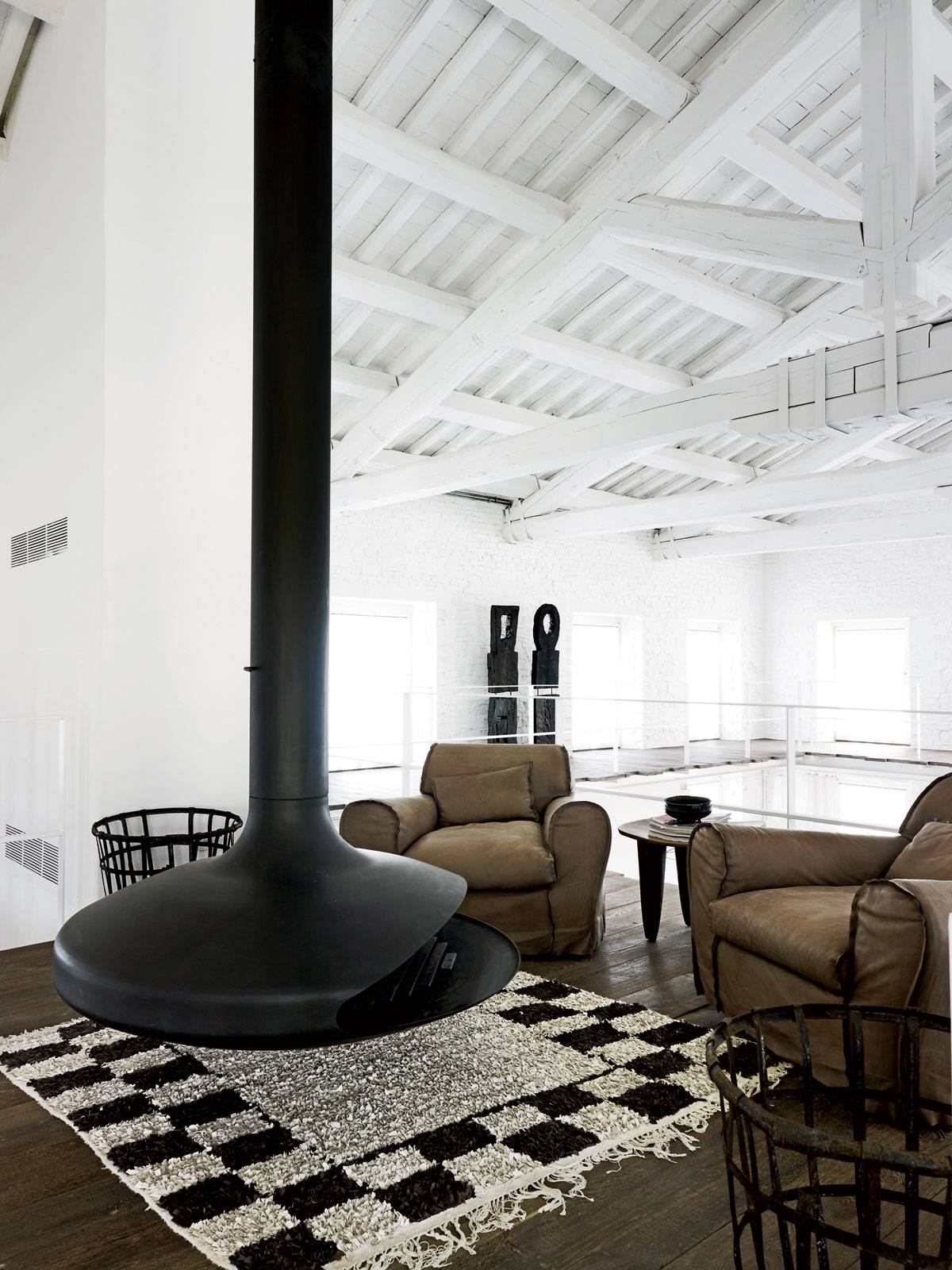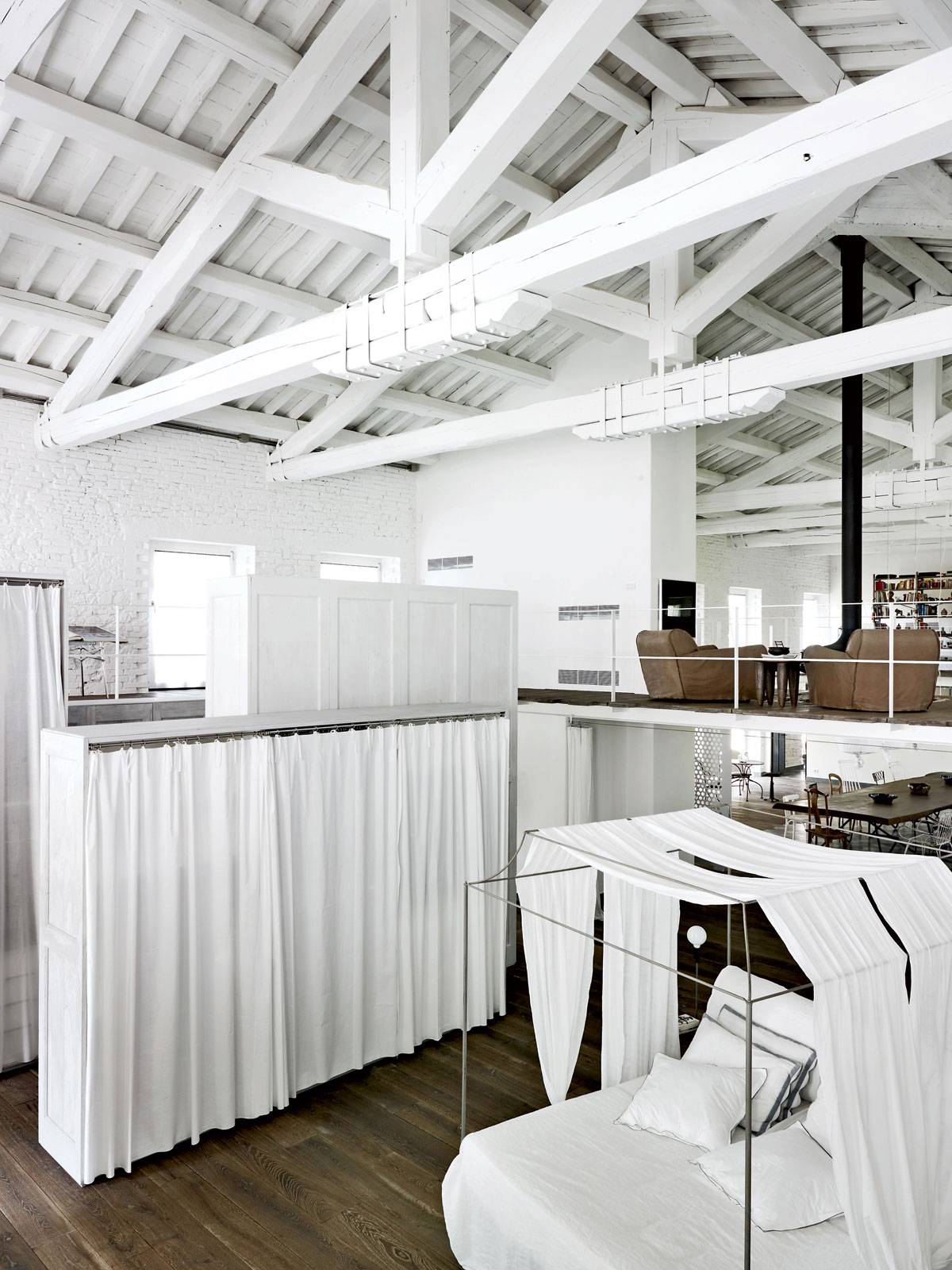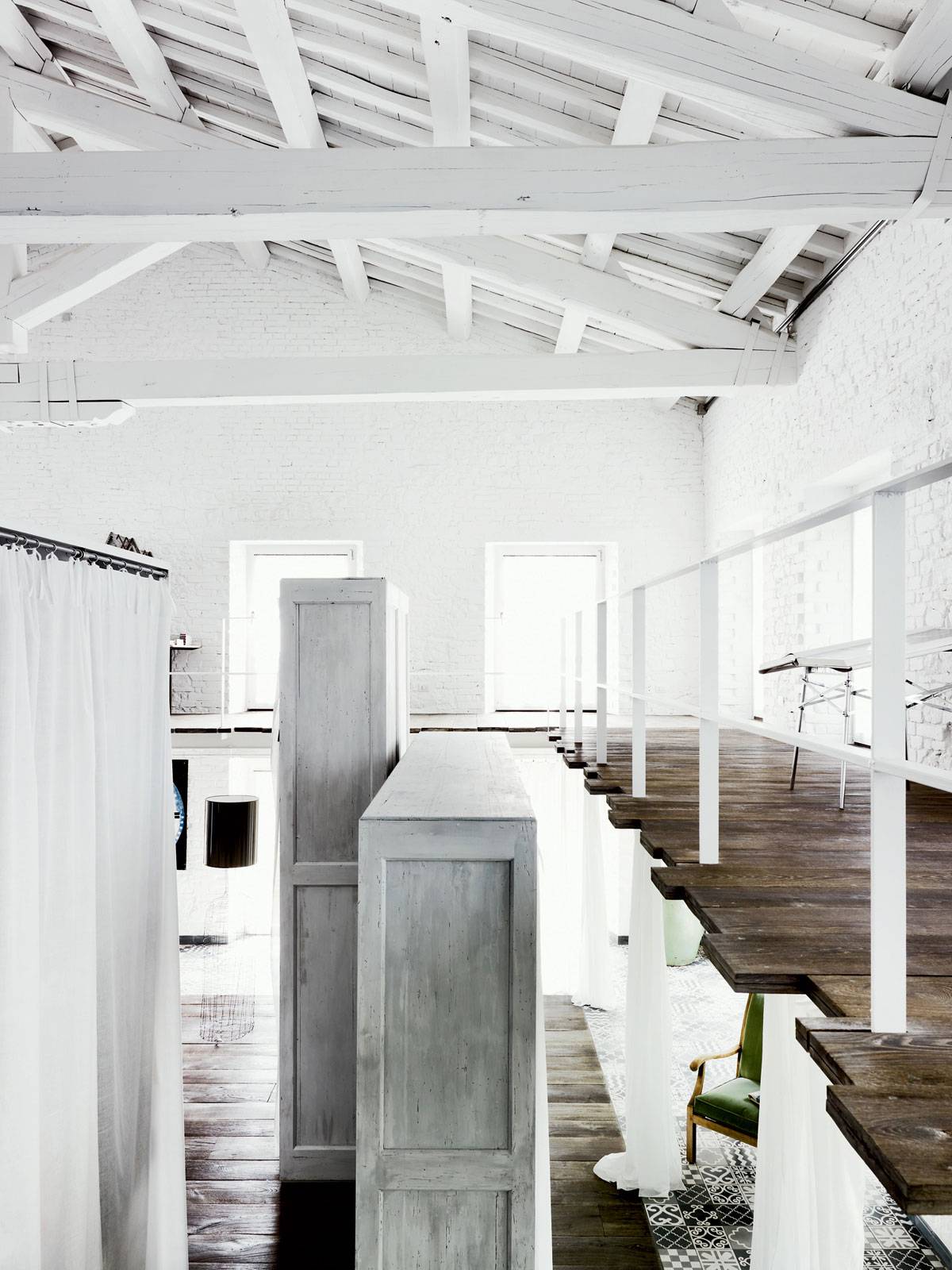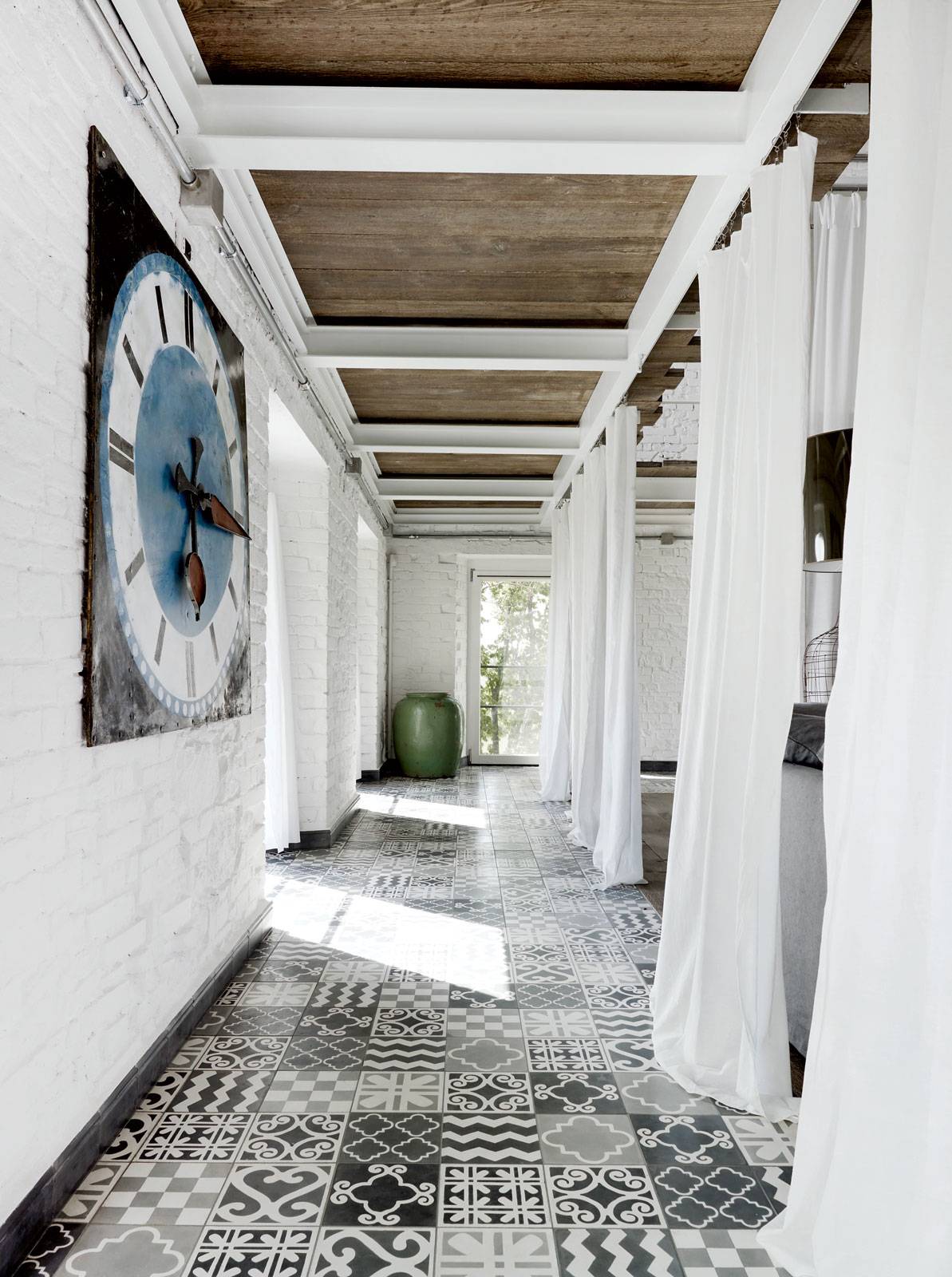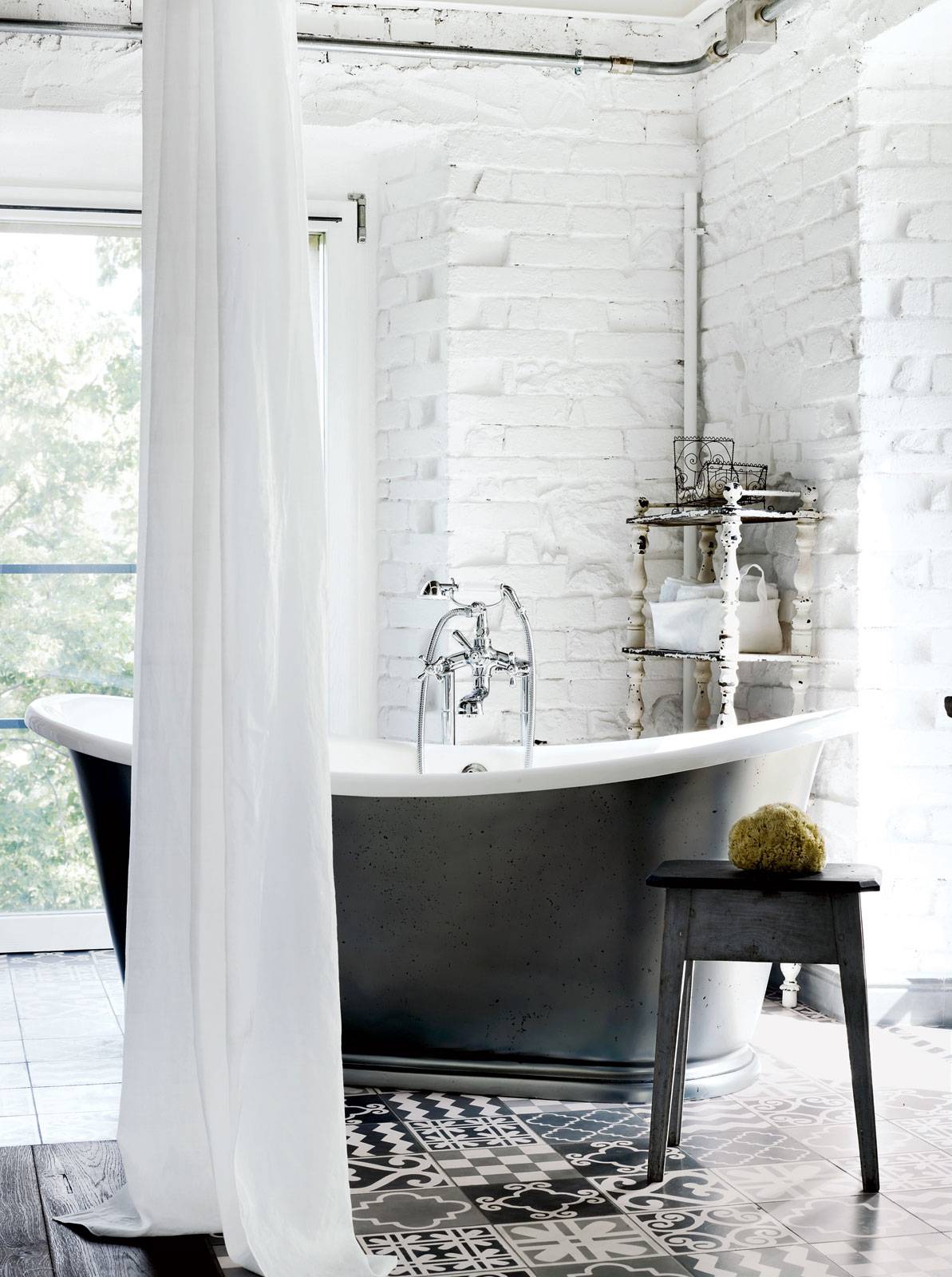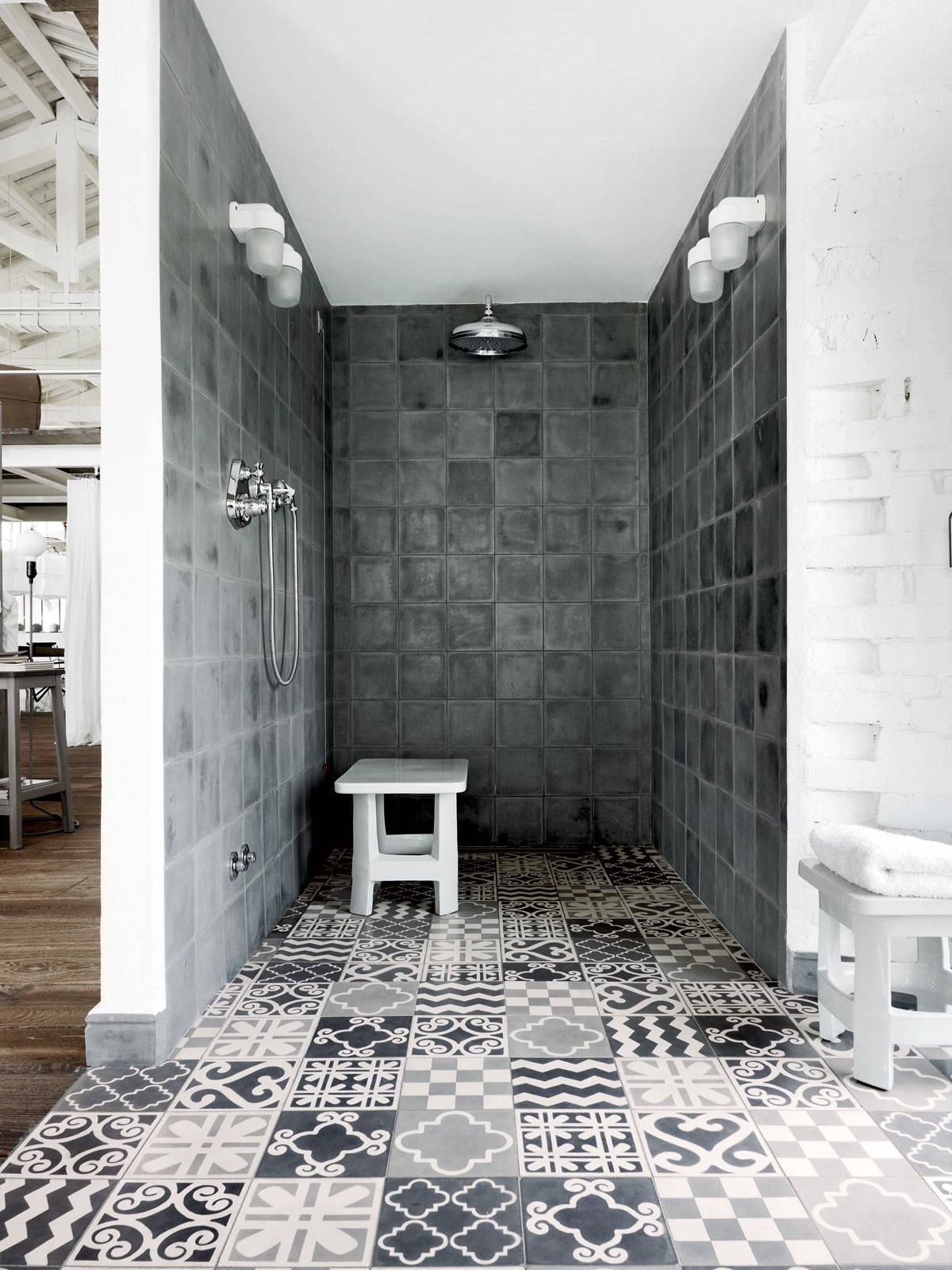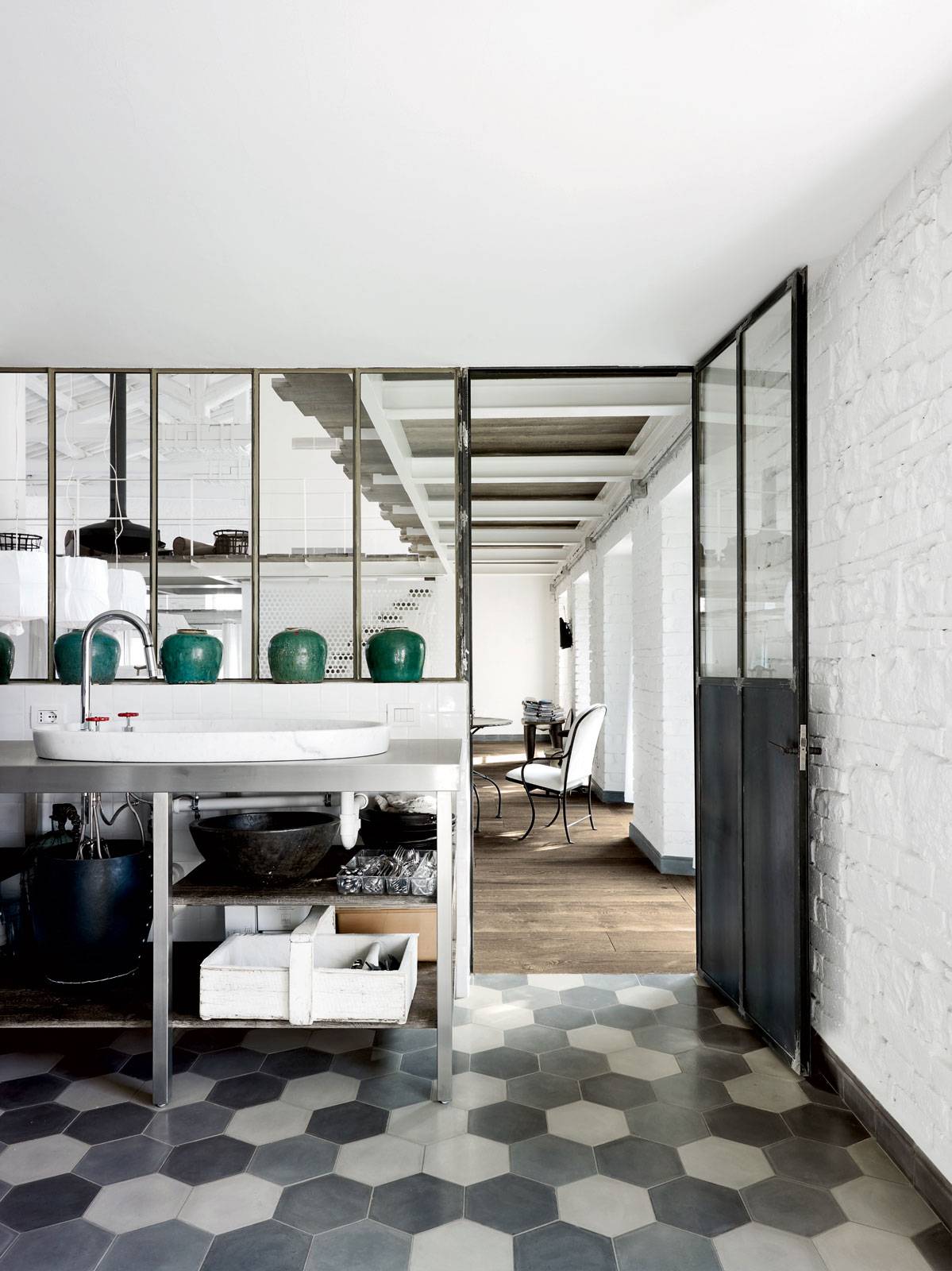 Source: http://en.paperblog.com/